Sobel's 2021 Waste Management Phoenix Open Betting Guide: Expect a Tremendous Phoenix Debut From Rory McIlroy
Credit:
Katelyn Mulcahy/Getty Images. Pictured: Rory McIlroy.
Years ago, I played TPC Scottsdale either months before or months after the Waste Management Phoenix Open.
There were no bleachers filled with thousands of inebriated spectators, no hour-long beer and bathroom lines, no coeds stumbling around in high heels.
In fact, it wasn't until after I'd posted a — humblebrag alert! — routine bogey on the Par-3 16th that I even realized I'd just played golf's most raucous hole in deafening silence and ubiquitous tranquility.
I'll spare you the hole-by-hole breakdown of the entire round in favor of making my point here: Without the annual Super Bowl-week atmosphere, this place looks and feels a lot different.
That's what awaits some of the game's best players this week, as the tournament will allow only 5,000 spectators each day — down more than 200,000 from some of the ungodly records set in the past few years.
This is nothing new, of course, as professional golf tournaments have largely been contested without on-site fans for the past eight months. At this one, though, mass amounts of fans haven't just served as the fiber of the tourney — they've factored into how we prognosticate the leaderboard.
As I wrote in my tournament preview two years ago: "It takes a special player to win in Phoenix, a player who likes playing to the crowd and enjoys being the center of attention."
Without that intangible to factor into the predictions, we'll have to lean on more perceptible statistics. And so, let's turn to numbers off the tee, which have always seemed to separate the contenders from the pretenders at TPC Scottsdale.
It should come as little surprise that the top four players in this week's field — those who own the lowest odds — also happen to be four of the best drivers of the golf ball in the world.
Jon Rahm, Justin Thomas, Xander Schauffele and Rory McIlroy — in whatever order you'd like to place them — are easily within the game's best with the big stick.
As if you needed further proof, let's take a look at their strokes gained numbers off the tee over the past two seasons.
| Player | SG-OTT '19-'20 | Rank | SG-OTT '20-'21 | Rank |
| --- | --- | --- | --- | --- |
| Jon Rahm | +.756 | 4th | +.883 | 6th |
| Justin Thomas | +.405 | 22nd | +.061 | 108th |
| Xander Schauffele | +.648 | 8th | +.391 | 36th |
| Rory McIlroy | +.702 | 6th | +1.271 | 2nd |
The main takeaway from these stats? While they're each stout in their own right, it's hard to argue that JT has been driving the ball on the same level as these guys over the past two seasons — and Xander trails Rahm and Rory by a tiny bit, as well.
Throw in the fact that Rahm and McIlroy are each fresh off a title contention — or close to it — at Torrey Pines this past weekend, and it just might give them a bit of an edge amongst the favorites.
Schauffele is, too, of course, so he's certainly in that conversation.
That's not all we can learn, though, from a combination of recent form and driving stats.
Looking a bit further down the board, we can identify a half-dozen players who finished 32nd or better last week are in this week's field and also rank inside the top-30 in driving this season.
| Player | Last Week's Result | SG-OTT '20-'21 | Rank |
| --- | --- | --- | --- |
| Henrik Norlander | T-2 | +.479 | 26th |
| Will Zalatoris | T-7 | +.590 | 15th |
| Luke List | T-10 | +.792 | 7th |
| Sam Burns | T-18 | +.980 | 3rd |
| Wyndham Clark | T-32 | +.455 | 27th |
| Sungjae Im | T-32 | +.545 | 20th |
Recent form and driving prowess could indeed be the secret combination this week. Based on my picks below, at least, I hope that will be the case.
Let's get right to 'em, starting with an outright play on a superstar whose odds are much too high.
Outright Winner
One player to win the tournament.
Rory McIlroy (+1200)
This might seem like a chalky selection, except for one little thing: Rory doesn't seem to win very much these days.
His last victory came at the 2019 WGC-HSBC Champions, 21 starts ago, and he hasn't won on U.S. soil since that year's Tour Championship. So, why now? Why this week? A few reasons.
The first is those aforementioned driving statistics. Even when he's struggling with other parts of his game, McIlroy knows how to bang his driver long and straight, which should be even more of an advantage this week than at other events. The second is that he's fresh off a week when he was driving it exceptionally well, even by his lofty standards.
Among those who played four rounds at Torrey Pines, he finished second in strokes gained off the tee and sixth in strokes gained tee to green.
And the final reason is more suspicion than evidence, but it's entirely possible that Rory just needs a little change of scenery to recharge his batteries.
He's never before played the Waste Management Phoenix Open, but it might fit his skillset as well as anywhere.
"I've heard the golf course should suit my style of play," he said last week.
I understand that backing McIlroy at low odds against a strong field on a course he's never seen before, without a win in 15 months, sounds like a fool's errand, but he's going to start winning again soon and you'll want to be on the right of it before it happens.
Other OADers
Potential selections for one-and-done options.
Hideki Matsuyama (+2200)
My pick to win last week was a huge letdown at the Farmers, finishing T-53 and never really getting things going. Maybe it was a poor selection — or maybe I'm just trying to outsmart the golf gods.
I've had a lot of (bad) luck with players I back faring much better in their next start after where I've picked them, and it makes perfect sense that Hideki would bounce back from last week with a good one here.
In seven career starts at the WMPO, he owns two wins, a runner-up, a T-4, a T-15, a T-16 and a WD. In 25 rounds, he's broken 70 in all but three of 'em, with an overall scoring average of 67.80.
One common mistake some golf bettors make is to fade players who recently burned them, but I look at it the other way around: There was a reason you liked the guy in the first place, so try to ride some potentially depressed prices and stick with him for a little bit.
That strategy could pay off with Matsuyama this week. 
Dylan Frittelli (+15000)
Another player I liked last week, though my main hesitation was that he was making his 2021 debut.
Like Matsuyama, he finished T-53, perhaps just easing his way into this campaign — and of course, Torrey isn't an easy place to do some easing.
His ball-striking numbers weren't impressive, but he's become well above-average with the driver.
If you're of the mindset that early in the year, you want to differentiate from fellow OAD competitors, Frittelli should offer some contrarianism with the potential for a high ceiling.
Sungjae Im (+3300)
What a wild ride it was for Sungjae on Sunday.
He opened with five birdies on the front nine, at one point getting to within a stroke of the lead.
I tweeted at that point: "Everyone playing chess, while Sungjae is out there playing checkers."
I take no responsibility for the Twitter jinx, but his back nine consisted of two doubles and three bogeys, resulting in a whirlwind final-round total of 73.
I tweeted again: "As it turns out, checkers is a brutally tough game."
Despite those numbers, the Jekyll-and-Hyde routine isn't very indicative of Im's usual steady play. He was T-7 at this event in his 2019 debut and T-34 last year, so there should be a bit of a comfort level now.
I like him in all formats this week, but again, if you're looking for a potentially low-played OAD pick, he could be the guy.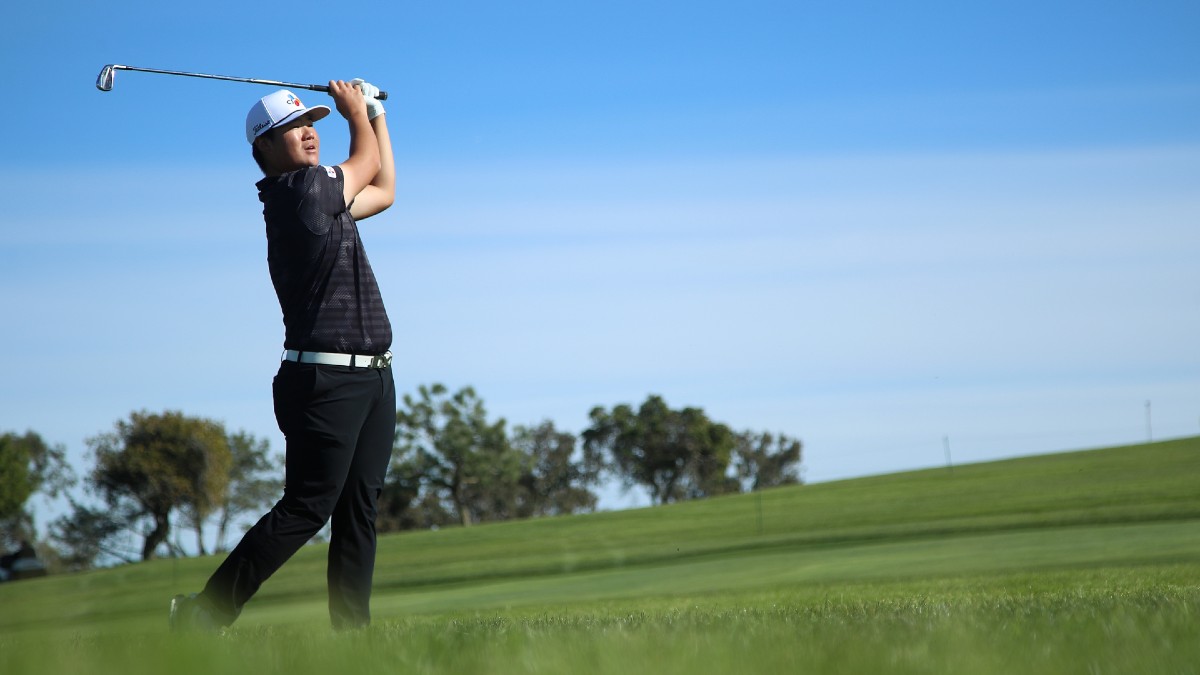 Top-Five
One player to finish top-five.
Will Zalatoris (+900 for top-five)
Nobody ever thought Zalatoris would be some flash in the pan after earning PGA TOUR status while playing on exemptions earlier this season, but we're quickly learning that he's become an immediate force with which to be reckoned.
In seven big-league starts since September, he's now finished in the top-eight four times, including an impressive T-7 at Torrey Pines last week.
This event should be right up his alley, as driving and iron play are obvious strengths that also correlate to this course.
Trust me: There will be a time in the not-too-distant future when you'll wish you could still get Zalatoris for a top-five at this number. Take advantage of it while you can. 
Top-10
One player to finish top-10.
Sam Burns (+600 for top-10)
In two career starts at this event, Burns has broken par in both opening rounds, only to chase each of 'em with a second-round 74 and an ensuing missed cut.
I'm not sure many young players have matured into their games more over the past few years than him, though, as he's following a nice trajectory for where his career is right now.
Chunking a wedge shot into Devlin's Billabong on his final hole Sunday afternoon undoubtedly cost him some money and left a bad taste in his mouth, as a potential top-10 turned into a T-18.
But as I've written before, I love the fact that Burns' game travels well and he should be ready to break through with a solid finish here for the first time. 
Top-20
One player to finish top-20.
Wyndham Clark (+400 for top-20)
As I wrote last week, Clark is a guy I'll be targeting throughout this West Coast Swing.
He never quite got it going after an opening-round 67 on the North Course last week, but a T-32 finish should at least offer a little momentum heading into a home game this week.
He still has weeks where he stumbles a bit, which is to be expected at this point on his career arc, so top-20 might be an aggressive play. But I do think a big performance is coming soon and don't want to be caught playing him too conservatively when it does.
If you're looking for another Scottsdale-based top-20 play who's fared well recently, I don't mind Max Homa here, either.
Top-30
One player to finish top-30.
Luke List 
OK, I'll admit it: I tipped my hand in the intro with all of these guys who played well last week and own strong numbers off the tee, but I'm banking on that narrative paying off this week.
List has finished 10th-21st in the last two weeks and was T-25 here a year ago. If you're seeking that aforementioned conservative play, this might be the one to jump on. 
Top-40
One player to finish top-40.
Tom Hoge
There is a non-zero possibility that I'm only listing Tom here to make a #HOGECOIN reference — and if I am, is that so wrong?
I don't know that we're gonna see Hoge surge to the moon, but he has improved each of the three times he's played this event, culminating with a T-25 last year, when he opened with a 65.
He's missed the cut in all three starts so far this year, but Hoge does have a history of going from MC to solid result without any warning.
A top-40 play on #HOGECOIN could be another nice little ROI this week.
DFS Free Bingo Square
A safe plug-and-play option for DFS.
Jon Rahm
Essentially, the "safe option" in this category each week is a player who owns a higher floor than others similarly priced.
As I've written before, we can argue about which player owns the highest ceiling right now — and it'd be tough to argue against Dustin Johnson — but I'm not sure anyone owns a floor as high as Rahm.
The world's second-ranked player has just one finish outside the top 25 in the last eight months. His last four results are a tidy 7th-7th-7th-2nd.
And in his adopted home of Scottsdale, he's finished between fifth and 16th in each of his five career starts.
I think there are ways of working Rahm into DFS lineups this week without compromising the bottom of your roster, and I think his ceiling is a multi-stroke victory, while his floor might only be something just outside the top-10.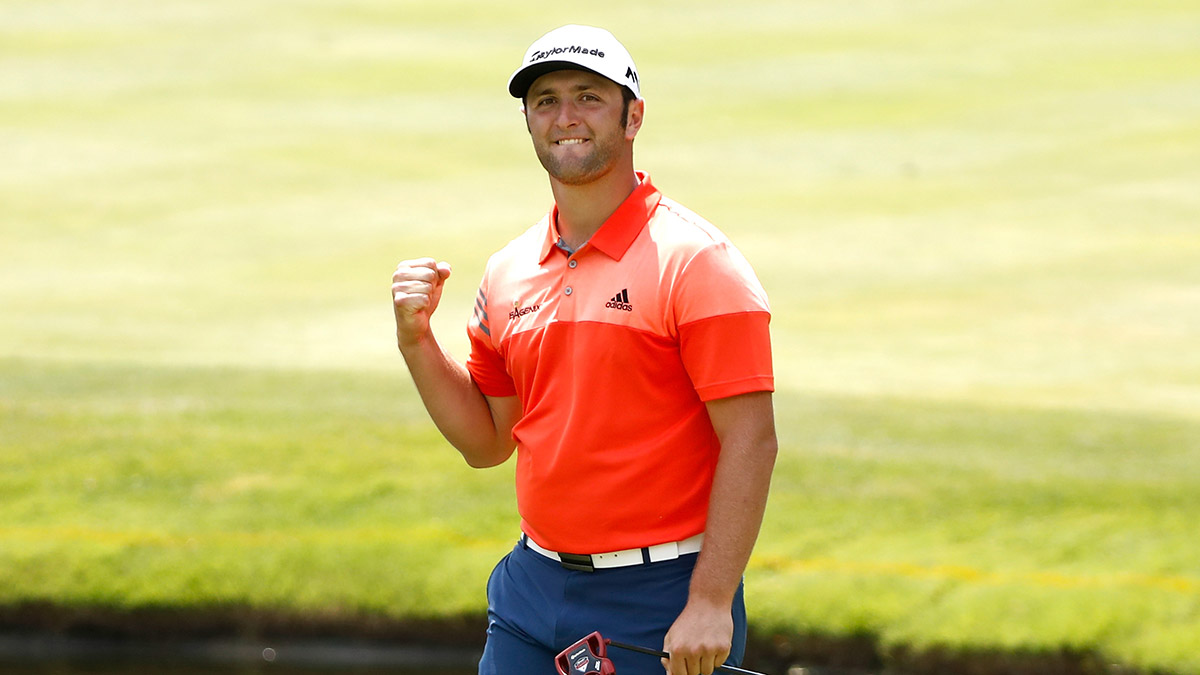 DFS 'Dog
A lower-priced option for DFS.
Brendan Steele
For anyone who's watched The Gimme and noticed the caddie bib that reads "STEELE" hanging on the wall over my left shoulder, sure, I suppose you can accuse me of a little bias here.
But I do know a few things.
The first is that Steele is terrific off the tee and thrives on courses where he can hit a lot of drivers.
The second is that he's a course horse, playing well at the same venues year after year — and his career results at this one include four top-six finishes in 10 starts.
And the third is that despite a strong history and finishes of 21st-4th so far this year, he remains criminally underpriced in all markets. I really like him in DFS, but have zero problem with top-10/20 props this week — and maybe a little sprinkle on an outright bet, as well. 
First-Round Leader
One player to post the low score Thursday.
Webb Simpson (+2800 for FRL)
You'll undoubtedly want some investment in this week's defending champion, and there are hints that this might be the right place to wager on him.
Last year, he won for the first time in 10 tries at this event, but his opening-round 71 was actually his second-highest here.
Simpson's scoring average on Thursdays at TPC Scottsdale is 68.50, including a 65, two 67s and three 68s.
It'll usually take something just a little bit lower to claim FRL honors, but when last we saw him, he was posting three of four rounds at 65 or better during the Sony Open.
I'd normally want some longer odds for this bet, so don't be afraid to add a few others listed here at bigger prices.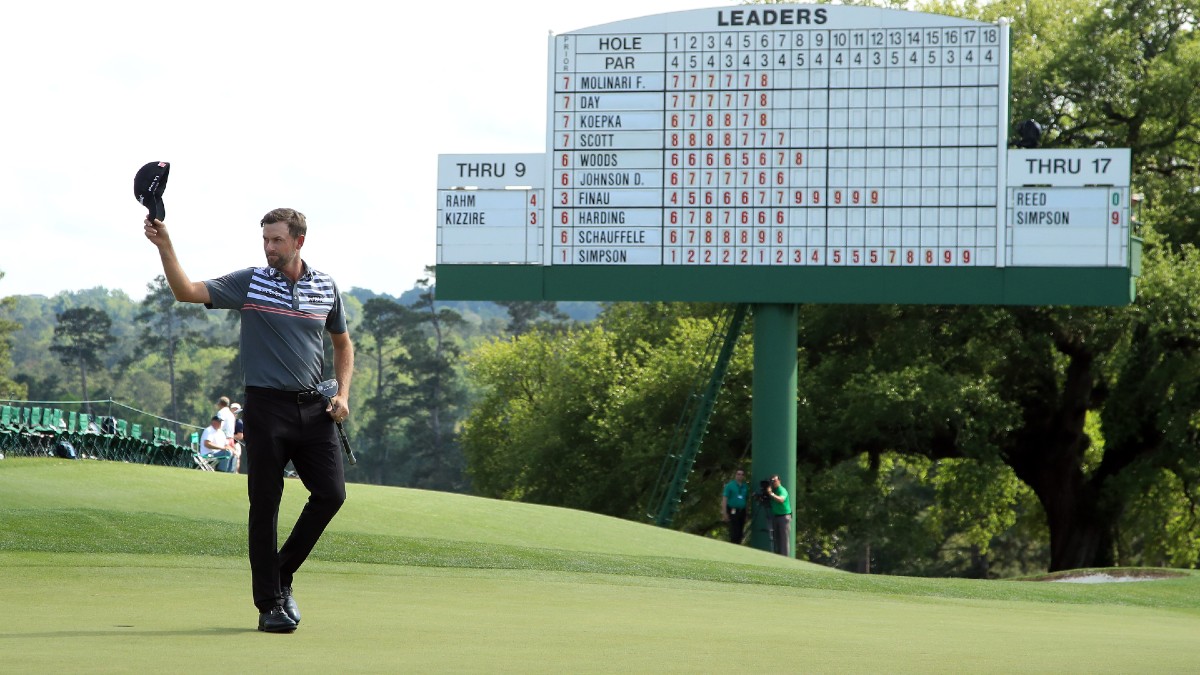 Matchup Man
One player who should beat comparable players.
Keith Mitchell (+25000)
Following a lengthy run of uninspired finishes, Mitchell gave himself a pep talk at the Sony Open and responded with a T-14 finish — his best result since last year's Arnold Palmer Invitational.
He missed the cut last week, but following the theme that better drivers should prosper here, I like the guy at 43rd in strokes gained off the tee to at least make the cut, which essentially gives you two chances to win matchup bets — on Friday afternoon and Sunday.
I similarly don't mind a shot on him as a top-30/40 play or a low-end DFS option, but he could hold the most value as a head-to-head play against similarly priced players.
The Big Fade
One top player to avoid at this tournament.
Matthew Wolff (+5000)
I'm not listing Wolff here to pile on after last week's early withdrawal. In fact, just the opposite.
Wolff WD'd from the Farmers Insurance Open with a hand injury after an opening-round 78 that included a pair of triple-bogeys.
Many critics on social media castigated him for the move, not-so-subtly insinuating that he withdrew because of his score, not the injury.
In these scenarios, unless there's prior reason to believe otherwise, I always side with the player — and there's no reason to think Wolff is making a new habit of bagging it early.
This is a player who posted opening-round scores of 80, 77 and 76 in the past year and continued playing in those events; in fact, that 76 came at Torrey Pines last year, and he still finished in a share of 21st place.
Instead, the rationale here should be that the reason he shot that 78 was because he was injured.
If that is indeed the case — and we have no reason to believe otherwise — then I'll be fading Wolff until we hear some more positive reports about his health. 
Off Tour
My favorite non-PGA Tour play of the week.
Tony Finau at the Saudi International (+350 for top-five)
The man we lovingly call Top-Five Tony was at it again this past weekend, chasing a solo fourth at The AmEx with a T-2 at the Farmers.
It's disappointing he isn't returning to Phoenix this week, the site of his playoff loss last year and a place that suits his game really well.
Instead, he's taking gobs of appearance money to play in Saudi Arabia along with Dustin Johnson, Bryson DeChambeau, Patrick Reed, Tyrrell Hatton and a host of other big-name players.
It's a different country, but I expect the same solid results from Finau — which is to say, we shouldn't bank on a win, but it's hard to believe he won't keep playing well.
How would you rate this article?