2021 Northern Trust Betting Odds, Picks, Predictions: Berger Primed for Big Effort at Familiar Course
Credit:
Mike Ehrmann/Getty Images. Pictured: Daniel Berger.
Liberty National hosts the Northern Trust, which is the first stop in the 2021 FedExCup Playoffs.
The 124-player field features one of the best non-major lineups ever assembled and will be a key starting point to see who lifts the cup.
Jason Sobel breaks down his best plays for the week below.
JERSEY CITY, N.J. — The PGA TOUR makes a final stop in the New York area for the FedEx Cup playoffs at this week's Northern Trust, with host course Liberty National famously framing a backdrop that includes the nearby Statue of Liberty.
The huddled masses in player dining might not be poor, as 124 playoff qualifiers will begin a quest for that end-of-the-rainbow $15 million first-place prize in a few weeks (Louis Oosthuizen is the lone player who has opted not to play this week), but they are tired toward the end of this so-called super-season.
How else can we explain the last two regular-season events? The final 90 minutes of the WGC-FedEx St. Jude Invitational were a lesson in how to cough away a potential title by nearly everybody in contention, followed by a Wyndham Invitational that was led by Russell Henley for sixty-something holes, before he bowed out, leaving a record-tying six-man playoff.
Maybe there's something to this protracted campaign leaving players mentally anguished and physically worn down by the time they reach Sunday afternoon. It would help explain why no 54-hole leader has converted for victory since Phil Mickelson, way back in May at the PGA Championship.
If the pattern persists, we should expect a special kind of chaos this week. Maybe the leaders won't break 80 in the final round. Or we'll have a 12-man playoff. Or even some sort of 2009 Liberty National redux, when the formidable foursome of Tiger Woods, Ernie Els, Padraig Harrington and Steve Stricker was upended by Heath Slocum, who'd barely snuck into the playoffs.
I wrote about the upcoming Ryder Cup and some thoughts on the U.S. team's decision-making process on Sunday, but before I get to the picks, I wanted to post one more tangential theory that connects both this week's event and that one.
I've got bad news for Bryson DeChambeau: If he didn't like the "Brooksie" catcalls in Memphis two weeks ago – and to be sure, he absolutely didn't – then he's going to hate what he hears from the NY/NJ crowd at this one.
As a native New Yorker myself, I'm well versed in the Bronx cheers of my brethren. In fact, buried deep in my office closet is a Beta tape from an ESPN camera when I was field producing at the 2002 U.S. Open at Bethpage that features fans in various states of sobriety browbeating Sergio Garcia while he tries to play some golf.
So yeah, I have a feeling that these galleries are going to offer their best bluster and bravado toward Bryson, even if he doesn't deserve it. Well, certainly not for the Brooks brouhaha, at least.
All of it should prompt the already lingering question: When is all this stuff going to end? Some have suggested that until Koepka calls off the dogs, they'll keep barking at DeChambeau. That could very well be the case, but I've got an idea on when it could come to a halt, too.
When it comes to these two players and the Ryder Cup, much of the focus has been on how they'll be able to coexist within the inner sanctum of the U.S. team room. That's a fair ponderance, though each have suggested it won't be an issue.
What also likely won't be an issue at Whistling Straits is the heckling toward Bryson. All of a sudden, he'll go from enemy of the people — again, rightly or not — to a player the red, white and blue-clad observers will need to support.
The "Brooksie" chants will become "Brysie" chants or something to that effect, with fans rallying behind DeChambeau and vice versa. That obviously isn't a recipe for undeterred success, but if he plays well, while wearing the home team's colors, it could be enough to quiet those jeers he's been hearing on a regular basis.
Again, it's just a theory — and it remains to be seen (and heard) whether it'll happen this way. As for this week, though, I have a suspicion that the NY/NJ galleries just might be able to out-berate the Memphis folks.
Let's get to the picks, starting with a player who will hardly surprise anyone if he claims another victory this week.
Outright Winner
One player to win the tournament.
Daniel Berger (+2800)
I wrote this story four years ago and have told it a bunch of times since then, but in the wake of so much debate over what type of player we'd collectively pick for the U.S. Ryder Cup team, it's worth telling the Cliff Notes version again:
When Berger was 13, his father, Jay, a world-class tennis player who was once ranked as high as seventh in the world, brought him into the pro shop at The Dye Preserve and asked the pro to work a little with his son and see if he had any talent.
The teenager hit a few balls on the range, then the pro asked if he wanted to go play on the course. "What are we playing for?" the young Berger asked, then suggested, "Let's play a $20 closeout."
When the pro wondered aloud whether the kid was alright with that, he fired back, "Are you good with losing to a 13-year-old?" Among the characteristics we so often praise, moxie is the one which might be most enviable. Koepka has led the PGA TOUR in moxie for a half-decade; Dustin Johnson owns plenty of it, too.
Berger might show it off less, but he's got a heavy dose of that moxie, which should have him stepping on the gas pedal with a potential Ryder Cup spot and so many other spoils coming with a big week. Berger seems to be a great fit for this course and showed it by going 2-1-0 for the U.S. here at the Presidents Cup in 2017.
The Florida native is trending in the right direction and he should be wholly motivated to put together a big result at the right time.
Other OADers
Potential selections for one-and-done options.
Dustin Johnson (+1600)
Maybe, just maybe, you were saving DJ in your OADs. Maybe you wanted to hold on to him for a while, only for the erstwhile world No. 1 to hit a late-spring swoon that turned into an early-summer swoon that has, for the most part, continued until now.
Well, that's not necessarily a bad thing. Johnson might be a Southern boy from South Carolina, but he's traditionally played some of his best golf in the Northeast part of the country.
That includes a whopping 11-stroke win for this event held at TPC Boston last year — if you can't choose defending champions in your pool, make sure to cross him off your list — and it would hardly be a surprise if he replicates the victory, if not the margin.
Scottie Scheffler (+2800)
At some point, he's going to win. And it'll probably be a long time before you can bet him at this number again, even against this type of field. As a young player without much course history, I can see OADers eschewing him for much of the season in favor of those with bigger track records, but he's not a guy you should go all year without using. This should be another good spot for him.
Gary Woodland (+15000)
He was moving in the right direction with results of 11th-7th in the two starts before hitting a little speedbump and missing the cut last week, but that doesn't tell the entire story, as a two-day total of 70-68 hardly signifies that he lost his game.
Granted, it was eight years ago, but he led at this venue by three strokes with 27 holes to play, only to finish in a share of second place that year. This course should give him some good vibes, though, and I'm expecting a solid week.
If you're playing catch-up in an OAD, but don't want to go with a total dart throw, Woodland should offer some exposure to a potentially low-owned player who is capable of winning.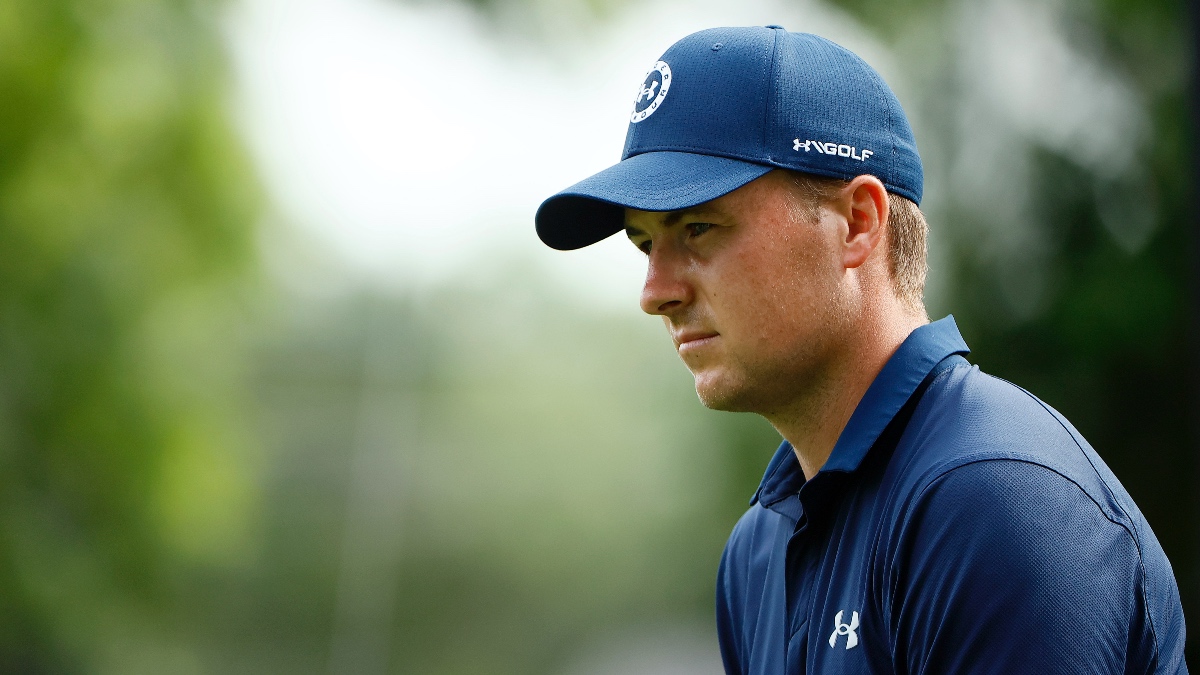 Top-Five
One player to finish top-five.
Jordan Spieth (+275 for top-five)
Full disclosure: I demurred back and forth between Spieth and Berger for my favorite outright this week. Just because I gave the nod to the latter doesn't mean I like the former much less, as he's certainly trending up, as well.
Many of Spieth's strokes gained numbers are comparable to some of his prior multiple-win seasons and even though he's risen from the proverbial ashes this year, a one-victory conclusion feels a bit underwhelming. He's cashed top-fives in five of his last dozen starts, so this number feels like it offers some value this week.
Top-10
One player to finish top-10.
Adam Scott (+350 for top-10)
Raise your hand if you listed Scott as "The Big Fade" in last week's preview. Yup, that's me with my big, stupid hand in the air – a move that would've looked even sillier if Scott could've drained a simple 4-foot birdie attempt on the first playoff hole.
It had been such an unspectacular season that I wasn't willing to bet that the Aussie would turn things around enough to contend, but I was dead wrong about that.
And even though he didn't win, getting a taste of some nerves down the stretch should be enough for him to have the juices flowing this week, at a place where he's enjoying a decent amount of success over the years, winning in 2013 and finishing solo fifth two years ago.
Top-20
One player to finish top-20.
Jhonattan Vegas (+400 for top-20)
I've written this many times before and mentioned it just as many on our weekly podcast (which is now called "Links & Locks" and you should definitely download it and subscribe to it and give myself and Justin Ray a bazillion-star rating): If you watched every player take swings on the range and chip in the practice area and roll a few putts without being able to see their faces, you'd pick Vegas as a top-20 type of guy every time.
He's got all the tools we look for in a breakout candidate – and perhaps now he is indeed breaking out, with finishes of 16th-or-better in six of his last eight starts. I like him in all formats this week, but the top-20 play seems like it fits best.
Top-30
One player to finish top-30.
Dylan Frittelli
Some players thrive when playing against inferior competition. Maybe it's the feeling that they think they're among the best players in a certain event when the big boys aren't there. Other players tend to only show up for the more important tourneys.
Usually this describes an elite-level talent, but Frittelli surprisingly fits here. Really, the only reason he's even in these playoffs is because he stepped up in some big ones, finishing T-5 in last November's Masters, T-22 at The Players, T-9 at the WGC-Match Play and solo fifth at The Open. Perhaps another event with the game's best players will be enough to get him going again.
Top-40
One player to finish top-40.
Maverick McNealy (+200 for top-40)
It's still very early in McNealy's career, but I'm already comfortable making the Charles Howell III comparison – and no, that's not some kind of backhanded compliment.
I think the Stanford product has a chance to be the game's next human ATM, the type of player who might not win a lot of titles, but cranks out six-figure paychecks on a weekly basis.
Case in point: His last six starts, which include no results better than T-16 and nothing worse than T-30. I can see an awful lot of top-20/30/40 wagers on McNealy being cashed in coming years.
DFS Free Bingo Square
A safe plug-and-play option for DFS.
Jon Rahm
Yeah, yeah, yeah. This is why you clicked this link — for the hard-hitting analysis that the world's No. 1-ranked player might be a decent addition to your DFS lineup this week. Rahm is a solid play for the sheer reason that Rahm is always a solid play, but I'll give you two reasons he might stand out even more than usual.
The first is that he finished T-3 here two years ago, when he wasn't even close to the fully formed talent that he is right now. And the second is the narrative that when Rahm returns from COVID-19, he wins.
OK, so that narrative extends back to exactly one previous situation, but in his first start after being forced to WD from the Memorial Tournament, he won the U.S. Open and this will be his first start since being forced to WD from the Olympics, so maybe there's something to him channeling any leftover frustrations.
DFS 'Dog
A lower-priced option for DFS.
Luke List
He missed the cut last week on a course which really didn't suit his game, but List still owns two top-six finishes in his past four starts. For DFS purposes, he's a guy I like because of that high upside and his ability to make birdies in bunches, ranking 44th this season. I think Vegas, Frittelli and McNealy, all listed above, fit this category, as well.
First-Round Leader
One player to post the low score Thursday.
Keegan Bradley (+9000 for FRL)
I was really high on Bradley back in the spring, when it appeared as if he was on the verge of breaking through for a first victory since late-summer of 2018. That never happened and since then, he's played good-but-not-great. Even so, Keegan is a guy whom I often target both on Northeast tracks and for FRL bets, so this feels like a solid combination here.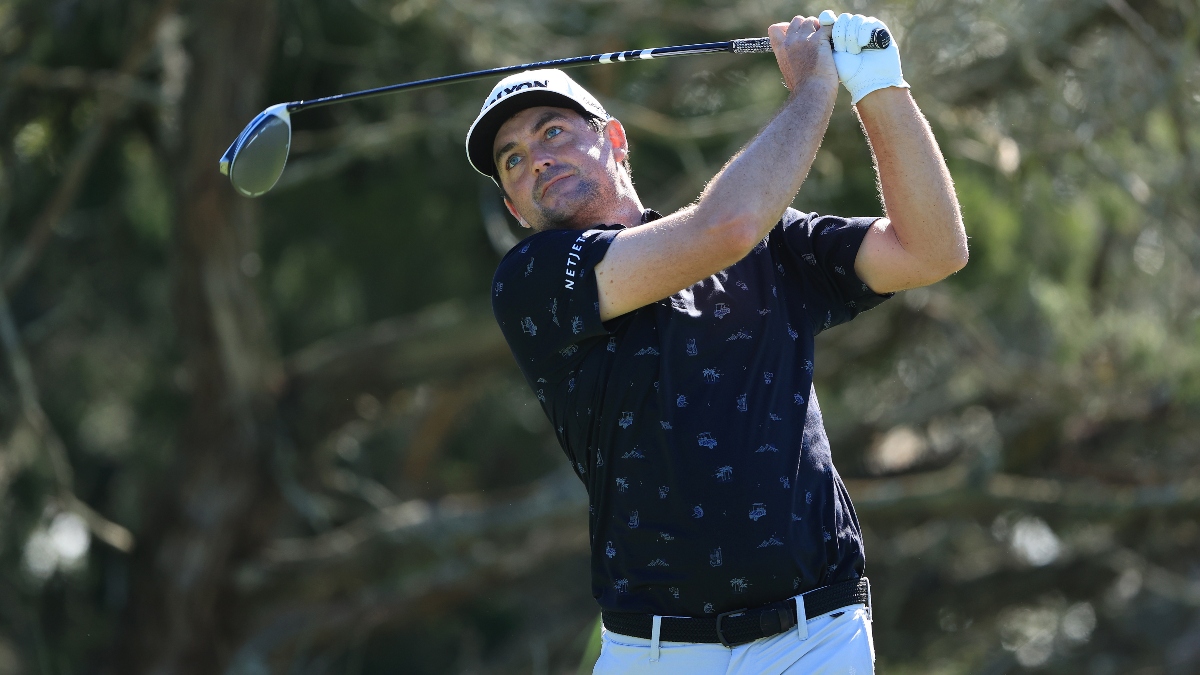 Matchup Man
One player who should beat comparable players.
Paul Casey 
His lone victory this year came in Dubai, which isn't part of the PGA TOUR schedule, of course. Because he hasn't won stateside – and perhaps because we collectively tend to overrate the influence of wins – I don't think the 44-year-old has been given enough credit for the tremendous season he's enjoyed.
In 18 starts, he owns seven top-10s, 10 top-25s and just two missed cuts. He's burned me a few times betting him outright this year, but perhaps that's only more reason to do it again. Instead, for these purposes, give me some solid Casey H2Hs, preferably at even- or plus-money.
The Big Fade
One top player to avoid at this tournament.
Harris English (+4000)
It's one thing for a guy seeking his first career victory to lose in heartbreaking fashion and have to deal with the aftermath. I can't imagine the WGC loss in Memphis a few weeks ago should haunt English too much, considering he's already won twice this season.
That said, it probably won't help him, either. Thrown into a group for the first two days with world-beater Jon Rahm and the guy who was eventually the beneficiary of his blow-up in Abraham Ancer might not be the easiest one for him.
In truth, though, there just aren't many top players whom I want to completely fade this week, including English himself, so I'm simply taking a shot on this narrative.
How would you rate this article?
This site contains commercial content. We may be compensated for the links provided on this page. The content on this page is for informational purposes only. Action Network makes no representation or warranty as to the accuracy of the information given or the outcome of any game or event.