Sobel: For Tiger, 19 Majors Is Back in Play
Credit:
Rob Schumacher-USA TODAY Sports. Pictured: Tiger Woods celebrates after making a putt on the 18th green to win The Masters.
Tiger Woods is a co-favorite at this week's PGA Championship (10-1 odds).
His victory at the 2019 Masters jump-started a conversation with which golf fans are all too familiar: Will he break Jack Nicklaus' record of 18 majors?
Jason Sobel caught up with Tour pros to discuss the likelihood of Woods pulling off 19 and everything that needs to go right along the way.
Not long after his fifth Masters victory, Tiger Woods sat prominently draped in his conspicuous green jacket for an interview, dutifully reliving a triumph that many, himself included, thought would never happen.
He spoke about what it meant to him in the moment; he spoke about what it will mean to him going forward.
Finally, he was asked the question.
You know … THE QUESTION.
The one everybody asked for more than a decade, the one everybody stopped asking, the one everybody is asking once again.
Can you break Jack Nicklaus' major championship victory record?
"I always thought it was possible, if I had everything go my way," he told GOLFTV during that interview. "It took him an entire career to get to 18, so now that I've had another extension to my career, one I didn't think I had a couple of years ago, if I do things correctly and everything falls my way, it's a possibility. I'm never going to say it's not."
He's right. He's right about all of it.
Never once has Woods intimated the audacity needed to insist the record will someday be his. He isn't one for making predictions, but he similarly isn't one for disregarding reality.
After all, that burning question didn't ask if he WILL break Nicklaus' mark. It asked whether he CAN do it.
Like Tiger himself, let's forget about trying to make long-term predictions and visualizing whether he will forever remain on 15 major titles, or whether he'll add to that number, or whether he'll answer that ubiquitous question with his clubs, someday claiming what must be considered one of the last great records in all of sports.
Instead of attempting to figure out if it will happen, let's instead concentrate on the fact that it can happen.
Whether you think it will or won't, this much is now obvious: The window is open.
Getting to 19 majors is now in play. Again.
"I would certainly think so," Rory McIlroy said. "It rejuvenates, reenergizes that narrative. … Tiger could be competitive at Augusta for the next 10 years if his body holds up."
Added Phil Mickelson: "I would never put anything past him. I'd never put it out of play. He's so tough. … I think he's going to play his four best weeks the weeks of the majors."
There are infinite variables, of course. Tiger must remain healthy, which is hardly a given considering his physical history. He must defeat fields that are deeper at the upper level than those of his prime, with so many elite players battling for these trophies. And he must win more, later in his career, than any other player, as only 10 men older than Woods have won majors – and none more than once.
Therein lies perhaps the most damning rationale for why that window might only be open a crack.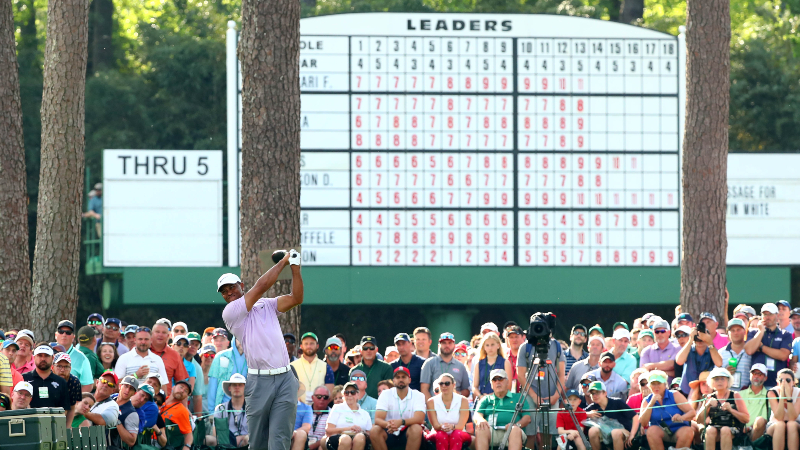 "When he was on 14 majors, he had to have the career of Seve Ballesteros or Phil Mickelson to go past Jack," rightly explained Justin Rose. "We talked about it like that was an option. These are Hall of Fame players. If you think about it in that realm, it's still a huge, monumental task in front of him."
While Tiger has the first of those five that he needed out of the way, he still must produce a major championship total equal to that of Ernie Els or McIlroy (so far), and he must do that well into the back-nine of his career.
Once again, though, the question about chasing history has become one of the most relevant in golf — and it even has Woods' peers debating the possibility.
Harold Varner considers Tiger a massive influence on his career. He insists that he always believed No. 19 was a possibility, even during those darkest days.
"I'm one of the biggest Tiger fans ever," Varner said. "Some people have doubted him, which made it even cooler. I love that. I love when things are against you and you just fire it up. That's what it's all about. When he was winning the other 14, everyone was on his side. What made it so cool about this one, everyone was like, 'I don't think he can do it.' I'm like, 'Piss off, dude.' I love it."
Tony Finau similarly credits Woods' prominence as his biggest reason for chasing the dream of becoming a professional golfer. He had a front-row seat to the Masters victory, playing in the same Sunday grouping and watching his hero up close.
When it comes to passing Nicklaus, though, Finau isn't nearly as optimistic as Varner.
"I never doubted he was going to win another one," Finau said. "But my short answer is no, I don't think he can break Jack's record. The reason for that is I don't believe he's going to be healthy for enough majors to have a chance. If you told me he'd be fully healthy for the next six or seven years, hell yeah he's going to break it. But in my heart, I don't believe he's going to be. So if I had to bet on it, my short answer is no."
If Woods is going to make a serious run at 19 majors, if he's going to keep pushing that window open a little more in coming months, then at least he'll have some good vibes at each of the next two of 'em.
Woods is the only player to have won official events at both Bethpage Black, site of this week's PGA Championship, and Pebble Beach, site of next month's U.S. Open.
He knows how to win on both venues, but perhaps more importantly, he now knows how to win with a current game that is vastly different from the one that helped him dominate events at these courses in the past.
"Throughout his career, Tiger has won in so many different ways," said Mickelson, "from overpowering the golf course like he used to do early in his Masters victories, to patience and plodding throughout U.S. Opens and British Opens. He's won so many different ways. He's just finding another way to win."
If he can somehow channel this new way into four more major wins, it would signify not just the greatest accomplishment in the history of golf, but at the very least, one of the greatest accomplishments in all of sports.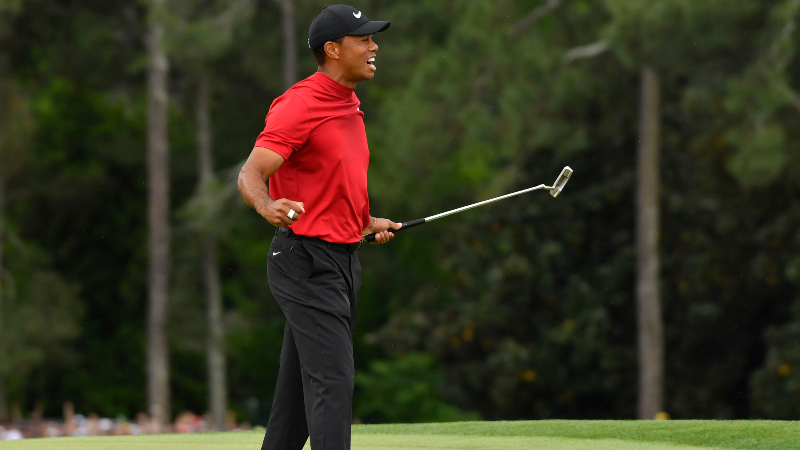 It might happen, it might not.
But that window is open. The record, for now, is back in play.
Woods won't make a prediction as to whether he'll get there, but he acknowledges that it's a possibility once again.
"I just need to have a lot of things go my way," he explained. "Who's to say that it will or will not happen? That's what the future holds. I don't know. The only thing I can promise you is I will be prepared."
How would you rate this article?