Sobel: Not a Fan of the Tiger-Phil Mega-Match? I'd Like a Word
Credit:
Rob Schumacher-USA TODAY Sports. Pictured: Tiger Woods and Phil Mickelson
Tiger Woods and Phil Mickelson appear set to play in a much-anticipated head-to-head match at Shadow Creek Golf Club on Thanksgiving weekend.
Somehow, not everyone is thrilled this is happening.
No, Tiger and Phil were never going to show up on the first tee with their own $10 million up for grabs, but wouldn't you rather see the match happen under different terms than not at all?
AKRON, Ohio — I can't wait for this proposed Tiger Woods-Phil Mickelson match.
In Vegas terms, I'm all-in.
No, I don't think this is going to be the most transcendent match we've ever seen. I don't think it's more important than a major championship — or any other golf tournament, for that matter. I don't think it'll prove which player is more talented or handles pressure better.
But still, I'm all-in.
Here's why: The idea is just plain fun. And I like fun things.
Apparently, not everyone does. I've heard a lot of grousing and grumbling about this match already, despite the fact that the contracts haven't even been signed and the details haven't been released.
It baffles me that people will complain about extra entertainment value, as if they had four hours in late-November already booked up.
Let's address some of these premature gripes — complete with real tweets from real people!
They're both old and washed up.
Past their primes? Sure. Still capable of playing elite-level golf? Yes. The two most polarizing golfers on the planet? Absolutely.
OK, so this isn't mid-2000s Tiger and Phil determinedly battling each other as the frostiness between them never thaws. These are two beloved figures, rivals-turned-buddies, who still want bragging rights over the other in front of a worldwide audience.
---
>> Sign up for The Action Network's daily newsletter to get the smartest conversation delivered into your inbox each morning.
---
I wonder how many people stating the "past their prime" case would watch two in-prime golfers — let's say, world Nos. 1 and 2, Dustin Johnson and Justin Rose — compete in a similar match.
The beauty of this format is that a competitor doesn't have to be better than everyone else; he just has to be better than the opponent.
Watching a pair of 18-handicappers pillow-fight their way through a $5 Nassau can be pretty entertaining. Watching two of the game's greatest players of all-time certainly works, too.
It's not an official event, so nobody cares.
Well, if you need a reason to care, let me ask a few guys in those nearby Vegas sportsbooks if they have any ideas. Even-money says they do.
And while we're betting, I'll take this prop: Ratings for this match will exceed those of 75% of this season's PGA Tour final rounds and at least one of the majors, with the caveat that it's on national television. (Details haven't been released as to where this will be broadcast.)
Trust me on this one: Interest is going to be massive.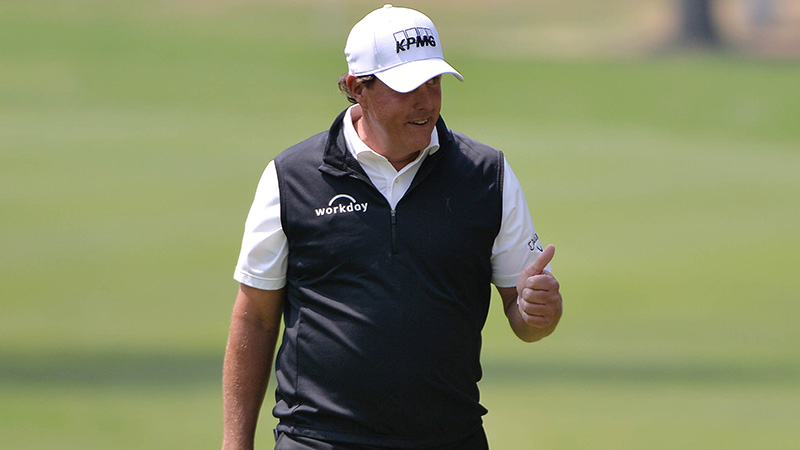 Orlando Ramirez-USA TODAY Sports
There's a good chance many of you will still be around your extended family when this match takes place. Good luck trying to switch over the Oregon State game when the uncles and cousins and, yes, even grandmothers want to check out two golfers they've been watching for the past quarter-century.
This event will rope in the most casual of fans like no other its competing with.
OK, well I personally don't care.
There's an excellent chance I only included the above tweet because it used the term "shot show" to denigrate this match. Hilarious. We can only hope this one turns into a shot show.
First things first: It always amazes me how people think they can take their view and apply it to every other person. Probably more of a societal issue than a golf one.
---
>> Download The Action Network App to get real-time odds, track your bets and follow all of our experts' picks.
---
Next: I wonder how many of these I-don't-carers will be laying on the couch in a post-Thanksgiving tryptophan-induced laze, turn the channel to the Tiger-Phil match and never look away.
Of course, these same people will insist afterward that "it wasn't that great" and "they weren't that entertaining" while neglecting that they contradicted their original statement by watching the entire thing.
They should play for their own money.
This is easily the biggest criticism of the match that's been offered so far.
To which my response is: Come on, do you really care?
First of all, terms of the deal haven't been released; the complaints about this should probably be tabled until we receive more details. But really, having millions of eyeballs watching and a huge dose of pride on the line is a much bigger factor for these guys than any sort of monetary bonus.
Besides, if they played for their own money, wouldn't the loser just write off the loss as a business expense? Sorry, but the prospect of two guys playing for the right to not have an accountant fill out an extra line on their 1099 form doesn't get me any more excited for this match than I already am.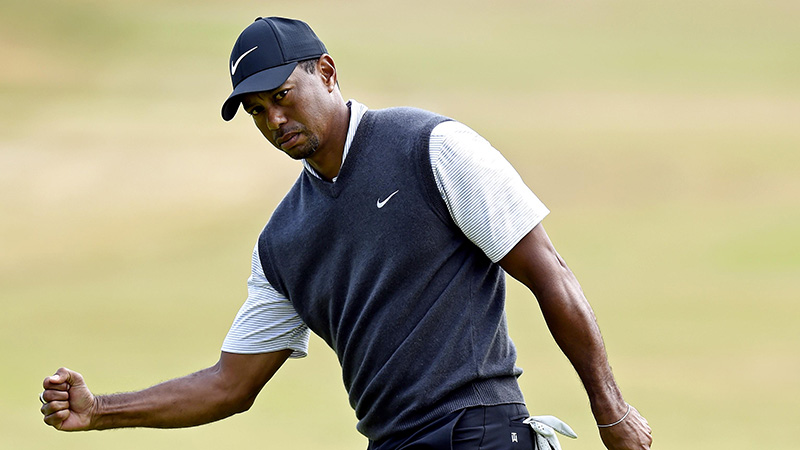 Ian Rutherford-USA TODAY Sports. Pictured: Tiger Woods
Don't be naïve, folks. Tiger and Phil were never going to each arrive at the first tee with $10 million cash in a suitcase, with the loser handing over the loot in a ceremony at the end.
While I'll admit that would be pretty damn fun, neither player would agree to this match if it wasn't a win-win for everyone involved — even the guy who loses.
Instead of their own money, of which they each have enough already, I'd rather see the loser have to pay up a non-monetary wager for the winner. Caddie for him in a tournament round. Wear the other guy's clothes for a month.
Or maybe something really embarrassing. Like having to dance on a nationally televised commercial. (Ohh, right.)