Sobel: Tiger and Phil Should Turn 'The Match' into a Betting Extravaganza
Credit:
Action Network Photo Illustration. Photos via USA TODAY Sports
Tiger Woods and Phil Mickelson will play for $9 million in their Thanksgiving weekend money match. Tiger is currently a -160 betting favorite, while Phil's odds are at +140.
But this match can't simply be two rich dudes playing for a big payday. To draw an audience -- and keep its interest -- the two stars should have bets flying everywhere.
Some ideas: Automatic one-down presses, longest drive prop bets, and some embarrassing side-action stakes.
As I've written previously, I'm all-in for the impending Tiger Woods-Phil Mickelson match in Las Vegas during Thanksgiving weekend.
Well, I was all-in.
Now I'm just mostly in, based on the latest news to be leaked about the event.
It's not the money that has me pulling back. I'd never begrudge anyone the potential for a hefty paycheck, even if it's a couple of insanely rich dudes going after $9 million.
Some have suggested it would mean more if they were playing for their own money; I think there should be — and maybe it just hasn't been announced yet — a charitable component to the proceedings.
None of that would keep me from being fully invested in the fate of this match, though. It's the idea of this being a reported $24.99 pay-per-view event that really rubs me the wrong way.
Just a few weeks ago, Woods spoke of the match "trying to grow the game of golf somehow." But competing for a crazy amount of cash, then asking the public for even more of it just oozes Wolf of Wall Street-like greed.
Even if it winds up being financially successful, this is a bad look for the game in general — and Tiger and Phil specifically.
Much of the allure of this match is that it will be contested on a holiday weekend. Gather 'round the flat screen with the extended family, pass around some leftover turkey sandwiches and watch the two most polarizing golfers of the past quarter-century.
It will likely air in prime time on the East Coast. It will take place as the frigid air starts enveloping the Northern states.
Even those who professed no interest would let their curiosity take over.
The college football schedule has yet to be finalized with most kickoff times, but assuming this match is played on Saturday, after feasting on Michigan-Ohio State and Auburn-Alabama in the afternoon, anything else will pale in comparison.
With Tiger and Phil on free TV, it would be only natural to flip over to some late-night golf and see what all the fuss is about. Ratings would've been massive, likely surpassing most PGA Tour final-round numbers.
That won't happen with a PPV broadcast. Instead, only those who are already thoroughly intrigued will tune in.
As such, Tiger and Phil need to turn PPV into some better PR.
In other words, this can't be a boring slog of an exhibition, with the 18-hole winner taking home a lot of money and the loser taking home slightly less money.
Even Tiger acknowledged this recently, saying: "We're going to do something that's never been done before in the game of golf, so that's always fun to do something like that.  I did something like that previously with some of the stuff under the lights and this is a different version of it."
There needs to be some serious action on the line, both for the competitors and for the play-at-home viewer audience.
Good news, everybody: I've got a few ideas.
Automatic one-down presses
For those who have somehow never littered a scorecard with tallies from these bets, here's the format: Let's say Phil wins the first hole; he's now 1-up in the original 18-hole match. When you're playing with automatic one-down presses, a new 17-hole match would be created.
If one of them wins the next hole, there are now three bets. On and on we go.
Can this get messy? Absolutely. Can it get expensive? Hell yes. Can it be fun to watch and bet? That's a clown question, bro. Of course it can!
The whole idea is that the screen should look like the CNBC stock ticker by the time they reach the turn.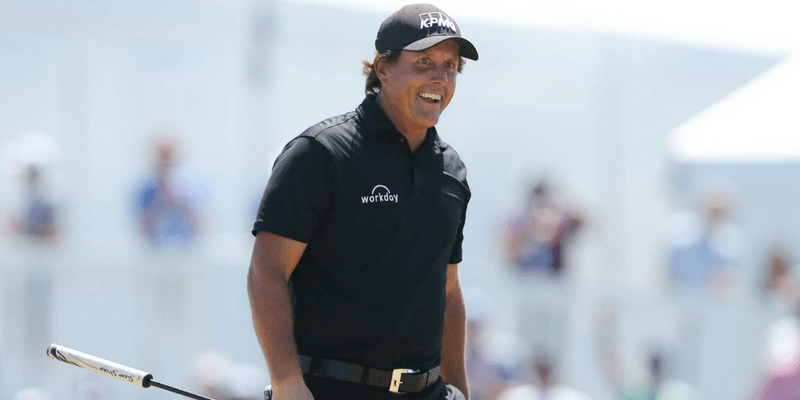 They should have bets flying everywhere and the public should be able to back any of them.
So yes, you might wager on Tiger for the original match, Phil for the 17-hole press and Tiger for the 16-hole press.
This match was built for betting — it's in Vegas, for goodness sake! — so they need to ensure there's enough action for everyone.
Prop bets, prop bets and more prop bets
If you can bet on it in your regular Sunday morning game, then Tiger and Phil should be betting on it, too.
First off, I want at least two long-drive holes on each side.
If you don't think these two guys rearing back to try to outdrive each other is entertaining, then sign up for the Jim Furyk-David Toms PPV match instead.
We need a few closest-to-the-pin holes.
We need a few closest-to-the-middle-of-the-fairway driving holes. Knowing these two, the results could be pretty hilarious.
And we can even go beyond that.
The recent promotional campaign showed Tiger swinging a lefty driver. Inadvertent error or revealing Easter egg? If they're not putting some cash on the line while swinging each other's clubs, we'll be cheated. It needs to happen.
"Buy" some mulligans
We've all done it in the annual scramble to support the local Little League team: Plunk down an extra $20, then gratuitously keep putting those 10-footers until one of 'em finally drops for birdie. Well, even if mullies were $10K for these guys, they wouldn't flinch. So we need a different method of payment.
Here's the idea: For each shot they want a redo, Tiger or Phil must look into the camera and speak in glowing terms about the other player for 30 seconds.
I mean, like, really pour it on. And the complimented player must approve that the terms were glowing enough, or else, well, the other guy will have to take a mulligan on his mulligan take.
Let's limit this to one time per side, out of fear of it turning into some sort of love-fest out there.
More side action
Again, the money alone isn't enough of a motivational factor for Tiger and Phil. They need more … inspiration.
I've got two ideas and, hell, let's just do 'em both. The first is that the loser must dress like the winner.
Think about it: Phil in a TW hat, red shirt, black pants ensemble, or — even better — Tiger in a long-sleeved Mizzen + Main dress shirt.
They might not play a future round in these clothes, but the loser should have to pay off immediately, standing next to the winner, dressed like him, during the "trophy" ceremony.
The other idea is simple: Loser caddies for the winner. Again, it's unrealistic to think this would ever happen in a competitive round, but they could save it for five months later … at Augusta National … during the Par-3 Contest.
Don't pretend you wouldn't love to see Tiger lugging around 13 different wedges for Phil that afternoon.