Sobel's 2019 Wells Fargo Championship Betting Preview: Rory Will Be the Story, Again
Credit:
Rob Schumacher-USA TODAY Sports. Pictured: Rory McIlroy
Jason Sobel breaks down the field and course for the 2019 Wells Fargo Championship, which is headlined by Rory McIlroy (+600).
Quail Hollow shares similarities with Augusta National, and success off the tee is a common trait among winners here.
CHARLOTTE, N.C. — Years ago, prior to my initial trip to Quail Hollow Club for the PGA Tour's annual tournament here (two title sponsors ago), I was speaking with a colleague about the identifying characteristics of this track.
"It's got such an Augusta National-type of feel to it," he told me. "If Clifford Roberts and Bobby Jones had searched for a plot of land a few hours northeast of Augusta, this could easily be the world's most famous golf course right now."
It's true. All of it. From the circular driveway bordering the front of the ornate clubhouse to the perfectly manicured fairways, Quail shares plenty of qualities with Augusta. Granted, it's missing the allure and prestige and eminence of the Masters venue, but so is every other course. If Roberts and Jones had chosen Charlotte for their club, those distinctions would've grown over the decades.
If there's a technical differentiation between the two, it's in the importance of specific shots from those playing each track.
While Augusta is largely regarded as a second-shot course, with the best ball-strikers almost always amongst the Masters contenders, Quail Hollow is more of a first-shot course.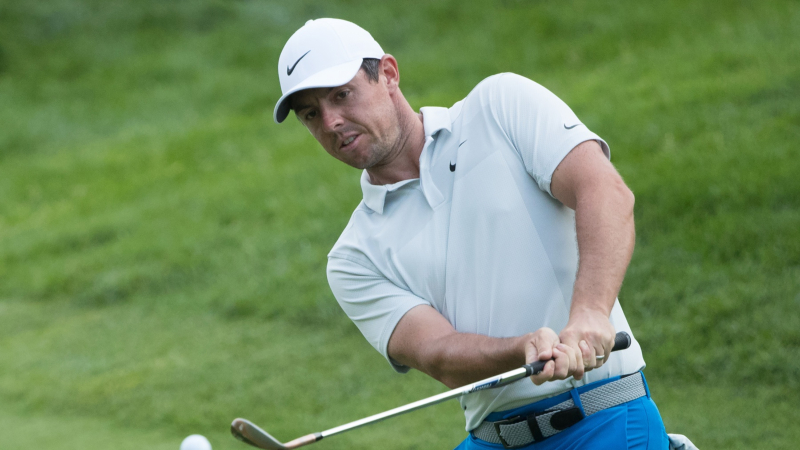 Playing to 7,600 yards with more trouble off the tee than Augusta, contenders at the Wells Fargo Championship are often long and straight with their drives, putting themselves in position to score rather than play defense.
While it might be ironic that the only player to win this tournament on multiple occasions is the same one who appears snake-bitten on that similar-style track down in Augusta, the importance of driving over iron play should explain why Rory McIlroy, who leads the PGA Tour by a mile this year in strokes gained off the tee, has enjoyed so much success here.
The field favorite this week, McIlroy won his first PGA Tour title here in 2010, then followed up with another victory five years later. That's hardly domination, but he also owns a T-2, T-4, T-8, T-10 and T-16 against just one MC in eight previous appearances.
All of which is akin to holding a steak over the nose of a German shepherd without letting him take a bite.
The man who needs only the Masters for the career grand slam is easily the most proficient player on a course which oozes similarities to Augusta National, but it's those technical differences — especially the one which accentuates driving acumen here — which make Quail Hollow such a perfect course for his game.
Favorites
Rory McIlroy (+600)
Regular readers of this column know that while I might list the low man in terms of odds if I like him, I almost always recommend against betting anyone who's less than 15-1 or 20-1 to win a tournament.
With that in mind, if you're ever going to bet a guy at 6-1, this might be the week. I'd be surprised if McIlroy isn't right in the thick of things come Sunday, if not running away with it on the back-nine.
Webb Simpson (+2000)
There's a difference between picking a player with a hometown advantage and one who actually owns a home-course advantage. While sleeping in your own bed can actually be taxing for a player who still must deal with the everyday rigors of home life, being able to play a PGA Tour event on a course where you're a member can certainly be advantageous.
Simpson will have that luxury this week, though in two of the past three years he was sleeping in his own bed all weekend after missing the cut.
Tony Finau (+2200)
At some point, it's all going to click for Finau. Contending in the final group at the Masters alongside Tiger Woods and Francesco Molinari might help give him the confidence to finally break through with a bigger win than his lone victory at the 2016 Puerto Rico Open, and this course should fit his game nicely.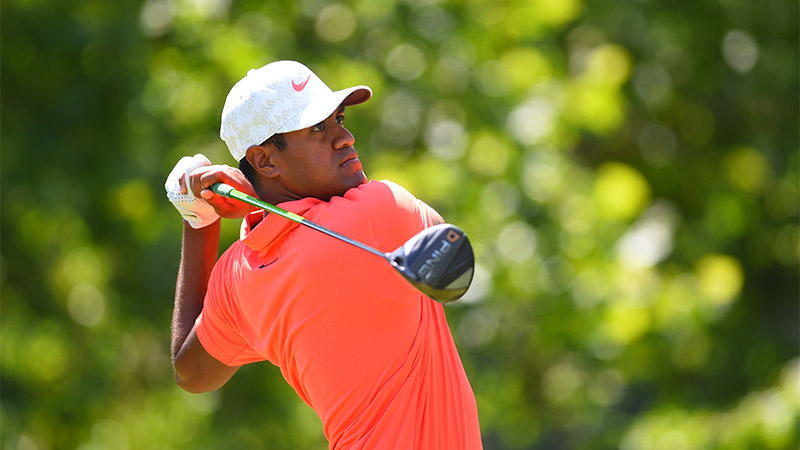 Paul Casey (+2500)
One of the best drivers of the golf ball, Casey's numbers keep improving at this event, going from T-41 in 2016 to T-12 in 2017 to T-5 last year.
Mid-Tier
Charles Howell III (+4000)
The week has already gotten off to a good start for Howell, as he was in attendance for an 8-3 victory for his Gators over my Lightning Sharks in a matchup of previously undefeated teams in U-8 boys soccer. (Among the highlights: His kid saved a goal by taking a ball to the face and my kid scored his patented cherry-picker goal, banging one into the net from about 3 inches away.)
What does it all mean for his chances here? Probably nothing. OK, definitely nothing. But he is a terrific ball-striker who plays well just about everywhere, so Quail certainly qualifies. Besides, I've already seen one Howell put it all on the line for a win this week.
Jason Kokrak (+4000)
Another week, another Kokrak recommendation. With top-20 finishes in eight of his 10 starts this year, he's a plug-and-play top-20 wager and DFS option every single week, but even more so this week, when his driving prowess should be a huge advantage.
Byeong Hun An (+5000)
Another player who seemingly checks all the boxes this week. His T-2 at Muirfield Village last year should translate well to this track.
Keith Mitchell (+8000)
At 15th in strokes gained off the tee, this should be a nice course for Mitchell, who was T-34 as a rookie last year. Perhaps more importantly, the ironman finally took a tourney off last week, so he should be refreshed and ready to go this week.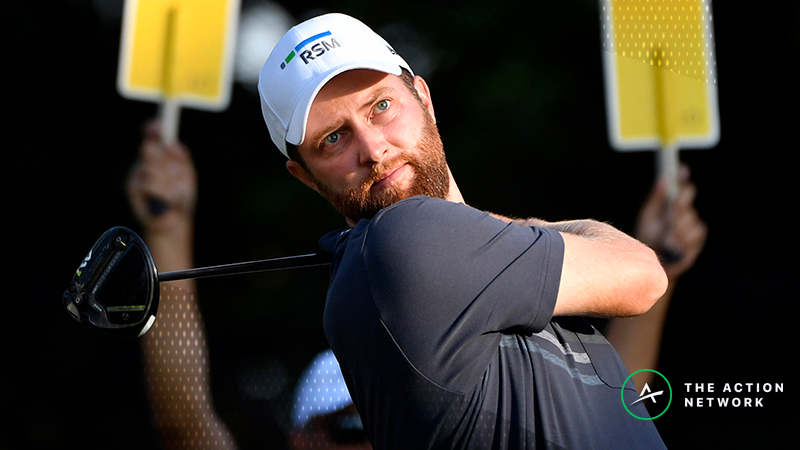 Luke List (+8000)
His share of ninth here last year signified the end of a really strong two-month run. That type of performance hasn't happened yet this year, but he's shown signs of breaking through. Maybe a solid showing this week will be the start to a similar run instead of the end of one.
Longshots
Trey Mullinax (+10000)
I'll be honest: I try not to look at my colleague Josh Perry's preview until after I've written my own each week, just because I don't want to be swayed. But I'll admit that I did take a quick peek this week and might've left Mullinax off my list if I hadn't seen him there.
Perry makes strong points about Mullinax contending (alongside Scott Stallings) last week and this course being perfectly suited for him. I love a top-10 flier on him this week.
J.T. Poston (+10000)
Stay off Twitter… stay off Twitter… stay off Twitter… dammit, I looked. Just as the masses — myself included — bought into Matt Fitzpatrick's pre-tourney claims about loving Harbour Town a few weeks ago, Poston went on social media Tuesday morning and declared this the "best week of the year." I know I shouldn't get suckered in, but … I think I just got suckered in.
Nick Watney (+11000)
When he's playing well, he plays well here. No, all of Watney's results here aren't great, but he spent a few years playing his C-game instead of bringing his best stuff. When he's on, as he was in 2012, 2013 and last year, he posts top-10s at this tourney.
My Favorite Bet
Rory McIlroy: Top-10 Finish (-150)
Usually in this section, I want to give you a little something for the effort, as the Lama would say. Instead of a sure thing, I try to offer a bet that I really like with some longer odds and better potential payout.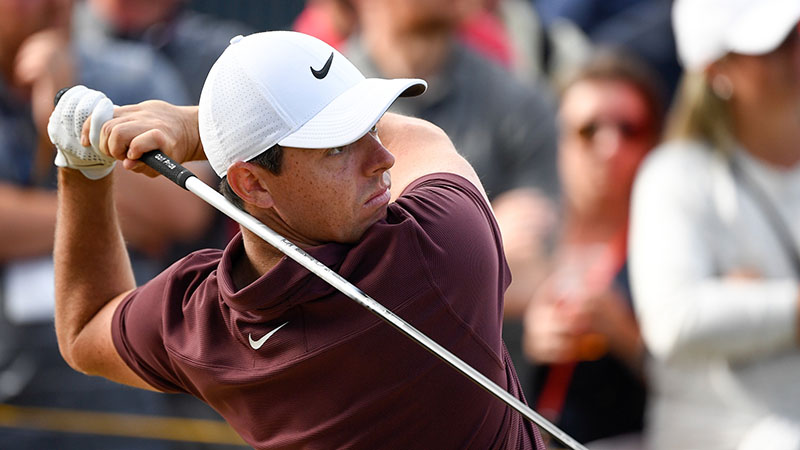 Last week, for instance, I listed Joel Dahmen and Brandon Harkins for a top-20 finish at +280 — a sweat which cashed when they limped into a share of 18th place on Sunday afternoon.
This week, I'm giving you the sure thing.
The world's best player right now, playing a course which suits his game, where he's easily the field favorite.
Obviously, the payout isn't great with such a chalky pick, but I like Rory to win this week — and I'd be really surprised if he's not at least inside the top-10.