Angels-Cardinals Betting Guide: Will St. Louis Complete the Sweep on Sunday Night Baseball?
Credit:
Kim Klement-USA TODAY Sports. Pictured: Los Angeles Angels center fielder Mike Trout (27).
Betting Odds: Los Angeles Angels at St. Louis Cardinals
Angels odds: +123
Cardinals odds: -133
Over/Under: 9
Probable starters: Tyler Skaggs, LAA (6-6, 4.61 ERA) vs. Miles Mikolas, STL (5-7 4.48 ERA)
First pitch: 7:05 p.m. ET on ESPN
---
We are about five weeks away from the MLB trade deadline and the Cardinals find themselves right in the thick of the NL Central (one game back entering Sunday) and wild card (tied with the Rockies for the second spot) races.
The Angels, on the other hand, can pretty much kiss the division goodbye, as they trail the Astros by 10 games in the AL West. The wild card (four games back) is still in play, though, which means every game over the next few weeks becomes extra critical in determining the direction the team takes at the deadline.
Let's take a closer look at the series finale between the Angels and Cardinals as St. Louis looks to complete the interleague sweep. — Stuckey
---
>> All odds as of 12:15 p.m. ET. Download The Action Network App to get real-time MLB odds and track your bets
---
Scouting the Starters
By Sean Zerillo
Both pitchers are likely riding high coming into this matchup following quality-start victories in their most recent outings.
Miles Mikolas has shown excellent control since joining the Cardinals as a free agent from Japan last offseason, walking 3.6% of his batters faced in 2018, and 4.3% in 2019.
His whiff rate (a shade over 9%) and strikeout rate (6.5 K/9) are each below average. Instead, Mikolas relies on the defense behind him, keeping 50% of his batted balls on the ground while looking to generate quick outs.
As someone trying to pitch to contact, Mikolas has been harmed more than most by the lower drag on the baseball in 2019, seeing his home run per flyball rate double from 9.2% to 18.9% over 2018.
As a result, his ERA (+1.65), FIP (+1.28), and xFIP (+0.43) have all increased compared to last year.
The average exit velocity on batted balls against him has risen from 85.4 mph (top 8% in baseball) to 87.9 mph.
Moreover, Mikolas is not going as deep into his starts, averaging just 5.5 innings pitched per outing after throwing over 200 innings (6.25 IP per start) in 2018.
With a pitch value of +23.7, his slider was his most effective pitch last season. It's been a net negative pitch (-0.8) in 2019, leading to a 12.6 K/BB ratio against righties, but a 1.91 rate against lefties.
Like many pitchers around MLB, the Angels' Tyler Skaggs has put away his two-seam fastball in 2019, going with a three-pitch mix: four-seam fastball (51%), curveball (33.5%) and changeup (15.5%).
He lives upstairs with the fastball to generate popups and gets weak contact on the ground with the curveball low in the zone.
Despite a 4.61 ERA, his fielding-independent metrics (3.95 FIP, 4.28 xFIP) track closely to his career marks (4.06, 4.10 respectively).
Skaggs increased his strikeout rate in 2018 thanks to a career-high 11% swinging strike rate. He's regressed (9.5%) towards his career mark (9.3%) this season, suggesting that it will be difficult for him to maintain a strikeout rate of one batter per inning going forward.
Bullpen Barometer
 By Stuckey
Cardinals: 3.97 ERA (9th in MLB); xFIP 5th in MLB
Angels: 4.57 ERA (19th in MLB); xFIP 20th in MLB
ERA can tell you a little about bullpen performance but let's look underneath the hood. The Cardinals rank third in K-BB% at 17.5%, while the Halos are 11th at 14.3%. St. Louis has plenty of arms in the pen with strikeout stuff. In fact, the Red Bird relievers rank first in baseball with a 27.3% strikeout rate. The Angels actually rank 10th, which may surprise some.
The Angels don't have near as much talent in the pen, but they've been able to patch it together for stretches during the season. That said, this group is overworked. The Angels relievers lead the majors with 352.2 innings pitched this season. That's 90 more innings than the Cardinals bullpen.
So, if this game is tied in the 6th and both starters are out of the game, St. Louis will have the advantage.
In regards to availability, the Cardinals' Andrew Miller is the only reliever on either side who has pitched each of the past three days. Also, both teams have an off day tomorrow, so expect every arm to be available (except maybe Miller).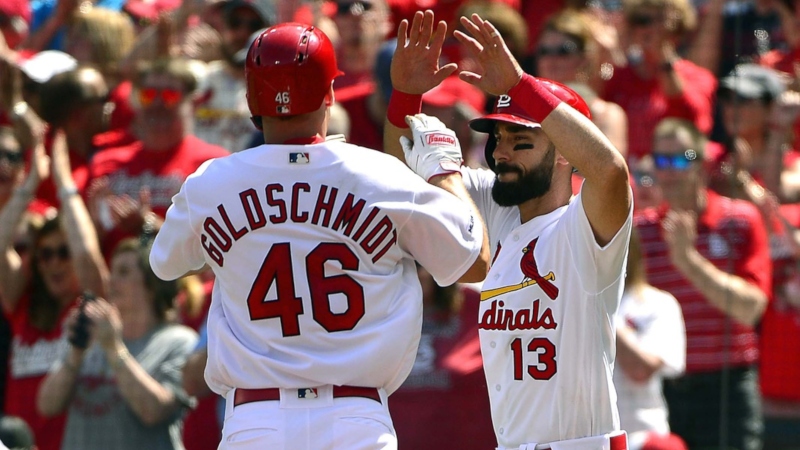 Betting on Blue
 By Stuckey
Angel Hernandez will call balls and strikes behind the plate tonight. Despite being around since 1991, many bettors (and players) regard him as one of the worst umps in the game. I personally find his zone very inconsistent and don't love betting on games when he's behind the plate.
For what it's worth, he tends to favor pitchers with his strike zone. Per Swish Analytics, he has a 1.12x K boost and 0.88 BB boost, the latter of which ranks as the fourth-lowest among all MLB umps (minimum 100 games).
However, bettors would've not made money blindly backing Hernandez unders in the past. In fact, since 2007, unders are 181-180-1 in Hernandez called games. But controlling for all other variables, I'd rather have an under than an over with him behind the plate.
Getting Trendy
By Evan Abrams
This will be the fourth time the Cardinals play on Sunday Night Baseball this season. In their previous three games, St. Louis is 0-3 against the Braves (one game) and Cubs (two games), losing by just a run to Atlanta, but getting smoked by Chicago by a combined score of 18-6. The last time the Cardinals lost four consecutive games on Sunday Night Baseball? Back in 2012, losing all four on the road.
Over the last two seasons, the Cardinals are 32-15 (68.1%) when Miles Mikolas starts, winning by 1.3 runs per game. Since 2018, 113 different starting pitchers have started at least 30 games. Mikolas ranks fifth overall in win percentage and is the sixth-most profitable pitcher in baseball. In that span, Mikolas is receiving 5.24 runs of support per game from the Cardinals, which is second on the Cardinals (of five starters with at least 20 starts) and ranks 44th of the 154 pitchers with at least 20 starts in that span.
On Saturday, the Angels lost 4-2 and trailed the Cardinals all night. Since 2005, teams that lose on the road entering Sunday Night Baseball and then are on the road again for that game are just 97-124 (43.9%) on the moneyline. Over the past five seasons, it is even worse: teams are 22-42 (34.4%) on the moneyline in this spot, losing by 0.83 runs per game.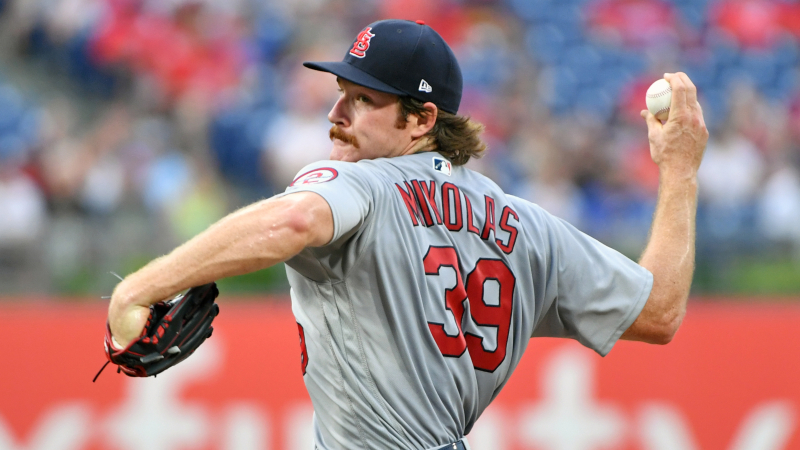 Staff Favorite Bets
Zerillo: Miles Mikolas Under 4 strikeouts (-105). The Angels are currently the most difficult opponent to strike out in baseball (17%), and are tied for 12th in walk rate (9.4%). They're the only team comparable to Houston in terms of plate discipline. I'd take Under 4 strikeouts for Mikolas — a total he's beaten in only three of 15 starts. He's landed on exactly 4 strikeouts six times.
Collin: Under 9. As Stuckey mentions in the umpire section, I agree on taking an Under with Umpire Angel Hernandez calling tonight's game. I like the form of both starters, as well. Skaggs is coming off one of his best outings and the Cardinals struggle against left-handed pitching. The Cardinals rank last in BABIP and are bottom 10 in the league in strikeouts when a southpaw is on the mound. Mikolas, meanwhile, has pitched well in Busch Stadium this season, compiling a 2.55 ERA and sub-1.00 WHIP.
Stuckey: Pass. Everything looks right in line with my numbers so I will be avoiding Angel Hernandez tonight.
How would you rate this article?