In the first part of the 2018 Betting Against the Public Report, I broke down the basics. How does a sportsbook function? What is a contrarian betting philosophy? Why does it work?
Today, I'll be going over some situations and systems in which betting against the public has done particularly well.
Thanks to Bet Labs Sports' historical database, we can quickly analyze and filter historical data (dating back to 2005) to build multiple profitable contrarian betting systems for the 2018 season.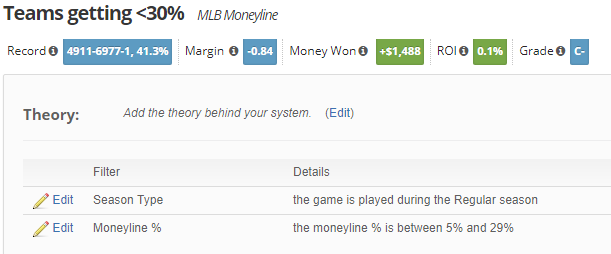 Like I said in part one, betting against the public is a great approach as a whole, but picking your spots allows you to limit bets and increase your return on investment (ROI). As we see in the picture above, blindly taking every team with less than 30% of bets does produce a profit, but just barely. While teams getting more than 70% of bets have won nearly 59% of the time, they've yielded a -3% ROI.
With that in mind, there are numerous ways to improve winning percentage and ROI. Without getting too crazy, here are some simple situational systems, all based on contrarian betting strategy:
START MY FREE TRIAL
model helps you find edges when betting moneylines and over/unders for the full game