Freddie Freeman Props: How to Bet Dodgers Slugger in Return to Atlanta vs. Braves
Credit:
Kevork Djansezian/Getty Images. Pictured: Freddie Freeman
On a long-awaited day for baseball fans across the sports landscape, Atlanta Braves legend Freddie Freeman will make his return to Truist Park tonight in his new uniform with the Los Angeles Dodgers. 
As such, this game should draw plenty of attention. It's even been reported we'll see capacity crowds at the field in Atlanta today. 
What's more exciting is that both Freeman and the Braves are playing so well right now. The Braves are 18-3 this month after a walk-off win on Thursday, while Freeman is working on a seven-game hit streak. 
Given the excitement surrounding the game, I thought I'd take a deeper dive into Freeman's matchup against his former team and see if there are any Freeman-related prop plays that may provide value. 
Let's dig in. 
Recent Trends and Performance Against Braves
Freeman has been on a tear. I've mentioned his seven-game hit streak, but four of those games have been multi-hit. He's cashed his bases total in five straight games, racking up 24 total bases during the stretch. 
Expand the range a bit, and Freeman is slashing .304/.361/.532 since the start of May. 
Freeman has been a doubles machine this year, already having recorded 23 in 58 games after smacking just 25 all of 2021. But his home runs are way down. He managed to go long just once in the whole month of May. 
As a result, Freeman is on track to post the lowest season-long ISO since 2014 (.191). Although, I probably expect that number to slightly rise as the season progresses. 
Instead, Freeman is just peppering the ballpark. He's currently hitting the ball the opposite way a whopping 33.3% of the time, which would easily be the highest of his career.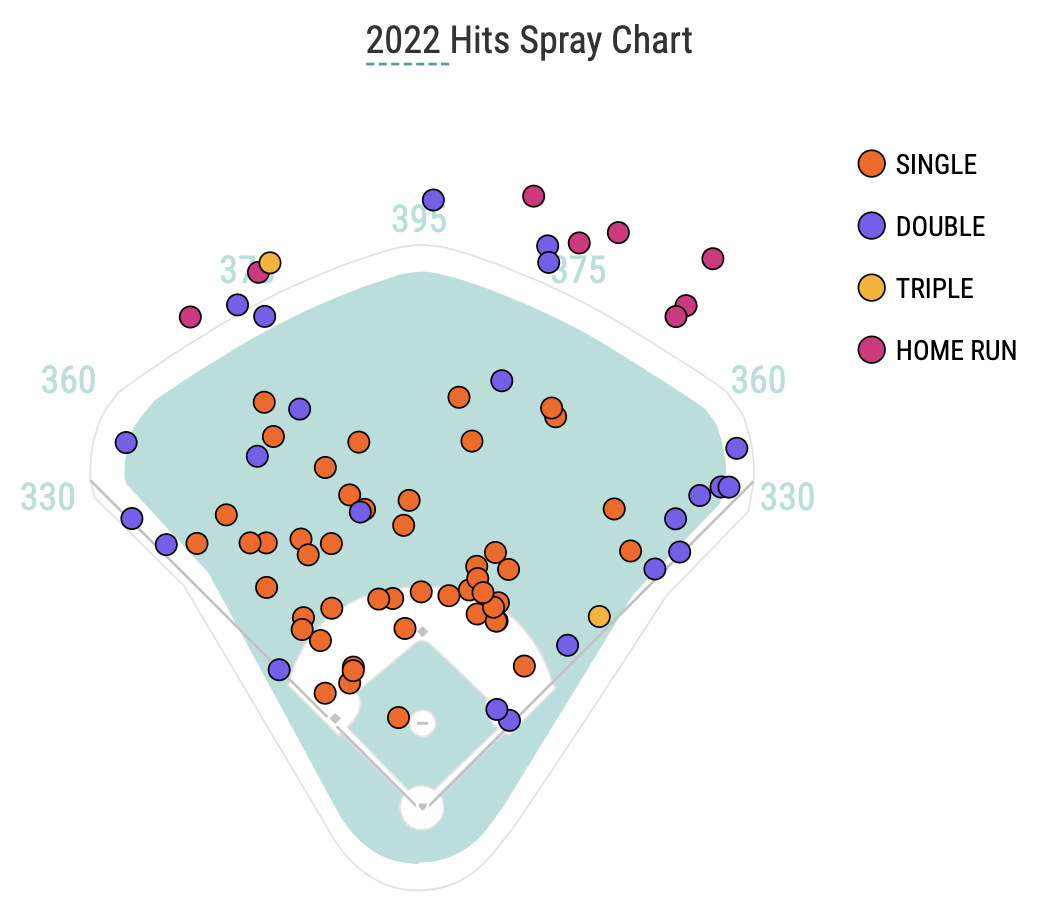 However, the Braves shift against LHHs at the third-lowest rate in MLB, so I'm uncertain how much Freeman's current opposite-field habits will matter against the Atlanta defense. 
We do have a small sample size to help examine that question, however. In three games and 13 ABs against Atlanta earlier this season in Los Angeles, Freeman went 4-for-11 (.364) with two walks (.462 OBP). It's not out of control, but two of those hits went yard. 
Freeman's home-away splits show nothing noteworthy, and we know of his spectacular career at Truist Park, so his past performance against Atlanta may be somewhat predictive of his future in this game. 
The Matchup Against Ian Anderson
Ian Anderson — today's starter for the Braves — hasn't had the best season. Once heralded as the Braves' most promising young starter, his ERA is up to 4.35 this season while his FIP is sitting at 4.34. 
He is due for some regression, as his xERA is down around 3.75. But his 4.09 BB/9 is concerning, and that's one of the big reasons his WHIP is up to 1.39 this season. 
But let's look primarily into his matchup with Freeman. 
In terms of platoon splits, it seems like a wash. 
Freeman's ISO is slightly lower against the right side, but his xBA per plate appearance is slightly higher. His wRC+ is exactly the same.
Meanwhile, Anderson's xFIP rises slightly against LHHs, but his xwOBA drops. What is noteworthy is that Anderson has allowed just one home run against 107 lefties faced, but six against 172 righties faced. 
Anderson throws a four-pitch mix, and all four pitches have combined for a -1 Run Value this season. I.e., everything has been completely average. What's noteworthy is that Anderson's spin rates are down across the board, especially on his changeup.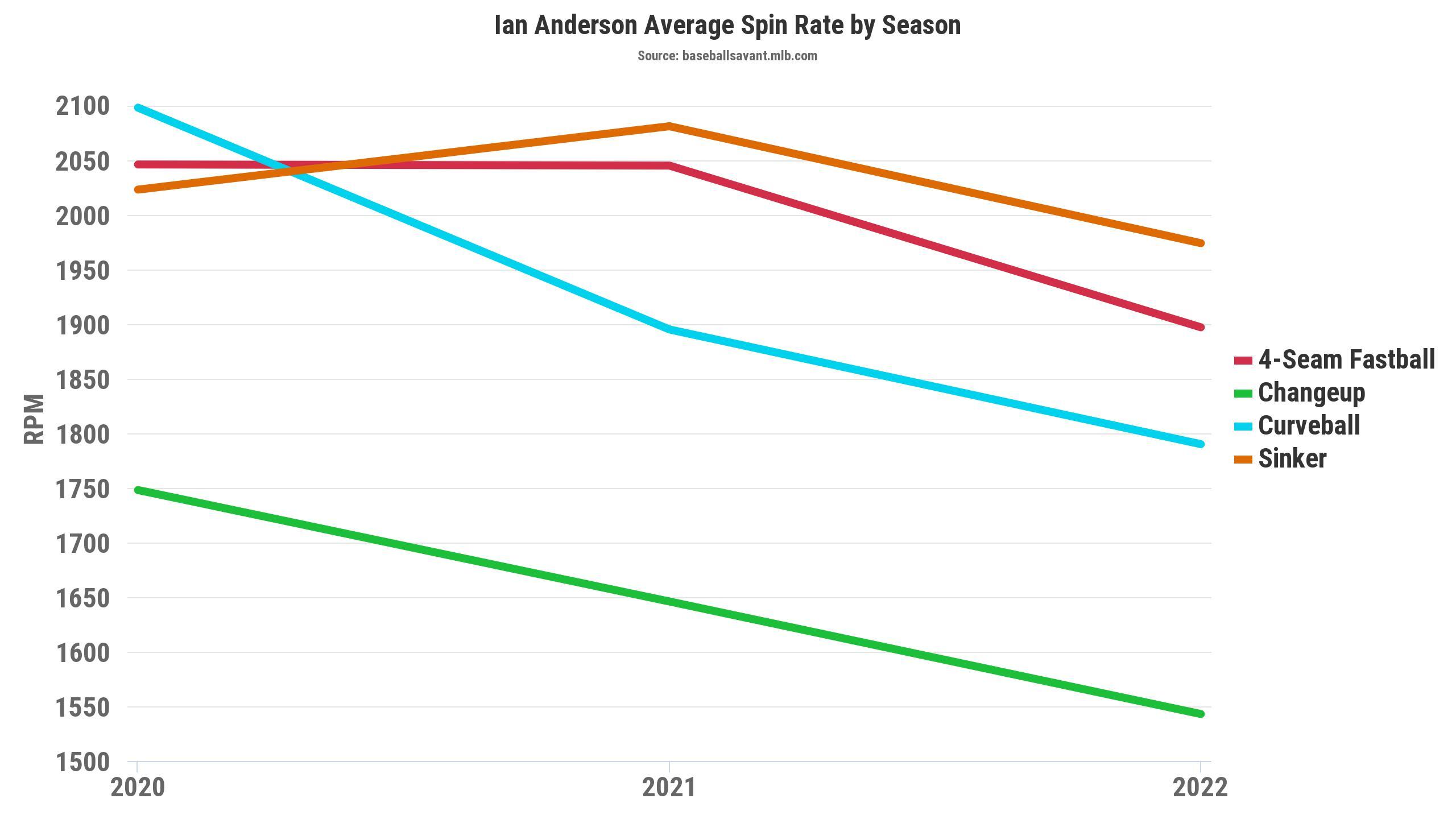 If Freeman is going to get to Anderson, it'll be on the changeup. It's Anderson's main secondary pitch, and Freeman has posted a whopping +9 Run Value on the pitch with a ridiculous .607 xSLG. 
Freeman's xSLG on the pitch is reaching career highs, as well.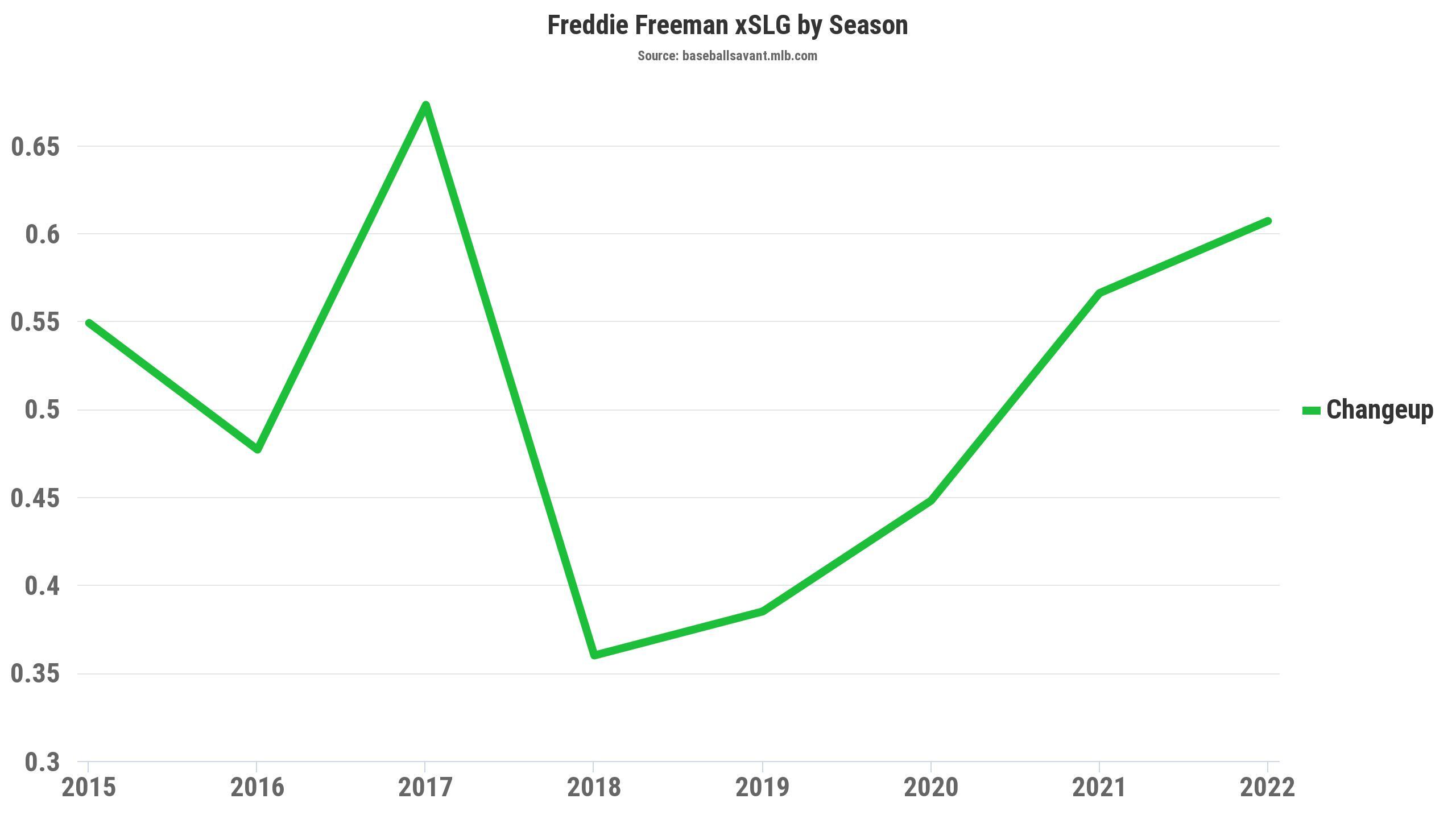 It's really tough to project how he'd perform against the Braves' bullpen, mostly because I'm not sure who will pitch. But I'd look out for Collin McHugh, given Freeman went 2-for-5 against him in the last series and he hasn't pitched in three days. 
I would expect Kenley Jansen to enter the game late today, and it's worth noting that Freeman is 3-for-8 against him with a double. 
Potential Value Bets
You have to wonder if Freeman will go yard again against his former team. It's certainly a possibility given he's done so four times this month. 
However, it's not really my favorite value bet on the board. Anderson has limited home run opportunities against the left side this season and Freeman just isn't hitting home runs at the same rate. Plus, the wind is expected to be blowing in toward the first-base line at about 8 mph. I'd need better than +425 to consider that
Our Action PRO projections have Freeman recording just one hit today, and under 1.5 hits on DraftKings is something I'd consider given his 1-for-7 performance in the first two games of the three-game set against Atlanta in April. However, with the line at -215 and with Freeman's current hitting trends, this is also a pass. 
If you're looking to target Freeman in his return to Atlanta, I'd look three places (in order of lowest-to-highest value). 
First, over 0.5 RBIs at +130 at DraftKings. Our Action PRO projections have him recording exactly 0.5 RBIs today, while FanGraphs SaberSim projections set it at 0.56. There's projection value here, and Trea Turner has gotten on base in 18 of 19 games this month. 
Second, his total bases are obviously worth a look. He's been too hot from a TBs standpoint this season to disregard this bet, and there's always a chance he has a multi-hit game. But it's not the best value at -120. 
But third — and my favorite prop for Freeman today — is over 0.5 doubles. As mentioned, Freeman has been a double machine this season, and I think there's a good chance he barrels up an Anderson changeup that doesn't quite have the juice to leave the park. And we know he can go both ways with the off-speed pitch. Plus, he's already proven he can post an extra-base hit on the closer Jansen. 
And we're getting juicy odds on this prop at +290. 
Leans: Freeman o0.5 RBIs (+130) | Freeman o1.5 TBs (-120)
Best Prop Bet: Freeman o0.5 Doubles (+290)
How would you rate this article?
This site contains commercial content. We may be compensated for the links provided on this page. The content on this page is for informational purposes only. Action Network makes no representation or warranty as to the accuracy of the information given or the outcome of any game or event.