MLB Expert Predictions for Wednesday Night: Our Staff's 6 Favorite Bets, Including Brewers vs. Reds
Credit:
Credit: Aaron Doster-USA TODAY Sports. Pictured: Cincinnati Reds starting pitcher Sonny Gray (54).
There are 15 evening MLB games on tap for Wednesday.
Our experts detail their favorite bets of the night, including Giants-Padres (9:10 p.m. ET) and Brewers-Reds (7:10 p.m. ET)
Collin Wilson: Chicago Cubs at Pittsburgh Pirates
Yu Darvish (2-4, 4.98 ERA) vs. Chris Archer (3-6, 5.50 ERA)
Cubs Moneyline: -131
Pirates Moneyline: +121
Over/Under: 9.5
First pitch: 7:05 p.m. ET

The Chicago Cubs have not won a series since June 7, against the Cardinals. In that span, the Mets, Rockies and Reds have all taken two games in a series vs. the Cubs. The Pirates have won the past two games against Chicago and look to complete the four-game sweep tonight.
After a lackadaisical start, the Pirates have been the hottest hitting club against right handers since June 1. A wRC+ of 126 is second only to the Yankees and sport the lowest strikeout rate (16.9%) against right handers in MLB.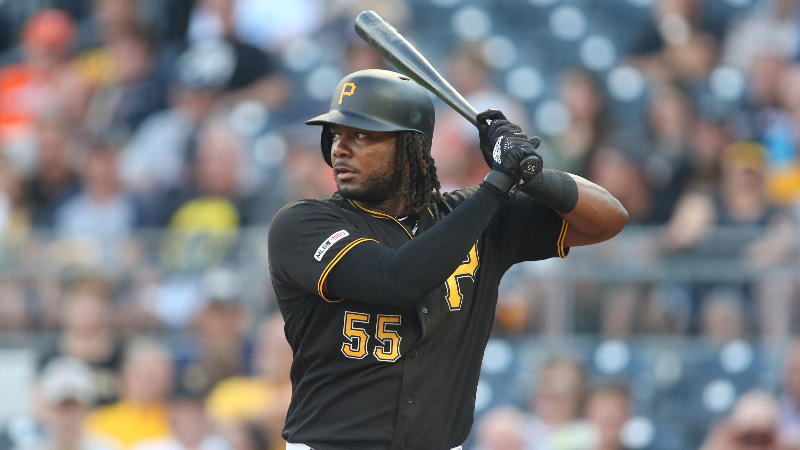 That could be an issue for Cubs starter Yu Darvish, who has been dependent on strikeouts to get out of plenty of jams the past few games. The Cubs ace has allowed 18 home runs in 17 starts this season, a trend that should continue on Wednesday night.
Keep an eye out on the status of Chris Archer, as there is a chance for the Pirates to sit him for extra rest with the All-Star Break approaching. While Archer deals with minor injuries, the Pittsburgh may send Dario Agrazal to the mound.
There should be a 20-cent drop in the market with this announcement, so the best bet is to wait until an hour before first pitch before backing this hot Pirates offense.
The PICK: Pirates +121
---
Danny Donahue: Boston Red Sox at Toronto Blue Jays
Chris Sale (3-7, 3.82 ERA) vs. Jacob Waguespack (0-0, 4.50 ERA)
Red Sox Moneyline: -300
Blue Jays Moneyline: +250
Over/Under: 9.5
First pitch: 7:07 p.m. ET
As +240 underdogs at home, the Blue Jays aren't being given a great chance to win tonight against Chris Sale and the Red Sox. What does have a good chance of happening, though (because the Red Sox are likely to be up late in this game), is the bottom of the ninth inning being played.
That means there's a great chance of 18 half-innings as opposed to the 17 that get played when the home team is winning — in other words, more scoring chances.
Since 2005, overs have been consistently profitable in games with big visiting favorites (as have unders with big home favorites). With home dogs of +200 or more, the over is 122-89-12 since '05. That record improves when zoning in on higher totals (which may repel some public bettors) and totals that don't fall from their openers (to filter out any potential sharp unders).
Assuming a total of 8 or more that doesn't fall, that record becomes 74-48-5 (25.1 units, 19.1% ROI).
The PICK: Over 9.5
---
Evan Abrams: San Francisco Giants at San Diego Padres
Shaun Anderson (3-2, 3.86 ERA) vs. Cal Quantrill (2-2, 4.66 ERA)
Giants Moneyline: +115
Padres Moneyline: -125
Over/Under: 8.5
First pitch: 9:10 p.m. ET
On the eve of the July 4, I have decide to believe in and join my friend BlackJack Fletcher on the Padres tonight.
San Diego has lost three straight games, losing to the Giants 23-6 in the last two losses. The Giants are 28th in runs per game this season and I like the value in San Diego putting the break on San Fran a bit tonight.
Padres starter Cal Quantrill struggled at the start of 2019 in six starts (5.23 ERA), but after San Diego moved him to the bullpen, he settled a bit (1.59 ERA) and is now getting another start in the rotation.
I would be hesitant to play San Diego about -135 or -140 because the Giants have the fewest blown saves in baseball this year with four and my expectation is the Padres getting a relatively early lead and holding the door.
The PICK: Padres -125
---
Mark Gallant: Boston Red Sox at Toronto Blue Jays
Chris Sale (3-7, 3.82 ERA) vs. Jacob Waguespack (0-0, 4.50 ERA)
Red Sox Moneyline: -300
Blue Jays Moneyline: +250
Over/Under: 9.5
First pitch: 7:07 p.m. ET
If you're a regular reader of the "expert predictions" column, you may recall a pick of mine from a couple weeks ago. Chris Sale and the Red Sox were facing the Blue Jays. I took the Jays +1.5 at +155 and was giddy with joy when they took a 4-0 lead a few innings in.
However, when the Red Sox tied the game at 5-5 in the eighth inning, I could see the writing on the wall. The Blue Jays were going to lose by 2, weren't they? And yes, thanks to a Christian Vazquez two-run dong in the 10th, they did.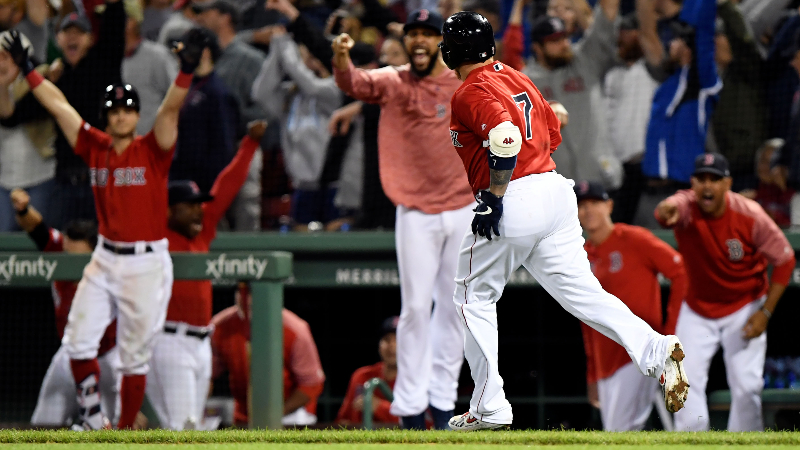 Guess what? Sale and the Red Sox are facing the Blue Jays again and, as was the case last time, I am taking the Jays +1.5 at a juicy, juicy plus-money payout.
Historically, teams at +1.5 with a +150 juice or higher have yielded over a 30% ROI! Do I care that I am betting on a fella named Jacob Waguespack vs. Sale? Not with this type of system on my side. Besides, the Jays have knocked Sale around in two games against him this year.
The PICK: Blue Jays +1.5 (+160)
---
Sean Zerillo: Milwaukee Brewers at Cincinnati Reds
Jhoulys Chacin (3-8, 5.60 ERA) vs. Sonny Gray (4-5, 3.94 ERA)
Brewers Moneyline: 121
Reds Moneyline: -131
Over/Under: 10
First pitch: 7:10 p.m. ET
Sonny Gray is in the midst of a potential career year with the Reds, while Jhoulys Chacin is in the midst of the worst year of his career with the Brewers.
Gray (3.62 FIP, 3.65 xFIP, .290 xwOBA) is 8-5-3 against the first-five innings moneyline (F5) in 2019, and 9-7 over the full game in those starts. Chacin (5.87 FIP, 5.44 xFIP, .354 xwOBA) is 3-8-4 against the F5 moneyline, and 5-10 over the full game.
Josh Hader should be available today for Milwaukee — having thrown just two innings since June 27, and his potential to come into any matchup changes the dynamic of the bullpen battle.
On the season, the Reds have the fourth best bullpen ERA (3.79), and rank 11th with a 2.58 strikeout to walk ratio. Milwaukee ranks 11th by bullpen ERA (4.14) and ninth with a 2.71 strikeout to walk ratio.
Hader is striking out nearly 17 batters per nine innings on a 44.3% strikeout minus walk rate, up from 37% in 2018, as his whiff rate has also increased from 19% to an otherworldly 24.4%.
I try to avoid facing Hader whenever possible (though I did play the under as I expect him to enter a tight game here), and will look to play Gray and the Reds on the F5 moneyline instead.
I project Cincinnati to win the first half of the game nearly 64% of the time, and their listed odds of -140 only imply a win probability of 58.33% – leaving a value gap of over 5.5%.
The PICK: Cincinnati Reds (-140) F5 Moneyline
---
John Ewing: Milwaukee Brewers at Cincinnati Reds
Jhoulys Chacin (3-8, 5.60 ERA) vs. Sonny Gray (4-5, 3.94 ERA)
Brewers Moneyline: +120
Reds Moneyline: -130
Over/Under: 10
First pitch: 7:10 p.m. ET
The Brewers swing and miss a lot. Milwaukee's 819 strikeouts this season is the fourth most in the majors and the team's 24.4% K rate is the eighth worst mark in baseball.
Bettors can take advantage of the Brewers whiffing by wagering on Sonny Gray's strikeout prop. Oddsmakers list Gray's over/under for strikeouts tonight at 6.5.
Gray has faced Milwaukee twice this season and averaged 7.5 Ks per game. According to the FantasyLabs prop tool, Gray is projected to have 7.2 Ks tonight and Gray's over of 6.5 has received a bet quality rating of 10 out of 10.
Temperatures are expected to be in the upper 80s tonight in Cincinnati but with Gray fanning Brewers all evening there should be a cool breeze at the ballpark.
The PICK: Sonny Gray over 6.5 Ks
How would you rate this article?