MLB Home Run Props Today | Matt McLain, Yordan Alvarez, Bryson Stott (Friday, August 4)
Credit:
Getty Images. Pictured: Matt McLain, Yordan Alvarez, Bryson Stott.
Baseball betting is one of a kind. Each day diving into a full slate is grueling and sometimes edges are nowhere to be found within a side or total. But opportunities to fade pitchers at a lesser degree remains a constant. One of the areas in which I've tapped into this season has been the player prop market. More specifically, looking at hitters and their total bases/home runsprops.
Whether it's a positive split or the wind blowing out in double-digit force, there's always opportunities to back some of MLB's best hitters to find the outfield seats. These bets are rarely not (+) money and home run props can often reach the 6-700 mark, providing plenty of value at a small cost.
That leads us to my new regular feature here at Action Network: DiSturco's Triple 7s. In each article, I will give out my three favorite total bases props and pair that with the odds for those same players to hit a home run.
The idea of Triple 7s comes from the slot machines. That's the ultimate jackpot and it's important to note the rarity of notching that feat. Similar to slots, parlaying all three players below to hit a home run is nothing more than a lottery ticket.
It's important to bet responsibly, and while I do bet every player o1.5 TBs (.5u) and to hit a HR (.1u), you shouldn't overextend yourself with a parlay of all three. It's a long shot for a reason.
But if you're feeling confident or have no plans and want to try and hit Triple 7s, pull the lever and cross your fingers. Today's lottery ticket comes with +17658 odds.
Visit our MLB Props page for a full list of props and odds for every player on the MLB slate each and every day.

Matt McLain, Cincinnati Reds
Nationals vs. Reds, 6:40 p.m. ET
Opposing starting pitcher: Patrick Corbin (LHP)
If at first you don't succeed, try again? 
I'm going back to the well here with Matt McLain on Friday night. The final leg of the Triple 7s two days ago that fell short, and McLain draws another plus matchup tonight against a lefty in Patrick Corbin. 
As I mentioned a few days ago, McLain leads the Reds in wRC+ (172) against left-handed pitching and is fourth in isolated power (Joey Votto jumped up after his 2 HRs against Drew Smyly). He is a plus hitter across the board for Cincinnati with a double-digit barrel rate and 1.037 OPS against southpaws. 
Despite not coming through for us on Wednesday, McLain has been quite impressive over his last 15 days. His wOBA and hard-hit rate remain above league average and most notable has been his jump in isolated power, pushing himself out of a midseason slump.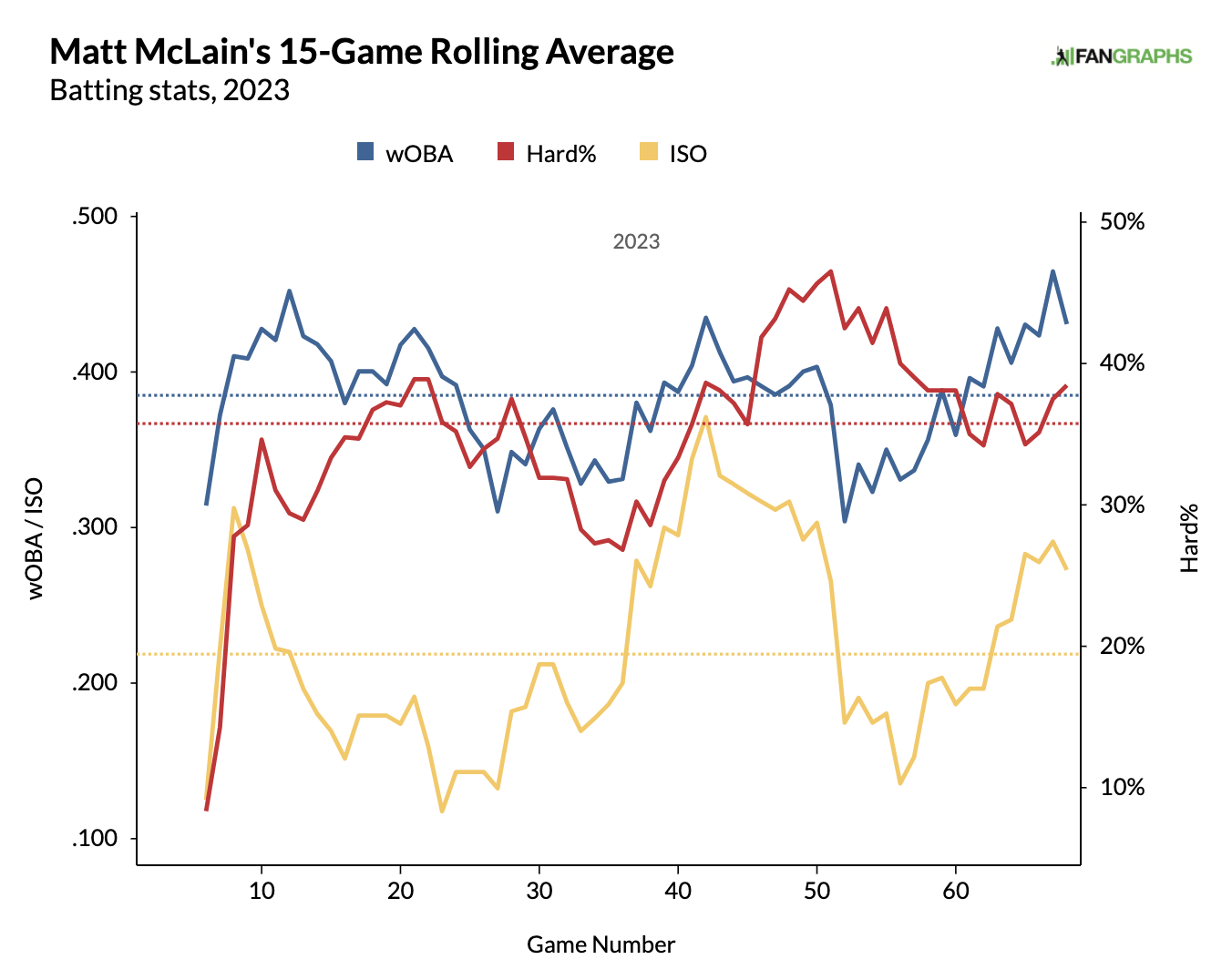 McLain's biggest issue has been his strikeout rate, still around that 30% mark. But Corbin is a pitcher who struggles to generate chases and whiffs out of the zone. Despite a 5.07 ERA this year, Corbin's xERA is over a run higher (6.32) and he's posted a career-worst .314 xBA. 
While it may seem like Corbin has taken a slight step forward this season, his underlying metrics suggest otherwise. The southpaw is still dealing with hard-hit issues (44.8%) and a career-low 15.5 K%. 
McLain is 1-for-3 with a double in his career against Corbin and is +425 to hit a HR at Bet365. Hello darkness my old friend…
Alternative Options: Spencer Steer (+400), Nick Senzel (+600) 

Yordan Alvarez, Houston Astros
Astros vs. Yankees, 7:05 p.m. ET
Opposing starting pitcher: Luis Severino (RHP)
Yordan Alvarez has not missed a beat since his return from the injured list, hitting a pair of home runs in seven games. His hard-hit and barrel rates continue to remain at an elite level and with a short porch in right at Yankee Stadium, it's only a matter of time before Alvarez finds the bleachers. 
This is the anchor to Triple 7s. Alvarez is in the top three percent of all hitters in barrel rate, hard-hit rate, xSLG and max exit velocity. He puts up monstrous numbers and is always a threat to lead the league in home runs and RBI if healthy. 
He lines up against Luis Severino on Friday night, who has struggled mightily in July. His ERA is north of 11 and he's given up seven home runs over the last month. His most recent start against Baltimore — 3 1/3 innings, nine runs — was just a highlight to how miserable the right-hander has been. 
Severino ranks in the bottom 10% of all pitchers in hard-hit rate, xBA, xSLG, barrel and whiff rate. He is extremely prone to being hit hard and Alvarez is set up perfectly for success in the Bronx. 
He is +250 to hit a home run at FanDuel. Expect Alvarez to continue his dominant season and keep his OPS above 1.000. 
Alternative Options: Kyle Tucker (+360), Jose Altuve (+625)
---

Bryson Stott, Philadelphia Phillies
Royals vs. Phillies, 7:05 p.m. ET
Opposing starting pitcher: Jordan Lyles (RHP)
This is an unconventional longshot play for Triple 7s, but the value is too good to pass on. The wind is blowing out at near double-digit winds to center in extremely favorable hitting conditions against Jordan Lyles, a fastball-heavy starter. 
Stott has a sub-5% barrel rate, but he has one of the best xBA on the Phillies (.273). He rarely swings and misses — 94th percentile — and finds most of his success pulling to ball over the right field fence. 
But what's been most promising out of Stott is his rolling graphs. Over the last 15 games, there's been an upswing in both hard-hit and fly ball rate. He's found more success moving up in the Phillies lineup with Trea Turner still struggling and has taken complete advantage of it. 
He should see 4-5 plate appearances on Friday night in what projects as a high-scoring game. RotoGrinders' WeatherEdge projects a +21.5 HR% increase given the conditions around game time and that doesn't account for Lyles' struggles, either. 
This season, Lyles has seen his fly ball rate increase 10%. He's no longer forcing consistent grounders and doesn't have swing-and-miss stuff. Relying on inducing soft contact hasn't come to fruition — he is the most profitable pitcher to fade in 2023 — and ranks in the bottom 16% of all pitchers in both xSLG and barrel rate. 
I have been impressed with Stott's recent plate appearances and expect him to find success against a soft-throwing righty like Lyles. While his odds have come down a bit, he is +925 to homer at Bet365. His TBs odds are +140 there, too. 
Alternative Options: Bryce Harper (+425), Kyle Schwarber (+240)
---
DiSturco's Triple 7s Home Run Bets for Friday, August 4th
Matt McLain (+435)
Yordan Alvarez (+250)
Bryson Stott (+925)
If you like all three plays and want to try a spin at hitting triple 7s, a $10 parlay of these three home run props at Bet365 comes in at $1,765.80.
How would you rate this article?
This site contains commercial content. We may be compensated for the links provided on this page. The content on this page is for informational purposes only. Action Network makes no representation or warranty as to the accuracy of the information given or the outcome of any game or event.