MLB Odds, Picks, Predictions: 11 Expert Bets for Friday, Featuring Mariners vs. Twins and Rangers vs. Blue Jays
Credit:
Ronald Martinez/Getty Images. Pictured: Yuli Gurriel
A few games are in the books already, but there's plenty of more value to be found on tonight's baseball slate.
Our betting analysts have picks on Giants-Marlins, Twins-Mariners, Rangers-Blue Jays and Astros-Angels.
Continue reading for a full breakdown of their predictions based on MLB odds for Friday.
After 14 teams got the Major League Baseball season rolling on Thursday, the other 16 get their shots on Friday, and we have 13 games total with them rolling in from 1:05 p.m. through 9:40 p.m.
Among those is a matchup between supposed AL contenders with high expectations in the Seattle Mariners vs. the Minnesota Twins. Our analysts have a whopping four different opinions on that game.
But that's just a small part of the equation. Our analysts are roaring to keep this season rolling and have 11 games in total with bets to recommend. It starts with Red Sox-Yankees this afternoon all the way up through Astros-Angels on the West Coast tonight.
Here are our best bets for Friday's Opening Day, Part 2.
MLB Odds, Picks, Predictions
Boston Red Sox vs. New York Yankees
| | |
| --- | --- |
| Pick | Red Sox +155 |
| Book | WynnBet |
| Pitchers | Nathan Eovaldi vs. Gerrit Cole |
| First Pitch | 1:05 p.m. ET |
Tanner McGrath: You've gotta love Red Sox-Yankees on Opening Day. The sport's biggest rivalry will get the nation's full attention at 1:05 p.m., and rightfully so. This matchup is usually competitive and regularly delivers.
So, why are the Yankees such big favorites?
Nathan Eovaldi is good. He led all AL pitchers in fWAR last season (5.6), which includes beating out opposing starter Gerrit Cole. His ability to miss bats (9.63 K/9), control the strike zone (1.73 BB/9), and avoid the long ball (.74 HR/9) led to a 2.79 FIP last season.
Eovaldi also liked pitching against his former team, pitching to a 3.62 xFIP over 34 innings against New York. His counterpart Cole tossed 22 innings against the arch-rival, allowing 24 hits and a 3.50 xFIP. The Sox slashed .279/.340/.512 in those four matchups.
Plus, Cole is on a pitch count anyway. So, I wouldn't expect an eight-inning gem from the Yankees' biggest weapon.
Meanwhile, Eovaldi had a productive spring and is primed to perform underneath the (hypothetical, as this is a day-game) bright lights.
The public might think the Yankees' offense offers bigger upside than the Red Sox's, but that's simply not true. Boston finished sixth last year in wRC+ (106) and added significantly with Trevor Story.
Meanwhile, the lefty-less Yankees couldn't take advantage of the short porch and posted a league-average lineup at home last year (101 wRC+).
The bullpen advantage is firmly with New York. But pricing the Yankees at -170 considering the whole picture is crazy.
At anything better than about +140, I'll be on the Red Sox for a half unit.

---
» Return to the table of contents «
---
Chicago White Sox vs. Detroit Tigers
| | |
| --- | --- |
| Pick | White Sox -125 |
| Book | FanDuel |
| Pitchers | Lucas Giolito vs. Eduardo Rodriguez |
| First Pitch | 1:10 p.m. ET |
Mike Ianniello: For the third straight season, Lucas Giolito will get the ball for the White Sox on Opening Day. Also for the third straight season, Giolito seems to be right on the cusp on breaking into that elite category. He has finished 6th, 7th and 11th in AL Cy Young voting in each of the last three seasons and enters this season with the fourth-best odds.
With a 3.53 ERA in 2021, it marks the third year in a row Giolito finished with an ERA between 3.40 and 3.60. He has one of the best changeups in the league, and last season he threw his slider more than ever before. He had great success with it, allowing just a .245 wOBA against.
Behind Giolito is one of the strongest bullpens in the American League with Jose Ruiz, Reynaldo Lopez, Kendall Graveman, Aaron Bummer and closer Liam Hendriks. Chicago's bullpen had the second-best xFIP in baseball last season, while the Tigers' backend ranked 27th.
Former Red Sox pitcher Eduardo Rodriguez will get the start for Detroit. Rodriguez went 13-8 last season with a 4.74 ERA and was good, not great, in most statistical categories last season. The problem for Rodriguez is that he is a lefty. Chicago mashes left-handed pitching. Last season, the South Siders ranked fourth in wRC+ and fifth in wOBA against lefties.
Even without Tim Anderson (suspended) or Yoan Moncada (injured) the White Sox will still have stars Luis Robert and Jose Abreu, who each had an OPS over .969 and combined to hit .327 against lefties last season.
With Giolito on the mound, and the way Chicago hits lefties, this line is way to short on Friday. I'll take the White Sox at -125 and would play them to -140.
---
» Return to the table of contents «
---
Baltimore Orioles vs. Tampa Bay Rays
| | |
| --- | --- |
| Pick | Orioles +165 |
| Book | Caesars |
| Pitchers | John Means vs. Shane McClanahan |
| First Pitch | 3:10 p.m. ET |
Charlie DiSturco: It's time to hold your nose and back the Baltimore Orioles here as they hit the road to take on the Tampa Bay Rays.
Yes, the Orioles won just 52 games last season to the Rays' 100. But dig into the numbers and you'll find a bright spot: Baltimore's splits against left-handed pitching.
The Orioles finished 2021 ranked 10th in wRC+ and eighth in slugging among all MLB teams, per FanGraphs. They hit .260 as opposed to a measly .228 average when facing righties.
Among those chief beneficiaries is Trey Mancini. He hit .288 against southpaws and had more home runs (11) against lefties than he did righties (10) in 160 fewer at-bats.
This is a team that should take advantage of Shane McClanahan, who — if you dive a bit deeper into his advanced metrics — was actually quite fortunate in 2021. The 24-year-old finished with a 3.43 ERA, yet his xERA actually sat more than a run higher at 4.6. McClanahan sat in the bottom six percent of all pitchers when it came to hard hit percentage.
On the other side, John Means is the type of pitcher who will force you to put the ball in play and beat him. He doesn't walk batters and is surprisingly way better when pitching on the road (2.84 ERA).
I think the Orioles are undervalued here on Friday afternoon. They currently sit at +165 and I would back them down to +155. I think they have a good shot at shocking the Rays early here and forcing an early exit for the young McClanahan, who is making an Opening Day start in just his second season in the bigs.
If you're a bit cautious, look at the team total for the Orioles. Their offense should perform and be able to get to McClanahan and the Rays here.

---
» Return to the table of contents «
---
Seattle Mariners vs. Minnesota Twins
| | |
| --- | --- |
| Pick | Twins -110 |
| Book | DraftKings |
| Pitchers | Robbie Ray vs. Joe Ryan |
| First Pitch | 4:10 p.m. ET |
Anthony Dabbundo: Robbie Ray is a prime negative regression candidate because his FIP (3.69), xERA (3.60) and xFIP (3.36) were all more than a half-run higher than his surface-level ERA numbers.
Ray stranded 90% of his baserunners allowed in 2021 and that's not at all sustainable in the long run when you consider his career average strand rate is 76.9%. He had a 4.31 FIP in 2018, 4.29 FIP in 2019 and a 6.50 FIP in the shortened 2020 season. As good as he was last year, I'm selling high on Ray and expecting some serious regression back to what he's typically been.
I'm much lower than the public sentiment on this Mariners team as a whole, which has a lot of new pieces and young prospects in its Opening Day lineup. It may take time for them to put it together, and Twins rookie Joe Ryan is a pitcher I'm looking to bet on this season. He only made five starts last season, but Ryan displayed elite peripheral numbers with a 30% strikeout rate, 5% walk rate and avoided barrels really well.
His 3.03 xERA projects out well going forward and at home here, the Twins should be bigger favorites than they currently are.
I'd play the Twins up to -120.

---
» Return to the table of contents «
---
Seattle Mariners vs. Minnesota Twins
| | |
| --- | --- |
| Pick | Twins -110 |
| Book | DraftKings |
| Pitchers | Robbie Ray vs. Joe Ryan |
| First Pitch | 4:10 p.m. ET |
Nick Martin: With a healthy Byron Buxton and Carlos Correa leading the way, the Twins should be quite productive against lefties this season, with 7-of-9 players in the Twins' expected lineup tomorrow projecting to be above-average hitters vs southpaws this season.
That's bad news reigning Cy Young winner Robbie Ray, who is a likely candidate for regression this season. Ray will do battle with Joe Ryan, who contrarily could post surprisingly strong results this season. Ryan has played to a 2.99 xERA throughout 26 and 2/3 big league innings, and earned the big start after an excellent spring.
Minnesota is currently listed at -110 on DraftKings to win it's home opener here, and I see value backing the Twins' down to -120.

---
» Return to the table of contents «
---
Seattle Mariners vs. Minnesota Twins
| | |
| --- | --- |
| Pick | Gary Sanchez Over 0.5 Home Runs (+400) |
| Book | DraftKings |
| Pitchers | Robbie Ray vs. Joe Ryan |
| First Pitch | 4:10 p.m. ET |
Nick Shlain: Defending American League Cy Young winner Robbie Ray is a great strikeout pitcher, but when he gives up solid contact the ball tends to travel a long way.
Last season, Ray allowed a .217 isolated-slugging percentage, 46.8% fly ball percentage, and .316 wOBA in 795 plate appearances against right-handed hitters.
Gary Sanchez, who's trying to make a good first impression with the Twins after coming over in a trade from the Yankees, had a .234 isolated-slugging percentage, 48.3% fly ball percentage, and .316 wOBA in 164 plate appearances against left-handed pitchers last season.
Sanchez should bat in the middle of the Twins' lineup and is too good to pass up at 4/1 odds. He's as good of a bet as anyone on the Twins to take Ray deep.

---
» Return to the table of contents «
---
Seattle Mariners vs. Minnesota Twins
| | |
| --- | --- |
| Pick | Mariners +100 |
| Book | BetMGM |
| Pitchers | Robbie Ray vs. Joe Ryan |
| First Pitch | 4:10 p.m. ET |
DJ James: The Mariners defied expectations last season, almost landing themselves in the playoffs. Improving on the rotation was a need, and they fulfilled it.
The Twins, meanwhile, have had plenty of roster turnover, adding Sonny Gray, Carlos Correa and Gary Sánchez to name a few. They have a better team this season, but they should not be favorites in this game.
For one, the rest of the squad only held a 98 wRC+ against left-handers last season, and now they are going up against the tops of the league in Ray.
In addition, of the remaining starters on the Twins from last season, only Byron Buxton maintained a xwOBA over .340 against lefties. Given Ray's versatility and ability to use his off-speed pitches, they may struggle here. Correa was a needed addition, as he adds a .362 xwOBA against lefties last season into the mix, but the bottom half of this lineup will have trouble.
Another top prospect, Julio Rodríguez, will give a boost to an already relatively loaded Mariners outfield. Last season, they were slightly below-average off of righties with a team wRC+ at 93, but the lineups should both be a wash.
However much potential Joe Ryan may have, expect the former Cy Young winner to win the battle. Take the Mariners as slight underdogs.

---
» Return to the table of contents «
---
Miami Marlins vs. San Francisco Giants
| | |
| --- | --- |
| Pick | Under 7.5 (-120) |
| Book | BetMGM |
| Pitchers | Sandy Alcantara vs. Logan Webb |
| First Pitch | 4:35 p.m. ET |
Jules Posner: This not only seems like it's going to be a pitching duel, but both teams have exceptional bullpens as well.
San Francisco Giants starter Logan Webb was dominant at home last season and he still may have room for improvement heading into 2022. Additionally, Webb features a repertoire that can neutralize LHH. His SI, SL, CH combo helped him to a 3.06 FIP vs LHH in 2021. The Marlins will surely roll out a very LH-heavy lineup to combat the Giants' young ace.
On the other side, Sandy Alcantara seems to like pitching at Oracle Park (career 2.84 ERA). Although he is facing last season's best offense at home vs. RHP, Alcantara is backed by one of the better bullpens in the National League.
Therefore, if the Giants jump on Alcantara, he will be followed by a bullpen that was in the top 10 last season, with many returning faces who could come in and shut things down.
The Marlins' offense is improved, but it has a long way to go to become a more serious road offense. If there is a run at the over, the Giants' offense would have to carry that. I grabbed the under at 7 runs for +100 but would still bet it at a more juiced 7.5 (-120).
---
» Return to the table of contents «
---
Miami Marlins vs. San Francisco Giants
| | |
| --- | --- |
| Pick | Giants -140 |
| Book | DraftKings |
| Pitchers | Sandy Alcantara vs. Logan Webb |
| First Pitch | 4:35 p.m. ET |
Michael Arinze: Oracle Park should be rocking on Friday when the San Francisco Giants begin their season at home for just the third time since the 2005 season. 76% of those Giants' openers also came against a divisional foe. This time around, the Giants won't have to worry about taking on the likes of the Dodgers or Padres. Instead, their opponent will be the Miami Marlins, who won 67 games this past season.
Sandy Alcántara has pitched better than his 20-34 career record, evidenced by his 3.49 ERA. However, his advanced numbers suggest he's probably been a bit fortunate when you consider he has a career 4.04 FIP and 4.33 xFIP.
In 2021, Alcántara posted a 3.68 SIERA, which finished higher than his 3.19 ERA. While most pitchers would probably welcome those numbers, they still point to some regression as SIERA can often be beneficial as a long-term indicator.
In contrast, Webb is coming off an 11-3 season with a 3.03 ERA. Yet, his advanced metrics suggested even better numbers as he finished with a 2.72 FIP and 2.79 xFIP. Webb's 3.13 SIERA is also more within reach of his 2021 ERA.
In his third season, Webb benefited from a Called + Swinging Strike Rate (CSW) that jumped from 27.6% to 30.9%. That improvement should bode well for him against a Marlins team that will probably need some time to gel after adding players like Avisail García, Jorge Soler, Jacob Stallings and Joey Wendle.
We should also continue to expect more quality from the Giants' reliever. After all, San Francisco's bullpen led the majors with a 2.99 ERA, and it finished second with a 3.71 FIP.
Our BetLabs database shows that since 2005, the Giants are 3-1 on Opening Day when facing a non-divisional opponent, whereas the Marlins are 1-6 for a loss of 5.29 units, including four-straight defeats in this spot.
DraftKings is trading the Giants at -140, and I would play them up to -145.

---
» Return to the table of contents «
---
Texas Rangers vs. Toronto Blue Jays
| | |
| --- | --- |
| Pick | Over 9 (-110) |
| Book | DraftKings |
| Pitchers | Jon Gray vs. Jose Berrios |
| First Pitch | 9:38 p.m. ET |
Kenny Ducey: There's no question that the Rangers are going to be better this year offensively. Corey Seager's Steamer projection has him set for a 139 wRC+, Marcus Semien finished just short in MVP voting last year, and Nathaniel Lowe should take another step forward at the plate.
Texas should have more than enough firepower to touch up Jose Berrios in its opener, a pitcher who posted an expected ERA greater than four runs for a third-straight season and who has been a disappointment and prime fade candidate for some time.
His strikeout and walk rates make him an appealing option in the prop markets, but his hard-hit rate doesn't exactly bode well for his game-to-game success.
Jon Gray may actually be better-positioned for a big season after a return to form with the Rockies last year, but he's going to have to compete with perhaps the best offense in the American League in the Toronto Blue Jays.
Put bluntly, these are two pitchers who have a history of getting shelled and these are two much-improved offenses. I'm betting on runs.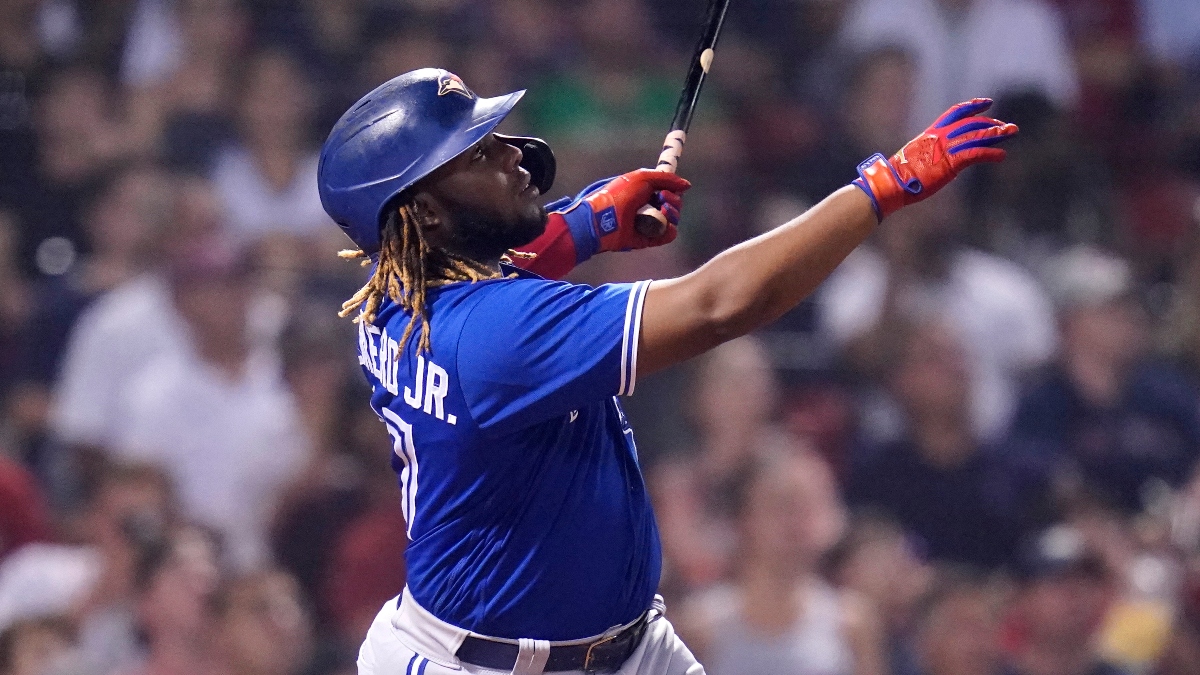 Sign Up Now to Start Betting the Blue Jays!
---
» Return to the table of contents «
---
Houston Astros vs. Los Angeles Angels
| | |
| --- | --- |
| Pick | Over 9.5 (-110) |
| Book | FanDuel |
| Pitchers | Jake Odorizzi vs. Reid Detmers |
| First Pitch | 9:38 p.m. ET |
Collin Whitchurch: I'm really high on Reid Detmers in general this season, but this is an incredibly difficult matchup for him in his first start of the season and just the sixth of his career.
The Astros had the best offense in the majors last season against left-handed pitching with a 117 wRC+. They lost Carlos Correa during the offseason, but every over core member of that AL pennant-winning team returns, including such left mashers as Alex Bregman (131), Kyle Tucker (144), Yordan Alvarez (140) and Yuli Gurriel (151).
Detmers offers a lot of promise and will probably wind up a stealth contender for AL Rookie of the Year if he can still in the Angels' rotation all season, but I expect this vaunted Houston offense to hit him around a bit on the second day of the season.
On the other side, Jake Odorizzi had a respectable 4.21 ERA a season ago, but his underlying stats were all more than a half-run higher. He walked nearly three batters per nine, doesn't miss a ton of bats and gives up his fair share of home runs.
The Angels' offense was stifled on opening night, but don't expect them to be held in check twice in a row. I'll likely be taking a stab at the first five innings over with this starting pitching matchup, but my main play is the full-game total of 9.5, which is priced at least a half-run too low.

---
» Return to the table of contents «
---
How would you rate this article?
This site contains commercial content. We may be compensated for the links provided on this page. The content on this page is for informational purposes only. Action Network makes no representation or warranty as to the accuracy of the information given or the outcome of any game or event.