MLB Odds, Expert Picks & Projections: How to Bet Thursday's Evening Slate, Featuring Rockies vs Braves & Brewers vs Diamondbacks (September 1)
Credit:
Norm Hall/Getty Images. Pictured: Torey Lovullo
There's plenty to bet on tonight, and MLB is no exception with four games tonight after this afternoon's plethora of games.
Sean Zerillo is the engine that powers our MLB projections, and he breaks down his process for those four night games, including stud rookie Spencer Strider on the mound for the Braves against Colorado.
Continue reading for a full breakdown of Sean Zerillo's bets from tonight in Major League Baseball.
Thursday features an eight-game MLB slate, including four games beginning at 6:10 p.m. or later, which I will touch on below: Orioles vs. Guardians, Rangers vs. Red Sox, Rockies vs. Braves and Brewers vs. Diamondbacks.
You can find my projections for every MLB game in the Action Network App (on both the PRO Projections tab and the game pages) and our Projections Hub (which you can bookmark).
You can also shop for the best lines on our odds page.
Using my projections, where can we find actionable value on Thursday?
Baltimore Orioles vs. Cleveland Guardians, 6:10 p.m. ET
Kyle Bradish vs. Shane Bieber (full projections here)
Since returning from the minors in late July, Bradish has excelled in six starts (33 2/3 IP, 11 BB, 33 K, 3.85 xFIP). Perhaps the rookie was a bit unlucky early, allowing 11 homers in his first 10 MLB starts from late April through mid-June (46.1 IP, 18 BB, 46 K, 7.38 ERA, 4.06 xFIP).
Now that the home run rate has normalized, Bradish has excelled. He offers plus stuff, and his command has appeared sharper than scouting reports indicate. I suspect Bradish could develop into a mid-rotation arm — with upside — for the Orioles, and he's flashed that potential of late while continually tweaking his pitch mix:
Kyle Bradish threw his slider 51% of the time last night, which was by far a season high.

His next highest slider usage? 35.6% on May 10 — the game in which he struck out 11 batters over 7 IP.

Notice a pattern? pic.twitter.com/CMneHCbkym

— Locked On Orioles (@LockedOnOrioles) August 27, 2022
Cleveland's offense should be able to grind Bradish down, eventually. The Guardians carry the lowest strikeout rate in baseball (17.6%) against right-handed pitching and excel at fouling pitches off and working deep counts.
If Bradish does his job, this should be a battle between two elite and relatively well-rested bullpens. Cleveland has the superior Model Weighted ERA (3.07 to 3.64) in my projections; its bullpen has the lowest xFIP (3.47) and second-lowest SIERA (3.24) in MLB, and it ranks fifth in strikeout minus walk rate or K-BB%. Baltimore ranks fifth, 10th, and 12th in those three categories, including a relatively significant contribution from a since-traded Jorge Lopez.
While Cleveland has the superior defensive metrics on the season (4th vs. 9th in Defensive Runs Saved; 4th vs. 20th in Outs Above Average), I project Baltimore as the superior defensive squad for Thursday. The Orioles' dramatic turnaround on the defensive end (24th in DRS, 28th in OAA in 2021) has played a significant part in their success this season.
Baltimore's offense has steadily improved — and the gap in their splits has narrowed — since the Adley Rutschman promotion. They moved from the 24th-ranked offense in April and May to a league-average unit in June and July and most recently ranked 10th in August.
Against righties — their superior split — the Guardians rank 11th on the season; and 15th over the past two calendar months. In terms of projection, I give Baltimore a slight offensive advantage by about 0.15 runs per game.
Bieber has excelled this season (3.38 xERA, 3.04 xFIP) despite pitching at a reduced velocity (91.2 mph, career, and 2021 average 92.8 mph).
Still, I suspect Bradish's actual talent level is closer to Bieber than the early-season data suggests. And given Baltimore's competitive offense and bullpen, I projected this line at +138 (42% implied) for both the first five innings (F5) and the full game.
You can bet Baltimore on the F5, and full game moneylines down to +150 (40% implied), at a two percent edge, compared to my projection.
Moreover, I projected the total closer to 7 and would bet the Under 7.5 to -110.
Texas Rangers vs. Boston Red Sox, 7:10 p.m. ET
Glenn Otto vs. Rich Hill (full projections here)
Otto (5.37 xERA, 5.14 xFIP) has exhibited poor command throughout the season, ranking 135th out of 136th pitchers (min. 80 innings pitched) in strikeout minus walk rate (4.6%), ahead of only Dakota Hudson.
The young righty offers good stuff but will not progress at this level until he improves his command. Otto has had eight starts (out of 20) this year with as many or more walks than strikeouts.
Boston's offense isn't exceptionally patient — ranking 25th in chase rate (34.2%) and 26th in swinging strike rate (11.9%). The offense also rates below average against righties (98 wRC+, 17th), and is far better against lefties (113 wrC+, 10th). So, perhaps Otto can survive.
Conversely, Texas is in its superior offensive split, ranking as a top-five offense against lefties (119 wRC+, 5th) but closer to average against righties (95 wRC+, 19th).
Rich Hill has exceeded expectations this season (4.25 xERA, 4.10 xFIP). Still, the Rangers are a difficult matchup for him.
Despite superior season-long defensive metrics for Boston, I project the current Texas lineup as the better defensive unit. Conversely, while the Rangers offer slightly better reliever metrics, I place these two bullpens on relatively level terms.
I projected the Rangers' moneyline closer to +131 (43.3% implied) for Thursday, and I'm happy to bet that line down to +142 (41.3% implied), at a two percent edge compared to my projection.
And I don't see value on either side of the total.
Colorado Rockies vs. Atlanta Braves, 7:20 p.m. ET
Chad Kuhl vs. Spencer Strider (full projections here)
Strider is tied with Julio Rodriguez and teammate Michael Harris II for the rookie lead in WAR (3.6). The 23-year-old righty has ranked as one of the best pitchers in baseball this season.
Among that same group of 136 pitchers (min. 80 IP) that I referenced earlier, Strider ranks first in K-BB% (27.9%), second in xFIP (2.54) and second in SIERA (2.50) — behind Shane McClanahan in the latter two categories.
To temper expectations slightly, Strider does rank sixth in swinging strike rate and 15th in called-strike plus whiff rate, or CSW%, so he's not quite the best pitcher on the planet, at least not yet.
Strider has dominated with two pitches: throwing his fastball (67.6% usage) or slider (26.9% usage) nearly 95% of the time. And despite the limited arsenal, his splits have been relatively neutral.
Strider (2.61 xERA, 2.54 xFIP) is undoubtedly a superior pitcher compared to Chad Kuhl (5.06 xERA, 4.99 xFIP). And the Braves certainly have one of the best bullpens in baseball, while the Rockies rank closer to the bottom of the league.
I project Atlanta's bullpen as the No. 1 relief unit in MLB (3.00 Model Weighted ERA) and rank Colorado more than an entire run worse (4.27 Model Weighted ERA). On the season, the teams rank fourth and 28th, respectively, in bullpen SIERA and third and 29th, respectively, in K-BB%.
Both offenses are in their lesser split for their matchup. Either team prefers to face left-handed pitching. Atlanta falls from third to ninth in wRC+ against lefties as opposed to righties, while Colorado drops from 18th against lefties to 28th vs. righties.
After a rocky 23-27 start through May, the Braves have gone 57-24 and are playing at a 114-win pace over the past three months.
While they are undoubtedly the superior team in all aspects of this matchup, I still couldn't project their moneyline past -300 (75% implied) for the full game. As a result, I would look to bet the Rockies small at +335 (23% implied) or better, at a two percent edge compared to my projection.
Conversely, I did project Atlanta closer to -375 (78.9% implied) for the first five innings (F5), and its first half line could be worth a bet up to -333 (76.9% implied) at a similar edge.
I don't see value on either side of the total for this game.
Milwaukee Brewers vs. Arizona Diamondbacks, 9:40 p.m. ET
Brandon Woodruff vs. Merrill Kelly (full projections here)
Kelly has been a revelation for the Diamondbacks this season (3.17 xERA, 3.87 xFIP). Although his pitch mix — and the majority of his underlying indicators — appear relatively stable, Kelly has dialed back his curveball usage slightly in favor of more changeups and cutters, particularly against righties (+10% combined usage increase).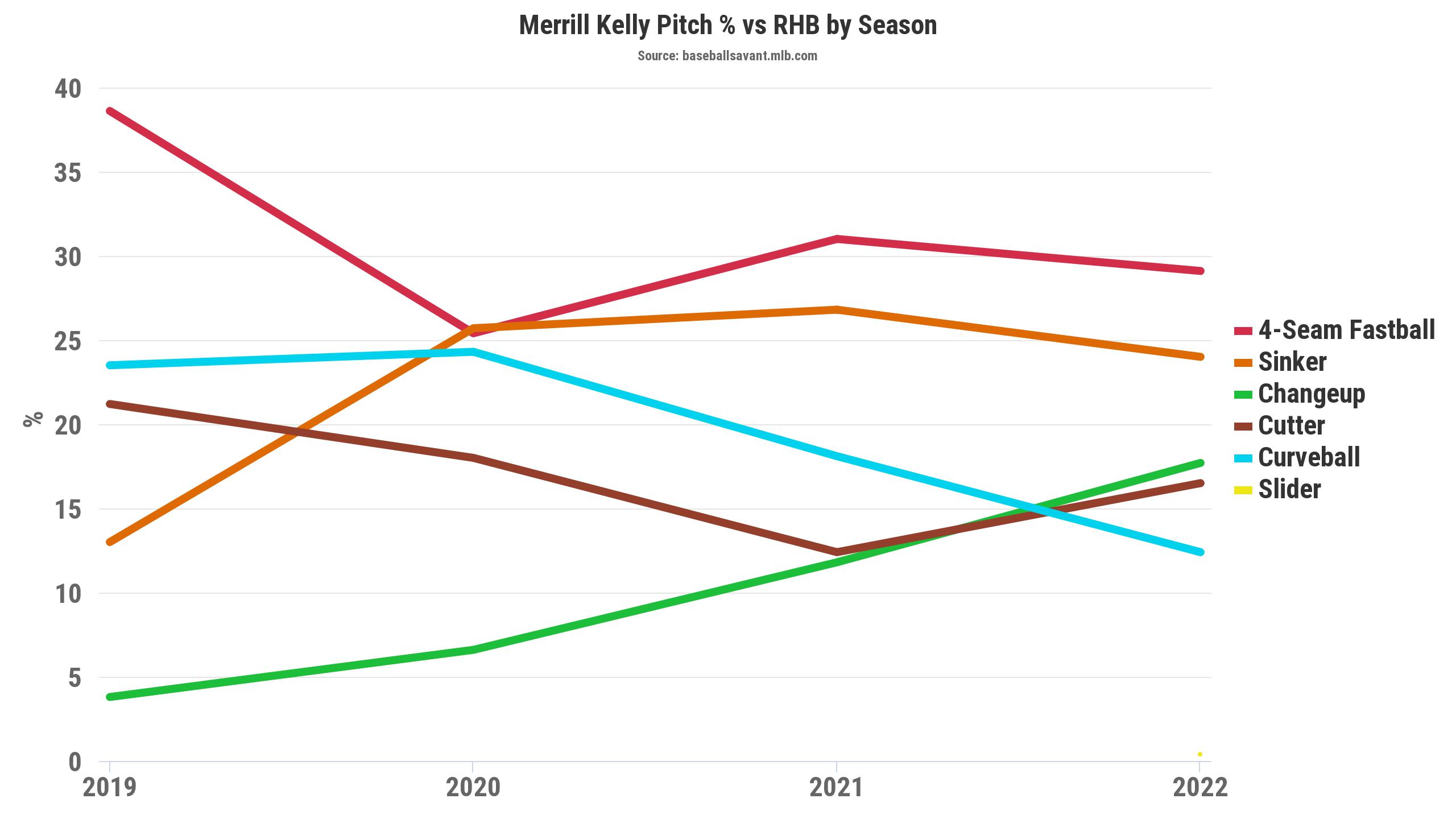 Ultimately, he's halved his home run rate (0.57 HR/9 vs. 1.10 career), which seems relatively unsustainable without significant alterations as a pitcher. His barrel rate (7%) is higher than last season when Kelly allowed double the number of home runs (21) in just as many innings.
He's a bit of a curious case from a projection standpoint, but it seems like Kelly has turned a corner from a mental standpoint, pitching with renewed confidence.
While Woodruff (3.36 xERA, 3.31 xFIP) is a superior pitcher, I'm not sure how wide the talent gap is between these two starters.
Both offenses face their preferred split in this matchup, but the differential is more pronounced for Milwaukee, which ranks seventh against righties (110 wRC+) compared to 25th against lefties (89 wRC+).
The defensive battle is essentially a wash on paper, and the season-long metrics put these teams on relatively level terms, too (8th and 10th in Defensive Runs Saved). I should mention, however, that Outs Above Average views Arizona as the No. 1 defensive team and has Milwaukee ranked 18th; however, I lean towards DRS considering its inclusion of catcher defense and Milwaukee's six-run advantage over Arizona at the position.
Lastly, I projected a reasonably significant advantage for Milwaukee's bullpen — by about 0.9 runs in my Model Weighted ERA (3.2 to 4.1). On the year, the Brewers rank around seventh, while the Diamondbacks rank closer to 25th by most bullpen metrics, so that differential aligns with expectations.
As a result, I view a far closer matchup over the first five innings — with Woodruff against Kelly — than I see over the final four innings, given Milwaukee's bullpen advantage.
I projected Arizona as a slight +106 (48.5% implied) F5 underdogs, and I would bet its F5 moneyline down to +115 (46.5% implied) at a two percent edge.
I would need +121 (45.1% implied) or better to bet the full game moneyline, compared to my projection (+112, or 47.1% implied).
I don't show value on either side of the total for either half.
How would you rate this article?
This site contains commercial content. We may be compensated for the links provided on this page. The content on this page is for informational purposes only. Action Network makes no representation or warranty as to the accuracy of the information given or the outcome of any game or event.