MLB Predictions Today | Odds, Expert Picks for Wednesday, April 12
Credit:
Getty Images. Pictured: Jake McCarthy and Chris Sald.
Welcome to Opening Pitch, my column that you'll find daily throughout the 2023 MLB season.
My goal for Opening Pitch is to highlight my top daily projection edges for MLB moneylines and totals, share my favorite bets and provide some betting notes and analysis, mainly as I react to opening and overnight lines while using my baseball betting model.
I will look to release a new version of Opening Pitch daily between midnight and 3 a.m. ET; after I enter my overnight bets in the Action Network App and update the MLB projections. Hopefully, you will use it as your morning betting guide to get ahead of the baseball markets.
You can find my projections for every MLB game in the Action App (on both the PRO Projections tab and the game pages) and our Projections Hub (which you can bookmark).
You can also shop for the best lines on our odds page.
Expert Picks for Wednesday, April 12
St. Louis Cardinals vs. Colorado Rockies
Jack Flaherty vs. Jose Urena
First Pitch: 3:10 p.m. ET

I worry that Flaherty might be permanently broken, and if the Cardinals get nothing out of him this season, they have a massive need to deal hitting for pitching at some point before the trade deadline.
Since his breakout 2019 campaign (2.75 ERA, 3.38 xERA, 3.64 xFIP), Flaherty has made 34 starts and posted a 16-7 record while carrying a 3.77 ERA against a 4.26 xFIP. But his velocity has fallen off dramatically since the end of last season and his command has wholly disappeared too.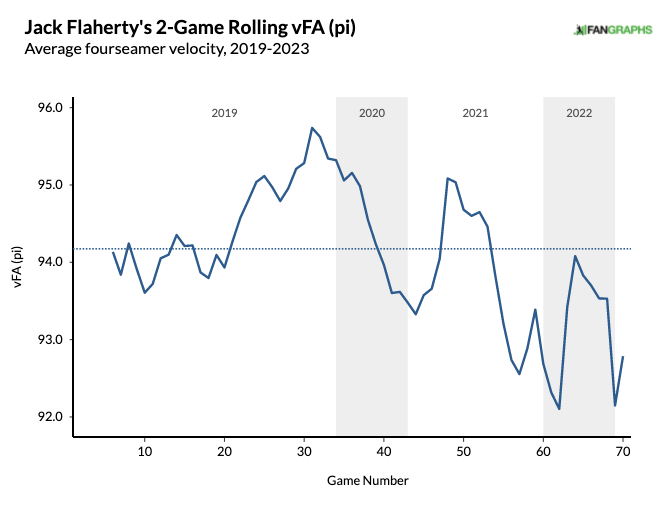 In seven starts since he returned from injury last September, Flaherty has just 34 strikeouts against 26 walks in 38 innings, and he's carrying a 5.12 xFIP. His fastball velocity is down a tick (92.3 mph) relative to his career peak, but he can't locate anything — and pitching at Coors Field may not help his cause.
Pitchers heavily reliant on breaking balls often struggle at Coors Field more than anywhere else. Flaherty is a two-pitch pitcher (four-seam fastball or slider 73.5% of the time). If he can't throw the slider for strikes, the Rockies can sit on his fastball and tee off.
I don't have any faith in Jose Urena (career 4.85 xFIP; 4.94 xERA in 2022; 4.88 xERA in 2021; 4.58 xERA in 2020; 5.23 xERA in 2019) — he is one of the worst regular starting pitchers in baseball.
That said, even assuming that Flaherty is an entire run better than Urena (3.9 vs. 4.9 Model Weighted ERA), I projected the Rockies around +138 in the first five innings (F5) +126 for the full game. You can bet Colorado to +150 on the F5 moneyline, but I would go as low as +137 over the full game.
Milwaukee Brewers vs. Arizona Diamondbacks
Janson Junk vs. Drey Jameson
First Pitch: 3:40 p.m. ET
The Brewers were initially supposed to start Brandon Woodruff while the Diamondbacks were slated to throw Madison Bumgarner. I would have set Milwaukee as roughly -134 favorites in that matchup.
Three hours after the Woodruff injury news dropped — with the corresponding callup of Junk — I found the Diamondbacks at plus money in both halves at multiple books.
After the pitching switch, I set Arizona as -116 favorites for the first five innings and -110 for the full game. You can bet the Snakes in both halves to -107 and -105, respectively.
I doubt you'll find the same numbers in the morning that I found overnight; however, the lines sat there for multiple hours after the news dropped and remained even after I logged them in the Action App.
Jameson is one of my favorite breakout arms for 2023, with two plus offerings (fastball/slider) and two more pitches with average stuff (curveball/changeup) but spotty command.
He doesn't have your prototypical pitcher frame (6-foot-0, 165 lbs), but Jameson is an incredibly explosive athlete, and on a team with some of the fastest players in the sport (Corbin Carroll, Jake McCarthy), Jameson would beat most of them in a sprint. His 60-yard dash clocked in at a 6.28 as a freshman. That's 80-grade speed.
That said, I only give Jameson (projected FIP range 4.07 to 4.49) a slight edge over Junk (projected FIP range 4.28 to 4.52) at the current stage of their careers; I view Jameson as the arm with significantly more upside.
The Brewers have the bullpen edge, but Arizona has more speed and plays better defense.
At plus money, this is my biggest bet of the 2023 season. I would reduce my risk profile for this game as you move towards even money in either market.
Miami Marlins vs. Philadelphia Phillies
Edward Cabrera vs. Zack Wheeler
First Pitch: 4:05 p.m. ET 
Cabrera has been undeniably shaky in six career starts against the New YorkMets (21 2/3 IP, 17 H, 16 R, 4 HR, 21 BB, 19 K).
The young righty has been far more effective in his other 17 major league starts (83 IP, 53 H, 32 R, 44 BB, 90 K). Like Drey Jameson, Cabrera has a ton of arm talent but lacks the command at this point in his career to consistently suppress the opposition.
He's difficult to square up, but Cabrera doesn't necessarily have a proper put-away pitch. Hitters can foul off his fastball, work deep counts and draw walks if he can't get his slider over the plate.
Zack Wheeler is undeniably the superior pitcher (2.8 expected ERA or xERA in 2021; 3.1 in 2022) in the matchup, and the Phillies also have a clear offensive advantage too.
Still, the Marlins get the better of the offensive splits, ranking far better against righties, while the Phillies should be better against lefties, and the line in either half is a touch too wide.
I projected Miami closer to +145 in both halves; you can bet the fish to +160 in either half.
Lastly, I projected the total at 8.57 with more decent hitting weather in Philadelphia on Wednesday and bet Over 7.5 (-120). You can play the Over up to 8 (-112).
Tampa Bay Rays vs. Boston Red Sox
Chris Sale vs. Taj Bradley
First Pitch: 6:40 p.m. ET 
The Rays have continued their unbeaten run, covering the run line in 10 of 11 contests. They'll call up their top pitching prospect, Taj Bradley, to make his major league debut on Wednesday against Chris Sale.
I expect Bradley, Curtis Mead, and potentially Kyle Manzardo to break into the Rays' 26-man roster by the time the postseason rolls around.
The righty has two plus pitches (fastball and slider) and decent command, but he is still refining his arsenal with the hope that improving his curveball or changeup could help him to take the next step. Bradley isn't fully stretched out — I expect him to pitch four or five innings at most on Wednesday — before turning things over to the Rays' elite bullpen.
I give Boston a slight advantage for the first five innings (projected 51.2%) behind Sale and would bet the Red Sox in the first half at +104 or better. I set the Rays as a slight favorite over the full game (51.6%) — given their back-end pitching advantage — and would need +115 or better to bet Boston to win the game outright.
Lastly, I set the total at 7.8 and would bet Under 8.5 to -118; or Under 8 to +100.
Zerillo's Bets for Wednesday, April 12
For additional bet notifications, follow me in the Action Network App. 
Arizona Diamondbacks F5 (+120, 1u) at BetRivers (bet to -107)
Arizona Diamondbacks (+120, 1u) at Caesars (bet to +110)
Boston Red Sox (+120, 0.5u) at WynnBet (bet to +115)
Boston Red Sox / Tampa Bay Rays, Under 8.5 (-105, 0.5u) at Caesars (bet to -117 or 8, +101)
Colorado Rockies F5 (+152, 0.5u) at FanDuel (bet to +150)
Colorado Rockies (+155, 0.5u) at WynnBet (bet to +137)
Kansas City Royals (+150, 0.5u) at WynnBet (Bet to +145)
Los Angeles Dodgers / San Francisco Giants, Over 7.5 (+100, 0.5u) at FanDuel (bet to -102)
Miami Marlins F5 (+165, 0.5u) at BetMGM (bet to +160)
Miami Marlins (+170, 0.5u) at Caesars (bet to +160)
Miami Marlins / Philadelphia Phillies, Over 7.5 (-120, 0.5u) at Caesars (bet to 8.5, -112)
Oakland Athletics (+170, 0.5u) at WynnBet (bet to +170)
Pittsburgh Pirates (+135, 0.5u) at WynnBet (bet to +135)
San Diego Padres / New York Mets, Under 9 (-110, 0.5u) at WynnBet (bet to -115)
Seattle Mariners / Chicago Cubs, Under 11 (-110, 0.5u) at FanDuel (Bet to 10.5, -103)
How would you rate this article?
This site contains commercial content. We may be compensated for the links provided on this page. The content on this page is for informational purposes only. Action Network makes no representation or warranty as to the accuracy of the information given or the outcome of any game or event.