MLB Odds, Picks for Saturday, April 15 | Expert Predictions Today
Credit:
Getty Images. Pictured: Kris Bubic and Seiya Suzuki
Welcome to Opening Pitch, my column that you'll find daily throughout the 2023 MLB season.
My goal for Opening Pitch is to highlight my top daily projection edges for MLB moneylines and totals, share my favorite bets and provide some betting notes and analysis, mainly as I react to opening and overnight lines while using my baseball betting model.
I will look to release a new version of Opening Pitch daily between midnight and 3 a.m. ET; after I enter my overnight bets in the Action Network App and update the MLB projections. Hopefully, you will use it as your morning betting guide to get ahead of the baseball markets.
You can find my projections for every MLB game in the Action App (on both the PRO Projections tab and the game pages) and our Projections Hub (which you can bookmark).
You can also shop for the best lines on our odds page.
Expert Picks for Saturday, April 15
Pittsburgh Pirates vs. St. Louis Cardinals
Roansy Contreras vs. Steven Matz
First Pitch: 2:15 p.m. ET
I projected Pittsburgh as roughly a 40% underdog for Saturday behind Roansy Contreras — whom the model has consistently recommended backing since his MLB debut last season.
You can bet the Pirates at +162 or better for the first five innings (F5) and +165 or better for the full game.
We cashed some big plus money tickets behind Vince Velasquez on Thursday and bypassed betting Friday's game. Even if we bet the Pirates and lose on Saturday and Sunday, we would still be ahead for the series.
Tampa Bay Rays vs. Toronto Blue Jays
Calvin Fauchner vs. Yusei Kikuchi
First Pitch: 3:07 p.m. ET
Fauchner will open ahead of Josh Fleming for the Rays on Saturday. I projected Tampa Bay as a slight favorite in both halves against Yusei Kikuchi and would look to bet the Rays at +101 in the first half and +108 over the full game.
Due to the late pitching swap to an opener, most books didn't open F5 markets overnight, but I may look to grab a Rays F5 team total or bet the F5 Over (to 5.5, +105) in the morning. Stay tuned.
Milwaukee Brewers vs. San Diego Padres
Freddy Peralta vs. Seth Lugo
First Pitch: 4:05 p.m. ET
Peralta has impressed in two starts against high-powered offenses (12 IP, 6 H, 1 R, 6 BB, 14 K) in the Mets and Cardinals and will look to stifle another National League contender on Saturday. Peralta comes with substantial injury risk, but when he's on the mound, Peralta is an ace-level pitcher (2.86 expected ERA or xERA in 2021 and 2.70 in 2022).
Lugo was a sneaky signing by the Padres this offseason — there's a nonzero chance that he is their best starting pitcher. After primarily working out of the Mets' bullpen for six of his first seven seasons in the big leagues, the Padres inked Lugo to a two-year, $15M deal to pitch at the back-end of their rotation.
He looks like Charlie Morton through two starts — using a fastball or curveball 87% of the time while mixing an occasional slider or changeup for show. He can keep a sub-3.75 ERA in the Padres' rotation, health provided.
I am very high on both starting pitchers, and Friday's 11-2 blowout win for Milwaukee is a blessing in disguise for Saturday's Under — the key relievers in both bullpens are fresh after a de facto off day.
I projected the totals for this matchup at 3.72 and 7.2. You can bet the F5 Under to 4 (-105) and the full game Under either to 8 (-118) or 7.5 (+100).
Arizona Diamondbacks vs. Miami Marlins
Ryne Nelson vs. Braxton Garrett
First Pitch: 4:10 p.m. ET
I'm not sure I have posted about the Diamondbacks since I added their "to make the playoffs" future at +425 on April 11, but I am extremely high on this team and their fit for the new ruleset. Their speed and defense is an electric factory.
While I see encouraging signs from former first-round pick Braxton Garrett — and his development last season — I project Ryne Nelson as the better starting pitcher.
Bet the Snakes down to +114 for Wednesday and consider betting them to make the playoffs at +450 or better.
And bet their F5 moneyline to -101.
Atlanta Braves vs. Kansas City Royals
Bryce Elder vs. Kris Bubic
First Pitch: 4:10 p.m. ET
Through two starts, Kris Bubic looks like a completely different pitcher — and I have had to upgrade his projections substantially.
The southpaw overhauled his arsenal this offseason — adding a new slider and improving his fastball — and Stuff+ now grades both pitches as plus offerings.
Bubic added two ticks of velocity to his fastball — below the major league average for all pitchers (including relievers). However, remember that Bubic is also left-handed. From a velocity standpoint, that brings him more in line with southpaws like Steven Matz and Jordan Montgomery than replacement-level pitchers like Patrick Corbin and Cole Irvin.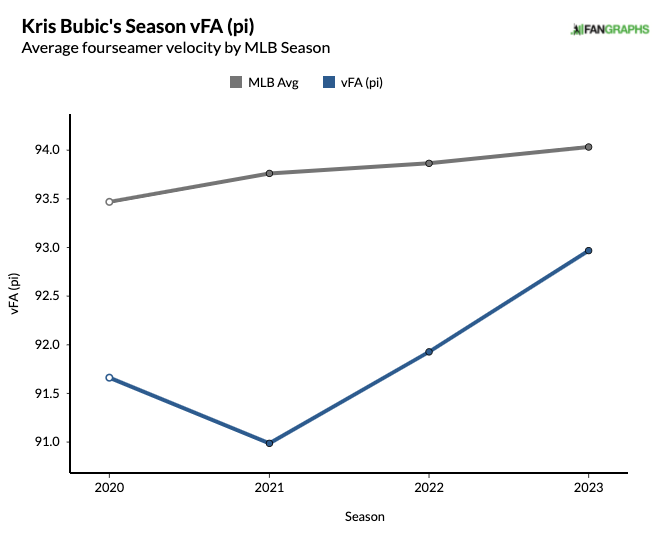 Bubic has carried career marks (4.47 xFIP, 4.67 SIERA) of a number five starter. Still, if he can maintain this new velocity level, he can shave two-thirds to an entire run off of his ERA on that alone. Additionally, given potential gains from the slider, you are looking at a mid-rotation or number two type starter (sub 3.5 ERA). For whatever reason, lefties typically take longer to make the leap than righties, but it's evident that Bubic has made drastic changes to his approach; and the skills growth is apparent.
I don't think that the betting market has fully caught up to Bubic's new level.
I projected the Royals as slight favorites for the first five innings and slight underdogs for the full game.
Bet Kansas City in each half, to +105 and +115, respectively, and add some F5 spread (+0.5 runs to -125) since I would have expected to have to lay the half run instead of receiving it.
Philadelphia Phillies vs. Cincinnati Reds
Matt Strahm vs. Graham Ashcraft
First Pitch: 4:10 p.m. ET
Although we have a strong pitching matchup for Saturday, Great American Ball Park is one of baseball's best hitters' venues, and conditions should increase the run-scoring environment further (relative to typical April weather): 79 degrees at first pitch with the wind blowing out to left field.
I don't see any value concerning the F5 total — the starting pitchers are too good — but once the bullpens get involved, I projected the full game total at 9.77.
Bet Over 9 to -118, or an Over 9.5 to +100.
Los Angeles Angels vs. Boston Red Sox
Tyler Anderson vs. Nick Pivetta
First Pitch: 4:10 pm. ET
My edge here comes from a difference in viewpoint for Anderson and Pivetta and their results last season (3.10 and 4.65 xERAs, respectively) compared to their projections for 2023. The projection market expects both pitchers to regress towards career averages (4.32 xFIP for Anderson, 4.15 xFIP for Pivetta) this season.
In the early going, Anderson's fastball velocity is down a tick, while Pivetta's is up more than 1 mph relative to last season. Still, regardless of velocity losses or gains, I project these pitchers as relative equals over the remainder of the 2023 season, not a run and a half apart as their 2022 ERA estimators would suggest.
You can bet the Red Sox to +100 in the first five innings and -106 for the full game on Saturday afternoon.
Texas Rangers vs. Houston Astros
Jon Gray vs. Hunter Brown
First Pitch: 7:10 pm. ET
Gray can keep the Astros' lineup in their lesser split (vs. righties), while Brown might be the best rookie pitcher we see all season. Brown's projections (ERA range 3.42 to 3.76) are impressive for a 24-year-old.
Brown has four above-average pitches in a limited major league sample (32 innings). Still, his reliance on a fastball/curveball/changeup trio (and his mechanics) reminds many of a young Justin Verlander.
I projected the F5 total at 4.01 for these two pitchers and would bet an F5 Under 4.5 to -120.
Chicago Cubs vs. Los Angeles Dodgers
Jameson Taillon vs. Michael Grove
First Pitch: 9:10 pm. ET
The fact that the Dodgers are running out Michael Grove for multiple starts — and not just one emergency — is immediately concerning for their season. Grove projects as a number five or replacement level starter (projected ERA range 4.51 to 5.33), and Jameson Taillon (3.9 xERA in 2021, 4.2 in 2022) is the superior pitcher.
The Cubs also welcomed Seiya Suzuki back to their lineup on Friday. The star outfielder — whose rookie campaign was cut short by injuries — completes what should be an underrated, potentially playoff-caliber lineup, both offensively and defensively.
Chicago's bullpen — which was surprisingly good in the first half of 2022 — is its most prominent weak spot and disadvantage in this matchup.
However, I project value in Chicago's F5 moneyline for Saturday (to +130), and we can avoid late-game shenanigans.
Colorado Rockies vs. Seattle Mariners
Ryan Feltner vs. George Kirby
First Pitch: 9:40 pm. ET
As of publication, I don't have any bets on Saturday's nightcap. However, a few lines are nearly at my price targets.
I'll wait for the Rockies' moneyline to surpass +220 before jumping in against the Mariners.
And I would need either -110 to bet an F5 Under 4.5 or plus money to bet an Under 8.
Zerillo's Bets for Saturday, April 15
For additional bet notifications, follow me in the Action Network App. 
Arizona Diamondbacks (+10, 0.5u) at WynnBet (bet to -101)
Arizona Diamondbacks (+115, 0.75u) at WynnBet (bet to +114)
Boston Red Sox F5 (+104, 0.5u) at FanDuel (bet to +100)
Boston Red Sox (+105, 0.5u) at FanDuel (bet to -106)
Chicago Cubs F5 (+130, 0.5u) at FanDuel (bet to +130)
Colorado Rockies (+220, 0.5u) at WynnBet (bet to +220)
Detroit Tigers F5 (+140, 0.5u) at Caesars (bet to +120)
Detroit Tigers (+138, 0.5u) at BetRivers (bet to +120)
Kansas City Royals F5 (+118, 0.5u) at FanDuel (bet to +105)
Kansas City Royals F5 +0.5 (-114, 0.5u) at FanDuel (bet to -125)
Kansas City Royals (+125, 0.5u) at WynnBet (bet to +115)
Milwaukee Brewers (+130, 0.5u) at WynnBet (bet to +117)
Milwaukee Brewers / San Diego Padres, F5 Under 4.5 (-134, 0.5u) at FanDuel (bet to 4, -105)
Milwaukee Brewers / San Diego Padres, Under 8 (-105, 0.5u) at WynnBet (bet to -118 or 7.5, +100)
Oakland Athletics (+168, 0.25u) at FanDuel (small to +159)
Philadelphia Phillies / Cincinnati Reds, Over 9 (-115, 0.5u) at DraftKings (bet to -118 or 9.5, +100)
Pittsburgh Pirates F5 (+160, 0.5u) at WynnBet (bet to +151)
Pittsburgh Pirates (+175, 0.5u) at WynnBet (bet to +165)
Tampa Bay Rays F5 (+105, 0.5u) at WynnBet (bet to +102)
Washington Nationals (+155, 0.5u) at WynnBet (bet to +143)
How would you rate this article?
This site contains commercial content. We may be compensated for the links provided on this page. The content on this page is for informational purposes only. Action Network makes no representation or warranty as to the accuracy of the information given or the outcome of any game or event.