MLB Picks Today | Odds, Expert Predictions, Projections for Saturday, July 22
Credit:
Getty Images. Pictured: Freddie Freeman, Triston Casas, JJ Bleday.
Welcome to Opening Pitch, my column that you'll find daily throughout the 2023 MLB season.
My goal for Opening Pitch is to highlight my top daily projection edges for MLB moneylines and totals, share my favorite bets and provide some betting notes and analysis, mainly as I react to opening and overnight lines while using my baseball betting model.
I will look to release a new version of Opening Pitch daily between midnight and 3 a.m. ET; after I enter my overnight bets in the Action Network App and update the MLB projections. Hopefully, you will use it as your morning betting guide to get ahead of the baseball markets.
You can find my projections for every MLB game in the Action App (on both the PRO Projections tab and the game pages) and our Projections Hub (which you can bookmark).
You can also shop for the best lines on our odds page.
Expert Picks for Saturday, July 22
Los Angeles Dodgers vs. Texas Rangers
Bobby Miller vs. Dane Dunning
First Pitch: 4:05 p.m. ET
I see a significant starting pitcher advantage for the Dodgers, with model favorite Bobby Miller (3.75 xERA or expected ERA) facing regression candidate Dane Dunning (4.72 xERA) — who we backed in his last outing against Shane McClanahan (more on the Rays' lefty, below).
Pitching models are incredibly high on Miller, giving him a 121 Stuff+ rating, four above-average pitch types, and a dominant slider (162 Stuff+). And his command (102 Location+) has been solid too, putting Miller at a 109 Pitching+ rating, which ranks fifth among 158 qualified starting pitchers (min. 40 innings).
Bobby Miller showed his elite stuff. He averaged 98.3, had a 5 pitch mix & was in the zone 50% or more with 3 pitches. 4 seam spin as high as 2513, Curve had 61 inches of vertical break & both change & curve had 67% whiff rates. Bases loaded 1 out, dropped 2 curves. #dodgerspic.twitter.com/uztnxMl9Vl

— Dodgers Daily (@dodger_daily) July 16, 2023
Conversely, Dunning ranks 124th among that same group of starting pitchers (81 Stuff+, 96 Pitching+). His ERA (2.82) should move towards his expected indicators once his BABIP (.263), strand rate (78.4%), and HR/FB rate (6.9%) move towards a combination of his career averages (.302 / 74.2% / 12.4%) and league averages in those categories.
Current indicators suggest a one-run difference — in terms of a season-long ERA — between the relative quality of the two starting pitchers. Still, pitch modeling metrics suggest that the gap is closer to two runs than one.
I projected Miller and the Dodgers as -154 favorites for the first five innings (F5) and -131 favorites for the full game; bet Los Angeles in both halves to -142 (F5) and -120) (full game), respectively.
Baltimore Orioles vs. Tampa Bay Rays
Grayson Rodriguez vs. Shane McClanahan
First Pitch: 4:10 p.m. ET
Despite a mediocre final line (5 IP, 7 H, 4 R, 2 BB, 4 K), Grayson Rodriguez looked much more refined in his return to the majors last Monday against the Dodgers. His first-pitch strike rate (77.3%) was tied for the highest of his career.
Rodriguez posted a 123 Stuff+ rating in the outing — with a Stuff+ figure of 115 or higher on all five of his pitch types — compared to a 105 Stuff+ figure for the season. The quality of his pitch types was never in question. Command — and his ability to keep the ball in the yard — will determine Rodriguez's ceiling, and I think we saw an improved version against the Dodgers earlier this week.
After an IL stint due to a back injury, Shane McClanahan alleviated those injury concerns with a quality start against the Astros (6 IP, 3 H, 2 R, 0 BB, 8 K) while posting an average velocity level of 97.5 mph on his fastball alongside 115 Stuff+ number for his overall arsenal; three points better than his 2023 average.
McClanahan has been fortunate to carry a 2.56 ERA this season, thanks to a .258 BABIP and an 87.6% strand rate, but he looked as good as he has in months in his first start off the IL.
With both starting pitchers presumably in top form, I projected this total at 7.32; bet Under 8 to -115.
New York Mets vs. Boston Red Sox
Max Scherzer vs. James Paxton
First Pitch: 7:10 p.m. ET
The Mets and Red Sox must finish Friday's contest on Saturday afternoon before playing Saturday's night originally scheduled matchup between Max Scherzer (3.52 xERA) and James Paxton (3.32 xERA).
Scherzer is striking out fewer hitters, walking slightly more, and permitting an increased rate of barrels and home runs compared to previous seasons. He's no longer an ace, and pitching models say that he is barely above league average (101 Stuff+, 102 Pitching+), a noticeable decline compared to his 2022 season with the Mets (106 Stuff+, 105 Pitching+) and 2021 half-season with the Dodgers (110 Stuff+, 107 Pitching+).
The same models say Paxton (91 Stuff+, 99 Pitching+ is pitching over his head. Still, the southpaw has seen his fastball velocity return near peak levels and has made 11 starts since May, after making just six combined from 2020 to 2022 due to injuries.
Paxton's strikeout and walk rates align with his career averages, and if he maintains this level, he can continue to pitch to a mid-three ERA moving forward.
Still, Paxton's velocity dipped in his last outing against the Cubs (3 IP, 3 H, 6 R, 3 BB, 4 K) to a season-low 94.8 mph; and he's not worth either a significant investment or a bet in both halves. However, the Mets have struggled against left-handed pitching (96 wrC+, 21st).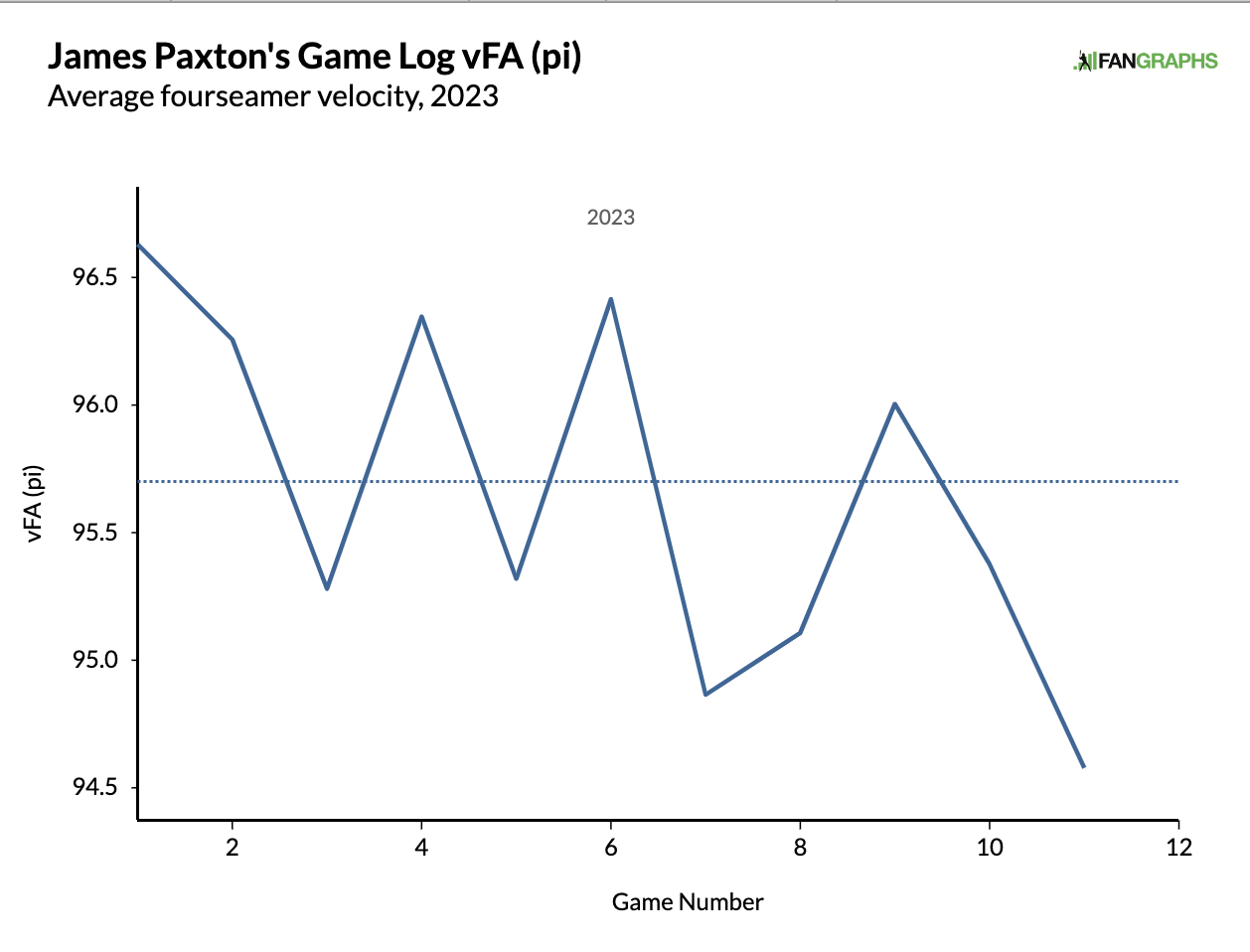 Bet the Red Sox to -110 (projected -119), and play Under 9.5 to -118 or Under 9 to +100 (projected 8.8).
Houston Astros vs. Oakland Athletics
Cristian Javier vs. Paul Blackburn
First Pitch: 9:07 p.m. ET
Cristian Javier has been a massive disappointment this season (4.39 ERA, 4.50 xERA) after posting a 2.43 xERA last season and seeming like the most underrated starter for the final few months of the 2022 campaign; and into the playoffs.
Javier's fastball velocity has dropped by an entire tick compared to 2022, and his strikeout rate is down ten percent. He's carrying a 97 Stuff+ rating (95 Fastball, 104 Slider) and a 100 Pitching+ rating this year, compared to marks of 116 Stuff+ (120 Fastball, 119 Slider) and 106 Pitching+ figure last season.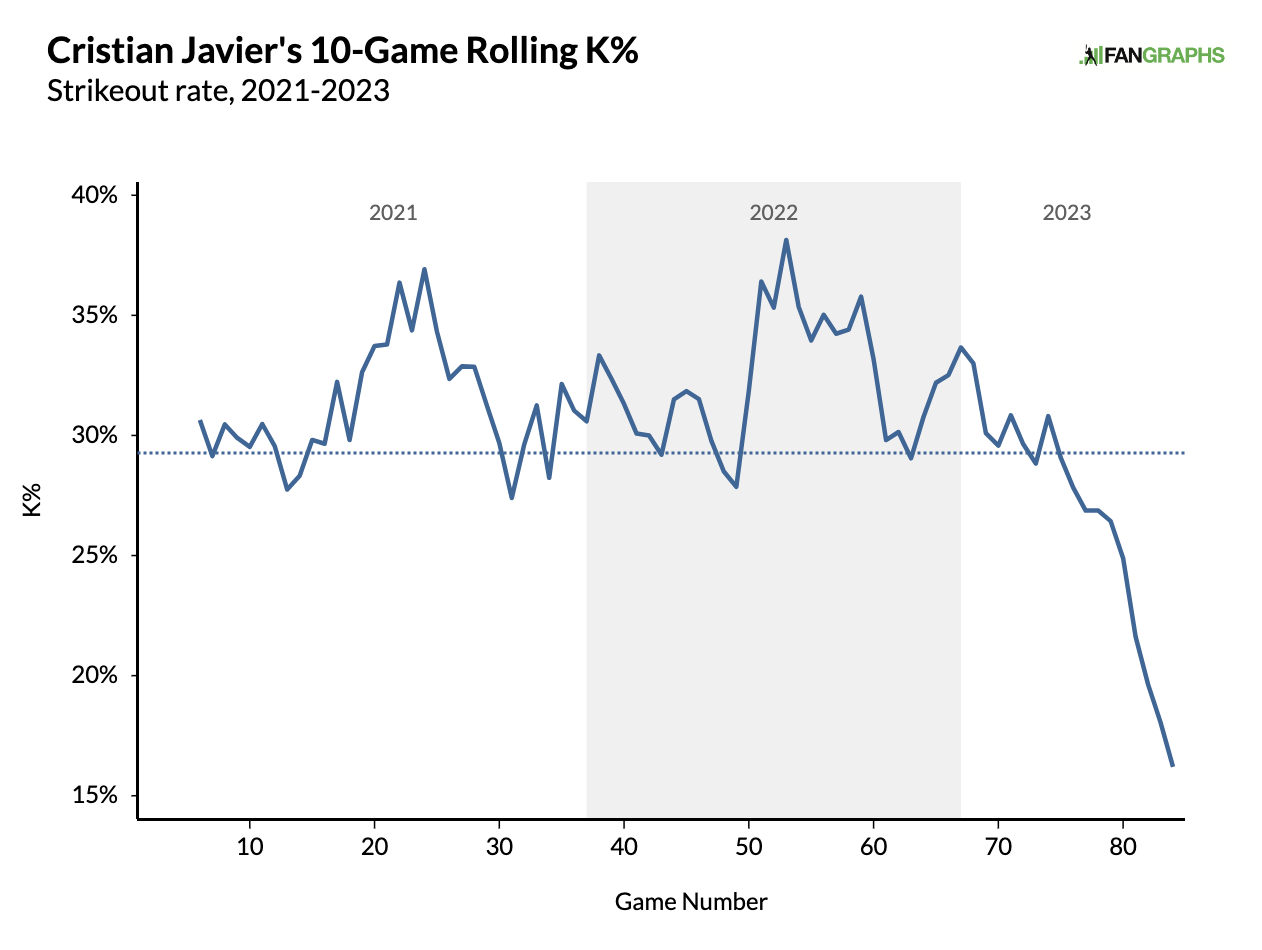 Javier throws a fastball or slider more than 90% of the time. His fastball carried a .181 xBA or expected batting average, a .317 xSLG or expected slugging percentage, and a .273 xwOBA last season. Those numbers have increased to a .247 xBA, .468 xSLG, and a .344 xwOBA against the fastball this season.
Additionally, Javier's slider stifled opponents to the tune of a .126 xBA, .223 xSLG, and a .175 xwOBA in 2022; this year, the numbers are still respectable, but a .216 xBA, .360 xSLG, and .281 xwOBA is a steep decline in effectiveness.
The A's have a shot at winning this game behind Paul Blackburn (4.11 xERA, 86 Stuff+, 97 Pitching+), who has posted a career-best 22.3% strikeout rate this season and compares favorably to the current version of Javier.
Bet the Athletics to +138 in the first half (F5) and +156 for the full game, but stake more on the F5 wager considering the massive bullpen discrepancy between these two clubs (Houston 3.98 bullpen xFIP, 6th vs. Oakland 5.20 bullpen xFIP, 30th).
Zerillo's Bets for Saturday, July 22
For additional bet notifications, follow me in the Action Network App. 
Atlanta Braves / Milwaukee Brewers, Under 9.5 (-110, 0.5u) at DraftKings (bet to -110)
Arizona Diamondbacks (+100, 0.5u) at Caesars (bet to +100)
Boston Red Sox (-1010, 0.5u) at Caesars (bet to -110)
Boston Red Sox / New York Mets, Under 9.5 (-115, 0.5u) at DraftKings (bet to -118 or 9, +100)
Chicago Cubs F5 (+110, 0.5u) at WynnBet (bet to +109)
Chicago Cubs (+106, 0.5u) at FanDuel (bet to +103)
Detroit Tigers (+125, 0.5u) at WynnBet (bet to +123)
Kansas City Royals (+220, 0.25u) at FanDuel (small to +210)
Los Angeles Dodgers F5 (-122, 0.5u) at FanDuel (bet to -142)
Los Angeles Dodgers (-120, 0.5u) at WynnBet (bet to -120)
Minnesota Twins F5 (-135, 0.5u) at DraftKings (bet to -135)
Minnesota Twins (-135, 0.5u) at WynnBet (bet to -135)
Oakland Athletics F5 (+146, 0.5u) at FanDuel (bet to +138)
Oakland Athletics (+175, 0.25u) at Wynnbet (small to +156)
Pittsburgh Pirates (+165, 0.5u) at WynnBet (bet to +154)
How would you rate this article?
This site contains commercial content. We may be compensated for the links provided on this page. The content on this page is for informational purposes only. Action Network makes no representation or warranty as to the accuracy of the information given or the outcome of any game or event.