MLB Odds, Expert Picks: 13 Predictions, Projections for Thursday's Slate
Credit:
Getty Images. Pictured: J.P. Crawford, Aaron Judge. Liover Peguero.
With 11 games on Thursday's MLB slate, Sean Zerillo came prepared.
Zerillo broke down his top 13 bets for Thursday's MLB games, including picks for Mariners vs. Angels and Astros vs. Yankees.
Read on for all of Zerillo's top picks for Thursday's MLB slate.
Welcome to Opening Pitch, my column that you'll find daily throughout the 2023 MLB season.
My goal for Opening Pitch is to highlight my top daily projection edges for MLB moneylines and totals, share my favorite bets and provide some betting notes and analysis, mainly as I react to opening and overnight lines while using my baseball betting model.
I will look to release a new version of Opening Pitch daily between midnight and 3 a.m. ET; after I enter my overnight bets in the Action Network App and update the MLB projections. Hopefully, you will use it as your morning betting guide to get ahead of the baseball markets.
You can find my projections for every MLB game in the Action App (on both the PRO Projections tab and the game pages) and our Projections Hub (which you can bookmark).
You can also shop for the best lines on our odds page.
Expert Picks for Thursday, August 3
Philadelphia Phillies vs. Miami Marlins
Michael Lorenzen vs. Johnny Cueto
First Pitch: 12:10 p.m. ET
Projection systems don't expect much from Johnny Cueto at age 37 (projected FIP range 4.62 to 5.22), but the veteran continues to defy the odds, with a 3.43 xERA and a 103 Pitching+ rating in four appearances. Granted, Cueto doesn't have a single above-average pitch; his success is driven entirely by plus command (107 Location+), comparable to his level last season with the White Sox (78 Stuff+, 103 Location+, 96 Pitching+) when he pitched to a surprisingly great 3.35 ERA and 4.02 xERA in 25 appearances.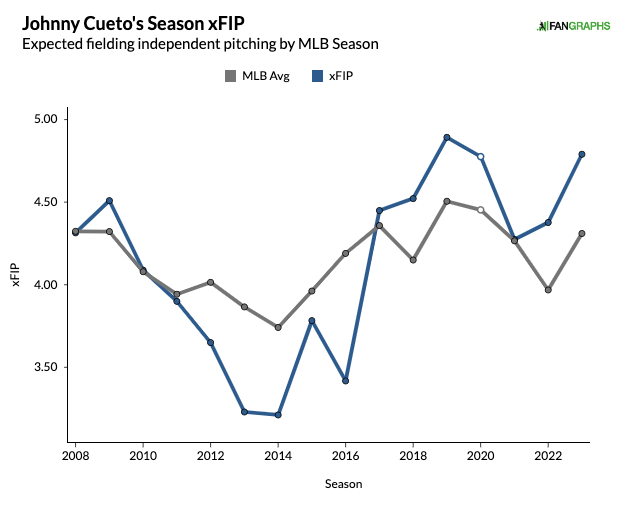 Michael Lorenzen (4.07 xERA, 101 Pitching+) is the better starting pitcher in this matchup, although I still don't consider him All-Star caliber.
Both bullpens are banged up following a lengthy extra-innings game on Wednesday, and about four relievers per side have appearances on back-to-back days or in three of the past four days.
The two offenses rate similarly this season, ranking 20th (Philadelphia) and 21st (Miami) in wRC+ against righties (95 and 91 wRC+, respectively). The Marlins crush southpaws (119 wRC+, 4th), while the Phillies have a neutral split (100 wRC+, 4th vs. lefties).
Still, even in their lesser offensive split, bet the Marlins to +105 for the first five innings (F5) and even money for the full game. I make them small favorites in both halves.
New York Mets vs. Kansas City Royals
Carlos Carrasco vs. Brady Singer
First Pitch: 2:10 p.m. ET
After a breakout 2022 campaign (3.97 xERA, 18.5% K-BB%), Brady Singer carried his WBC struggles into the 2023 season (5.07 xERA, 12.3% K-BB%). His pitch modeling metrics (88 Stuff+, 99 Location+, 95 Pitching+) have also taken a dive compared to 2022 (97 Stuff+, 102 Location+, 99 Pitching+), and his fastball velocity (92.4 mph) is down a tick (93.8 mph in 2022, 93.7 mph in 2021).
Although his stuff remains reduced (82 Stuff+), Singer's command has been much improved of late (105 Location+ in his past two starts), leading to 19 strikeouts in his past 11 innings.
Conversely, Carlos Carrasco has permitted 18 hits and 13 runs in his past two starts, the continuation of a painful 2023 campaign (6.40 ERA, 6.16 xERA, 6.2% K-BB%) where Carrasco has shown a substantial decline (92 Stuff+, 94 Pitching+) compared to previous seasons (4.08 xERA, 17.2% K-BB%, 102 Pitching+ in 2022). Among 163 qualified starters (min. 40 innings), Carrasco ranks 153rd in K-BB%. Aside from the Mets' need to eat innings down the stretch, I'm not sure how they can justify continuing to start him; Carrasco has been one of the most actively detrimental pitchers in baseball this season (-0.3 WAR).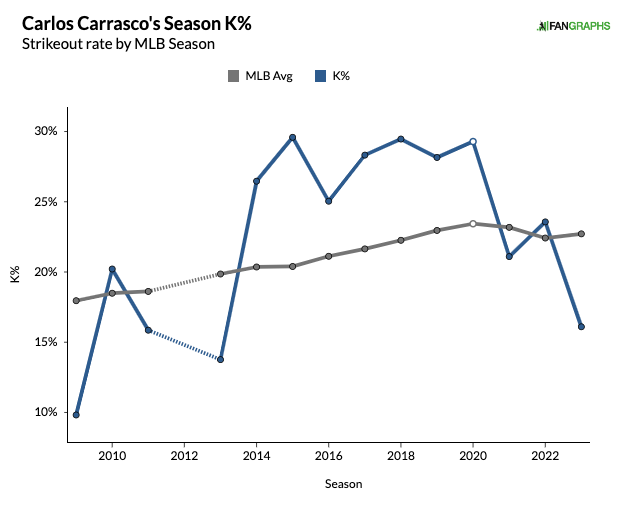 The Royals are searching for a second consecutive series sweep on Thursday, and you can bet Kansas City to -130 for the first five innings and -115 for the full game, compared to projections of -139 and -124, respectively.
Baltimore Orioles vs. Toronto Blue Jays
Jack Flaherty vs. Kevin Gausman
First Pitch: 3:07 p.m. ET
I was surprised the Orioles didn't pursue a higher-caliber starting pitcher before Tuesday's trading deadline. While Jack Flaherty has been healthy this season (109 2/3 innings after 154 total in the past three seasons combined), the righty has been a below-average starter for the past four years (5.03 xERA in 2020, 4.89 in 2021, 4.94 in 2022, 4.67 in 2023). And his pitch modeling metrics (93 Stuff+, 98 Location+, 99 Pitching+) confirm his below-average profile, forecasting an ERA of around 4.7.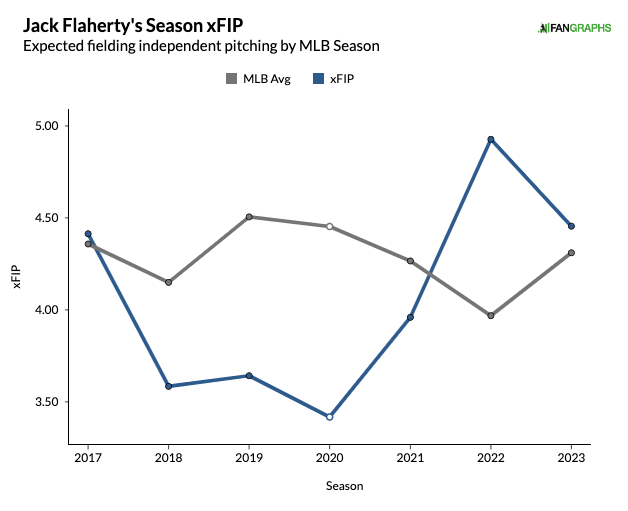 Flaherty peaked in 2019 (2.75 ERA, 3.38 xERA, 22.8% K-BB%) but never regained that form following multiple arm injuries.
Kevin Gausman (3.72 xERA, 109 Stuff+, 104 Location+, 107 Pitching+) currently leads the AL in pitching WAR and rates as a top-15 pitcher among 163 qualified starters (min. 40 innings).
On the same list, Flaherty ranks 99th. And I'm uncertain how the Orioles go about fixing him, too. Not one of Flaherty's pitches has an above-average Stuff+ rating; his signature slider tops out at 97.
Bet Toronto to -190 for the first half (F5) and -167 for the full game, compared to projections of -207 and -182, respectively.
Houston Astros vs. New York Yankees
Cristian Javier vs. Clarke Schmidt
First Pitch: 7:15 p.m. ET
Clarke Schmidt has been a consistent model selection throughout this season, even though his ERA (4.39) aligns with his underlying indicators (4.28 xERA, 4.41 xFIP), and he's not necessarily a weak contact wizard that the model typically uncovers.
Still, pitching models are incredibly high on Schmidt's arm talent (106 Stuff+, 103 Location+, 105 Pitching+) , putting him with No. 2 type starters with a plus curveball and slider — and he might be able to uncover a new level, closer to a mid-three ERA, by optimizing his current pitch mix.
I was extremely high on Cristian Javier (4.49 xERA, 99 Pitching+), but his indicators and pitch modeling metrics have declined drastically compared to last season. Javier's Stuff+ is down from 116 (120 Fastball, 119 Slider) to 98 (96 Fastball, 105 Slider) year over year, and his strikeout rate has fallen from 33.2% to 22.9%. Even in his past three outings — in which his strikeout rate spiked to 31% — Javier's Stuff+ (105) and command (92 Location+) remain reduced compared to his 2022 form.
Additionally, I see a significant defensive advantage for the Yankees in this series. Although the two teams rank 16th and 19th in Defensive Runs Saved this season, New York's defensive and baserunning advantage is worth about 2.5% to my moneyline projection.
I projected the Yankees around -130 (56.5% implied odds) in both halves of this matchup; bet their F5 and full game moneylines to -120.
Pittsburgh Pirates vs. Milwaukee Brewers
Mitch Keller vs. Adrian Houser
First Pitch: 7:15 p.m. ET
Over his past 12 starts, Mitch Keller has a 5.32 ERA, 4.29 xFIP, and a 13.4% K-BB% — neutralizing a hot start and masking what still appear to be gains in his season-long stats (18.6% K-BB%, 3.82 xERA vs. 11.4% K-BB%, 4.23 xFIP in 2022). Keller's arsenal (106 Stuff+, 104 Pitching+) has also shown signs of growth this season (103 Stuff+, 100 Pitching+ in 2022). Despite mediocre results, the pitch modeling data from his past two starts (104 Stuff+, 104 Pitching+) is highly encouraging, putting Keller in the range of a 3.8 projected ERA, slightly better than his 2023 results (3.97 ERA, 3.82 xERA).
As a result, while Keller's stats are trending in the wrong direction (11.1% K-BB% in June, 11.4% in July), recent pitch modeling data suggest that he can still be as effective as he was earlier in the season if he can locate his offerings better.
Adrian Houser (4.52 xERA, 83 Stuff+, 97 Pitching+) depends entirely on his command (102 Location+) without a single above-average offering. Pitching models see about a full run difference in an ERA projection between Keller and Houser.
Although I give the Brewers the edge in other areas of this matchup — offensively, defensively, and in the bullpen — their most significant advantage is team defense (+40 Defensive Runs Saved, 2nd) behind Houser, who permits a high number of balls in play.
Bet the Pirates in both halves to -105 (F5) and +111 (full game) — compared to projections of -112 and +103, respectively, given their presumed starting pitching advantage with Keller.
Seattle Mariners vs. Los Angeles Angels
Bryan Woo vs. Shohei Ohtani
First Pitch: 9:38 p.m. ET
My projection model is exceptionally high on Bryan Woo, selecting the righty as a potential value bet in most of his 10 major-league starts. Despite a 4.96 ERA, Woo's 3.51 xERA aligns with impressive pitch modeling metrics (102 Stuff+, 105 Location+, 106 Pitching+).
Among the 163 starting pitchers to toss at least 40 innings this season, Woo is tied with Shane McClanahan (18th) in Pitching+ and ranks just ahead of the tier that includes Julio Urias, Kyle Bradish, Corbin Burnes, Zach Eflin, Yu Darvish and — as I discussed earlier — Clarke Schmidt.
Shohei Ohtani (3.82 xERA, 121 Stuff+, 96 Location+, 103 Pitching+) has as high of a ceiling as nearly any pitcher on a start-to-start basis given the quality of his arsenal. Still, Ohtani's command can be erratic at times. His walk rate (10.2%) is at its highest point since his rookie season, and his K-BB% has fallen by nearly 5% year over year.
Underlying indicators suggest that Woo has been unlucky in his brief major-league sample and that the ERA for these two starters should be within half a run of one another rather than a 1.5-run differential.
Ohtani has the softer matchup. Seattle ranks 13th against righties (103 wRC+) but is 29th in strikeout rate (26.1%), and Ohtani owns a career 25.8% strikeout rate with a .469 OPS allowed in 89 plate appearances against current Mariners hitters.
The Angels have a top-five offense this season, but they have maintained a top-12 offense against righties — and a top-two offense against lefties — even since Mike Trout went on the IL.
Still, I projected the Mariners closer to +120 in either half; bet Seattle's F5 moneyline to +135 and their full game line to +133.
Zerillo's Bets for Thursday, August 3
For additional bet notifications, follow me in the Action Network App. 
Cincinnati Reds / Chicago Cubs, Under 10.5 (-115, 0.5u) at DraftKings (bet to -122 or 10, -104)
Kansas City Royals F5 (-120, 0.5u) at FanDuel (bet to -130)
Kansas City Royals (-115, 0.5u) at DraftKings (bet to -115)
Miami Marlins F5 (+106, 0.5u) at WynnBet (bet to +105)
Miami Marlins (+115, 0.5u) at WynnBet (bet to +100)
New York Yankees F5 (+100, 0.5u) at FanDuel (bet to -120)
New York Yankees (-108, 0.5u) at FanDuel (bet to -120)
Pittsburgh Pirates F5 (+100, 0.5u) at BetMGM (bet to -105)
Pittsburgh Pirates (+120, 0.5u) at WynnBet (bet to +111)
Seattle Mariners F5 (+148, 0.5u) at FanDuel (bet to +134)
Seattle Mariners (+140, 0.5u) at WynnBet (bet to +133)
St. Louis Cardinals (+130, 0.5u) at FanDuel (bet to +126)
Toronto Blue Jays F5 (-188, 0.5u) at FanDuel (bet to -190)
Toronto Blue Jays (-148, 0.5u) at DraftKings (bet to -167)
How would you rate this article?
This site contains commercial content. We may be compensated for the links provided on this page. The content on this page is for informational purposes only. Action Network makes no representation or warranty as to the accuracy of the information given or the outcome of any game or event.