MLB Odds & Expert Picks: Bets, Projections for Tuesday's Games
Credit:
Getty Images. Pictured: Henry Davis, Christian Yelich, Jonathan India
Tuesday's MLB slate features all 30 teams in action, which means there's plenty of betting value across the board.
MLB expert Sean Zerillo came through with a number of bets for Tuesday, including picks for Rays vs. Rangers and Tigers vs. Royals.
Check out all of Zerillo's picks for Tuesday's MLB games below.
Welcome to Opening Pitch, my column that you'll find daily throughout the 2023 MLB season.
My goal for Opening Pitch is to highlight my top daily projection edges for MLB moneylines and totals, share my favorite bets and provide some betting notes and analysis, mainly as I react to opening and overnight lines while using my baseball betting model.
I will look to release a new version of Opening Pitch daily between midnight and 3 a.m. ET; after I enter my overnight bets in the Action Network App and update the MLB projections. Hopefully, you will use it as your morning betting guide to get ahead of the baseball markets.
You can find my projections for every MLB game in the Action App (on both the PRO Projections tab and the game pages) and our Projections Hub (which you can bookmark).
You can also shop for the best lines on our odds page.
Expert Picks for Tuesday, July 18
Milwaukee Brewers vs. Philadelphia Phillies
Julio Teheran vs. Aaron Nola
First Pitch: 6:40 p.m. ET
I have covered Julio Teheran in this space far more than I could have anticipated this season, but the two-time All-Star has a 3.64 ERA and a 3.60 xERA across eight starts and 47 innings. Teheran's strikeout minus walk rate or K-BB% stands at 12.4% – his best mark since 2016 — and aligns with his career average (12.5%).
Teheran never had impressive strikeout or walk numbers, so he consistently overperformed compared to his underlying indicators (career 3.80 ERA, 4.43 xFIP). However, xERA captures his weak contact wizardry and says that while a .239 BABIP may not be sustainable, pitching to his career .267 BABIP might be. A new cutter (26.3% usage) has been the key to Teheran's resurgence, helping him to keep the ball on the ground (career-high 43.3% groundball rate) and avoid the home run (1.34 HR/9; 1.22 career).
For one night, Teheran can compete with Aaron Nola (3.73 xERA), whose strikeout rate (24.9%) stands at its worst level since his rookie season in 2015 (27.3% career) alongside a 6.2% walk rate, which has doubled compared to last season (3.6%).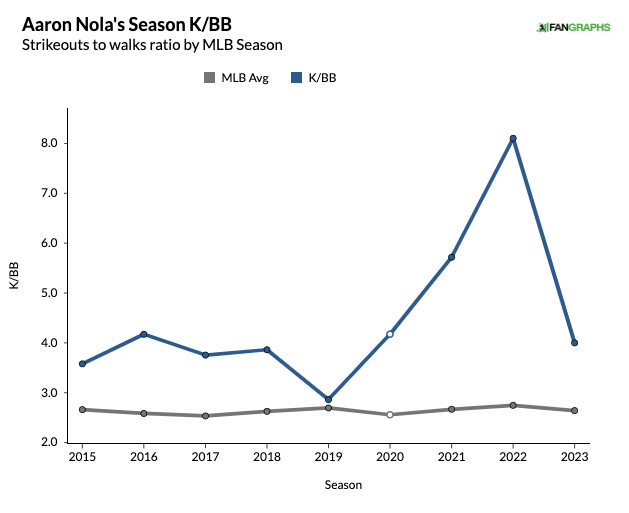 Nola's strikeout rate has dropped off precipitously every time through the batting order this season, too, from 31% to 23%  and 17.7% as he turns over a lineup multiple times.
Bet the Brewers to +170 and play Under 9.5 to -115.
Cleveland Guardians vs. Pittsburgh Pirates
Logan Allen vs. Mitch Keller
First Pitch: 7:05 p.m. ET
Like the Athletics, Reds and Orioles, the Pirates have aggressively promoted position player prospects to the major-league roster, adding Endy Rodriguez and Liover Peguero to join rookies Henry Davis, Jared Triolo and Nick Gonzales this week. The all-25-and-under group (including Jack Suwinski, Oneil Cruz, and Ji Hwan Bae) provides the Pirates with their most exciting group of young position player talent (not to mention Bryan Reynolds or Ke'Bryan Hayes).
It's not necessarily more difficult to project a lineup with mostly rookie hitters; however, the range of outcomes is potentially much more comprehensive, and the margin for projection error is likely more significant than usual.
That said, starting pitchers drive the vast majority of pricing for baseball betting, and Mitch Keller (3.38 xERA, 106 Stuff+, 105 Pitching+) is an arm we love to back.
Conversely, Logan Allen (4.47 xERA, 88 Stuff+, 100 Pitching+) has a significantly lower floor. And his 79.9% strand rate has helped him to outperform his actual ERA by an entire run.
Back the Buccos at home to -110 or better.
San Francisco Giants vs. Cincinnati Reds
Anthony DeSclafani vs. Luke Weaver
First Pitch: 7:10 p.m. ET
The Giants and Reds must finish Monday's suspended game before playing Tuesday's originally scheduled contest. And with the score tied 2-2 in the eighth inning, both bullpen situations are in flux, and we might have to recover a body:
Still, I see enough of an edge on the Reds to play their moneyline overnight. I projected this game closer to a pick'em; bet the Reds at +111 or better.
I don't see a substantial enough difference between Anthony DeSclafani (4.91 xERA, 93 Stuff+, 98 Pitching+) and Luke Weaver (5.61 xERA, 94 Stuff+, 99 Pitching+) to overcome Cincinnati's slight offensive advantage (projected 115 vs. 109 wRC+ vs. righties). I project about fourth-tenths of a run differential (on an ERA) between the two starters, roughly the same difference that I see between these two bullpens.
Tampa Bay Rays vs. Texas Rangers
Taj Bradley vs. Nathan Eovaldi
First Pitch: 8:05 p.m. ET
I'm highly intrigued by this series and suspect we could see a potential rematch in the ALCS (although the Astros and Orioles will surely be in the mix too).
In a five- or seven-game series, Tampa Bay would have the advantage against righties (1st vs. 2nd in wRC+), while Texas has the better offense against lefties (2nd vs. 4th).
The Rays have the starting pitching edge, but Texas has the superior bullpen, particularly after adding a rejuvenated Aroldis Chapman (2.02 xERA) to the mix via trade:
THE FASTEST PITCH IN TEXAS RANGERS FRANCHISE HISTORY

NOT EVEN NOLAN RYAN THREW THIS FAST

AROLDIS CHAPMAN HOLDS THE RECORD OF THE FASTEST PITCH THROWN BY A RANGER

— Dallas Nation (@TheDallasNation) July 18, 2023
Nathan Eovaldi (3.40 xERA) is the one starter — aside from a currently injured Jacob deGrom — who can compete with anyone on the Rays' roster.
And the 22-year-old Taj Bradley (4.03 xERA, 111 Stuff+, 106 Pitching+) is so much better than his 5.43 ERA might suggest; Bradley has the bad-luck trifecta (low strand-rate, high BABIP, high HR/FB rate). Among the 173 starting pitchers who have tossed at least 20 innings this season, Bradley ranks 11th with a 22.7% K-BB.
I made this total 8.16; bet Under 9 to -123 or Under 8.5 to -104.
Washington Nationals vs. Chicago Cubs
Patrick Corbin vs. Jameson Taillon
First Pitch: 8:05 p.m. ET
The underlying indicators for Patrick Corbin (6.26 xERA; 6.41 in 2022) and Jameson Taillon (5.36 xERA) wouldn't typically point to an Under wager, but Tuesday's forecast (75 degrees at first pitch, 6 mph winds blowing in from right field) should lower the run-scoring environment. It happened to trigger our Action Labs system for Wrigley Field Unders:
I have successfully bet against the above system occasionally — including an instance in this column earlier this season — but I'm always happy when my weather adjustment aligns with its parameters.
While both starting pitchers have struggled, both are coming off their best efforts of the season: eight shutout innings for Taillon in a revenge game in the Bronx, and a second quality start in the past three turns for Corbin against a lefty-mashing Rangers squad.
Pitching models project Corbin and Taillon about an entire run better than their 2023 xERA marks. I'm less inclined to buy that assumption for Corbin, whose current xERA is nearly identical to his ERA (6.31) and xERA (6.41) from last season, alongside a career-worst K-BB%.
Taillon's strand rate (57.8%; 72.9% career) has tanked his season-long ERA, but his groundball rate (49% in his past three starts) is moving in the right direction, which should help alleviate a longball issue (1.63 HR/9).
I set the total at 8.2. Bet Under 9 to -119 or Under 8.5 to +100.
Detroit Tigers vs. Kansas City Royals
Tarik Skubal vs. Daniel Lynch
First Pitch: 8:10 p.m. ET
The under in this matchup was my favorite bet for Monday. Despite a matchup between bottom-tier starting pitchers, these teams have the two worst offenses against right-handed pitching.
Both teams draw their superior offensive split on Tuesday (Detroit ranks 23rd, and Kansas City 26th against left-handed pitching). Still, I also prefer the upside of both starting pitchers compared to Monday's matchup.
Tarik Skubal, in particular, has been extremely sharp in two starts since returning from an elbow injury (8 IP, 2 H, 2 BB, 11 K). In a limited sample, his Stuff+ rating has increased from 91 to 95, and his Location+ has improved from 101 to 113 after he posted a 3.34 xERA across 21 starts last season.
Skubal's fastball velocity (96.2 mph) is up significantly compared to last season. We'll see if he can maintain that level after an elbow injury and as he extends beyond four innings per start. Still, if Skubal stays healthy, he should be one of the best starting pitchers in baseball down the stretch.
Tarik Skubal has really impressed in his first two starts back.

8 IP, 2 H, 0 ER, 2 BB (7.1%), 11 K (39.3%)

Velocity is up.
– FF: 96.0 (94.1 in 2022)
– FS: 96.7 (94.8 in 2022)

CH is still dominant (.000 BAA, 50% Whiff)

Good dynasty buy right now.#FantasyBaseball#RepDetroitpic.twitter.com/6zY44LKoiG

— Eric Cross (@EricCross04) July 11, 2023
I projected Tuesday's total at 8.3; bet Under 9 to -122 or Under 8.5 to -103.
Zerillo's Bets for Tuesday, July 18
For additional bet notifications, follow me in the Action Network App. 
Cincinnati Reds F5 (+125, 0.5u) at WynnBet (bet to +106)
Cincinnati Reds (+125, 0.5u) at WynnBet (bet to +111)
Colorado Rockies (+192, 0.5u) at Caesars (bet to +184)
Detroit Tigers / Kansas City Royals, Under 9 (-115, 0.5u) at DraftKings (bet to -122 or 8.5, -103)
Milwaukee Brewers (+185, 0.5u) at WynnBet (bet to +170)
Milwaukee Brewers / Philadelphia Phillies, Under 9.5 (-115, 0.5u) at DraftKings (bet to -115)
Parlay (+196, 0.25u) at WynnBet: Detroit Tigers F5 (-150) & Texas Rangers F5 (-125), parlay to -156 and -131
Pittsburgh Pirates F5 (-105, 0.5u) at WynnBet (bet to -125)
Pittsburgh Pirates (-105, 0.5u) at DraftKings (bet to -110)
Pittsburgh Pirates / Cleveland Guardians, Over 8.5 (-110, 0.5u) at DraftKings (bet to -110)
Tampa Bay Rays / Texas Rangers, Under 9 (-110, 0.5u) at DraftKings (bet to -123 or 8.5, -104)
How would you rate this article?
This site contains commercial content. We may be compensated for the links provided on this page. The content on this page is for informational purposes only. Action Network makes no representation or warranty as to the accuracy of the information given or the outcome of any game or event.