New York Yankees vs. Tampa Bay Rays Game 1 Betting Odds, Pick, Prediction (Monday, Oct. 5)
Credit:
Jim McIsaac/Getty Images. Pictured: Blake Snell.
The Yankees are favored over the Rays in Game 1 of their American League Divisional Series.
Tampa Bay has given New York fits all season, but the Yanks will turn to ace Gerrit Cole to right the ship to start the series.
Get our full breakdown and bets for Yankees vs. Rays Game 1 below.
Yankees vs. Rays Odds
| | |
| --- | --- |
| Yankees Odds | -145 [BET NOW] |
| Rays Odds | +125 [BET NOW] |
| Over/Under | 7 [BET NOW] |
| First Pitch | 8:07 p.m. ET |
| TV | TBS  |
Odds as of Monday at 1:55 p.m. ET and via PointsBet, where you can get $250 FREE instantly after signing up AND your bets automatically sync to the Action app. Learn more about BetSync here.
---
There won't be much love lost when the New York Yankees and Tampa Bay Rays get together in Game 1 of their ALDS matchup at Petco Park on Monday night.
In their penultimate regular-season meeting on Sept. 1, Yankees closer Aroldis Chapman threw a 101 mph fastball near the head of Rays infielder Michael Brosseau, which led to both benches spilling out onto the field with plenty of jawing back and forth.
The Rays have often felt overlooked being in a division with the Yankees, while yet still competing at a very high level despite a massive disadvantage in financial resources. The Yankees' prorated payroll during the pandemic-shortened season is the highest in baseball at $109.4 million, while the Rays are ranked 28th with just $28.3 million, per Spotrac.
At the top of that Yankee payroll is Gerrit Cole, who'll receive the Game 1 start while the Rays counter with left-hander Blake Snell. After winning eight of their 10 games against New York this season, the Rays opened up as the consensus underdog in Game 1. Tampa Bay will likely come into this game with a Colorado-sized boulder on its shoulder. This is a classic David vs. Goliath matchup and one that might just be closer than the bookmakers think.
Cole is Not Invincible
Cole went 7-3 with a 2.84 ERA and 0.96 WHIP this season. His 3.89 FIP, which is higher than his ERA, makes him a candidate for regression this postseason. While he's only had one outing thus far, Cole pitched well against the Cleveland Indians, going seven innings and allowing two runs while striking out 13. Cole finished with a 2.57 ERA on the day and posted a 1.33 FIP, which was largely a result of 16.71 K/9 ratio in addition to not surrendering a walk.
However, each playoff series is almost like a new season in its own right. And Cole and the Yankees will need to treat this one as such. The allure of the Yankee pinstripes likely won't have the same blinding effect against a Rays team that faces them 19 times during a normal regular season. In 126 at-bats, Rays hitters are hitting .262 against Cole with a .803 OPS and .222 ISO.
One thing I've struggled to explain is why Cole seems so much more hittable this year than in recent memory. In 2018, his fastball was 29 runs above average in runs allowed, and it was 34.4 runs above average in 2019. While he's still above average in 2020, that number has dropped to 5.6. The Yankees gave Cole a $300 million contract to be their ace. If you asked me, the pressure is squarely on his shoulders to get the Yankees off to a hot start in this divisional series.
Snell Gives Rays a Chance
Snell finished the season 4-2 with a 3.24 ERA and 1.20 WHIP. Like Cole, Snell is also a candidate for regression as evidenced by his 4.35 FIP. In his only postseason appearance this season, he tossed 5.2 innings of shutout ball while striking out nine.
Per Baseball Savant, Snell throws four pitches: four-seamer (50.6%), changeup (19.8%), slider (15%) and curveball (14.6%). FanGraphs ranked his fastball as the only pitch that was below average in runs allowed this season (-6.8).
Snell would be wise to feature more of his slider against a Yankees lineup that is seven runs below average against the pitch. The opposite is true for the fastball — the Bronx Bombers are 24.5 runs above average against the pitch.
This current Yankees lineup has 161 at-bats against Snell, and they're hitting .217 with a .775 OPS and .217 ISO.  If we look at New York has fared against left-handers this season, we find their aggregate numbers are much lower when facing southpaws than right-handers. Against lefties, they hold a .226/.314/.400 slash line compared to a .254/ .350/.461 against right-handers.
Betting Analysis & Pick
The Yankees opened up at around -127, and that number has been pushed to as high as -150. These two teams know each other very well, and it's no secret the Rays don't feel respected by the Yankees in the division. This series feels personal, and while I don't think the Rays will come into Game 1 feeling like they're the underdog, I fully expect them to embrace the role. This will be their first meeting in the playoffs against the Yankees, and it's certainly one the Rays organization has looked forward to for years. Here are some stats to consider going into this game:
Tampa Bay is 4-0 in Snell's last four starts against the Yankees
New York went 7-8 against left-handed starters this season
New York is 2-5 in their last seven playoff games against left-handers
I went back to my model to make sure I wasn't missing anything, and it projects the Yankees as -121 favorites with the Rays as +110 underdogs. With PointsBet offering New York at -145 and Tampa Bay at +125, my model recommends a play on the Rays based on the value at the market price.
However, this remains just a lean for me, as there are a few things keeping me from pulling the trigger on the Rays. One of them is that Cole faced Tampa in the playoffs last year when he was on the Astros, and his team went 2-0 in those outings.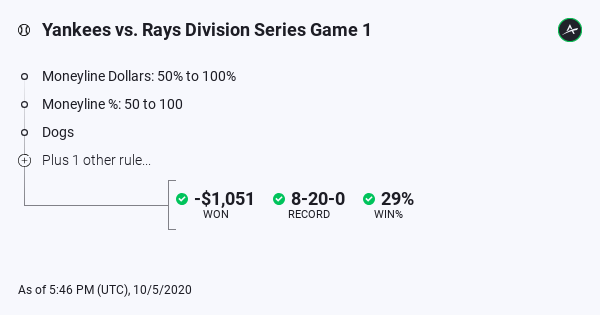 The second is that the public is also high on the dog with over 50% of the tickets backing Tampa Bay and over 70% of the money at the time of writing. Our BetLabs database shows that, historically, that hasn't been a winning formula, as underdogs are just 8-20 in this spot.
This will be a game-time decision. If Tampa gets up to +140 or +145, I won't be able to pass it up.
The Pick: Lean Tampa Bay +125
[Bet the Rays moneyline now at PointsBet risk-free up to $250]
How would you rate this article?