Wednesday MLB Playoff Betting Odds, Picks & Predictions: Yankees vs. Indians Game 2 (Sept. 30)
Credit:
Jason Miller/Getty Images. Pictured: Aaron Judge
After spanking Cleveland 13-2 in Game 1, New York is still only listed as a slight favorite for Game 2 of its American League Wild Card Series.
The over/under is also quite a bit lower than yesterday's 15-run output, currently listed at 8.5 runs.
Below, you'll find BJ Cunningham's projections and analysis for the game, which lead him towards betting that lower-than-expected game total.
Yankees vs. Indians Game 2 Odds
Odds updated Wednesday evening and via PointsBet, where you can get $250 FREE instantly after signing up AND your bets automatically sync to the Action app. Learn more about BetSync here.
---
New York's offense exploded in Game 1, knocking out one of the best pitchers in baseball after only five innings. The Yankees tallied twelve runs on fifteen hits in total, including four home runs against one of the best pitching staffs in baseball. They will now turn to Masahiro Tanaka to try and close out the Indians in Game 2.
To say Cleveland is in trouble is an understatement. The Indians' offense was disappointing last night, which has been the tale of their entire season. Even though they have the starting pitching and the bullpen, they can't compete with the Yankees offense.
---
Advanced Stats Glossary
FIP or Fielding Independent Pitching measures what a pitcher's ERA would look like if the pitcher experienced league-average defense and luck. xFIP  is a regressed version of FIP that adjusts or "normalizes' the home run component based on park factors.

wRC+ or Weighted Runs Created Plus takes the statistic Runs Created and adjusts that number to account for critical external factors — like ballpark or era. It's adjusted, so a wRC+ of 100 is league average, and 150 would be 50 percent above league average.

wOBA or Weighted On-Base Average is a catch-all hitting metric with more predictive value than on-base percentage. An average MLB hitter can be expected to post a .320 wOBA. xwOBA is a regressed version of wOBA that accounts for variables like park factors.

BaseRuns is a formula designed to estimate how many runs a team would be expected to score (or allow) given their underlying offensive (or defensive) performance. In other words, BaseRuns is a context-neutral run estimator used to evaluate teams. Major League average for an individual batter per game is 0.50 BaseRuns and a for a pitcher its 0.52 BaseRuns per inning.
Offensive Matchup
New York Yankees
Last night's offensive hit parade was nothing new for the Yankees as their best offensive performances have come over the second half of the season. The Bronx Bombers accumulated a .340 wOBA and 116 wRC+ over the last month of the season, which ranked seventh in MLB over that span. It's not a coincidence that the Yankees got healthy in the second half.
Aaron Judge, Giancarlo Stanton and DJ LeMahieu combined to miss 79 games this season and the Yankees still finished with the fifth-best wOBA in baseball.
The Yankees rank fifth in the Majors with a .349 wOBA against right-handed pitchers, so they should have a good matchup against Carrasco in Game 2.
Cleveland Indians
As mentioned, Cleveland's disappointing offensive night was nothing new for 2020. The Indians finished with a .303 wOBA and 86 wRC+, ranking 26th in each category. Cleveland's bats did show some signs of life down the stretch, with a .318 wOBA in its last 10 games. Jose Ramirez was a big part of that improvement as he clubbed six home runs and drove in 14 runs on his way to a .463 wOBA over his final 10 outings.
Ramirez is a bright spot, but the Indians will need to drastically improve on their regular season numbers if they want to make a run in October.
Starting Pitching Matchup
Masahiro Tanaka vs. Carlos Carrasco
Masahiro Tanaka, RHP
Masahiro Tanaka had a rough 2020, posting a 4.14 xFIP, which is the second-worst mark of his career. His main issue lies with his fastball, which allowed a .351 average and .427 wOBA to opponents this season. His slider this year has been strikeout-or-bust, as it's allowed a .302 wOBA, but is producing a 40.5% whiff rate.
The good news for Tanaka is the Indians offense has struggled versus every single pitch type this year, so he should have decent matchup in Game 2.
Carlos Carrasco, RHP
Carlos Carrasco has been a solid No. 2 starter for Cleveland this year, posting a 3.65 xFIP. All of his pitches have been pretty effective, but his slider has by far been his best pitch. Opposing hitters have managed only a .177 average against, and it's produced a 36.7% whiff rate, along with 36 strikeouts.
Carrasco will have a tough matchup of against this Yankee lineup that crushes righties, but the one pitch they've struggled with this season is sliders. So, Carrasco will have to utilize that pitch a lot if he wants be successful in Game 2.
Bullpen Matchup 
Cleveland has a top-five bullpen coming into the postseason. The Indians relief core collectively posted the third-best ERA (3.53) and fifth-best xFIP (4.14) during the 60-game season.
The back-end of their bullpen is stout, highlighted by James Karinchak, Brad Hand and Phil Maton. Those three guys have combined for 110 strikeouts in only 70.2 innings this year.
The Yankees bullpen has been a disappointment this year. Their relievers finished with the 16th-best ERA (4.51) and xFIP (4.52) in the league, which is a major step back from their 2019 numbers.
The biggest issue has been New York's middle relief. Jonathan Holder, Luis Cessa and Jonathan Loaisiga all have xFIPs well above 4.75 and have been the Achilles' heel of the pen this season.
Cleveland has the advantage in the bullpen department during this series, so the Yankees had better hope Tanaka can go deep into this game and allow them to skip the middle part of their pen.
Weather Report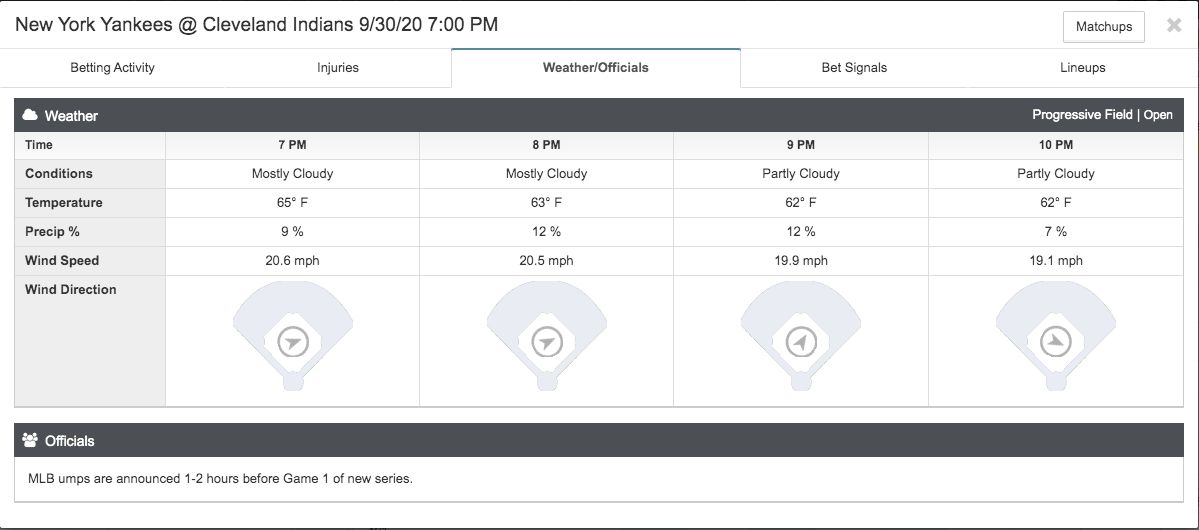 The wind is going to whipping straight out to right field Wednesday night at Progressive Field. Both Carrasco and Tanaka have a fly-ball rate over 30%, so they will need to keep the ball down in the zone in Game 2.
Projections and Pick
With how hot the Yankees' bats have been over the second half of the season, it's hard to imagine Carlos Carrasco will be able to slow them down in Game 2. I also think we'll see a better offensive performance from the Indians in Game 2, since Tanaka is a step down from Cole.
Since I have 8.87 runs projected for this game, I am going to back over 8 runs at +100 and would play it up to -106.
The PICK: Over 8 runs (+100) [Bet Now at PointsBet and win $125 if the Yankees get a hit.]
How would you rate this article?