MLB Playoff Odds, Picks, Projections Thursday, October 13 for Mariners vs. Astros Game 2
Credit:
Carmen Mandato/Getty Images. Pictured: Framber Valdez.
Throughout the Major League Baseball playoffs, I will provide a daily breakdown summarizing my thoughts on both futures and individual games for that day.
Below, I will address how to handle betting on these playoff series, whether on the series moneyline or a game-by-game basis, while using my daily MLB Model projections.
You can find my projections for every MLB game in the Action Network App (on both the PRO Projections tab and the game pages) and our Projections Hub (which you can bookmark).
You can also shop for the best lines on our odds page.
Using my projections, where can we find actionable value on Thursday?
Series Moneyline Corner
First, let's take a look at my updated projected series prices for the Divisional Round after Wednesday's Games:
Atlanta moved from a projected 40% underdog to a 60% favorite after Game 2. While they have to play a best-of-three series moving forward, with two games on the road, I may still favor them in all of those games (unless Charlie Morton starts Game 3 over Spencer Strider).
They re-opened as -146 favorites (at FanDuel), with the Phillies as +135 underdogs (at BetMGM in the immediate aftermath of Wednesday's victory). I don't see value compared to either wager at current odds. Still, I would look to bet Atlanta around -138 (58% implied) or Philadelphia around +163 (38% implied) before Game 3 if there's a significant movement to either side. Otherwise, I'm content riding our +180 series ticket from before Game 1.
The Padres improved their NLDS chances by 18.7% with their Game 2 win. And, like the Phillies, while they have a best-of-three series with two games at home, like the Phillies, I'll expect to favor their opponent in all three of those matchups.
The Dodgers re-opened as -160 favorites (DraftKings), with the Padres as +154 underdogs (at FanDuel) before Game 3. We don't have an official series bet on Dodgers-Padres as of yet — and I don't expect the line to move far enough to hit our price targets, but you can look to bet Los Angeles up to -154 (60.6% implied) or San Diego down to +183 (35.4% implied) before Game 3.
My analysis for the two AL series remains unchanged.
The best available prices on the Yankees (-360 at DraftKings) or the Guardians (+330 at FanDuel) are -EV wagers. I'd need something closer to +374 to bet Cleveland, irrespective of our pre-series position on the Yankees (at -170).
And the best available numbers for the Astros (-425 at DraftKings) or Mariners (+375 at Caesars) also fall short of my projections. I would need +435 or higher to add to our pre-series position (+210) on Seattle.
Mariners vs. Astros, 3:35 p.m. ET
Luis Castillo vs. Framber Valdez (full projections here)
After starting a combined shutout in Game 1 against the Blue Jays (7.1 IP, 6 H, 0 BB, 5 K), Luis Castillo (3.31 xERA, 3.23 xFIP, 3.35 SIERA) will get the ball in Game 2 against the Astros, and hope to right the momentum in this series as the city of Seattle prepares to host its first postseason game since 2001 on Saturday.
Castillo altered his pitch mix after joining the Mariners at the trade deadline. Through 14 outings with the Reds, Castillo used his changeup 26% of the time (53% fastball, 21% slider) — just a slight decrease from a rate around 30% in the previous three seasons — but he became more fastball reliant over 11 outings with the Mariners (61% fastball, 18% changeup):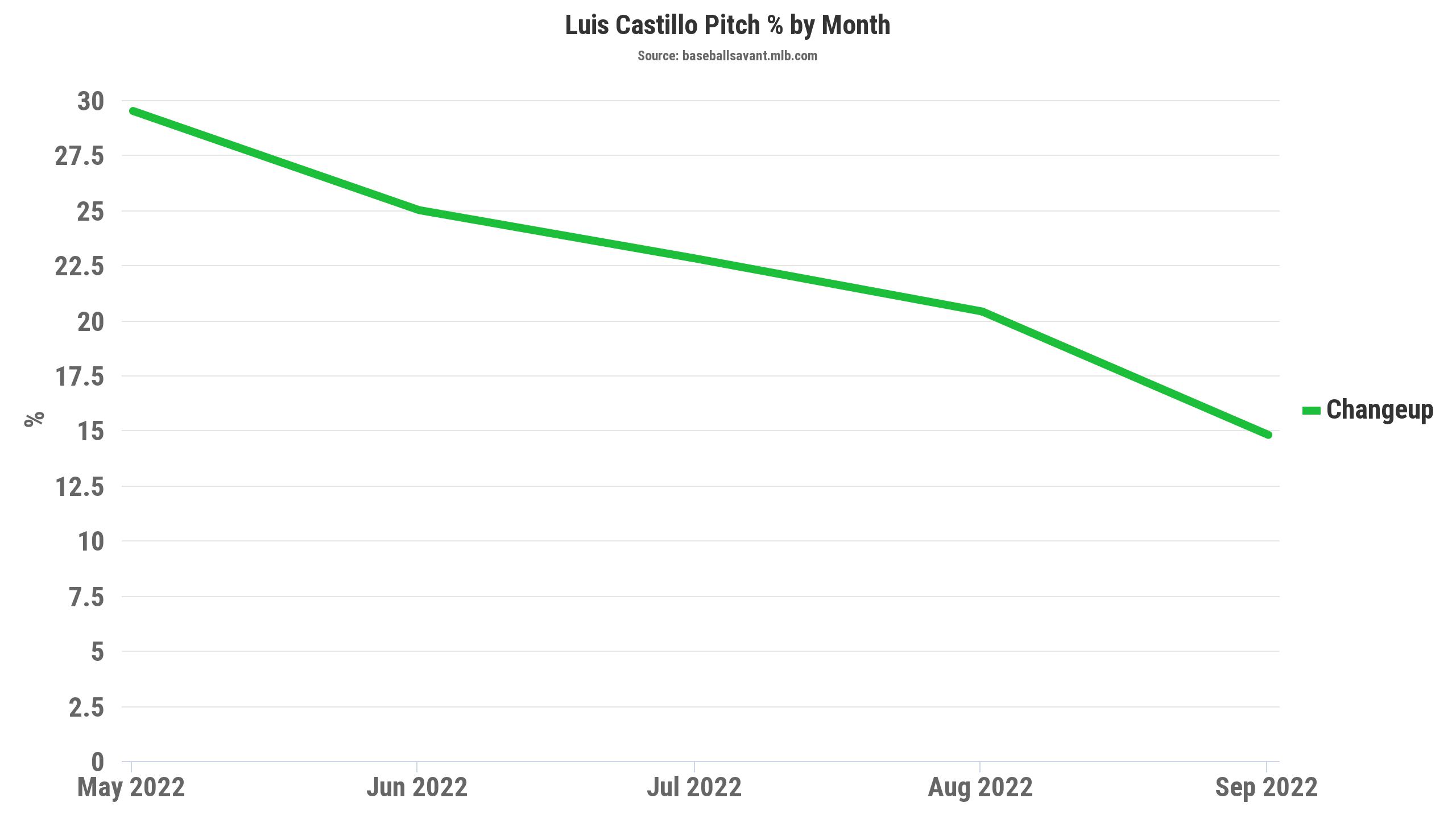 He especially pulled back the changeup usage against same-sided hitters. Castillo deployed his changeup as much as 25% of the time against right-handed hitters from 2019-2020, but that number dipped to 20.4% last season and 15.1% in 2022. And in five starts for the Mariners this September, he used the off-speed pitch against righties just 9% of the time — a far cry from its usage a couple of seasons ago.
Offensively, Houston is closer to league average against sliders (14th on a per-pitch basis) than they were against fastballs (third) or changeups (sixth) this season. And I expect the fastball-slider-centric mix to continue.
They also fared better against lefties (124 wRC+, 2nd) than righties (107, 9th), especially after the trade deadline (146 wRC+ vs. lefties, 100 vs. righties) — so this game is even more crucial for Seattle with a bad matchup for Robbie Ray likely looming in Game 4.
Castillo's stuff, handedness and underlying metrics are as best as you hope to have in a matchup against one of the sport's most potent offenses.
Framber Valdez (3.31 xERA, 3.00 xFIP, 3.14 FIP) tied with Yu Darvish for the league lead in quality starts (26) and had the highest groundball rate (66.5%) amongst starting pitchers. Valdez also generated a 9.1% popup rate, the highest mark for anyone within 13% of his groundball rate, meaning he only allows outfield flyballs 7% of the time.
As a result, Valdez allowed 11 home runs with the third-lowest HR/9 rate (0.49) amongst all starters who tossed at least 60 innings this season.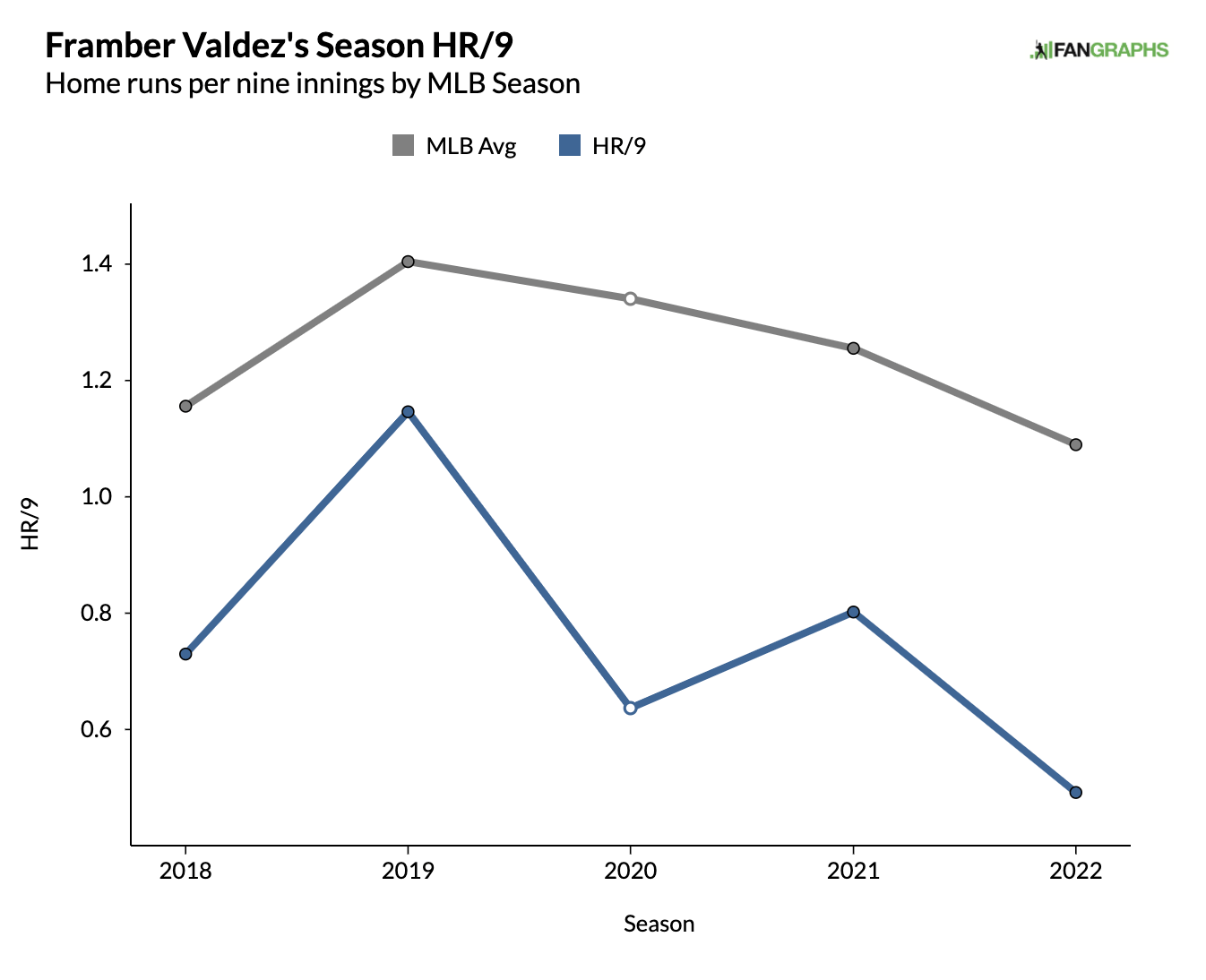 He generates a ton of weak contact and erases a high number of baserunners with double plays while carrying strikeout and walk numbers (15.4% K-BB%), just a hair better than league average (14.3%)
Seattle's offense fared slightly better against lefties (110 wRC+) than righties (106 wRC+), but they rated around league-average against curveballs and far better against four-seam fastballs than sinkers, in addition to a bottom-10 ranking against sliders.
Valdez owns a minuscule .475 OPS allowed in 93 plate appearances against current Mariners hitters and may present a difficult matchup for their lineup. As a result, I would prepare for a pitcher's duel on Thursday afternoon.
While I don't see an edge on either side of the moneyline or the total for the first five innings (F5), the full game moneyline and total are approaching actionable territory.
I projected the Mariners at +130 (43.5% implied) and would bet Seattle's moneyline at +141 (41.5% implied) or better (currently +140 at Wynn).
Additionally, I projected the total at 6.48 runs and would look to bet an Under 7 at -110 or better or target a live Under 7.5 if there's a first-inning run.
There's no reason to force a bet in either case until the numbers reach those thresholds.
Cleveland Guardians vs. New York Yankees, 7:37 p.m. ET
Shane Bieber vs. Nestor Cortes (full projections here)
Editor's note: Guardians vs. Yankees has been postponed due to rain.
Before Game 1, I mentioned the macro risk for the Guardians in this series. The Yankees had twice as many homers (254, 1st) as the Guardians' offense 127, 29th) this season, and since 2016, teams who out-homer their opponent in postseason games have a 163-34 record (82.7% win rate), including a 7-4 record in 2022.
Moreover, the Guardians rely on singles (2nd in MLB) and base advancements (4th in baserunning value), and the Yankees were the No. 1 defensive team by a wide margin per Defensive Runs Saved. It's difficult to beat them with a "death by a thousand paper cuts" approach. They steal far too many outs from their opponents.
And for Game 2, Cleveland will sit in their far lesser split against southpaw starter Nestor Cortes (2.70 xERA, 3.64 xFIP, 3.48 SIERA). While the Guardians finished 11th against right-handed pitching (104 wrC+), they ranked 27th against lefties (84 wRC+), including 29th in slugging percentage (.343) and an MLB-worst  .104 ISO.
While Shane Bieber (3.51 xERA, 2.98 xFIP, 3.20 SIERA) can also keep the Yankees in their lesser split (113 wRC+ vs. RHP; 119 vs. LHP), there's still a substantial gap between the offensive projection for these two teams against the respective starting pitchers.
I bet against Bieber a fair amount this season. His fastball velocity took a nosedive — down nearly three tickets compared to his pandemic-shortened Cy Young campaign in 2020: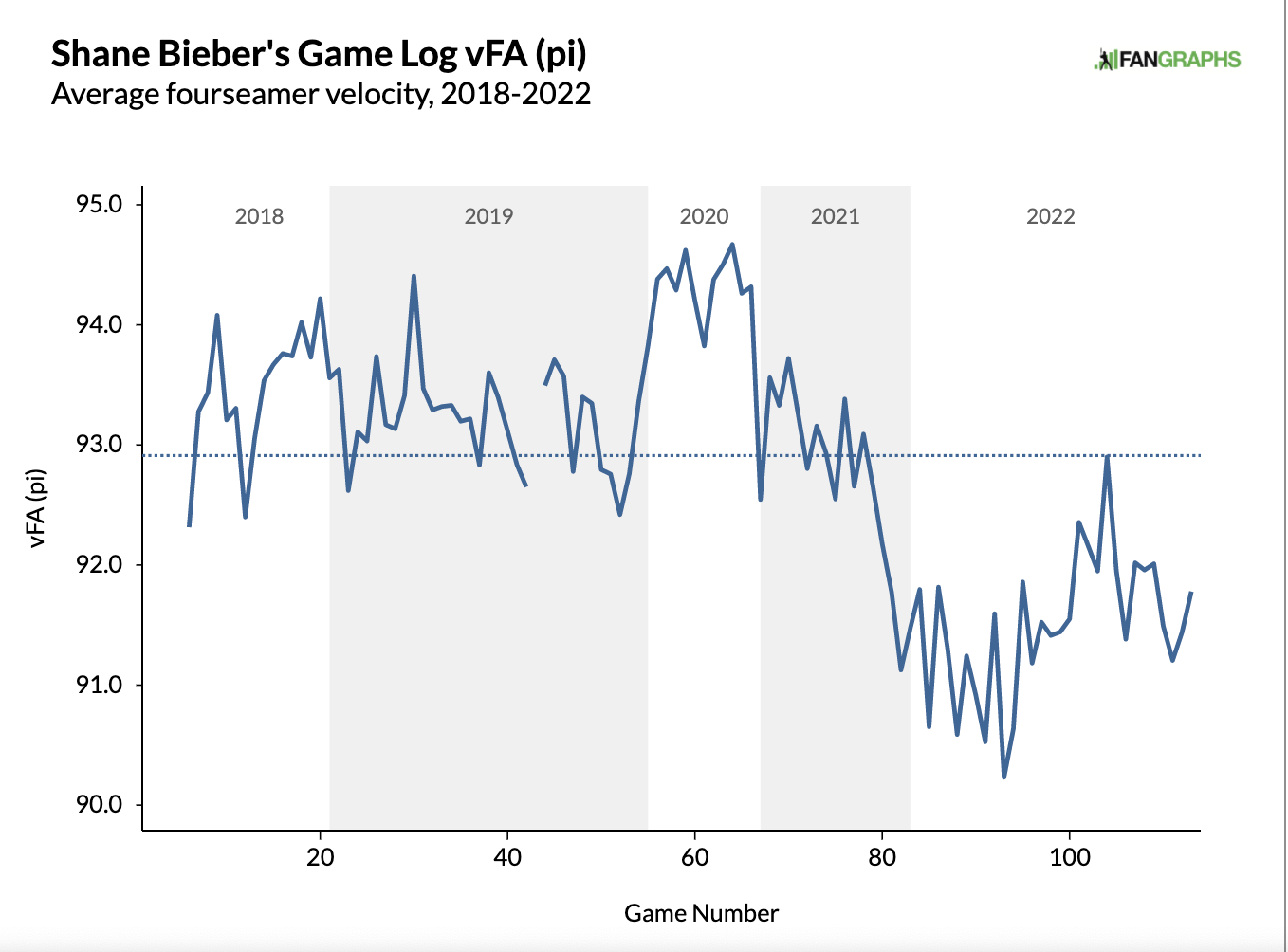 And he modified his pitch mix to survive, opting for more cutters and sliders at the expense of his curveball (down from 31% to 18% year-over-year) while throwing the ball in the strike zone more frequently. As a result, he posted the lowest walk rate of his career (4.6%), nearly cutting free passes in half compared to prior seasons — and thrived off of weak contact and good defensive play behind him.
The Yankees have a patient offense (45.6% swing rate, 2nd lowest in MLB), but they sell out for power when they swing, ranking 21st in contact rate. Still, Bieber doesn't have the stuff he used to — with his arsenal (90.8 Stuff Plus per Eno Sarris) and command rating favorably to a pitcher like Sean Manaea rather than his Cy Young reputation.
Coming off of a significant effort against the Rays in Game 1 (7 2/3 IP, 3 H, 1 R, 1 BB, 8 K), I expected to find a short price to bet against him with the Yankees; whose hitters have smashed him in the past, albeit in a limited sample (1.002 OPS allowed in 77 plate appearances).
As I mentioned before Game 1, I prefer Cleveland's bullpen (2.78 vs. 3.33 Model Weighted ERA) in the late innings. However, I still show value in betting on the Yankees in both halves.
I would bet the Bombers to -175 (63.6% implied) for the first five innings (F5) and to -146 (59.4% implied) for the full game, with either bet representing an edge of at least two percent compared to my projected lines at -190 (65.6%) and -159 (61.4%), respectively.
There's a substantial edge compared to my F5 projection, and I'll allocate a larger wager to my first-half position.
I would also look to bet an Under 6.5 at -114 or better.
Bets for October 13
New York Yankees F5 (1.5u, -128 at FanDuel), bet to -175
New York Yankees (1u, -135 at WynnBET) bet to -146
How would you rate this article?
This site contains commercial content. We may be compensated for the links provided on this page. The content on this page is for informational purposes only. Action Network makes no representation or warranty as to the accuracy of the information given or the outcome of any game or event.