MLB Expert Predictions for Wednesday Night: 5 Favorite Bets, Including Indians-Rangers
Credit:
Ken Blaze-USA TODAY Sports. Pictured: Cleveland Indians shortstop Francisco Lindor
We've got 11 MLB games on tap for Wednesday evening.
Our MLB experts examine their four favorite bets of the night, including a tilt between the Cleveland Indians and Texas Rangers (8:05 p.m. ET first pitch).
Danny Donahue: Kansas City Royals at Seattle Mariners
Brad Kellner (3-8, 3.97 ERA) vs. Marco Gonzales (7-6, 4.50 ERA)
Royals Moneyline: +112
Mariners Moneyline: -122
Over/Under: 9
First pitch: 6:40 p.m. ET
What's less likely than a .342 team winning three games in a row? How about four?
Well, lucky for us we don't need to worry about the first three of those four consecutive wins, as the Royals already have them under their belt.
But according to public bettors (who may be falling victim to the gambler's fallacy), Kansas City's mini streak seems to once again be drawing players to the conclusion that the Royals are due for a loss, as they are once again drawing a minority backing (34% of tickets at the time of writing).
If history is any indication, that looks to be a mistake.
Teams with a sub-.400 record in June or beyond that are on win streaks of two or more games have gone 274-281 in their next matchup. And because most of those bad teams have been underdogs, that record has won 80.0 units since 2005 for a 14.4% return on investment, according to our Bet Labs data.
The pick: Kansas City Royals Moneyline
---
Sean Zerillo: Cleveland Indians at Texas Rangers
Adam Plutko (3-1, 4.63 ERA) vs. Joe Palumbo (0-0, 9.00 ERA)
Indians Moneyline: -115
Rangers Moneyline: +105
Over/Under: 11
First pitch: 8:05 p.m. ET
The Texas Rangers have been one of the most surprisingly successful teams in 2019, sitting in second place in the AL West with a 39-34 record, which is identical to their Pythagorean record.
They've been consistent, too, showing a positive run differential in each month: +14 in April, +10 in May, +13 in June.
Following a rough May (12-17, -21 runs), Cleveland has gotten back on track in June (10-5, +28 runs), but Adam Plutko (6.68 FIP, career 6.25 FIP) is a minor-league quality fill-in for a pitching staff currently without Corey Kluber and Carlos Carrasco.
Rangers lefty Joe Palumbo has consistently struck out more than 11 batters per nine innings in the minor leagues and was unfortunate to face southpaw-bashing Oakland in his first MLB start. Don't overreact to that four-inning outing.
The Pick: Texas Rangers Moneyline
---
Josh Appelbaum: Chicago White Sox at Chicago Cubs
Lucas Giolito (10-1, 2.22 ERA) vs. Jon Lester (5-5, 4.08 ERA)
White Sox Moneyline: +126
Cubs Moneyline: -140
Over/Under: 9.5
First pitch: 8:10 p.m. ET
The White Sox stole Game 1 of the Windy City series last night, 3-1. Tonight the Cubs opened as -130 favorites, with the Sox a +120 underdog. Public bettors can't believe they're getting Lucas Giolito at plus money.
But despite 60% of bets backing the Southsiders, the line has moved toward Jon Lester and the Cubbies (-130 to -140).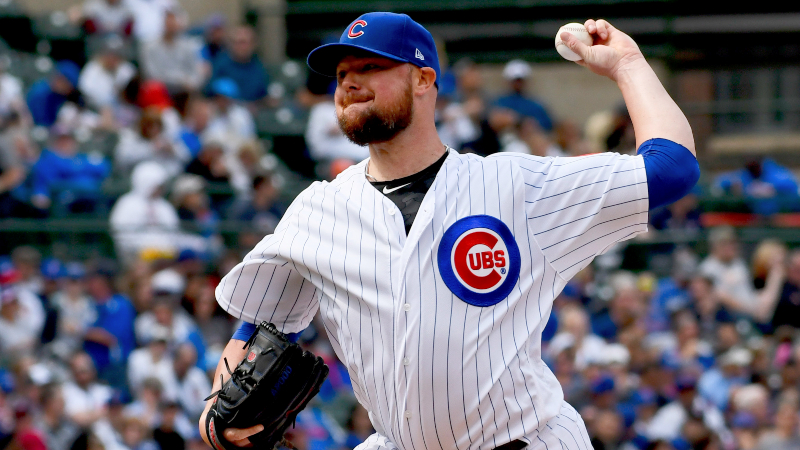 This is classic "fade the trendy dog" spot, with sharps hammering the Cubs and causing the line to move in their favor despite the public loading up on the White Sox.
Unpopular favorites (receiving fewer than 50% of bets), have won at a 60.9% rate this season (+16.34 units). The Cubs fit that system tonight.
The pick: Cubs -140
---
Stuckey: Boston Red Sox at Minnesota Twins
Eduardo Rodriguez (7-4, 4.67 ERA) vs. Kyle Gibson (7-3, 3.70 ERA)
Red Sox Moneyline: +110
Twins Moneyline: -120
Over/Under: 9.5
First pitch: 8:05 p.m. ET
Many have waxed poetic about the Twins' offense and deservedly so, but their staff deserves just as much credit for their success in 2019. Kyle Gibson is one of three Twins starters who ranks in the top 15 in K-BB% among qualified American League starters (Michael Pineda sits just outside the top 20).
Gibson has been as good as his surface numbers appear. There is nothing fluky about how well he has been pitching. Look no further than his .339 xFIP — seventh-best in the AL and actually lower than Lucas Giolito's. His velocity has ticked up a tad and he's getting a career-best swinging-strike rate by more than two percentage points at 13.8% (also seventh-best in the AL). Something has clicked for the 2009 first-round draft pick.
Gibson will go up against Red Sox lefty Eduardo Rodrguez, who is coming off a dazzling start, albeit against the lowly Os. If you recall, I wrote about Rodriguez ahead of that start, as he was one of the unluckiest pitchers in baseball up to that point and I was looking to ride him in the near term.
The positive regression should continue for the southpaw who has an elite arsenal of swing-and-miss stuff led by a filthy change-up. Rodriguez just misses barrels, as evidenced by his second-best soft-contact.
The pick: Under 9.5
---
Collin Wilson: Miami Marlins at St. Louis Cardinals
Trevor Richards (3-7, 3.68 ERA) vs. Daniel Ponce de Leon (0-0, 2.00 ERA)
Marlins Moneyline: +162
Cardinals Moneyline: -177
Over/Under: 8.5
First pitch: 8:15 p.m. ET
The best umpire trend of the day comes in St. Louis, where Phil Cuzzi will be behind the plate. That's good news for bettors looking to back the under; Cuzzi has a 245-194 under record in his career (+34.06 units). The total of 8.5 is right at Cuzzi's career average of 8.5 runs per game.
Cuzzi isn't the only reason to think this game might be a little lower scoring that expected: The Marlins are ravaged by injuries and both of these offenses have struggled against right-handed pitchers:
Marlins: Rank second-to-last overall in +wRC and wOBA and dead last in ISO.
Cardinals: 27th in ISO and 25th in home run to fly ball percentage.
Look for an Under to get to the window tonight.
The pick: Under 8.5
How would you rate this article?