Phillies vs Braves Prediction Today | MLB Odds, Expert Picks for Sunday, May 28
Credit:
Via Rich Von Biberstein/Getty Images. Pictured: Atlanta pitcher Spencer Strider (99) throws a pitch during the MLB game between the Los Angeles Dodgers and the Atlanta Braves on May 23rd, 2023 at Truist Park in Atlanta, GA.
The Atlanta Braves are home favorites on Sunday Night Baseball against their NL East rivals, the Philadelphia Phillies.
The Phillies send Dylan Covey to the mound, while the Braves counter with Spencer Strider.
Find Tanner McGrath's expert bet and preview for Phillies vs. Braves below.
Phillies vs. Braves Odds
Phillies Odds
Moneyline
Total
Run Line

+200

9

-105/ -115

+1.5

+105
Braves Odds
Moneyline
Total
Run Line
-250

9

-105/ -115

-1.5

-130

The NL East is one of the more compelling divisions in MLB, featuring one of the best teams, the defending National League champions, the highest payroll in baseball, the 2019 World Series winners … and the Marlins.
Two of those teams match up in this week's edition of Sunday Night Baseball, and one has MLB's strikeout leader on the mound.
Let's dive into my predictions and picks for Phillies vs. Braves.
---
The Phillies are 24-27, have lost seven of the past 11 games and are in fourth place in the NL East.
Since Bryce Harper's return from injury, the Phillies are 23rd in OPS and 26th in wRC+. Their batted-ball profile remains mediocre, and the lineup could be due for negative regression (.322 wOBA, .309 xwOBA).
Make it make sense!
Harper's return also forces Kyle Schwarber and Nick Castellanos into the outfield, which is bad. Schwarber is literally the worst defensive outfielder in baseball this season by Outs Above Average — and the amount of balls I've seen him misplay in left field this year is incalculable.
Schwarber is hitting for power (12 homers) but can't get on base (.177). Trea Turner continues to be a disaster (91 OPS+). The best hitter on the team outside of Harper this year is Brandon Marsh, who checks in with a .842 OPS — to be fair, Castellanos is not far behind.
I adore this bullpen, which has overachieved this year despite the injury to Jose Alvarado. To my surprise, Craig Kimbrel is turning it around, boasting one earned run over his past seven appearances and recording career save No. 400 on Friday.
But analyzing this rotation puts my mind into pretzels.
Zack Wheeler and Aaron Nola are supposed to carry this rotation, but they have a combined ERA in the mid-4.00s. Also, Nola is dealing with velocity issues.
As an aside: It's worth mentioning that Wheeler threw a gem last night, so maybe he's turning a corner.
But if Wheeler regresses back, the responsibility falls on the back end of the rotation.
The Phillies just optioned Bailey Falter and replaced him with today's starter, who was pitching in Taiwan less than a year ago. Yikes.
Starting Pitcher: Dylan Covey (RHP)
It's been a wild ride for Dylan Covey, who was drafted in the fourth round of the 2013 draft by the Oakland A's then selected in the 2017 Rule 5 Draft by the White Sox. He has made stops in Boston, Tampa and Rakuten (Chinese Professional Baseball League) before landing with the Dodgers this year.
Oh yeah, then he was waived by the Dodgers and claimed by the Phillies, who needed pitching depth after sending Falter down.
In the Show, Covey is 6-29 with a lifetime 6.54 ERA across 72 appearances over a five-year stretch with three different clubs. Talk about a resume.
Covey will work mostly in middle-long relief or in a spot-start role. He's made two appearances in the former role this season, so this will be his first start of 2023.
And for what it's worth, Covey has done well with his opportunities. He tossed four innings of two-run ball against the Twins with the Dodgers and then five innings of one-run ball against the Diamondbacks with the Phillies, both in relief.
Covey works on a pair of fastballs (cutter, sinker) and two secondary sliders (one is a sweeper). His cutter-sinker combo reminds me of Lance Lynn, although the comparison is a reach.
There isn't enough of a sample size to make generalizations about Covey, but Philly fans are already very bullish on his future with the organization.
Stuff+ tags Covey as a league-average pitcher, but his Location+ is hovering in the low-90s. He's never had a problem with walks before, but keep an eye on that in this start.
---
The Braves are the best team in baseball. And, the Braves have the best player in baseball.
Among position players, only Wander Franco has a higher fWAR than Ronald Acuña. However, Acuña's 160 wRC+ blows Franco out of the water, and that number trails only a few hitters in baseball.
Acuña has always had prolific power and a good eye, but he's making more smart contact than ever before. His overall Swing Rate is down about 3%, and his Contact Rate is up about 4%.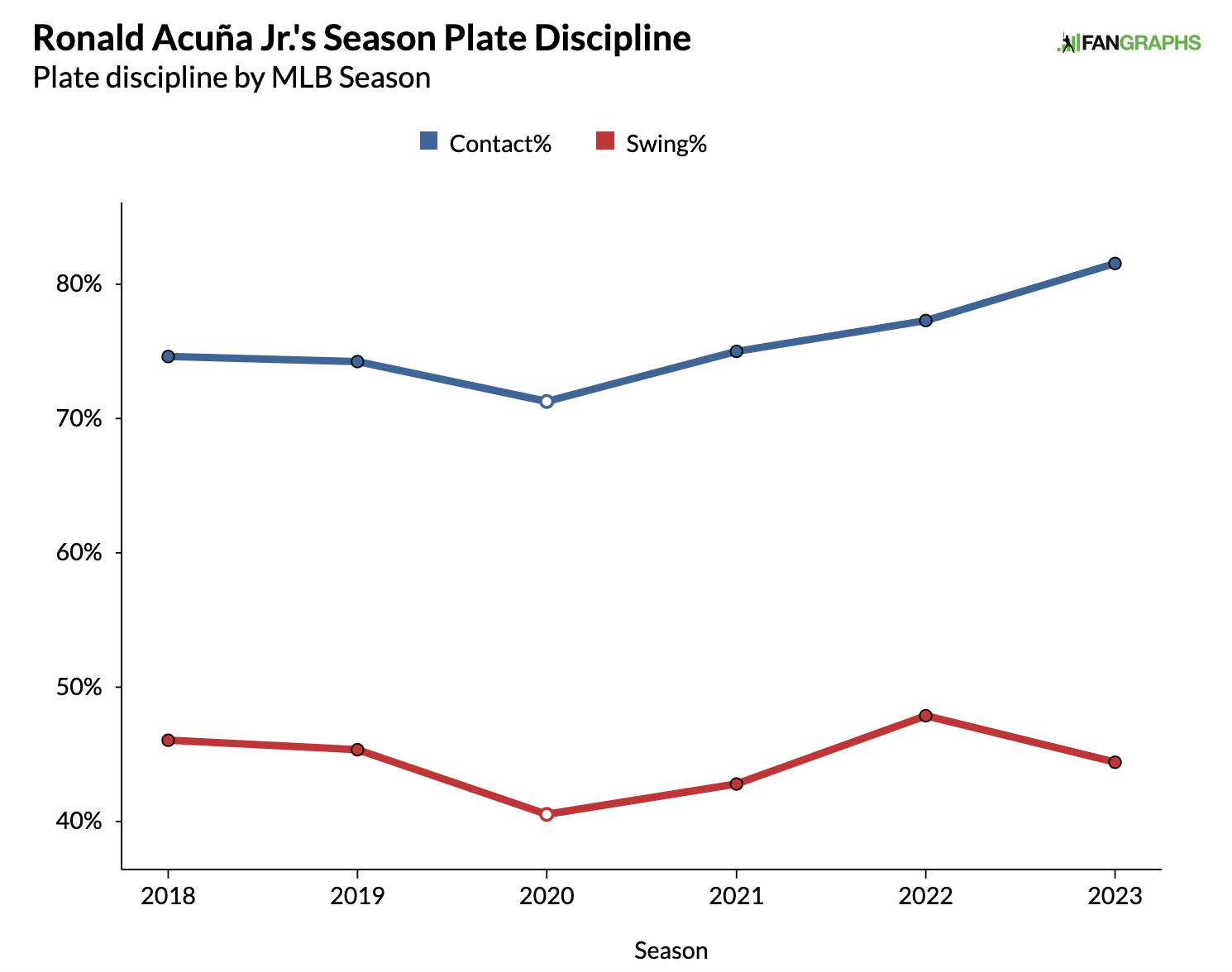 He's swinging less than ever yet making more contact than ever. As a result, Acuña has shaved 10% off his Strikeout Rate year over year. I'm not sure if it's sustainable, but his 12.1% Walk Rate to 13.8% Strikeout Rate is one of the most impressive things I've seen this year.
Also, it's always worth sharing Acuña's Statcast profile, just because.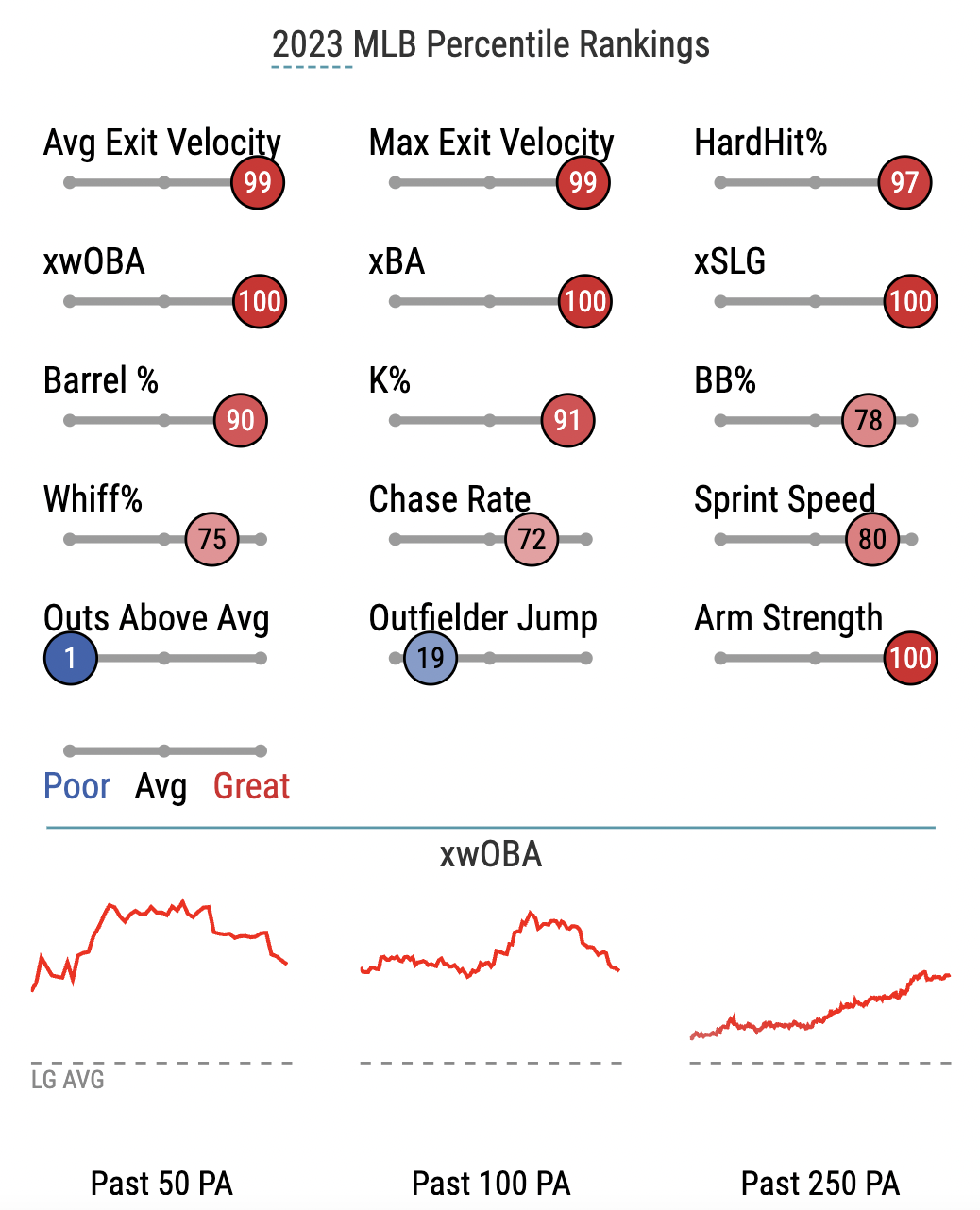 My goodness.
Behind Acuña, the Braves have arguably the best lineup in baseball. Atlanta is so balanced, so deep and has mashers from Sean Murphy to Marcell Ozuna (seven of the nine guys in the Braves' regular nine-man lineup has an above-average OPS).
Orlando Arcia has been the most unlikely breakout candidate. He's an eight-year vet who has never posted a wRC+ over 104, and he's on pace for 140 this year. Of course, his .367 BABIP will produce regression, but his batted-ball profile looks half-decent (.361 xwOBA).
Overall, the Braves lead MLB in xBA, xSLG, and xwOBA.
However, there are issues with the Braves.
For starters, this is a surprisingly poor defensive team. The Braves are 15th in Defensive Runs Saved and last in Outs Above Average — Acuña himself isn't a strong defensive outfielder, as you can tell by the chart above. This could be a small sample-size issue, but it's worth mentioning.
What is this bullpen? I have difficulty expecting much from A.J. Miner, Nick Anderson and Jesse Chavez.
Surprisingly, the Braves are a top-10 bullpen by xFIP this year, although that number has slid over the past month.
Finally, the rotational depth is questionable. I even have questions about today's starter.
Starting Pitcher: Spencer Strider (RHP)
I spent a few years living in Savannah, Georgia and met my fair share of Braves fans along the way. One of them texted me the other day, saying:
"I'm starting to think Spencer Strider should just go ahead and be the best closer to ever live and not start."
Being the contrarian I am, I refuted him.
One bad month and Braves fans are beginning to give up on an NL Cy Young hopeful? And in what world is a closer more valuable than an elite starter?
But my comrade brings up legitimate points. While I still think Strider is one of the five best pitchers in baseball, there are some nuances in his performance worth discussing.
To recap, Strider dominated April but slipped a bit in May. He's posted a 4.23 ERA in five starts this month, twice allowing four runs in a single start (at the Mets and at the Rangers).
However, some of that was bad luck. Strider also has a 2.68 xFIP during May, and his ERA has been bumped by a .382 BABIP and a 67% Strand Rate. Savant estimates his xBA allowed is about 50 points lower than his actual BA allowed during this cold stretch.
After all, Strider's punched out 40% of batters this month and is still the league leader in strikeouts.
However, Strider also profiles as a high-BABIP pitcher. He's a guy who will miss bats at extreme rates but can get obliterated if he slips up, mostly because he throws so damn hard.
For example, Strider's Hard-Hit Rate is up to 46% this month, about 10% higher than his 2022 number. Specifically, look at his slider, which has a 69% Hard-Hit Rate on 36 pitches thrown during the month.
Of course, Strider also has a 70% Strikeout Rate and .167 xBA allowed on the pitch because so few batters get ahold of the ball. Strider has only allowed nine barrels all season.
But on the other hand, six of those nine barrels have come during May. He's been unlucky, but maybe his style can lead to excess obliterated baseballs when he's not missing bats at his normal league-leading rate.
Strider is a strikeout-or-hard-contact pitcher, and he's going through a hard-contact period.
My friend mentioned Strider's lack of arsenal as a reason he should be in the bullpen. Strider throws three nasty pitches: One fastball, one breaking ball (slider) and one off-speed pitch (changeup), so he does technically profile better as a reliever.
I have a half-baked theory about this Strider conundrum:
Strider has the best stuff in the league. The 150 Stuff+ rating on his fastball is an impossible achievement, given the velocity, movement and perfect location Strider puts on the ball.
He then tunnels his pitches almost perfectly. So even though the Stuff+ numbers on his secondary pitches aren't special (102 on slider, 93 on changeup), Strider can play hitters off his fastball to force league-best strikeout numbers.
Spencer Strider, 97mph Fastball & 87mph Changeup, Overlay.

Both 3-2 pitches. FB/foul then tunnels Changeup to get the K. pic.twitter.com/2wiLoBEDtu

— Rob Friedman (@PitchingNinja) May 7, 2023
However, Strider only has three pitches. If hitters can sit on one of those secondary pitches, guess right and time right, they should generate a hard-hit ball almost every time.
That is easier said than done, but it's also likely to happen deeper into starts. Strider's fastball velocity later in games is down this year, making it even more likely.
So, maybe my buddy has a point.
But, personally, I'm invoking Occam's razor. Strider is most likely having a tough month because of some tough luck. He's still a Cy Young contender, he should be at the top of your rotation, and he might even be undervalued entering June (maybe because my Atlanta-based friends are depressing his value in the betting markets).
---
Phillies vs. Braves Betting Pick
I sort of believe in Covey, who has put together nine innings of solid work.
Meanwhile, I think Strider is undervalued and is primed for a hot streak.
Over the last two weeks, the Braves and Phillies are 17th and 18th in team OPS. I still don't understand why the Phillies aren't hitting, but they have been underwhelming all season.
Both bullpens are mostly rested entering Sunday Night, so I expect some run prevention in the latter innings.
It's always scary betting the under between two poor defensive teams, but our Action PRO model projects this total at 8.27, and I see some value in that number based on recent performance.
The under hit last night, and I'm betting it happens again.
Pick: Under 9 | Play to 8.5 (+100)
---
How would you rate this article?
This site contains commercial content. We may be compensated for the links provided on this page. The content on this page is for informational purposes only. Action Network makes no representation or warranty as to the accuracy of the information given or the outcome of any game or event.