Kevin Lee and The Betting Value of Changing Weight Classes in the UFC
Credit:
Gary A. Vasquez-USA TODAY Sports. Pictured: UFC fighter Kevin Lee.
Moving weight classes at the highest levels of the UFC is a risky prospect for any fighter, but the payoff can be huge.
Ian Hartitz analyzes where to find betting value on fighters changing weight classes ahead of Kevin Lee's welterweight debut with Rafael dos Anjos.
There's been a trend in recent UFC history of fighters moving up a weight division (or two) in order to compete at their more natural weight. Some have done so to avoid potentially-dangerous weight cuts, while others have simply looked for greener pastures in the form of new opponents.
Saturday night will feature a battle between two fighters who have come to terms this very decision in recent years: No. 3-ranked welterweight contender and former lightweight champion Rafael dos Anjos will face off No. 7-ranked lightweight Kevin Lee in the latter fighters 170-pound debut at UFC on ESPN+ 10 from Rochester, New York.
Let's breakdown just how successful fighters have been in their attempts at moving up a weight class in recent UFC history, and see if there's been any betting value one way or another.
Does moving up in weight lead to success?
The following study is restricted to fighters who moved up a weight class after fighting the entirety of their previous UFC career in a lighter division. This excludes the likes of Kelvin Gastelum and Daniel Cormier, among other fighters, who had plenty of success moving back up to their original weight class following years of competing in a smaller division.
Note that the study is limited only to current top-15 ranked fighters due to scarce resources in determining debuts and official weights for past fights. Overall, 15 fighters qualified fighters made the decision to move up in weight at some point during their time with the company.
Each fighter's new/old weight, odds and outcome for their debut in the heavier division, as well as their overall record at the new weight class are listed in the below table.
The overall record of these marquee fighters in their heavier weight class is a sturdy 56-21. They went a combined 11-4 in their debut matches, with favorites and underdogs going 8-3 and 6-1, respectively.
None of the fighters have more losses than wins in the heavier division, although this is likely due in large part to their option to return to the lighter weight class if things don't go according to plan.
Intriguingly, none of these fighters carried overwhelming odds during their debut at a heavier weight class. Conor McGregor (-400) was the biggest favorite for his first fight with Nate Diaz, but we otherwise haven't seen a top-ranked fighter at anything over -250 for their debut at a higher weight.
Anthony Pettis (+300) emerged victorious as the group's biggest underdog against Stephen Thompson during his welterweight debut.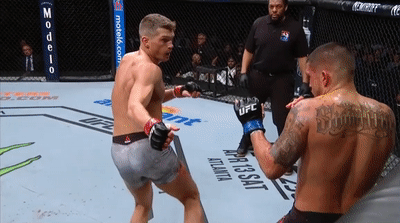 Overall, betting $100 during the debut of each of these fighters in their new weight class would've netted a bettor +$695. Not too shabby.
Size is certainly an advantage in mixed-martial arts, but keep in mind that fighters typically have at least 24 hours to re-hydrate and fill their body back up with water and nutrition. Perceived size differences haven't been as big a factor as they appear come fight night, allowing lighter fighters to capitalize on superior speed and technique to this point.
What does this mean for Kevin Lee vs. Rafael dos Anjos?
The betting odds for Lee vs. RDA favor the welterweight division's new contender in terms of historical value.
dos Anjos has dropped consecutive fights to pressure-heavy wrestlers, which also happens to be Lee's preferred method of combat.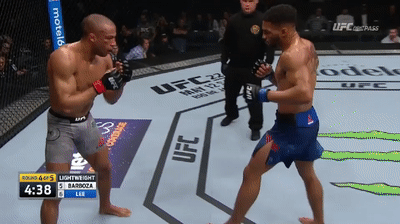 RDA has enough striking volume and power to make a battle on the feet a long night for anyone in the division, but he hasn't had an easy time getting the W if the fight goes to the ground (per The Action Network's James Carlucci).
15-2 (88%) when landing the same or more takedowns as his opponent
2-7 (22%) when landing less takedowns than his opponent
1-5 (17%) when his opponent lands at least one takedown and he does not
Despite being the 'smaller' fighter, Lee should benefit plenty from a fairly-bonkers 7-inch reach advantage along with a one-inch height advantage.
Lee opened the week as a slight -110 underdog, but he's pulled into an even -115 heat with RDA at the time of this writing. The history of fighters moving up a weight class, RDA's past trouble with wrestlers, along with Lee's middling odds makes this a clear choice.
The Bet: Kevin Lee -115