UFC 227 Betting Preview: Can T.J. Dillashaw Finish Cody Garbrandt Again?
Credit:
Credit: Noah K. Murray-USA TODAY Sports. Pictured: Cody Garbrandt (red gloves), T.J. Dillashaw (blue gloves).
Bantamweight champion T.J. Dillashaw is a -125 betting favorite to defend his belt Saturday night at UFC 227 in a rematch against former-teammate turned-rival Cody Garbrandt, who's a slight underdog at -105.
Dillashaw won the first matchup, but both fighters proved capable of knocking each other out.
The history of rematches in smaller weight classes leans toward Dillashaw.
The UFC bantamweight title is up for grabs at UFC 227 in Los Angeles on Saturday night. T.J. Dillashaw will defend his championship against Cody Garbrandt in an exciting rematch between two highly skilled ex-training partners.
Dillashaw captured the belt from Garbrandt with a second-round knockout at UFC 217. Still, Garbrandt was seconds away from finishing Dillashaw at the end of Round 1 after landing a flush right hand. Let's breakdown the rematch and figure out where the value is.
---
>> Sign up for The Action Network's daily newsletter to get the smartest conversation delivered into your inbox each morning.
---
Betting Odds
T.J. Dillashaw -125
Cody Garbrandt -105
The First Fight
The aforementioned first encounter between these competitors featured three huge moments: Garbrandt's knockdown of Dillashaw at the end of the first round, Dillashaw's head kick on Garbrandt early in the second, and finally the knockout finish.
Garbrandt quite possibly scored a 10-8 Round 1 after landing 15 significant strikes to Dillashaw's nine, including that earth-shattering knockdown. Still, Dillashaw knocked Garbrandt to the canvas twice in the first 90 seconds of the next round to win the bantamweight title.
Garbrandt's failure to finish Dillashaw could be cause for concern considering the challenger was likely still hurt at the beginning of the round.
More than anything, the first fight between these two demonstrated the knockout power we knew both possessed. Dillashaw owns the most wins, knockouts and post-fight bonuses in UFC bantamweight history, while Garbrandt has the highest knockdown rate ever seen in the division.
They're clearly both capable of knocking each other out, but how often does the script flip in rematches?
---
>> Download The Action Network App to get real-time odds, track your bets and follow all of our experts' picks.
---
What Does the History of Rematches Tell Us?
Among 93 UFC fights in which there was a decisive winner in the first fight, the fighter who won the first tilt again emerged victorious in 57% of the rematches. However, the success rate has varied based on the fighter's size.
In 12 UFC rematches between flyweights, bantamweights or featherweights, the winner of the first match won the rematch nine times (75%).
In 43 UFC rematches between heavyweights, light heavyweights, and middleweights, the winner of the first match won the rematch 24 times (56%).
The sample size for smaller fighters is limited due to the UFC not carrying those divisions until the past 6-8 years.
One explanation for the discrepancy could be that knockouts are more prevalent in larger weight classes: 25% of fights in the three smaller divisions have ended by TKO or KO, compared to 43% of fights in the larger divisions, according to Fight Matrix.
The small sample size of rematches with smaller fighters, combined with Dillashaw and Garbrandt's knockout power, makes the historical 75% success rate a bit of an extreme benchmark that likely won't hold up in the long-term — especially between these two fighters.
Still, even the heavier weight classes featured a positive 56% win rate for the initial winner in the rematch. The current Vegas odds don't quite align with what we've come to historically expect from rematches in general, specifically with Dillashaw.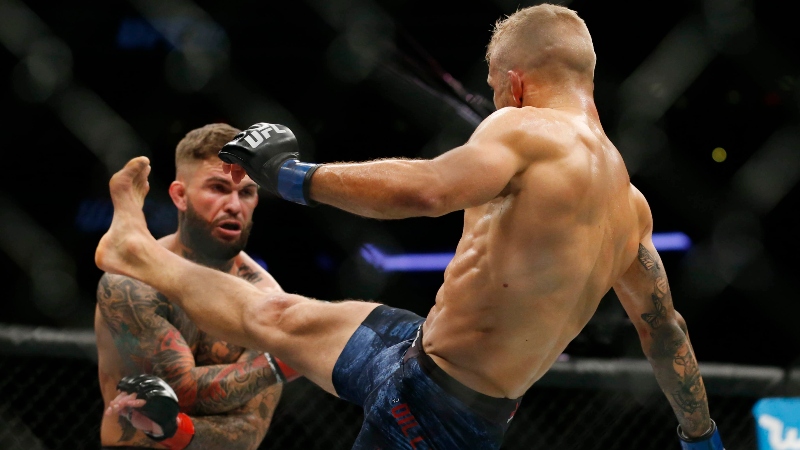 Credit: Noah K. Murray-USA TODAY Sports. Pictured: T.J. Dillashaw (blue gloves) and Cody Garbrandt (red gloves).
Current and Past Odds
Dillashaw opened up as a -130 favorite and has jumped around before settling at -125 at the time of this writing. This is in stark contrast to their last fight, when Garbrandt opened as a -130 favorite before rising all the way to -240 by fight night.
It's intriguing that the fight is viewed as a toss up considering Dillashaw has been a heavier favorite in each of his other fights since unseating then-champion Renan Barao at UFC 173 in 2014.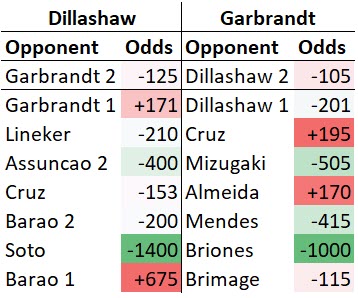 Oddsmakers have wildly swung Garbrandt's odds in his favor after each of his upset wins over Dominick Cruz and Thomas Almeida, while Dillashaw worked as a steady favorite for the better part of the last three years. Four of Dillashaw's last seven fights have ended via KO/TKO, while Cruz and Henry Briones are the only men to take Garbrandt to a decision in the UFC.
The former champ has spoken at length about being fully healthy this time around after dealing with back issues that briefly postponed their original matchup. Still, the relatively minor adjustment of +171 to -125 for Dillashaw isn't at all aligned with the swing seen in his two previous rematches. He received a larger swing in his rematch against Raphael Assuncao than against Garbrandt even though Dillashaw lost to Assuncao the first time around.
First fight: Dillashaw (-260) vs. Assuncao (+160). Rematch:  Dillashaw (-420) vs. Assuncao (+270)
First fight:  Dillashaw (+675) vs. Barao (-1000). Rematch: Dillashaw (-200) vs. Barao (+170)
Prediction
One of the most anticipated fights of 2018 pits two rivals who are both very much capable of ending each other's night early. This is reflected in the near-even odds.
We've seen Dillashaw take Garbrandt's best shot, recover, and win the fight. Garbrandt certainly seems capable of returning the favor, but I'll take relatively tame odds on the champion who has already proven he has what it takes to finish the job.
The Pick: Dillashaw -125.
---
UFC stats courtesy of FightMetric, betting odds courtesy of OddsShark.
How would you rate this article?