3 NBA Props for Saturday: Holiday Over/Under 17.5 Points?
Credit:
Derick E. Hingle — USA TODAY Sports. Pictured: Jrue Holiday.
Each day, the FantasyLabs Player Props tool analyzes all the NBA player props on the market and assigns each a Bet Quality rating based on how the implied odds stack up to our projection models. Here's analysis on three props that stand out for games starting at 8:30 p.m. and 9 p.m. ET.
Pelicans G Jrue Holiday Over 17.5 Points at Warriors (-130)
8:30 p.m. ET
Holiday has increased his scoring average from 18.6 points per game pre-All Star break to 19.9 post-break. He's gone for 18 or more points in 14 of 20 games (70%) since the break, giving the over on this prop some breathing room even at -130. The Warriors have been kind to Holiday's scoring output this season, affording him averages of 23.7 points in 37.5 minutes. FantasyLabs' NBA Models have him projected for 32.7 minutes tonight, but that still works out to a projection of 20.7 points for tonight's contest. Bet Quality: 9/10.
Warriors F/C Draymond Green Under 11.5 Points vs. Pelicans (-115)
8:30 p.m. ET
Green has been failed to top 11 points in 11 of 20 games (55%) that he's played without Stephen Curry this season — including seven of the past 10. Despite all the time Curry (and other high-usage teammates) have missed since the All Star break, Green's points per game average has dipped from 11.4 pre-break to 10.4 post-break. With the No. 2 seed sewn up, there's also the chance that Green won't command his usual allotment of 32.8 minutes per game tonight. Albeit with Curry in the lineup, Green also failed to top 11 (or even eight) points in two of three meetings with New Orleans this season. Bet Quality: 10/10.
Spurs F Kyle Anderson Under 7.5 Points vs. Trail Blazers (-105)
9 p.m. ET
Anderson has scored seven or fewer points in 12 of 20 games (60%) since the All Star break. The defensive-minded fourth-year vet has been taking even more of a backseat than usual since the break, averaging 7.2 points on a 12.5% usage rate post-break after posting 8.4 points on 14.0% usage before. A matchup with the Blazers means Anderson will see a lot of defense from Al-Farouq Aminu, who ranks eighth among power forwards with a +2.46 Defensive Real Plus-Minus. The FantasyLabs Matchups tool shows us that Aminu holds opposing offensive players to worse percentages than Anderson himself shoots: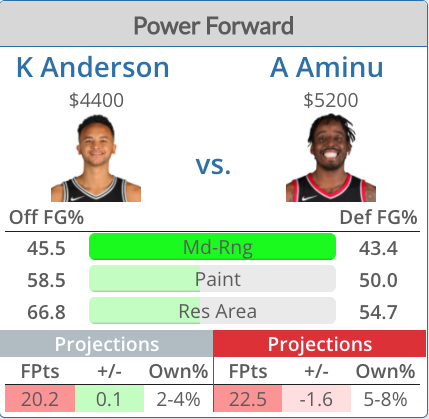 In two games against Portland this season, Anderson has averaged just 6.5 points in 30.1 minutes — and he's played more than 30 minutes only three times in his past 15 games. Bet Quality: 10/10.