Can the Cavaliers Make Betting History By Upsetting the Warriors?
Credit:
Kyle Terada-USA TODAY Sports Pictured: Cleveland Cavaliers forward LeBron James (23) and Golden State Warriors guard Stephen Curry (30).
The Highlights
The Cavaliers are 12.5-point underdogs in Game 1 of the 2018 NBA Finals.
Since 1995-96, only one team has won a playoff series after being a double-digit underdog in any game.
Fifty-nine teams have lost Game 1 of a playoff series as a double-digit underdog since the 1996 playoffs; none came back to win the series.
---
The Cavaliers and Warriors have played 18 games in the NBA Finals over the last three seasons, and Thursday's Game 1 is the first time the Cavaliers are listed as double-digit underdogs.
Cleveland is currently +12.5 against Golden State, making it the largest NBA Finals point spread in the last two decades. With the odds historically in Golden State's favor to win the series (-1200) and Game 1, does Cleveland have a shot to pull the upset?
Since the 1995-96 season, 80 different playoff series have featured at least one game with a double-digit point spread at any point during the series. Only one team that was listed as a double-digit underdog in any game was able to advance in the end:
The 8-seeded Warriors in 2007 were 10.5-point underdogs in Game 1 of the first round of the playoffs against the Mavericks. Dallas had won 67 games that season, most in the NBA and most in franchise history … and then the series started. The Warriors won Game 1 by double digits and subsequently closed out Dallas in six games.
Of the 80 total series that included at least one game with a double-digit spread, 59 of those included a double-digit spread in Game 1, and just five teams were able to pull off the massive upset. The last team to pull off the feat in Game 1 was the 2013 Bulls, who were 13-point underdogs against LeBron James and the Heat. Chicago won by seven points in Miami.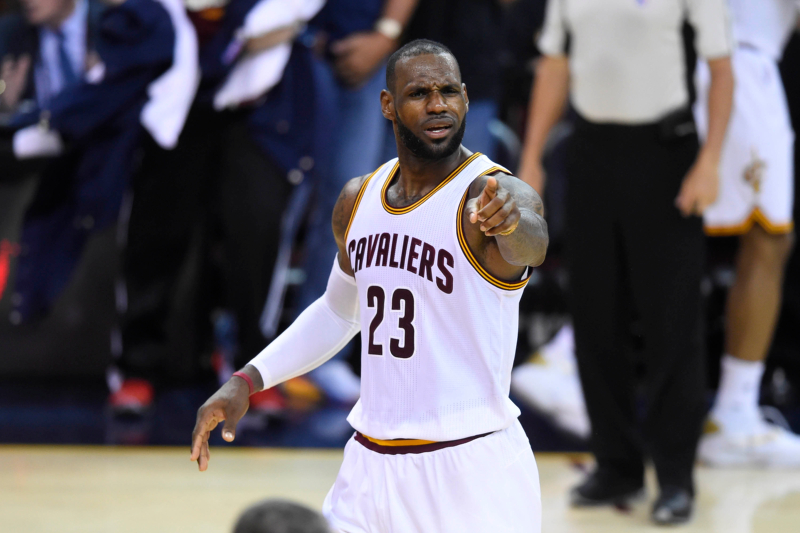 Credit: David Richard-USA TODAY Sports.
If the Cavaliers are unable to win Game 1, you can pretty much close the door on a comeback. Since the 1996 playoffs, teams that lose Game 1 as double-digit underdogs are 0-54 overall in those series.
If the series price wasn't steep enough a hill to climb for the Cavaliers, facing a double-digit point spread in Game 1 and (likely) multiple times during the series may be the straw that finally breaks LeBron's back.
---
More NBA Finals Coverage
How would you rate this article?