The Dallas Mavericks Revived Their Season. Here's How You Should Bet Them.
Credit:
Adam Pantozzi/NBAE via Getty Images. Pictured: Head Coach Jason Kidd of the Dallas Mavericks.
The Memphis Grizzlies have been the big story of late in the NBA with their double-digit win streak led by rising superstar Ja Morant. But a team in that same division is quietly turning its season around and making a run.
The Dallas Mavericks hit the low point of their season after losing to the UtahJazz on Christmas and falling two games below .500, their worst mark of the season, and sitting eighth in the standings.
But 2022 has been kind to the Mavericks: They have gotten healthier, with Luka Doncic back in the lineup and are riding a six-game streak entering Wednesday's game against the New YorkKnicks at Madison Square Garden.
Could the Mavericks have the type of hype next week the Grizzlies are experiencing right now? We tapped four of our NBA analysts to break down what's been working and how bettors could get ahead on a team that is bubbling under the surface.
Notable Recent Mavericks Trends
A lot has changed over the past 15 games for the Mavericks. Dallas was a Net -1.8 per 100 possessions prior to Dec. 12, ranking just 17th in Defensive efficiency and 22nd on offense. Over the past 15 games, we've seen a drastic improvement on both ends. The Mavericks have scored 113.9 points per 100 possessions and posted a Defensive Rating of 103.8, the former ranking sixth in the NBA during that time and the latter topping the entire league.
While it doesn't seem like much, it's interesting to note that over the past 15 games Reggie Bullock has actually seen around three more minutes per game on the wing and Tim Hardaway, Jr. has seen three fewer minutes on average. Speaking of former Knicks, Frank Ntilikina has also seen his playing time increase from 13.4 minutes per game to 16.3, helping fill the void left by Luka Doncic while he was out.
It's not totally as simple as "Hardaway, Jr. can't play defense and these guys can" considering the Mavericks are allowing just 100.2 points per 100 possessions with Hardaway, Jr. on the floor, but it's worth noting he was one of the worst Mavericks defensively prior to these 15 games.
Getting him on the floor alongside good defenders like this, particularly Bullock (their Defensive Rating is 93.3 per 100 when he's on the floor), and getting some defensive-minded guys more run only helps matters.
Speaking more generally, let's also run through the betting trends quickly. According to Bet Labs, over this 15 game stretch the Mavericks are 10-3-1 against the spread, failing to cover just once in seven home games.

Only the Toronto Raptors have a better ATS record over that span. They've won outright and ATS against both the Golden State Warriors and Chicago Bulls.
They also managed to cover the spread on the second night of both back-to-backs they had by a combined 32.5 points. Meanwhile, this charged-up defense has driven 10 of those 15 games under the total. — Kenny Ducey
---
Jalen Brunson's Impact on the Starting Lineup
Brunson has had an extremely positive impact since moving into the Mavericks' starting lineup on Dec. 12.  During that span, Luka Doncic and Kristaps Porzingis have come and gone from the lineup due to injury or COVID protocols, but Jalen Brunson has been the Mavericks' steady rock playing in all 15 games.
As Kenny noted, the Mavericks have sustained success recently because of their improvement on the defensive side of the ball. Despite continuously playing at the second-slowest Pace in the league, the Mavericks have increased their Offensive Rating from 15th overall this season to sixth over the past month.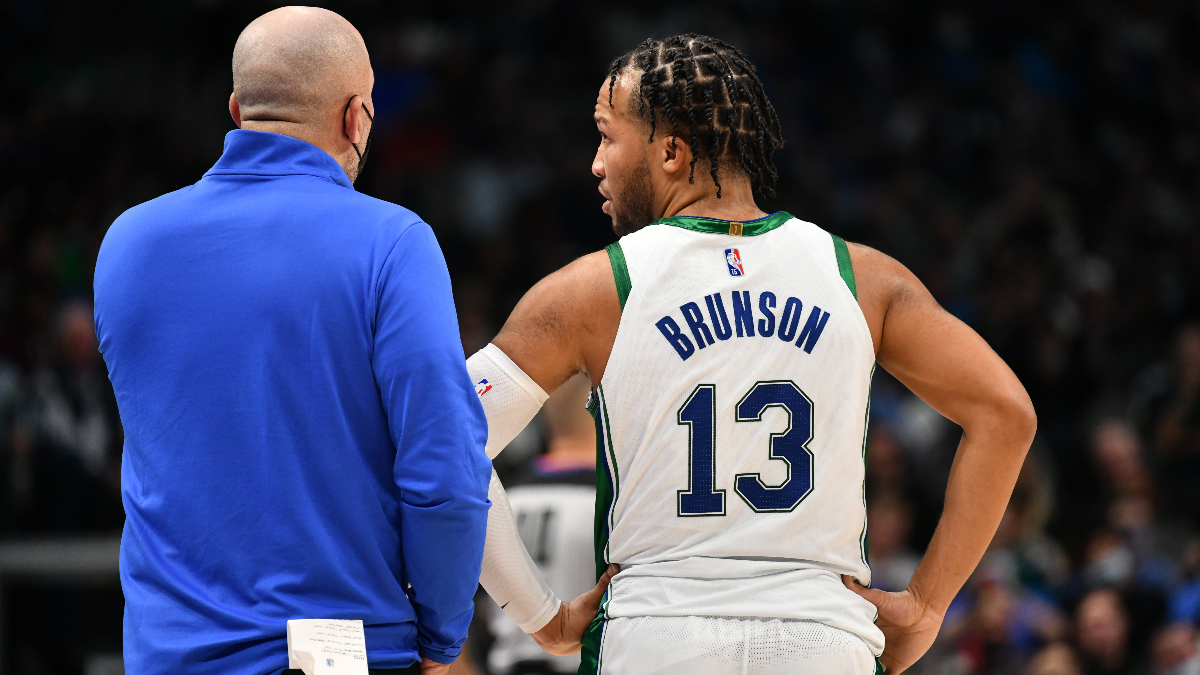 Since moving into the starting lineup, Brunson has played four more minutes per game and has been much more aggressive. Brunson has increased his drives from 12.4 to 17.7 per game. He has also increased his scoring from 14.3 points to 18.8 points per game. I could go on and on, but basically every relevant stat has increased for Brunson during that time. Among their most played lineups this season, the three best in terms of Offensive Rating all feature Brunson, per NBA Advanced Stats.
Brunson has been a key piece to keeping this Mavericks team rolling. I can't envision Brunson being removed from the starting lineup at any time based on how well he is playing. The Mavericks' six-game win streak has catapulted them to fifth place in the Western Conference standings. The strategy seems simple to me. Keep Brunson in the starting lineup and keep on winning basketball games. — Tyler Schmidt
---
Kristaps Porzingis' Quietly Hot Stretch
Porzingis isn't the direct reason for this recent Mavs upswing –he has missed five of the six games during this win streak and is still sidelined in health protocols — but he is a very big part of the reason for the Dallas surge overall.
This is the best two-month stretch of Porzingis's career. Take a look at his numbers over the 19 games KP has played from Nov. 15 through today. Porzingis is averaging 21.6 points per game, which doesn't look like anything particularly special, but he's doing it efficiently at 58% True Shooting, including 56% on 2s and 90% from the line on 5.7 free throws per game.
He's been much more aggressive, getting his game going more inside the arc. That's the best 2-point percentage of his career and his best free-throw rate too. It also means fewer fadeaways and tough shot attempts.
Porzingis had 30% Usage during that stretch, so he's taking the biggest load he's seen since his Knicks days, but he's kept his efficiency up and his turnovers down. He's also playing the best defense of his career, in part because he's in a system that suits him better. His Steal Rate is the highest of his career, and the Mavs allow just 104 points per 100 possessions, the best rate of KP's career as well.
The advanced metrics tell the story. According to Dunks and Threes, Porzingis ranks 25th in the entire NBA in EPM (a tick below Ja Morant and DeMar DeRozan), making him a worthy All-Star player. He has a 5.9 Box Plus/Minus during this stretch, just about the best stretch of his career. The only better stretch came the last time I was getting ready to write about a healthy Porzingis breakout — right before the NBA shut down for the pandemic.
The Mavs built this roster with a vision of two superstars, but it's never played out that way because Porzingis is rarely healthy and hasn't lived up to his part of the bargain. Over the last two months, he's finally playing like the star the Mavs traded for and making a difference on both ends of the court.
The NBA is a star-driven league, so it's no surprise that Dallas is on the upswing now that its second star is actually playing like one. — Brandon Anderson
---
Upcoming Spots to Bet or Fade Dallas
Over the past two weeks, they're first in Defensive Rating (101.1), according to Cleaning the Glass. The biggest difference is that the Mavericks are finally seeing their shooting regress to the mean. For the entire season the Mavericks are shooting 33.5% from behind the arc. Over their past eight games they're shooting 38.3% one 3s — fourth among NBA teams.
I think we have to weigh more recent data a lot more heavily when handicapping their future matchups.
From what I've seen from them recently, this isn't the team to blindly fade at home vs. seemingly superior teams. They blew out the Warriors as six-point underdogs and also defeated the Chicago Bulls who had a ton of public support.
I'm already looking forward to their matchup next week against the Phoenix Suns, who will be at the tail end of their five-game road trip. My model has the Suns as 2-point favorites, and depending on the line, it could present good value.
They meet the Grizzlies on the road on Friday, and that could also present a good spot to back the Mavericks with the Grizzlies coming off a 10-game winning streak and three games in four nights between Tuesday and Friday.
With the Mavericks holding a rest advantage with a day off in between their Wednesday night matchup against the Knicks and Grizzlies on a back-to-back, I love the Mavericks in that spot.
They'll also host the Grizzlies again on Jan. 23, and they'll have two days off in between their matchup against the Suns while the Grizzlies will be in the midst of a four game road trip.
Of course, change in play, injuries and health and safety protocol news could change everything, but these are some intriguing spots that I believe will have value. — Raheem Palmer
How would you rate this article?
This site contains commercial content. We may be compensated for the links provided on this page. The content on this page is for informational purposes only. Action Network makes no representation or warranty as to the accuracy of the information given or the outcome of any game or event.