Deandre Ayton's 'Valley-Oop' Wasn't Just an Awesome Play — It Was a Series Odds Changer
Credit:
Christian Petersen/Getty Images. Pictured: Deandre Ayton #22 of the Phoenix Suns.
Where were you when Deandre Ayton sent seismic waves through the basketball universe with the "Valley-Oop" heard round the world?
The Suns were up 1-0 in the series and in control for most of Game 2, even with Chris Paul out and Devin Booker struggling to find his shot. But the Clippers took the lead late, the first time Phoenix had trailed in the past eight fourth quarters, and it looked like the Clips would steal the game when they led by one point with 0.9 seconds left.
Phoenix lucked into a free timeout thanks to yet another review, and that's when Monty Williams drew up the perfect homage to Jay Triano and Tyson Chandler.
Booker would be a decoy, setting a bone-crushing pick on Ivica Zubac, freeing up Deandre Ayton to dive to the rim. Jae Crowder threw an inch-perfect pass straight out of a game of H-O-R-S-E and Ayton flushed the ball home just over the rim, thanks to an obscure rule outlawing basket interference in inbounds plays.
The Suns took a 104-103 lead on what was effectively a buzzer beater, since the Clippers were out of timeouts and didn't even get a shot off, and that was that. The Suns had pulled off the miracle win.
Just look at this wild moneyline swing late in our Action App: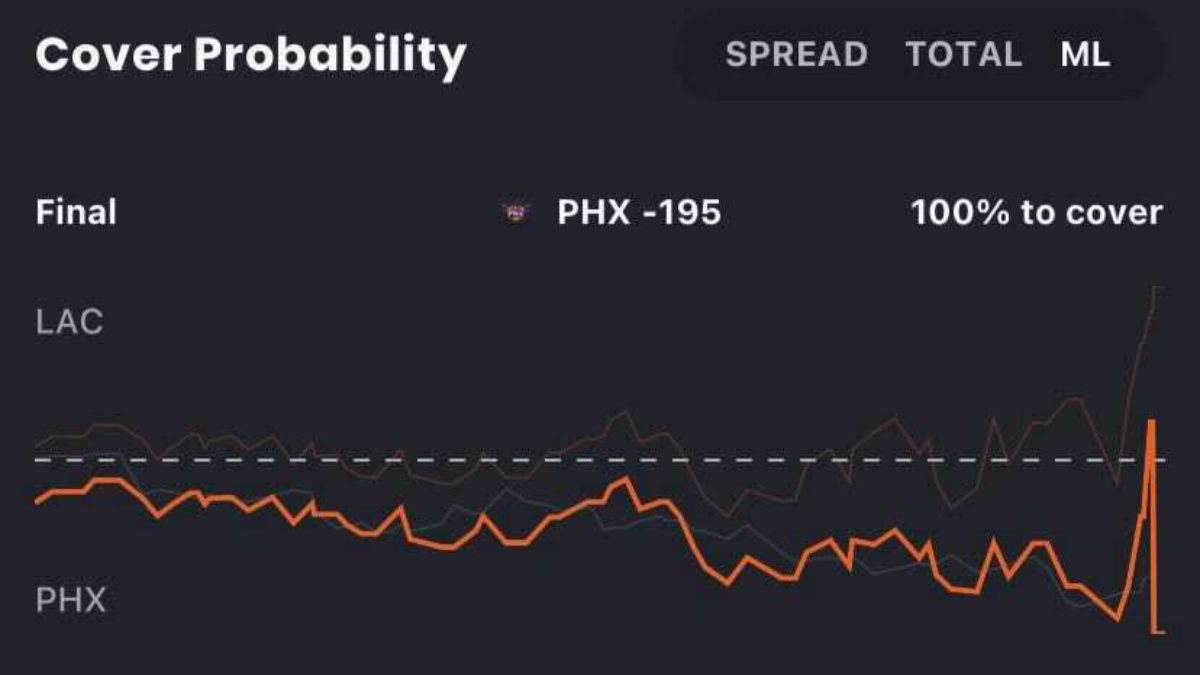 LA had come that close to tying things at 1-1 with the series headed back to Staples Center. Instead, the Suns are now up 2-0 and Yahoo's Chris Haynes reports that Chris Paul will return for Game 3.
One second, the Clippers looked set to steal a road game and tie the series up. Instead, 0.2 seconds later, the Suns have put the Clippers on the brink yet again, with Phoenix an overwhelming favorite now to head to the NBA Finals.
That makes Ayton's dunk one of the most significant pre-Finals plays in NBA history. Our Matt Moore reached out to a couple sportsbooks to see just how much Ayton's dunk shifted the series odds.
At BetMGM, the Suns are now priced at -800 to win the series, an implied 88.9% chance. But the sportsbook tells Action Network that, had the Ayton shot gone awry, the Suns would have reopened at -165. That's an implied 62.3% chance, meaning that alley-oop swung the series a full 26.6% in the Suns' favor.
The difference was even more pronounced at DraftKings. There the Suns are now -910, an implied 90.1% series favorite. But DraftKings told Action Network an Ayton miss would have positioned the Suns at -150 instead, an implied 60.0% chance to win the series.
For DraftKings, it swung the entire series more than 30% in Phoenix's favor on one play.
And yet, those numbers are right in line with NBA history. According to WhoWins.com, NBA teams are 262-17 all-time to win the series when they go up 2-0, a 93.9% winning percentage.
In just the Conference Finals, teams up 2-0 win the series 92.1% of the time (70-6). If you narrow it to just teams that have gone up 2-0 at home, they're still 55-6 to win the series, a 90.2% winning percentage. Now we're right at that DraftKings price.
There are certainly bigger shots in NBA history. Ray Allen's 2013 shot against the Spurs may have had more championship equity than any in history since it took the Heat from nearly 0% odds to an eventual title. Magic Johnson's sky hook against the Celtics-, Kyrie Irving's shot over Steph Curry, and Michael Jordan's final shot in a Bulls uniform come to mind, too.
All of those shots came in the Finals, though. As far as historic single plays before the Finals, Ayton's Valley-Oop ranks right up there with the most significant in NBA history: Larry Johnson's four-point play to put the Knicks up 2-1 in the 1999 Eastern Conference Finals, or Robert Horry's buzzer beater to tie the Lakers with the Kings 2-2 in the 2002 Western Conference Finals.
That Horry shot turned a certain loss into a win and took the Lakers from 3-1 dogs to an even 2-2, and it's a play basketball fans will always remember.
Now, the Crowder-to-Ayton Valley-Oop has earned its place on the mantle of all-time great postseason plays right next to Big Shot Bob.
And it will only be even more significant if the Phoenix Suns go on to win their first NBA championship ever.
How would you rate this article?