Mavericks vs. Jazz Odds, Game 3 Preview, Prediction: How to Bet Dallas With Luka Doncic's Uncertain Status (April 21)
Credit:
Chris Schwegler/NBAE via Getty Images. Pictured: Luka Doncic #77 of the Dallas Mavericks.
The Jazz are home favorites on Thursday night against the Mavericks.
With Luka Doncic upgraded to questionable, is there value on the Mavericks to pull the upset?
NBA betting expert Matt Moore breaks down the matchup and shares his best bet below.
EDITOR'S NOTE: The Dallas Mavericks announced that Luka Doncic has been ruled out of Game 3 due to his lingering calf strain. For real-time injury updates, check out our FantasyLabs NBA news page. 
---
Mavericks vs. Jazz Odds
Mavericks Odds
+7
Jazz Odds
-7
Over/Under
210.5
Time
9 p.m. ET
TV
NBA TV

Odds via Caesars. Get up-to-the-minute NBA odds here.
Ruh-roh, Raggy.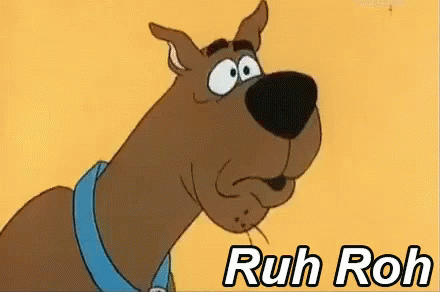 Luka Doncic has been upgraded to questionable from doubtful for Game 3, after reports earlier said he could be back for one of the two games in Utah.
Now, calf injuries are tricky, and the Dallas Mavericks have to be careful for a number of reasons, but usually being upgraded to questionable is a pretty good indicator a player is headed toward playing.
That's a huge deal. Game 3 opened with the Utah Jazz as 8-point favorites, moved to -6.5 Tuesday on the news that Doncic might play, briefly moved to -6 when he was upgraded to questionable, then moved back to -6.5.
We'll talk about scenarios later, but that sets the stage for a fascinating Game 3 in Utah between the Jazz and Mavericks.
Can the Mavericks Sustain Their Game 2 Success?
Usually, a player being upgraded to questionable indicates he'll play, but if your bet is on whether or not Doncic plays, you need to wait to be absolutely sure.
In Game 1, neither Jalen Brunson nor Spencer Dinwiddie could produce any offense. In Game 2, Brunson went off, and the Mavs got to the sequence they wanted, the sequence that so often hurts the Jazz.
Take a look at the spacing on this play: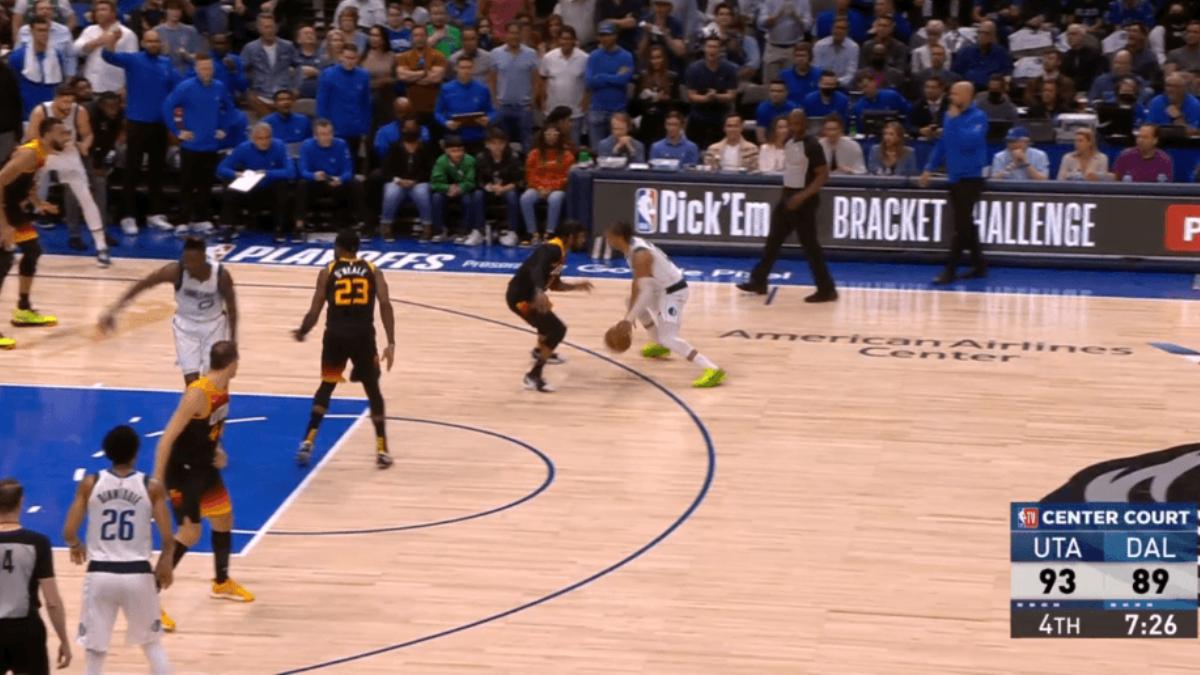 Gobert has to choose: When Brunson beats Conley, is he going to help down on a contested layup when the ball-hander has the step, or is he going to stay home on a 3-point shooter? He tries to stay home and it burns him.
Here's what the other decision tree branch looks like:
There are no good answers here for the Jazz.
Now, Game 3 is on the road, and there's a good chance the Mavs' role players (and without Doncic, they're all role players) miss more shots. That can open the door. The Jazz also, surprisingly, have dominated the Kleber minutes in this series. Kleber hit eight 3s in Game 2, and yet they had a 127.1 Defensive Rating with him on the floor and played even in his minutes.
Kleber shot 18% since the All-Star break from 3. If Game 2 was an outlier, the Mavericks are in trouble, but they've got the Jazz on their heels.
---
Will Donovan Mitchell Lead the Jazz to a Home Win?
Utah needs to get this game back to where they can control it, more like a regular season game. The problem is that they can't punish these small-ball, five-out lineups.
If a team plays small against you — and Dallas has no personnel options to do anything but go small — a good counter is to just beast them by having your big slip to the rim or post up.
Here's what happens when the Jazz try that:
Even just running the floor:
Yeah, it's rough.
The Mavs have basically lived with Bojan Bogdanovic in this series. He's averaging 25.5 points on 57-30-89 shooting splits. What's interesting is that when Bogdanovic isolates in this series, the Jazz are scoring just 0.78 points per possession, when a good number is closer to 1.5.
Also for comparison, Utah's scoring 0.934 points per possession with Donovan Mitchell running pick and roll, despite Mitchell shooting horribly.
To break this down further, when Mitchell shoots out of pick and roll in this series, he has a 28% eFG%. When he passes, the Jazz have a 72.1% eFG%.
Mitchell has to trust his weapons because he's having a hard time beating the Mavs' defense on the edge. The Mavs are switching to take away comfort space. If Mitchell has a better shooting game in Game 3, that can swing things, even if Doncic plays.
Speaking of, if Doncic plays and the Mavs continue to switch, Mitchell absolutely needs to attack Doncic as much as possible to wear him down. That'll be something to watch whenever he returns.
Mavericks-Jazz Pick
Let's talk Doncic.
The value on Luka to the spread is somewhere between three and five points. The line move from Jazz (-8) at open to (-6.5) when the report came Doncic might play in Game 3 was likely a middle ground. The books likely put it in the middle and let the market decide which way it wanted to go. This isn't uncommon in these spots.
If Doncic plays, the line has to move towards Dallas but by how much is the question. Is it a full 3-5 points? Is it 1.5 to 2.5? That question matters on the value.
Say Doncic is announced out, and the line bounces back up to -8 and then is bet up to 8.5 or 9. At that point, I'm definitely in on Dallas.
The matchup still favors the Mavs because of what I wrote above, and there's no real counter for Utah to make beyond benching Gobert, and even that isn't going to help the defense. (And they won't bench the $35 Million Man.)
But if Doncic is ruled in, and the line moves to anything less than four, I'm staying away. I don't want to fade the home team with an altitude home-court advantage as fewer than a two-possession favorite.
If it stays where it is, around 6-6.5, I lean Dallas still. This is definitely a Dallas or nothing play.
The total bounced back up to 201, where it was for Game 1, after going to 206 in Game 2. I lean over here; you're just going to see a lot of 3-point volume. The Jazz know they have to shoot more 3s, and while the Mavs' scheme makes it tough, they'll find enough gaps, and Dallas really has found a way to get 3s up vs. this defense.
Lack of perimeter containment for Utah plus a low Rim Rate for Dallas (30th in the league) plus forcing Gobert to help down and leave shooters equals 3-point volume. I'll take the over. I will continue to bet Gobert over rebounds (15.5) as well.
Pick: Mavs at +6.5 or Better | Over 210.5 | Gobert Over 15.5 Rebounds
How would you rate this article?
This site contains commercial content. We may be compensated for the links provided on this page. The content on this page is for informational purposes only. Action Network makes no representation or warranty as to the accuracy of the information given or the outcome of any game or event.