NBA Predictions, Picks & Betting Odds (Thursday, Feb. 13): Teasing Out Sharp Money on Clippers-Celtics, Pelicans-Thunder
Credit:
Sean Gardner/Getty Images. Pictured: Zion Williamson
How should we tease where the sharp money is landing on Clippers-Celtics and Pelicans-Thunder?
Bryan Mears has every angle covered in his Thursday manifesto.
This NBA season, I'm trying something new. I'm going to write a daily piece that highlights everything bettors and DFS players need to know for that night's slate. For more on what to expect, read the inaugural piece.
Yesterday I finished 6-5 for +2.1 units. While I don't want to get sucked into the past, I think it's worth reviewing things each day.
The best way to do that is to look at closing line value (CLV), which is just measuring whether the line you bet moved for or against you by closing.
I bet Hornets +8.5 and it closed at Hornets +6 (won)
I bet Hornets-Wolves under 228 and it closed at 224.5 (won)
I bet Wolves under 118 and it closed at 115 (won)
I bet Grizzlies -4.5 and it closed at Grizzlies -3.5 (won)
I bet Bucks-Pacers under 223 and it closed at 224 (lost)
I bet Raptors-Nets under 223.5 and it closed at 224 (won)
I bet Knicks -2.5 and it closed at Knicks -3 (lost)
I bet Hawks -2 and it closed at Hawks -3 (lost)
I bet Heat-Jazz (2H) under 106 (lost)
I bet Raptors-Nets (2H) under 109 (won)
I bet Wizards-Knicks (2H) under 111 (lost)
To explain why I had a good day (+2.1 units) despite a middling record (6-5), I always bet based on what I think is my projected edge. Thankfully I was able to hit on those bigger edges — mostly in that Wolves-Hornets games with the late injuries to Karl-Anthony Towns, Cody Zeller, Terry Rozier and others — which boosted my winnings.
If anything, I likely should've bet more, although I wasn't expecting the lines to move quite that much. Right after KAT's injury, the total dropped from 228 to 222 at most books. It ended up rebounding back up to 224.5 and was in flux due to other injuries, but I probably didn't leverage quite hard enough there.
Anyway, let's dive into today's slate and find some angles.
YTD Record:
Overall: 223-201-2
Spreads: 87-85-2
Totals: 87-85
Moneylines: 23-10
Props: 29-22
Jump To: Odds & Analysis | Projected Starting Lineups & Injury News | Player Props | DFS Values & Strategy | My Bets
---
Odds as of Thursday afternoon and via FanDuel, where Action Network users get a risk-free bet up to $500.
---
Betting Odds and Analysis
8 p.m. ET: OKC Thunder at New Orleans Pelicans (-2), 231.5
8 p.m. ET: LA Clippers at Boston Celtics (-1.5), 227
Thunder at Pelicans
The public is ALL OVER the Pelicans here. They're getting 85% of the bets and 93% of the money. Sharps must be on the other side, right?

That doesn't seem to be the case: We've tracked steam moves on the Pelicans at -2 and -2.5. As a result, it has moved up from -1.5 at open to -2.5/3 now.
We're seeing the same thing with the total: The over is getting 76% of the bets and a ridiculous 99% of the money. We've also tracked a steam move on the over at 231, which has pushed the number up to 232.5.
And it makes sense: The Pelicans have been awesome lately, ranking fifth over the past two weeks with a +7.0 Net Rating. They've had a top-10 offense and defense in that span, and the offense has really exploded in particular. They've put up at least 124 points in three straight games, including 138 in a brilliant performance against the Blazers. They're really hitting on all cylinders.
Having Zion Williamson in the lineup has really helped: The Pels have been 15.8 points per 100 possessions better with him on vs. off. But the majority of his value has actually come on defense. Opponents have dropped in Offensive Rating by 11.9/100, and the eFG% has also dropped by 5.0% with Zion on the floor.
We'll see if that continues: The rim protection has been better certainly, but it's mostly that opponents have really struggled to shoot from outside against the Pelicans with Zion. He's a monster on closeouts and has tremendous upside as a help defender, but those numbers are ridiculous; they'll likely regress.
But maybe not tonight against the Thunder, who don't exactly have a great shot profile. They take a bunch of mid-rangers, ranking in the bottom-10 in frequency of shots at the rim and behind the arc.
The question in this game is whether Brandon Ingram will suit up; he's questionable with an ankle injury. Honestly the team hasn't really dropped off without him, but if the market moves against the Pelicans as a result of him being out (if he is), it might actually open up value on New Orleans.
I don't have a strong lean on this game, but I would prefer the Pelicans (waiting on Ingram news, of course) and the over (defense will likely regress).
[Bet now at FanDuel. NJ, PA, IN and WV only.]
Clippers at Celtics
Both teams are coming off tough losses on national TV on Tuesday night, with the Clippers falling on the road in Philly and the Celtics losing in Houston.
So far, the public is pretty split on the spread: The Celtics are getting 53% of the bets. The money is heavier on the Celtics, who are getting 66% of that. The public is also divided on the over (51%), although the money is almost all on the over at 97%.
There's been just one steam move so far on the Celtics at -1.5. As a result, this line has ticked up to -2.
Trends-wise, the Celtics have done well in this spot, going 16-10-1 against the spread at home and 20-15-2 ATS as favorites. The Clippers, meanwhile, are just 13-14 ATS on the road and 4-3 ATS as underdogs. Interestingly, the under is 6-1 when the Clippers have been dogs this season.
The Celtics have definitely been the better team of late: Over the past two weeks, they've ranked third with a +7.3 Net Rating; the Clips are 13th with a +1.2 mark.
The reason I don't have a strong lean on this game is just the uncertainty in this one. Jaylen Brown is set to be a game-time decision, and while I don't think he's as valuable to this team as Jayson Tatum or Kemba Walker, he might be especially so particularly in this matchup. Against Kawhi Leonard, Paul George and even Marcus Morris, you need all the big wings you can find.
The other piece of uncertainty is just the motivation here. I don't think Kawhi will sit out, as he sometimes does, but I do wonder if the Clips are just ready to get to Chicago for All-Star weekend and have a break. They've shown they have a switch, which will get flipped in time for the playoffs, but it does make them a little more volatile than some teams in the regular season.
I think both teams are about even when adjusting for home-court advantage for the Celtics (assuming the Clips are motivated), so despite the sharp action on that side, I would probably take the points considering I think it's a coin flip.
[Bet now at FanDuel. NJ, PA, IN and WV only.]
Projected Starting Lineups and Injury News
Note: Info as of 12:15 p.m. ET. For up-to-the-minute lineups and news, see FantasyLabs' matchups page.
Projected Lineups
Boston Celtics: Kemba Walker – Jaylen Brown – Jayson Tatum – Gordon Hayward – Daniel Theis
Los Angeles Clippers: Lou Williams – Kawhi Leonard – Paul George – Marcus Morris – Ivica Zubac
New Orleans Pelicans: Lonzo Ball – Jrue Holiday – Brandon Ingram – Zion Williamson – Derrick Favors
OKC Thunder: Chris Paul – Shai Gilgeous-Alexander – Luguentz Dort – Danilo Gallinari – Steven Adams
Injury News
Boston Celtics: Jaylen Brown (calf) is probable.
Los Angeles Clippers: Patrick Beverley (groin) is out.
New Orleans Pelicans: Brandon Ingram (ankle) is questionable. Kenrich Williams (back) remains out.
OKC Thunder: Darius Bazley (knee) remains out.
Player Props
To bet props, I use our FantasyLabs player props tool. Follow me in the Action Network app to see my bets (or go to the bottom of the article), but the more important thing is the tool, which measures our projections for every player vs. current odds in the market and highlights the biggest edges for you.
Player props are an inefficient market, which allows casual bettors (limits are low, so pro bettors aren't incentivized to prioritize them) to grab very +EV bets.
That said, the lines move quickly. Our props tool is set up so you can always see whether there's an edge even at the updated numbers throughout the day.
It's one of my favorite tools we offer and should be one of your bookmarked pages if you like making a few extra bucks. Here's a screenshot of what it looks like:

My usual recommendation: Bet unders.
Last season, 10-rated props in our tool hit at a 60.31% rate. But overs hit at a 57.08% rate vs. 66.47% for unders. For 9-rated props, 55.96% of overs were successful bets vs. 62.60% for unders.
As I have noted in the past, unders have more outs: A blowout, an injury, a poor shooting night all will likely make the under hit. But also, props are less efficient as a market given the low limits, so they're less likely to adjust for things like opponent and pace.
One under I like tonight is Lou Williams' 18.5-point total.
It may seem risky to bet a Lou under given how hot he can get from the field when he's on — he's always a threat to go for 30-plus — but that doesn't mean this is a fair median outcome.
I think the edge here is that Williams is expected to start in Patrick Beverley's absence and play with the starters. He typically racks up points because he can operate as a high-usage scorer with the Clippers' bench against opposing bench units. Tonight, however, he'll be playing alongside Kawhi, PG and Morris, and he'll be matched up against better defenders in the Celtics' main unit.
DFS Values and Strategy
Tonight's slate is small with just two games, and no player is even close to $10,000 on DraftKings. Kawhi Leonard is the only player above $9,000, and then it drops to the $7-8K range with guys like Jayson Tatum, Paul George and Zion Williamson.
Those guys are obviously all in play, although they aren't popping as extravagant values in our models right now.
But of course that could change, especially with some key injury news. Both Brandon Ingram and Jaylen Brown are game-time decisions — both games are at 8 p.m. ET, which is nice for lineup building — and if either are out, it will obviously open up value, especially for other studs like Tatum and Zion.
One of my favorite ways to attack a smaller slate — especially just two games — is to really go in on one particular game. It's called game stacking, which is viable even in large slates, but it helps elevate you above competitors if one game shoots out but the other disappoints.
That also sets up well with the values tonight. The Thunder will be a popular team, as they are in the largest pace-up spot of the night against the Pelicans, who have run a ton lately.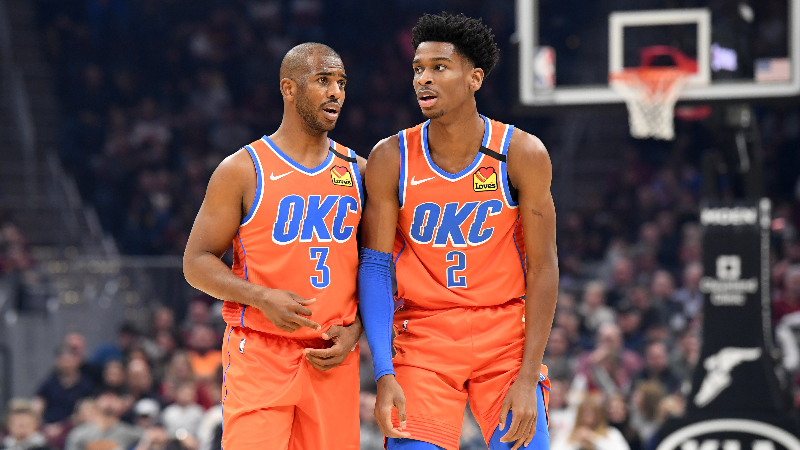 Guys like Chris Paul, Shai Gilgeous-Alexander, Danilo Gallinari and even Dennis Schroder are all popping as values, and you can obviously run it back with Zion and get funky with cheaper guys if Ingram eventually can't go.
You know the drill: Follow the news and make sure to subscribe to our models to see up-to-the-minute projection updates.
For more DFS analysis and value plays, check out the FantasyLabs NBA models.
My Bets Currently
Nothing yet.
[In New Jersey, Pennsylvania, Indiana or West Virginia? Bet now at FanDuel]
Follow me in our free app if you want an alert on bets I make.
How would you rate this article?