NBA Finals Series Bets: Our Staff's Favorite Picks and Predictions for Heat vs. Lakers
Credit:
Getty Images. Pictured: Jimmy Butler #22 of the Miami Heat, LeBron James #23 of the Los Angeles Lakers.
NBA bettors have waited nearly full calendar year to find out who the 2020 champion will be and we are one series away from an answer.
If you're holding a preseason ticket for the Miami Heat, you're likely riding this series out hoping for a nice payday. If you're holding a Los Angeles Lakers preseason ticket, you might be considering a good way to get more money on the LeBron James and Co.
If you're anyone else, you're just looking for the best value you can find, and that's where our NBA experts come in. They looked at series props all over the market and found a number of ways to bet this series. Check out their picks below.
NBA Finals Series Bets
Matt Moore: Miami Heat Win Series (+300)
I wrote this in my betting codex, but here's the bottom line: The narrative says Lakers. The value says Heat. The matchups and trends lean their toward Miami and while I don't love this bet, I'm not heavy on it.
The Lakers usually win the Finals. That's just the way of the universe. But I can't just shut off my analyst brain for the narrative, so I'm betting Heat at +300 because I think this is much closer to a 50/50 series at its start and the implied probability is 25%.
[Bet the Heat at BetMGM and get a $500 INSTANT deposit match]
I talked myself into the Houston Rockets. I talked myself into the Denver Nuggets. I can't talk myself into the Miami Heat, too.
I see all the logic. The Heat have that grind-you-down energy and never-say-die attitude, and the Lakers tend to get overconfident and complacent for stretches. The Heat can lose for 42 minutes, then get red-hot for a six-minute stretches and steal an entire game. I'm not confident that the Lakers' defense will be willing to chase the Heat around all those back cuts and around the arc. The Heat are going to get looks. And they are going to make them sometimes.
We know LeBron James starts slow in series, feeling things out early on and trying to get his teammates going as he figures out the opponent. That leaves James's teams vulnerable early in the series. The Lakers have lost Game 1 twice these playoffs, and they've nearly lost a few other games early in the series before pulling away late as they figure the opponent out.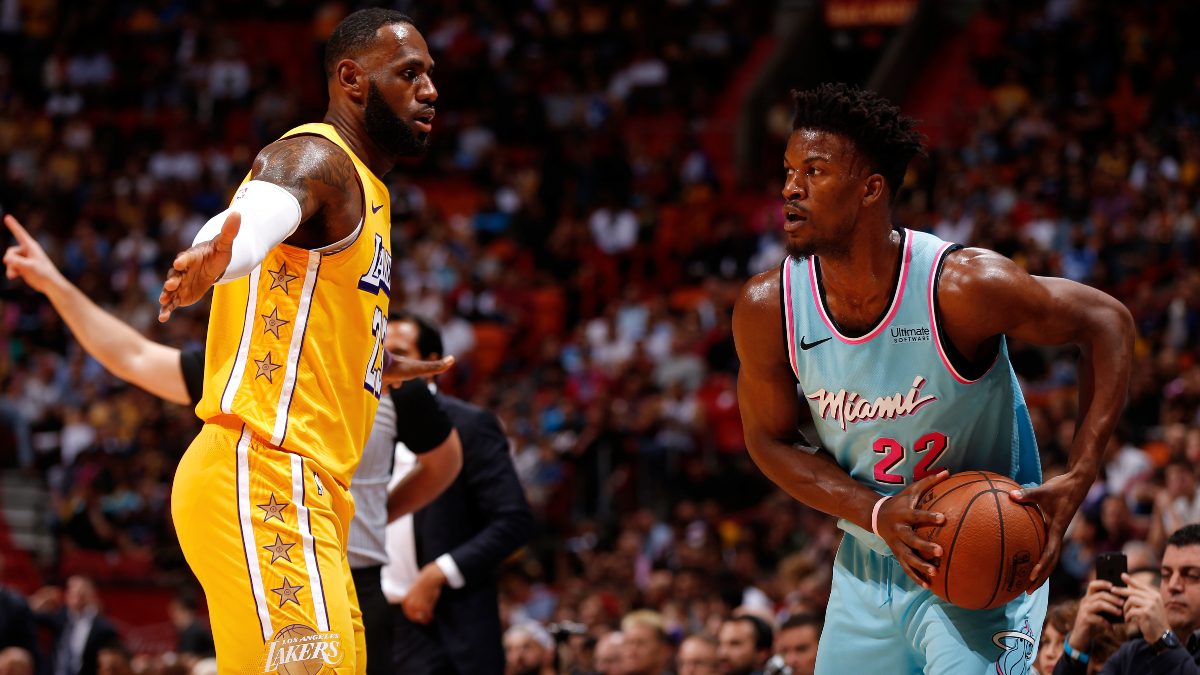 I can't talk myself into Miami winning the series — I'll have to see it to believe it.
But I can talk myself into the Heat grabbing Game 1, or maybe even taking two of the first three. The Lakers haven't played a team with this relentless defensive energy, and it will be an adjustment.
I don't see much value in betting the Lakers straight up to win the series at their price. I'm feeling Lakers in five or six games, but the ambiguity there removes the value of other bets.
I'll take the Lakers to win the Finals from behind at +250. I think the Heat can go up 1-0 or 2-1, but the Lakers still take the series. This lets me give the Heat some real credit for the challenge they'll present and multiple outs for them to lead the series, while ultimately still rolling with the favorite I expect to win in the end.
[Bet the Lakers at bet365. NJ only.]
I think that the Lakers are the better team. They have the best two players, James and Anthony Davis, along with complementary role players that Frank Vogel has used to perfection this entire postseason. I also think they have a significant size advantage that they will use to force the Heat into foul trouble and limit Bam Adebayo's time on the Court.
The Heat shoot enough 3s that it presents a math problem (41.3% of their total shots are 3s), but the Lakers already defeated the Portland Trail Blazers, Rockets and Nuggets, all of whom shot a higher percentage from 3-point range over the course of these playoffs than the Heat (36.2%). The Lakers have defended the 3-point shot well this postseason.
Per Cleaning the Glass, the Lakers limited their opponents to just 36% of their shot attempts from 3, so while they gave up a playoff average shooting percentage, 36.5%, they limited their opponents' opportunities. I think Miami can steal one game based on this, but I do not like their long-term prospects in this series.
[Bet the Lakers now at PointsBet risk-free up to $250]
Let me start with the opposition. The Heat are a formidable opponent for the Lakers. They have Adebayo to slow down Davis, a glut of versatile wings to check James and speedy guards that can make life difficult for the Lakers backcourt.
For the lore of Miami's shot making, it is the Lakers who have been the slightly more efficient team, posting a 56% Effective Field Goal Percentage to the Heat's near 54% eFG pct in the postseason.
The Lakers seem to drop levels of intensity at times, but they are a different beast than what the Heat have faced. I'm concerned James' playmaking can bust up the Heat zone that was able to slow down the Celtics' offense and also hide some of their weaker defenders. If the Heat shift back to man, James can be even more devastating, hunting for switches more deliberately, like he did in Game 5 against the Nuggets.
I think this is going to be a back and forth series, but the Lakers' duo of James and Davis find ways to win. Whether it is LeBron imposing his will or Davis flashing his jump shooting to throw off the Miami D, the Lakers take this. I like taking this in six games because it also gives me potential outs as the series goes longer to hedge or work out other ways to maximize the value of my bet.
Ultimately, LeBron can smell ring No. 4, and while I can't lay the lumber on a Lakers series price bet, I can take an exact outcome like this and move from there.
[Bet the Lakers at DraftKings and get a $1,000 bonus, including a $500 risk-free bet]
Raheem Palmer: Wait for a Better Lakers Price
If you bet the Heat to win this series at +375 when it opened — a price that implies they just have a 21% chance of winning this series — you have a positive expected value proposition. At the current price of -375/+280 on DraftKings, you have lost a good percentage of your edge.
As many of you know, I've been high on the Heat throughout these playoffs, however when it comes to their Finals series price, I'm not sold. Even if you got the best of the number, this is one of those series where despite having a +EV wager, you could still find yourself holding a losing ticket as it doesn't account for the officiating imbalance (see: Nuggets vs. Lakers) or James' extra gear.
Nonetheless, I'm not interested in getting involved and would need a higher number than my own projections or new information that changes my opinion to get involved.
I did bet the Heat moneyline and spread (+5) in Game 1 and my approach to this series is to take the Heat early, then jump on the Lakers at a better price should they find themselves down after Game 1. I do like a Finals MVP prop, however. You can read more on that here.
How would you rate this article?