NBA Odds, Series Picks & Preview: Bets for Lakers vs. Warriors, More Second Round Matchups
Credit:
Kevork Djansezian/Getty Images. Pictured: LeBron James #6 of the Los Angeles Lakers, Stephen Curry #30 of the Golden State Warriors.
What a wild and unpredictable first round!
The Bucks and their NBA-best record are out, just the sixth No. 1 seed to fall to a No. 8 seed in the first round, victims of Jimmy Butler and the Heat. We've seen injuries to Kawhi Leonard, Ja Morant, Joel Embiid, and De'Aaron Fox, suspensions for Dejounte Murray and Draymond Green, plus a wild Kings vs. Warriors series that's still not wrapped as of the time of this writing.
If the favorites for the final two series hold, we'll have history: a first ever second round featuring one of every seed: 1, 2, 3, 4, 5, 6, 7, and 8. We've already seen our first-ever play-in team win a series and may soon have a second. What a wild year these two weeks have been, and we're still only just getting started.
This weekend we start the Conference Semifinals , so let's dive in. I'll preview each of the four series and give a series pick, plus game-by-game and props angles I'm eyeing. We covered each of these series in depth on the Buckets podcast too if you want to dive even further into the weeds.
You're familiar with my weekly NFL picks column, so let's stick with the same format as round one and go around the NBA with picks for every series sorted by confidence level: Bet, Lean, or Pass.
---
Note: Odds are the best available for each pick as of writing. Shop for the best real-time lines with our NBA odds page.
---
THE WAITS
None
THE PASSES
None
---
THE LEANS

Celtics vs.
76ers

I mentioned when this series was set that I already knew I like the Celtics. It would just be a matter of how much and what bets I'd be leaning toward.
This is 22nd playoff meeting all time between these two franchises: the most common matchup and one of the most lopsided NBA rivalries in playoff history, with Boston dominating 14-7 and Philly yet to win since 1982. These series are usually hard fought and close, though the 2020 Celtics got the first sweep in series history.
This long-anticipated matchup should've added to the lore, but it'll be marred by yet another Joel Embiid postseason injury. He's doubtful for Game 1 with a knee issue that seems worse than originally stated and the series pricing suggests the injury that could linger. Even if you make Boston a heavy favorite, it's hard to get there with the numbers unless Embiid misses at least the first few games of the series — maybe all of it.
That's a shame, because the more I dug into this series, the more I think a healthy Philadelphia squad had a real chance.
Since Dec. 9, the 76ers rank first in Net Rating, second in ORTG and 12th in DRTG. Boston is a mirror image, second in Net but first in defense but 11th offensively. Before that date, Boston started 21-5 and best in the league offensively while Philly struggled to a 12-12 start, but these teams were mostly even since.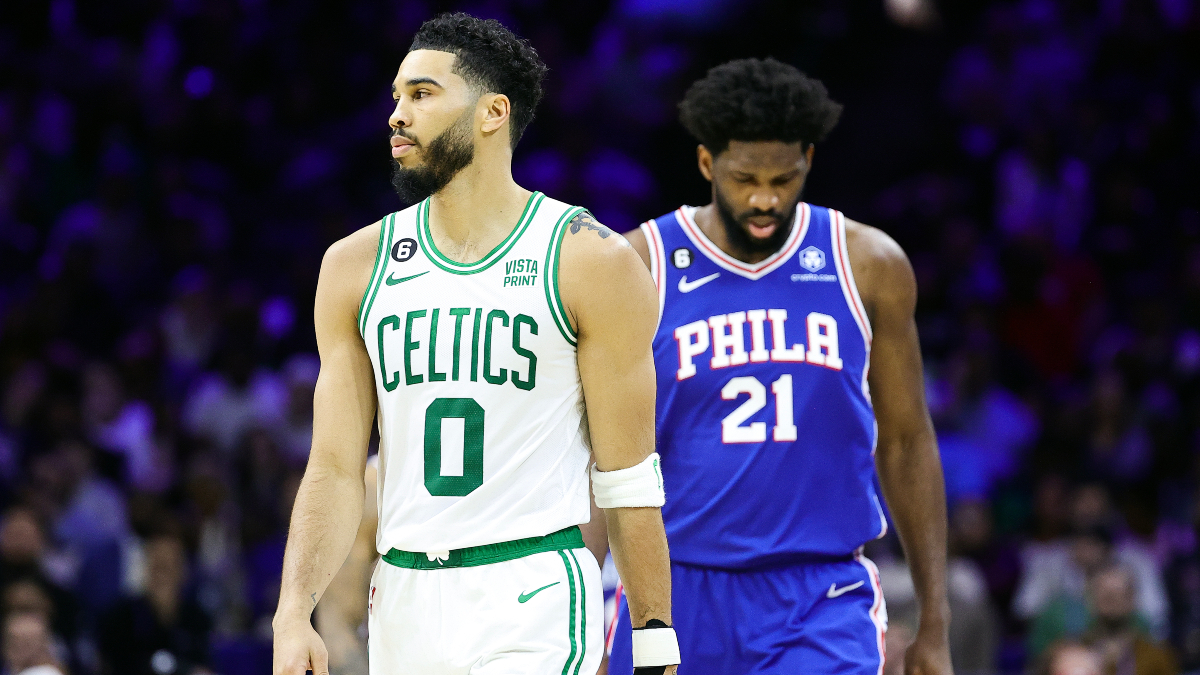 Boston played with its meat against Atlanta and gave the Sixers a few extra rest days up front. That was advantage Philly at the time, but if it hasn't given Embiid time to get ready, it may go the other way with a game every two days now all the way til Game 7. That's precious little recovery time for Embiid or this short Philadelphia roster, especially since I'm not sure Embiid is the only injured star.
James Harden just doesn't look himself. He scored 17.3 PPG against Brooklyn thanks to 14 treys but finished 9-of-34 on 2s, an awful 26% with only 11 free throw attempts. That sort of volume used to be one game for Harden; now he's reduced to a playmaker and shooter.
Still, we saw Trae Young tear this defense up, putting Al Horford in jail. Harden was actually great against Boston in the regular season at 25.5 PPG, hitting 3.5 treys per game and getting to the line 35 times. If Embiid is out, Harden has to be the best player on the court. I think that Achilles is still bothering him and I'll continue to play Harden points unders until proven otherwise.
The regular season Sixers were mostly a two-man effort, but Tyrese Maxey and Tobias Harris were brilliant both round one and last postseason. Maxey scored single digits in three of four Boston games. That's not going to cut it. Paul Reed's energy could be valuable starting for Embiid. He had 15 rebounds (eight offensive) in 32 minutes in Game 4. I'll nibble Reed +550 to lead the series in rebounding (Bet365) on a hunch that Embiid ends up playing very little.
Philly's bench got absolutely massacred against Boston this season. The Celtics have the far superior depth, exacerbated by Embiid's absence. If the Celtics have the best player on the court along with the superior depth, this will end quickly.
The Sixers could have a difficult time scoring. They rely heavily on that No. 1 Free Throw Rate but Boston is terrific defending without fouling. Philly also led the league in 3-point percentage despite middling attempts, while Boston ranks fourth in 3-point percentage allowed. If the Sixers can't get to the line — again, exacerbated by the Embiid and Harden injuries — or shoot a high percentage on 3s, it gets ugly.
It's possible Boston struggles to score too. The Celtics offense is built to get up and make a ton of 3s, and Philadelphia has been great defensively against 3s, both by volume and percentage. Boston is 45-7 SU this year when making 35% of its 3s, but the Sixers allowed just 34.8%, fifth best. The Sixers did limit Boston volume in-season. Philly can't win a track meet, so the defense has to show up.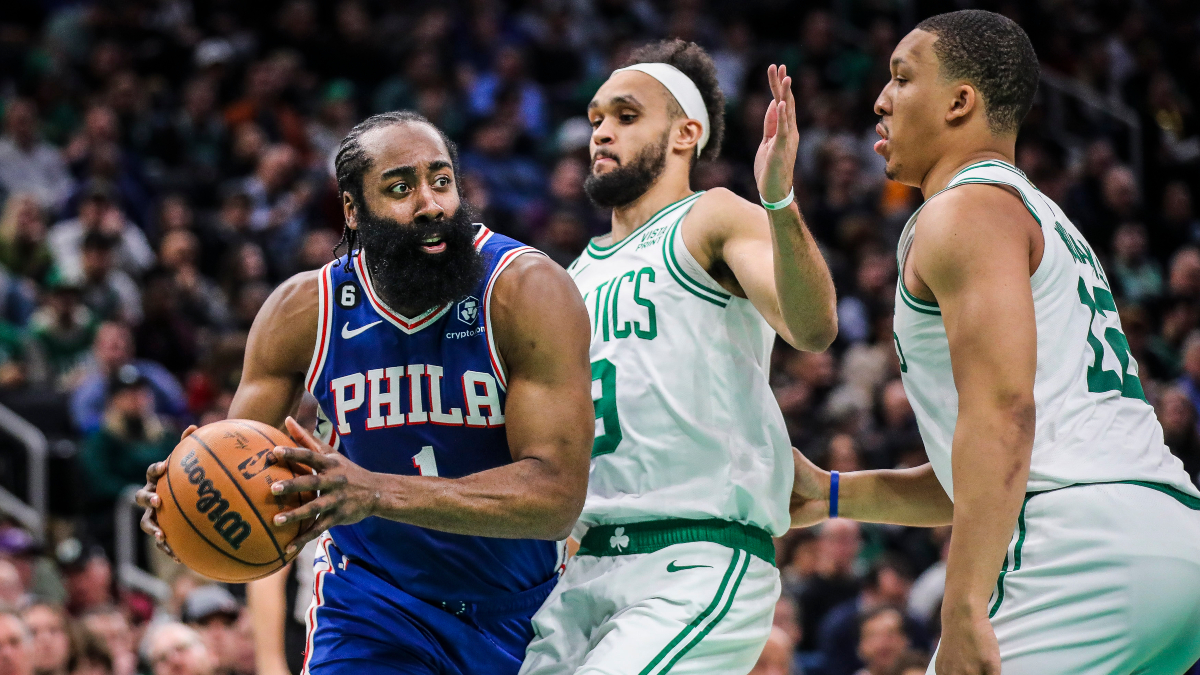 I'll be looking to play unders. These teams played a glacial 92 Pace and averaged 217.3 points with three of four games below that. Embiid's absence should quicken the pace significantly, so I'll probably sit out Game 1.
Philadelphia can win games if it stays even on 3s and gets the whistle. It could also steal a game or two late. The Sixers ranked 2nd in the NBA at +8.3 Net Rating in the fourth quarter. That's Boston's worst quarter by a mile, and we saw the Celtics' clutch issues come up against Atlanta. Doc Rivers has his foibles, but he has a huge experience advantage to Joe Mazzulla. He has to be a reason Philly stays in this.
If you're scoring at home, the Sixers can win if Embiid magically gets healthy, if Harden plays like his old self, and if Rivers provides a big coaching advantage. I can't get there.
Boston is the better, deeper, more rounded team. Philly will have their attention, and Boston has so many potential answers. Derrick White scored 21.0 PPG his last three against Philly with 3.0 treys per game, and this could be a Grant Williams series. He had double digit points with at least two 3s in three of the four meetings.
Those might be Boston's sixth and seventh men behind Jayson Tatum, Jaylen Brown, Al Horford, Robert Williams, and Marcus Smart, and therein lies the problem. Boston just has too many guys, and Philly might not have enough.
I don't think it's a sweep. The last five Celtics series post-first-round went seven, seven, six, seven, and six. I'll split the difference.
THE PICK: Split bet on Celtics in 5 (+250 PointsBet) and Celtics in 6 (+450 BetRivers), implied +114
GAME ANGLES: Look to bet Unders
PROPS: Bet James Harden points unders until proven otherwise; Bet on Paul Reed rebounding
---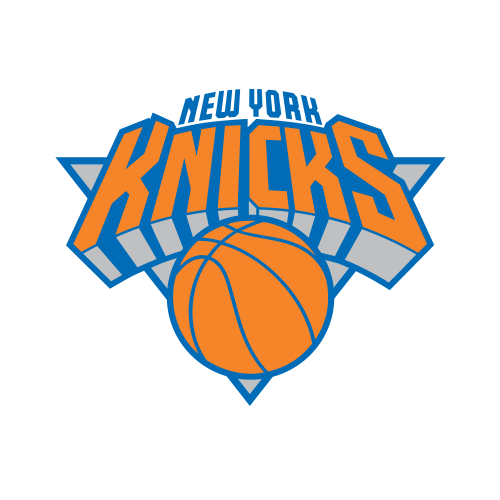 Knicks vs.

Heat
Holy 90s throwback! Brings back memories of Larry Johnson, Patrick Ewing, Alonzo Mourning and Jeff van Gundy wrapped around his leg. This Eastern classic may not be the series we need right now, but it's the series we deserve.
Five No. 8 seeds pulled a first-round upset previously, and they didn't exactly go quietly from there. The 2007 We Believe Warriors won only one more game, but the 1994 Nuggets, 2011 Grizzlies, and 2012 Sixers all pushed round two opponents to seven. Only one No. 8 seed has won a second series. That of course was the 1999 Knicks, who went all the way to the Finals. History tells us to take these No. 8 seeds seriously.
I can make the full case for the Miami Heat in two words: Jimmy. Spo.
Jimmy Butler is our Round 1 Playoff MVP, and Playoff Jimmy is a real thing. The last time Butler scored 40 in a regular season game, he was playing for the Bulls. He's done it eight times since, all in the playoffs, twice in a row to end Milwaukee's season.
Butler scored 98 those last two games joining this list of guys to score 95 or more in a two-game playoff stretch: Michael Jordan (x8), Jerry West (x3), Elgin Baylor, Kevin Durant, Rick Barry and Wilt Chamberlain. That's a who's who of the greats in league history — with notable names missing too. Butler's 56 points in Game 4 were fourth most in playoff history and the second most ever in a win. He finished the series with 21 points and a +18 rating in 12 clutch minutes.
For two weeks, Butler has been the best basketball player in the universe. He finished the series at 37.6 PPG on 60% shooting, apparently now including 3s again with three makes per game on 46% the last four games. When he's not scoring, Butler is facilitating for teammates and playing lock down defense. He's by far the best weapon this series — on both ends. If Jalen Brunson starts cooking, why won't the bigger, nastier Butler just erase Brunson from the game?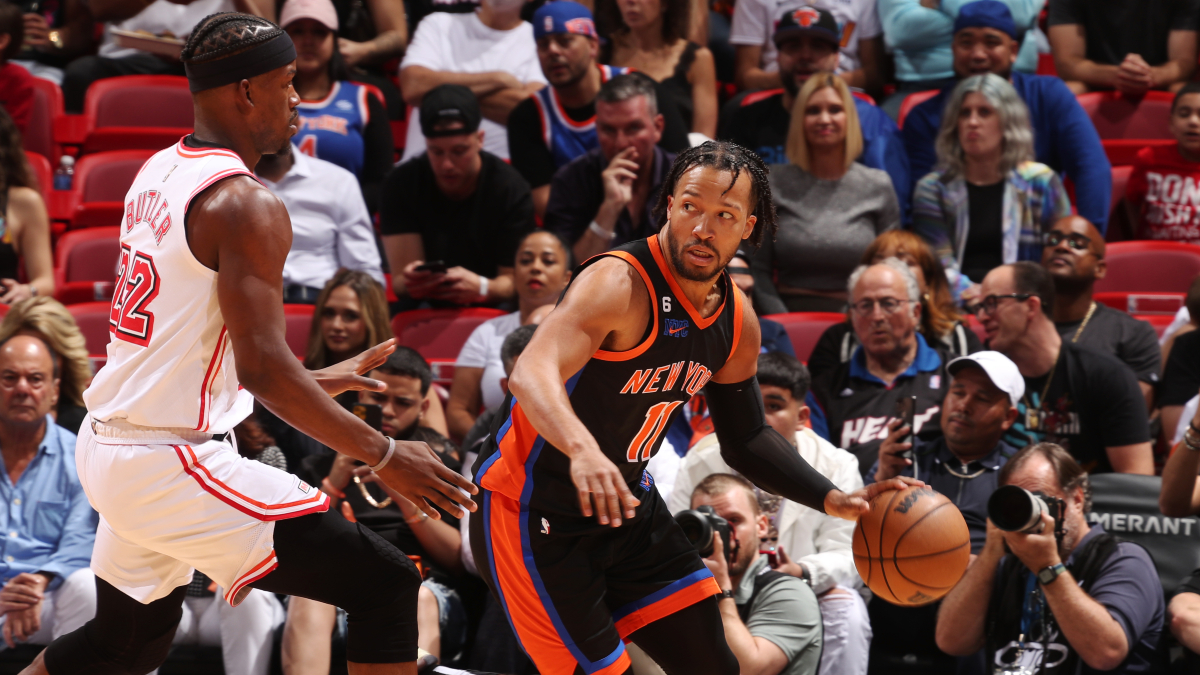 Whatever question the Knicks ask, Butler can provide the answer for Erik Spoelstra.
That brings us to Spo. For my money, Spoelstra is the best coach in the league, and I'm not sure it's close. He'll have his team ready for every twist and turn, and he's an excellent game manager and great on the Xs and Os in those key moments. He's also the leader of that Heat Culture voodoo magic and knows this team inside and out, and he's pulled the right strings on this team's depth.
Perhaps just as importantly, Spoelstra is not Tom Thibodeau.
We backed Thibs against J.B. Bickerstaff, but Spo is another animal. Thibs did a nice job in Round 1 and even made a few adjustments, but history tells us not to trust him. He's only ever advanced to one Conference Finals, where he got crushed by Spoelstra's Heat. He's been on the wrong side of three bad series upsets, a 4-vs-5 in five games, 3-vs-6 in five games, and 1-vs-8 in six.
The Knicks somehow had the third best ORTG in the NBA this season, and the "somehow" wasn't shooting. New York ranked bottom 10 in eFG% and is last among all 16 playoff teams in True Shooting, a wild feat for a team that's won four of five. So how was the Knicks offense efficient? They did everything else. They ransacked the offensive glass, where they crushed Cleveland, and they got to the line a lot and almost never turned it over. The Knicks offense wasn't great; it just got a lot more chances.
Last round, that was enough against Bickerstaff's undermanned Cavs team. I'm not sure those edges will be there against Miami. The Heat rank top-seven defensively in foul rate, defensive rebounding percentage, and turnover rate, neutering those perceived New York advantages. So how will New York score? It might have to come down to individual brilliance from Brunson or Julius Randle, dealing with that ankle injury. Yikes.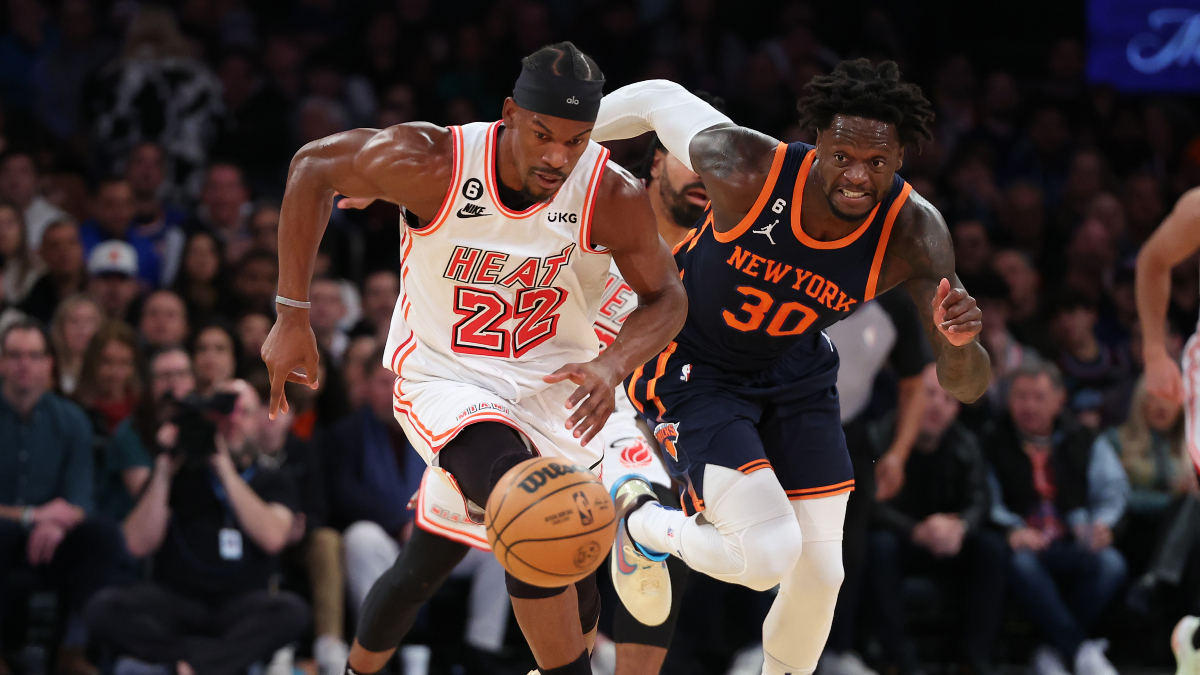 Of course, those Knicks strengths also neuter Miami's defensive strengths, and the Heat offense offers little outside of Butler and even less without Tyler Herro, who was huge in the regular season series.
So what's the case for the Knicks? If we trust what we saw late in the season, this is a mismatch. The Knicks are 41-21 since Dec. 4, third on offense and top 10 defensively. The Heat had a -3.6 Net Rating after the All Star break and ranked bottom five on defense, and they nearly missed the playoffs altogether until a late Bulls collapse. New York won the season series 3-1, all in the back half of the year. If the Heat play like they did during the regular season, this ends badly.
New York has a huge depth advantage, especially once Randle and Quentin Grimes are ready, I'll look to play Knicks second quarters once healthy.New York had a +4.6 Net Rating in the 2Q, 4th best in the regular season. Miami lacks depth and was a miserable -15.7 in the second quarter against Milwaukee. Randle will be an important mismatch once he's ready, though he's also prone to turnovers. The numbers tell us the Knicks have a big home advantage against the Heat's -2.1 road Net Rating in the regular season (No. 16).
I see plenty of slow, ugly, 90s-type games with close endings — and that's advantage Heat. That's where it makes all the difference to have the best player on the court and the best coach in the world. The Heat are 15-8 in 3-point games and ranked fourth in fourth-quarter Net Rating, plus an absurd +44.0 in Round 1.
More than anything, expect this series to be unpredictable and come down to shot variance. New York takes a ton of 3s and allows a ton of 3s on defense. Miami is even more extreme in the same way — but neither of these teams was any good shooting the ball all season. We're going to get nightly 3-point shootouts between teams that can't shoot. Good luck predicting that.
I'm eyeing 3-point overs for Gabe Vincent and Kevin Love. Vincent was a no show in Game 3 but averaged 15.8 PPG on 8.0 3-point attempts a game otherwise. Love played at least 20 minutes four times against the Bucks and had at least two treys in each, averaging 3.3 per game. He averaged 8.5 RPG in those outings and could make a big impact this series as an elite rebounder and good floor spacer. Brunson saw his 3-point attempts rise from 4.7 to 6.2 per game in Round 1, so he's an over target if he remembers how to shoot again. I also want Josh Hart rebounding overs, especially if Grimes or Randle are out.
The best play this series may just be game-to-game unders. Knicks unders went 5-0 Round 1; these teams rank bottom five in Pace and played a snail-tastic 93 pace in the season series. Then again, two of those games finished at 242 and 247 points when neither team could miss its 3s, so you never know when a wild outlier over will hit too. (See what I mean about unpredictable?)
Okay, so what's the pick? I'm back to where I started: Jimmy and Spo. This is an NFL style pick. If we're expecting close games, I want the quarterback and coach I trust late. Besides, doesn't it just feel like Thibs should be the first coach to lose to two No. 8 seeds?
THE PICK: Split bet on Heat in 6 (+450 BetMGM) and Heat in 7 (+600 FanDuel), implied +208
GAME ANGLES: Bet Unders aggressively
PROPS: Bet 3s overs for Gabe Vincent, Kevin Love, and Jalen Brunson; Rebounding overs for Love and Josh Hart
Pick: Heat Win Series 4-3
---
THE BETS

Nuggets vs.

Suns
I'm still not positive we really know all that much about Kevin Durant's Suns.
Durant is 12-1 with Phoenix, but that's 11-0 against teams outside the top half of the league or missing a star, 1-0 against Kawhi Leonard playing on a torn meniscus, and 0-1 in the only fair matchup with Leonard healthy — and Paul George was out for that one.
The Suns' first-round profile looked like what we saw in the regular season Durant games. The offense is obviously good. They don't turn it over, live at the line, and have three guys who can get to their spot and get a middie up at any time. The defense is just as poor. They foul endlessly, don't force turnovers, and get beat on the glass. They're also giving up good shots but aren't being punished yet because they haven't played anyone.
That's about to change in a hurry.
The Nuggets are starting to look like they did in January when they played title contenders. Nikola Jokic is awesome and playing an extra five minutes more than in the regular season. Jamal Murray was playing at an All-Star level in January, then got hurt before Denver's swoon. He looks healthy and was brilliant in Round 1. So was Michael Porter Jr., who snipes as well as anyone in this series and averaged 8.0 RPG in Round 1, way up from 5.5 in-season. Porter is an elite positional rebounder and could be a boon there, so watch his props.
Since the Durant trade, everyone has wondered how in the world you stop this Suns offense, but I think that's the wrong question. You beat the Suns, not with defense, but with superior offense.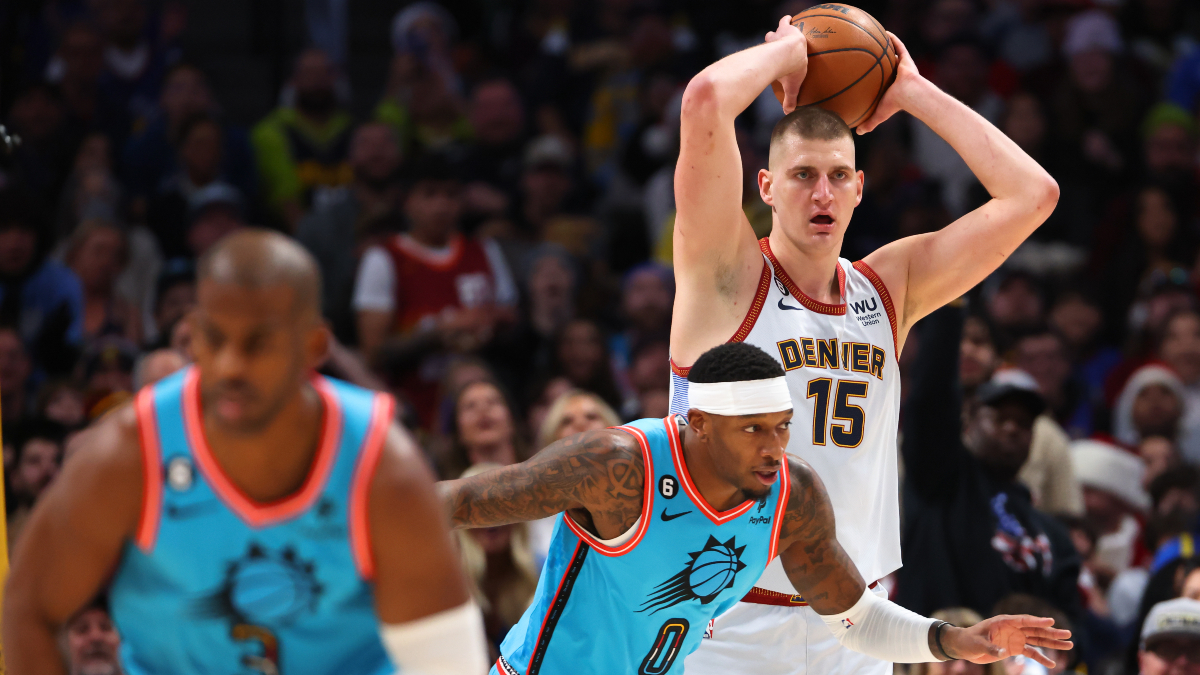 When they're humming, the Nuggets are the best offense in the world. Jokic is the ultimate conductor. He scores efficiently inside and out and magically turns anyone sharing the court with him into one of the most efficient scorers in the world. Jokic is a one-man elite offense, perhaps unlike anyone in league history. He's solved Deandre Ayton, who was miserable defensively Round 1.
The Nuggets should score with ease, and they'll score efficiently. That brings us back to the Suns. Is Phoenix actually efficient? The Suns made an otherworldly 55% of their mid-rangers in Round 1, a bafflingly unsustainable number — but that's equivalent to 37% on 3s. Denver made 58% of its 2s and 38% of its 3s.
Phoenix is shooting its own offense in the foot by taking the worst shots on the court. Only 40% of Suns shots came on 3s or at the rim in Round 1. That's fewer than half the shots nearly every other NBA team is prioritizing. The Nuggets can be beat at the rim — but not if Phoenix doesn't attack it. The 3s math is a problem. Journeyman Torrey Craig hit 10-of-18 3s in Round 1, but the rest of the team shot only 20 per game combined.
I don't mind the Nuggets' defensive matchups. Aaron Gordon can make Durant work, likewise for Kentavious Caldwell-Pope on Devin Booker. Denver's subpar defense could weirdly help them in some ways. It will invite Phoenix to keep getting to and shooting those inefficient middies. The Nuggets are also very good at not fouling. If they just force Phoenix to make 2-point jumpers all series without an advantage on 3s, at the line, or on the glass or turnovers, that's just a really tough equation for the Suns to win.
The smaller edges seem to tilt in Denver's favor too.
Both teams are far better at home than on the road. Denver has an extra home game, including two of them in elevation on minimal rest against a team playing its top guys 40-plus minutes. Phoenix's lack of depth could be a serious problem. Denver is most vulnerable in the non-Jokic minutes, so if the Suns can't hurt them there, it's a huge opportunity lost.
The Suns played six guys over 11 MPG in what should've been an easy Round 1 series against a team missing its two stars. They effectively played four guys 40-plus minutes, if you count Craig and Okogie as one combined player.
The fan in me hopes for a healthy series from both sides, but the bettor in me sees extreme red flags for the workload Durant and Chris Paul are putting in. Durant played at least 41 minutes in all five games. The last time he did that was the end of Brooklyn's playoff run last year. The last time before that was May 2019, when he played six such games, got hurt for a month in the seventh, returned for one game in the NBA Finals, and you know what happened there. His last time before that was 2014.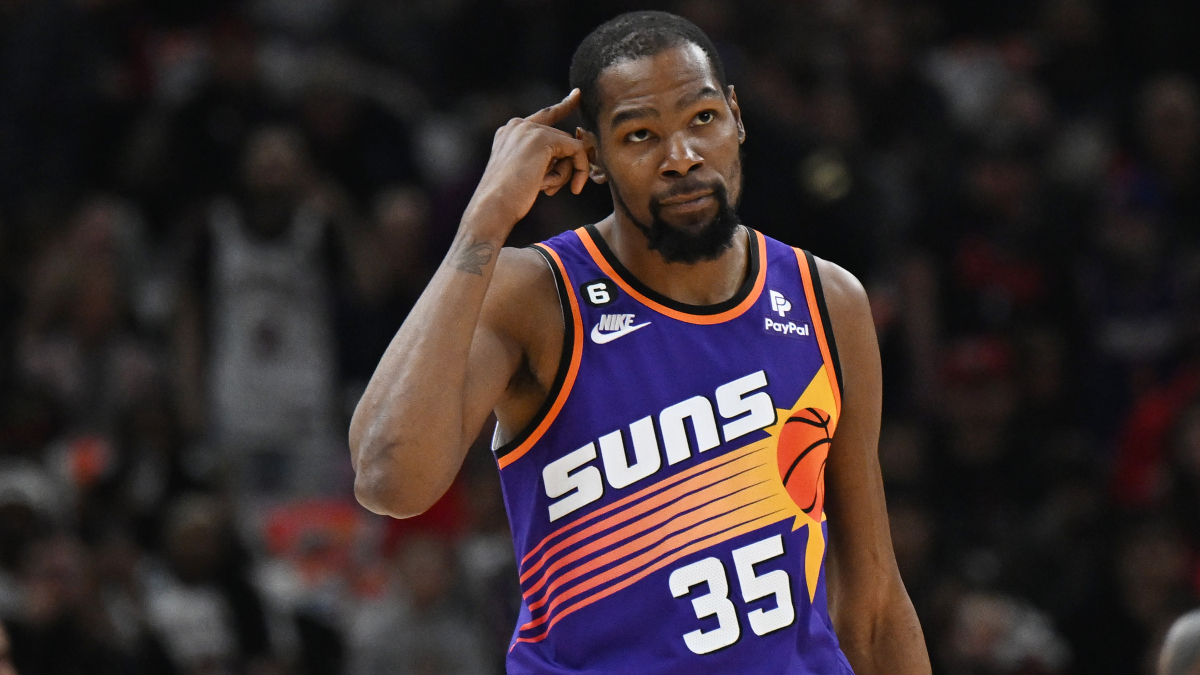 Paul played 37 minutes or more all five. His last such streak was eight games last February, after which he promptly missed a month. Before that, it hadn't happened since 2015. It's simply unsustainable to play Booker, Durant, and CP3 this much, especially since we go to every two days for the series starting in Game 3.
Something has to give. A bad Phoenix bench may have to get run — one way or another.
I like the Nuggets. They may not have the best collection of stars, but this is about team over stars. Denver is the better team, and the playoffs are where all that earned experience comes through. Denver has also proven to be great in the clutch with Jokic, while the Suns had a -9.9 Net Rating in regular season clutch minutes and went 4-9 in 3-point games and 1-3 in overtime.
I entered the playoffs underwhelmed by the Suns and saw little reason to think otherwise against the Clippers. Devin Booker was out of this world — and I love his assists overs, at 6.7 APG in Durant games — but basketball is not just Book and KD taking turns hitting jumpers and CP showing up for 10 minutes a game late.
Give me the team, not the stars. And I'm getting the best star with that team anyway. Give me the Nuggets.
THE PICK: Bet Nuggets +120, with escalator Nuggets -1.5 series line +260 (BetRivers)
PROPS: Michael Porter Jr. rebounding overs, Devin Booker assist overs
---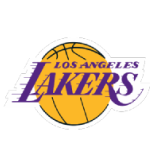 Lakers vs.

Warriors

Well, we got it. We're really doing this. Steph vs. LeBron V, one more time. The Final Reckoning.
You already know the history. You watched the four straight Finals. You know what's on the line with legacy and narrative. You realize Stephen Curry is 15-6 SU lifetime against LeBron James in the playoffs, literally a 59-win pace against the King. Oh you didn't realize it was that good? Fine, now you know.
But look, these are not those Warriors, and the Lakers are not at the level of those Finals teams James carries. These are two flawed rosters, deserving No. 6 and No. 7 seeds, fighting for the right to lose slightly later in the playoffs, if we're being honest. This isn't the Finals.
I'm worried everyone is overrating the Lakers after dispatching the outmatched Grizzlies.
Memphis was missing Steven Adams and Brandon Clarke and playing with an injured Ja Morant. The Grizzlies barely made 40% of their shots, including 31% on 3s, and the defense and rebounding were badly compromised. The Lakers get some credit for that! But no defense gets credit for an opponent at 46% EFG. That's just bad shooting more than anything else.
As for the Lakers offense? L.A. had a 110 ORTG, just 10th of 16 teams. They were 11th in EFG and had the fourth worst turnover rate, and they were barely above 50/50 on rebounds. Not a sparkling profile against a team missing its bigs.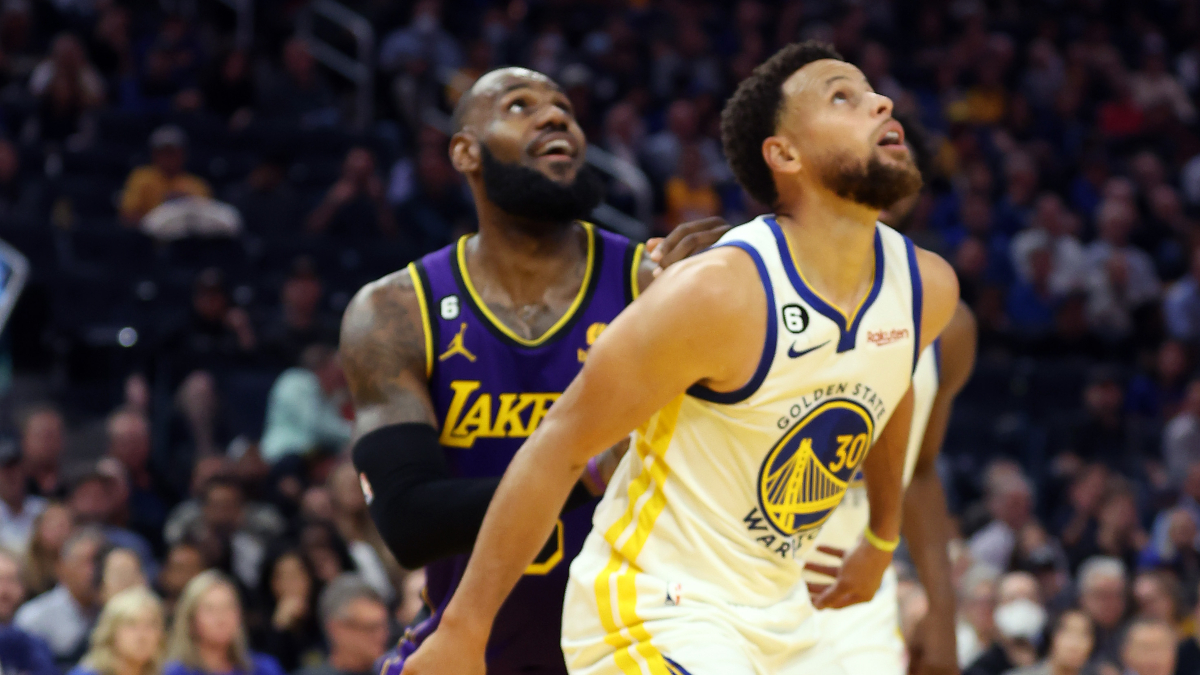 The Lakers offense didn't look or play great, and I don't see that changing.
L.A. is a reluctant, terrible 3-point shooting team, unable to take advantage of a mediocre 3-point defense. Golden State is much better defending 2s, L.A.'s preferred attack. The Lakers defense improved a ton after the trades, but the offense barely budged. It's just not that good.
The one huge advantage will be at the line, with the Warriors fouling a lot and rarely getting to the line and the Lakers practically living there. The Lakers will win the free throw battle, probably badly, by a wide enough margin that we'll be stuck debating refs for two weeks. The Lakers get to the line, the Warriors don't. We know this. L.A. made 4.6 more free throws per game than the Warriors this season.
Hey, you know what the Warriors offense did more than the Lakers? Make 3s.
The Warriors led the league in 3-point attempt rate, and the Lakers allowed the sixth-most attempts. L.A. actually allowed slightly more 3s after its trades too. Who's chasing these Warriors shooters around screens and cuts and all that relocation magic? D'Angelo Russell and Dennis Schroder? Troy Brown?
The Warriors will get their 3s up. The big question this series is whether they'll make them.
Golden State has some pretty good shooters. The Warriors hit 38.5% of their 3s, second best in the NBA. The Lakers defense allowed a ton of 3-point attempts — but opponents made only 34.4% of them, so L.A. had the second best 3-point percentage defense in the league.
So which side of that wins out? That remains to be seen. History tells us 3-point defense is unsticky and unpredictable. It also tells us Curry and Klay Thompson are pretty good at making shots. I'll take the Warriors.
Golden State made 5.8 more 3s per game than the Lakers. The Warriors will have the 3s advantage; the Lakers will have the free throws. But therein lies the problem. The extra 4.6 Lakers free throws each game are worth … 4.6 points. The 5.8 additional Warriors 3s are worth 17.4 points.
You've heard plenty about three is greater than two. This series is about three is greater than one. The Lakers can't beat Golden State's 3s with free throws. It's just not happening.
I'll be betting Warriors 3-point overs. Curry was an outrageous 4.9-of-12.9 on 3s in Round 1. Both numbers are effectively playoff-record pace, and the volume may actually go up. Curry made 5+ 3s in five of seven against the Kings. His 3s line should, ridiculously, be 5.5 at least. Curry is -320 to lead the series in 3s (DraftKings). That's basically a two-week loan returning 31% interest barring injury.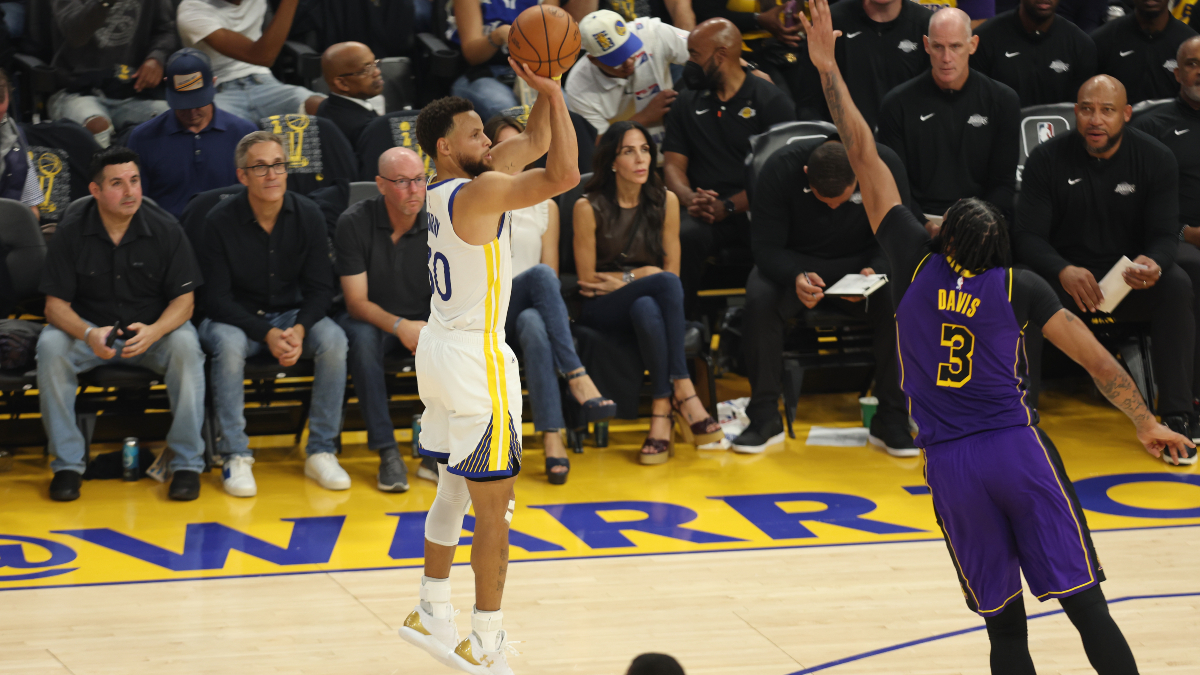 The Warriors have the better roster. They have four of the top six players in the series by any real measure, and Kevon Looney and Jordan Poole might be next.
It feels like the Lakers have the advantage at the top with both James and Anthony Davis, but I'm not so sure. Those two were +5.5 Net Rating on court this season per Pivot Analysis, but Curry and Draymond Green were +7.7. History tells us that Warriors duo together is effectively a Transformers super-duper star — maybe even better than James and Davis.
There little edges tilt Golden State's direction too.
L.A. also rarely forces turnovers. The Lakers defense ranked second-to-last and only improved to 27th after the trades. The Warriors rank dead last in turnovers. It's always been their Achilles heel. The offense is the best in the league when it actually gets a shot up, but the turnovers prevent that and also lead to easy buckets the other way. If L.A. can't find a serious edge there, that's a huge miss.
The Warriors are awesome at home and have home court. They've won at least one road game 28 consecutive series. If the Lakers can only win two at home, they have to win twice at Golden State. And we can probably put the Warriors' road woes to bed after pivotal Game 5 and Game 7 wins.
This series goes every two days all the way to Game 7. The Lakers have a rest advantage now, but they're playing James and Davis 38 MPG outside of the blowout finale and I worry those two will wear down over a long, fast series.
Give me Steve Kerr over Darvin Ham. Quibble about how much — significant if you ask me — but that's just one more area the Lakers will be at a disadvantage.
I like the Warriors. I don't love them — these are not the dynasty Warriors, not anymore. But I see a clear edge in their favor.
What's the case for the Lakers? L.A. is excellent in the fourth quarter, third in Net Rating including +9.6 at home, while the Warriors are -7.6 in road fourth quarters. Maybe the Lakers road Game 1 against a tired team, win two of three at home with late flourishes, and James turns back the clock to steal Game 5 or 7 on the road.
It's certainly possible! These teams are flawed, and James is great. But I'm not betting on it.
I do think the series goes long. These rosters are too flawed and too tired for either side to totally dominate. And let's be honest — the NBA would love to make sure we get every game and every second of LeBron vs Steph possible.
I like the over 5.5 games but it's juiced to -190. I'll effectively parlay that with a Warriors win instead by splitting my bet on Warriors in 6 or 7 at +190 implied (34%).
THE PICK: Split bet on Warriors in 6 (+550 DraftKings) and Warriors in 7 (+425 Bet365), implied +190
GAME ANGLES: Bet Warriors 3s overs, especially Curry til books adjust
PROPS: Bet Steph Curry to lead the series in 3s
How would you rate this article?
This site contains commercial content. We may be compensated for the links provided on this page. The content on this page is for informational purposes only. Action Network makes no representation or warranty as to the accuracy of the information given or the outcome of any game or event.