NBA Player Props Betting Forecast: Zion Williamson, Anfernee Simons, Keegan Murray Have Value This Week
Credit:
Brian Rothmuller/Icon Sportswire via Getty Images. Pictured: New Orleans Pelicans Forward Zion Williamson (1).
Welcome to the first installment of our Player Prop Forecast! This will be my weekly opportunity to share some of my insights with you for my player prop targets, even if we don't have lines yet.
We've been doing our best to project some of the new young talent or how to pivot off of injuries in the early goings of the season but it's far too often that the books do not release lines on these targets until 15 minutes prior to tip.
The idea here is to give you the tools to identify these spots and be ready to jump on these props whenever they open. Although this is not a Fantasy Basketball piece, many of these takeaways should help you identify risers and fallers in your respective leagues.
I have been tweeting any of my initial takes for players such as Tari Eason, so be sure to follow me there (@JoeDellera) for updates throughout the week.
Players to Watch
Zion Williamson and the Rise of Trey Murphy
Schedule: Wed. at Lakers | Fri. vs. Warriors | Sat. at Hawks
The New Orleans Pelicans have already been dealing with a variety of injuries to Brandon Ingram (concussion), Zion Williamson (hip), and Herb Jones (Knee). Williamson returned on Sunday and flirted with a triple-double (21/12/7) in 30 minutes — he did not look limited at all.
Brandon Ingram may miss the Pelicans' next game at the Lakers considering he did not travel with the team. Ingram's absence has opened up plenty of opportunities for his teammates considering his 28.3% Usage Rate is not on the court.
While I'll discuss Williamson momentarily, Trey Murphy has been excellent as a starter for the Pelicans, and his prop lines originally opened at 13.5 points, 4.5 rebounds, and 1.5 3s. Since Ingram went down, Murphy has averaged 16.5 points, 6.0 rebounds, 1.0 assists, and 3.3 3-pointers across the four games (one off the bench, three starting). These prop lines have changed a bit, he was just set at 12.5, 5.5, and 2.5 3s (+110) in Sunday's game against the Clippers.
The concerning thing with Murphy is his usage, he's maintained a Usage Rate of just 12.3% and a preposterous 155.3 Points per 100 Shot Attempts, per Cleaning the Glass. Additionally, his shot volume is decreasing and he's only taken four 3s in consecutive games.
While a matchup against the Lakers may seem like a great spot to back him, the Lakers' defense has not been their issue and they have the fifth-best Defensive eFG% in the league at the time of this writing.
It's an uncomfortable spot, but under on his 3-point prop may be prudent in the near future, and even though he has been incredible, it will be difficult for him to maintain a consistent offensive role for the Pelicans once Ingram returns.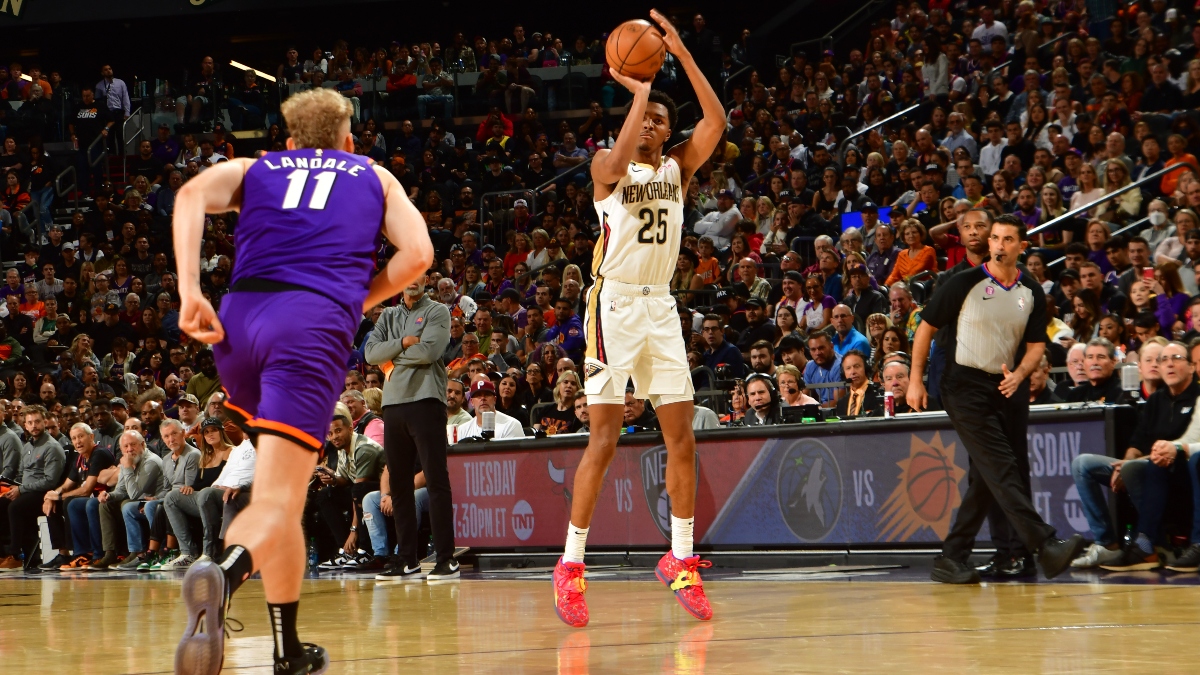 Without Ingram, Zion has stepped up with a higher Usage Rate over his career. He scores about one point more per game and his assists increase from 3.2 per game to 4.2 and he just logged seven assists against the Clippers.
One thing that is continually surprising regarding Williamson is how much the books struggle to set his lines. There's this endless narrative that he will be managed and limited, following his returns from injury, but over his last 25 games, Williamson has played fewer than 30 minutes in just three of them. When he's active, he plays real and meaningful minutes.
His prop line overs were set at 23.5 points (-110), 6.5 rebounds (-139), and 2.5 assists (-145). The last two seasons he has played, Zion averages 26.7 points, 7.3 rebounds, and 3.7 assists per game. While his scoring has dipped a bit this season — maybe it's some rust or he does not need to score as much — the prop I think is most exploitable is his assist line.
He has recorded three or more in two of four games this season, but looking back to the 2020-21 season, he recorded three-plus in 40 of 61 games (65.6%) and four-plus in 33 of 61 (54.1%). In 20/21 he was averaging 7.1 potential assists — his ability as a creator is notable.
The Pelicans still do not have a true point guard and if there is an opportunity to bet on Zion at 3+ again you absolutely need to do it, and 4+ as well, especially if it is at a plus money number, which is what I would expect against the Lakers on Wednesday.
---

Dame Simons Time in Portland?
Schedule: Wed. vs. Grizzlies | Fri. at Suns | Sat. at Suns
Damian Lillard is expected to miss some time with a calf injury and the initial time table was 1-2 weeks. He has already been ruled out for the Trail Blazers' next game on Wednesday against the Memphis Grizzlies and that would have marked one week from the initial diagnosis.
As a result, Anfernee Simons has seen his usage skyrocket and this should continue. In his first game without Lillard since last season, Simons exploded for 30 points, five rebounds, seven assists and seven 3-pointers on 15 attempts. That is monstrous usage but it falls relatively in line with what he was doing last season without both Lillard and CJ McCollum. Without those two over the past two seasons, Simons is averaging 26.8 points, 6.4 assists, and 2.8 rebounds with 5.1 made 3s.
Against the Rockets on Friday, his prop lines were set at 23.5 points, 4.5 assists, and 3.5 3s. If these are not adjusted then these are all lines that we should be targeting until Lillard returns. The assist and 3-point lines are particularly low and he's recorded 5+ assists and 4+ 3s in 11 of 16 games without Lillard and McCollum.
If those lines feel a bit steep for you, the next pivot on the roster is Shaedon Sharpe, who just recorded 14 points, 1 board, and 2 assists in his first career start. Personally, I'd stay away from the rookie because his contributions are inconsistent and he is not reliably contributing aside from his scoring, so if the shot is not falling he could find himself losing minutes to another hot hand.
---

A New King in Town?
Schedule: Mon. at Hornets | Wed. at Heat | Sat. at Magic
While there has been much talk about rookies Paolo Banchero and Bennedict Mathurin, the Sacramento Kings' rookie Keegan Murray has been incredible to start the season.
Murray is averaging 18.8 points, 4.0 rebounds, and 3.3 3s on 7.8 attempts per game. He has been excellent in a featured role and is a nice complement to De'Aaron Fox with his ability to stretch the floor. Murray first saw his prop lines open around 14.5 points, now they are touching 17.5 for Monday's contest against the Hornets in what should be a fast-paced game. At 17.5 in that game, I would take the over.
While he is not stuffing the stat sheet all around, he is their starting Power Forward for the foreseeable future, and he will get plenty of opportunities and minutes to contribute.
His rise may cut into Harrison Barnes' role in the long term, but as long as the Kings do not trade him after a nice start to his career (See Tyrese Haliburton), Murray should easily become the No. 3 scoring option for this team and may move into the No. 2 spot since Sabonis is not a massive scoring threat.
I will continue to back Keegan Murray, especially his 3-point prop (3+ in every game) until the books adjust.
How would you rate this article?
This site contains commercial content. We may be compensated for the links provided on this page. The content on this page is for informational purposes only. Action Network makes no representation or warranty as to the accuracy of the information given or the outcome of any game or event.