Raybon's Favorite NBA Player Props for All 4 Saturday Games
Credit:
Soobum Im-USA TODAY Sports. Pictured: San Antonio Spurs small forward Rudy Gay (22).
Chris Raybon breaks down his favorite NBA player props for Saturday's four playoff games.
Props for the afternoon games include 76ers SF Jimmy Butler's assists, Raptors PF Pascal Siakam's points and Raptor's SG Danny Green's points.
Props for the night games include rebounding totals for Warriors C DeMarcus Cousins and Clippers G Shai Gilgeous-Alexander, as well as point totals for Clippers PG Patrick Beverley, Spurs PG Patty Mills, and Spurs F Rudy Gay.
The playoffs are a different beast than the late-scratch laden end of the regular season. Rotations and playing times will be a lot more predictable now, which makes it a little easier to find value on overs.
Still, my general postseason philosophy is to target unders for role players on the road — especially points props. The game tends to slow down in the postseason as teams become more deliberate about ensuring their best players are taking the most shots. Save for a few sixth-man types like Lou Williams and Terrence Ross, a role player wouldn't be a role player if his main role was to score.
The ideal situation is to cash unders on role players on the road, then  either take advantage of their lowered props when their team returns home, or target unders for the opposing team's role players, who hopefully did enough during the homestand to warrant an artificial increase in their props, thereby creating value on the under.
The one type of under I do try and avoid in the postseason is point props for a team's top scorer(s). For example, our NBA Player Props Tool likes the under on DeMar Derozan's points prop — certainly justified since the Spurs are implied to score well below their usual average — but unlike the regular season where he'd likely just be pulled late if he or the team is struggling, in the playoffs he might just resort to iso ball and inefficiently blow right past his line.
I also tend to target more matchup-specific spots than I would during the regular season since we have a larger sample size of matchups between the two teams to look back on, and also because there simply aren't as many mis-priced props on the market with fewer teams in action.
But enough of that actually-writing-an-intro shit. Let's get to it.
As a reminder, the FantasyLabs NBA Player Props Tool leverages our projections against odds offered at various sportsbooks and grades each prop on a scale of 1 to 10. All odds as of 12:15 p.m. ET. View live odds here.
---
2:30 p.m. ET on ESPN
76ers SF Jimmy Butler Over 3.5 Assists (-130)
I feel like we barely get to bet 76ers props because Joel Embiid's status is always in question and books take their props down out of fear, but the early start and this being the opening game has forced their hand.
I'm generally not a big a fan of betting assist props because it's like betting on three people instead of one: The passer, the shooter, and the official scorer.
That said, this is a good spot to bite on the assist prop for Teenage Mutant Jimmy Butler.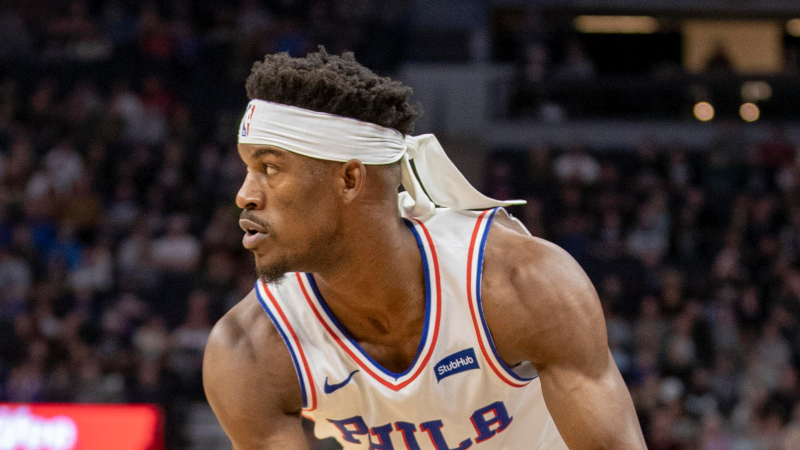 Butler is averaging 4.0 assists in 33.2 minutes per game with Philly, and even though Brett Brown is no Tom Thidbodeau, Butler could approach 40 minutes of playing time now that it's the postseason.
And Butler tacks on another 0.7 assists per game when Embiid is out, according to our NBA On/Off tool, which brings his average to 4.7 — meaning there should be some nice cushion even if the line gets juiced up or increases.
Given his average without Embiid and likely playing time increase, I'd bet this up to Over 4.5 at standard juice.
---
5 p.m. ET on ESPN

Raptors PF Pascal Siakam Under 17.5 Points (-115)
This is an outlier relative to most of my other plays today, in that Siakam is his team's second-leading scorer and is at home, but points won't come easy for him in this matchup.
Jonathan Isaac and Aaron Gordon (along with Wes Iwundu off the bench) make Orlando one of the toughest defenses in the league for opposing forwards to score against, helping the Magic to the third-best scoring average allowed to power forwards during the regular season (20.0, per Hashtag Basketball).
Siakam managed to hit 13 of his 38 field goals across four meetings with Orlando, and his 8.8 points per game against the Magic is his lowest against any team.
Siakam has dropped 18 or more points in only 29-of-79 (36.7%) starts and his median outcome is 16. Since the tough matchup should offset the few extra minutes he's likely to see (he averaged 31.8 but our NBA Player Models have him at 35.5 for this afternoon), this should have value down to Under 16.5 at standard juice.
Raptors SG Danny Green Over 3.5 Rebounds (+100)
Everyone in Toronto's starting five can rebound, but when you're getting even money for a player to do nothing more than hit his season average, I think you gotta take it — especially at home against a neophyte postseason team in the Magic that could struggle to shoot efficiently out of the gate against Toronto's top-five defense in field goal percentage allowed (44.9%).
Green is averaging 4.0 boards in 27.7 minutes on the year and should be able to come up with a rebound per quarter against a Magic squad that allowed the fifth-most per game to his position (6.3).
Toronto's less popular San Antonio transplant has secured an average of 4.5 rebounds in 26.8 minutes in Toronto's four prior meetings with Orlando this season, grabbing at least four in each of the past three.
Four rebounds is Green's median outcome, so I'd play this as long as the line doesn't jump to 4.5. Our NBA Player Props tool rates this as a perfect 10 in Bet Quality, and props rated as such sport a 59%/39%/2% win/loss/push rate since the start of the season.
---
8 p.m. ET on ABC
Warriors C DeMarcus Cousins Over 8.5 Rebounds (-115)
Since the Clippers play a lot of three-guard lineups and their go-to guy, Danilo Gallinari, plays the four, Kevin Durant and Draymond Green may not be able to roam and hit the defensive glass as freely as they normally would — someone's gotta stay attached to 45.0% sniper Landry Shamet — so I think Steve Kerr will rely heavily on Boogie to clean the glass in this series.
Boogie has grabbed nine or more boards in seven of his past nine games despite playing limited minutes for much of that stretch, and you know he's going to want to put up numbers in his first-ever postseason game. He ripped down 15 boards in 38 minutes across two meetings with the Clips this season, and if he continues at that pace he might hit the over by halftime.
He's finished with double-digit rebounds in 55.6% of the games in which he's played at least 28 minutes, so this should have value up to Over 9.5 at -125 or 10 flat at standard juice.
Clippers G Shai Gilgeous-Alexander Under 3.5 Rebounds (-114)
When Gilgeous-Alexander declared for the 2018 draft after one season at Kentucky, I remember thinking he still looked more like a high school freshman than a college freshman.
Despite his slight frame, he has acquitted himself well in his rookie season, playing in all 82 games and starting 73 — but his rebounding numbers are exactly what you'd expect from a 181-pound rookie guard. He's averaging 2.8 in 26.8 minutes a game, and that drops to 2.5 on the road and 2.2 in losses.
Save for a long rebound or two off of a missed 3-pointer, the odds are against him exceeding this prop against a Warriors team that allows the fewest rebounds to point guards (5.3) and the third-fewest to 2-guards (5.5).
Gilgeous-Alexander has come away with four or more rebounds in 31.5% of his starts, and even after accounting for the 20% increase in minutes our models have him projected for, the under would have value up to -165.
Clippers PG Patrick Beverley Under 9.5 Points (-114)
Beverley isn't the typical role player you expect to no-show on the road in the playoffs, but I'm betting that his focus will be geared toward stopping the Dubs' rainmaking backcourt duo of Steph and Klay.
It's also worth noting that Beverley's scoring average dips by a full two points in losses (8.4 to 6.4), and he's committed a ridiculous 12 fouls in 73 minutes against the Dubs this season.
The total is rising in this game so I wouldn't play the under on this prop any lower than 9. Speaking of which, this prop grades out as a 9 in our props tool, and points props rated as such have hit at a 61% clip this season.
---
10:30 p.m. ET on ESPN
Spurs PG Patty Mills Under 9 Points (-114)
I was hard on the Nuggets in our Staff Favorite Bets article, but that doesn't mean I'm not expecting a strong defensive effort from them at home in Game 1.
No team allowed fewer points per game to opposing backcourts than Denver during the regular season (41.7, per Hoops Stats), and you can count Mills among its victims: The 10-year vet bricked his way to 5.0 points per game on 26.1% shooting in the four matchups.
That said, this is his median outcome and he's a 39.1% career shooter from deep who is certainly capable of knocking down three triples, so I wouldn't touch this if it gets below 9.
Spurs F Rudy Gay Under 13.5 Points (-115)
Gay's numbers against the Nuggets aren't pretty, either: 9.3 points on 31.1% shooting in 24.3 minutes per game. In only one of the four matchups did he exceed 13.5 points — and even that was by a half point, literally the slimmest of possible margins.
The Spurs are implied to score nearly 10 points fewer than their season average, and Gay has put up 12 points or less in 57% of his games since the All-Star break, so this one should have value down to Under 12.5 at -130.
Even on days when I don't publish an article, I still throw any props I'm betting on into the Action Network App, so be sure to follow me there all postseason long.
Good luck, and let's get this shmoney!
How would you rate this article?