NBA Playoffs Betting Reactions: Our Mid-Series Thoughts, Picks We're Making Ahead of Game 3s
Credit:
NBAE via Getty Images. Pictured (left-right): Luka Doncic #77 of the Dallas Mavericks, Luka Doncic #15 of the Denver Nuggets, Trae Young #11 of the Atlanta Hawks.
The first round of this year's NBA Playoffs has been awesome. We've already seen multiple upsets, career-highs, game-winners, and even fan ejections — and teams have only played two games in each series.
That gives us the perfect window to analyze and reassess where each series stands but also how some of our pre-playoff bets are shaping up … or not.
Below, we've asked our NBA analysts a series of questions about bets they have already made and ones they plan to make before each series switches to the venue of the lower seeds.
Check out their thoughts and series bets below.
Series Bet You Made That You Are Most Confident In
Joe Dellera: Knicks-Hawks Over 5.5 Games (-167)
Considering these two teams are now tied 1-1 after splitting the first two in New York, we just need one more win on each side to secure this play.
These teams are very evenly matched, and although the Hawks might have more offensive firepower, the Knicks' hustle and defense are keeping them in this series. Julius Randle and RJ Barrett are both accustomed to playing big minutes and they can continue to push themselves in this series.
Additionally, head coach Tom Thibodeau has finally moved off of Elfrid Payton in the rotation. He's getting minutes, but they're limited (just 13 total minutes in two games), which is a great thing for the Knicks. He's a clear negative for them when he's on the floor due to his inefficiency on offense and his abysmal defense, particularly when tasked with guarding Trae Young.
Additionally, Randle and Barrett have yet to truly get cooking offensively and maybe a trip on the road will help. Both of these teams are flawed and this should keep either from ripping off three consecutive wins.
It's pretty clear after two games that the Hawks are definitely better than the Knicks. In fact, the Hawks are so much better than the Knicks that I actually thought this bet was in some trouble at halftime of Game 2 when it looked like Atlanta would steal both road games and have a chance to head home for the sweep.
Luckily, Nate McMillan and the youth of this team came to the rescue. McMillan sat on his hands as the Knicks ripped off a 30-8 run in the second half, while Trae Young watched from the bench for much of it despite absolutely having his way with this team.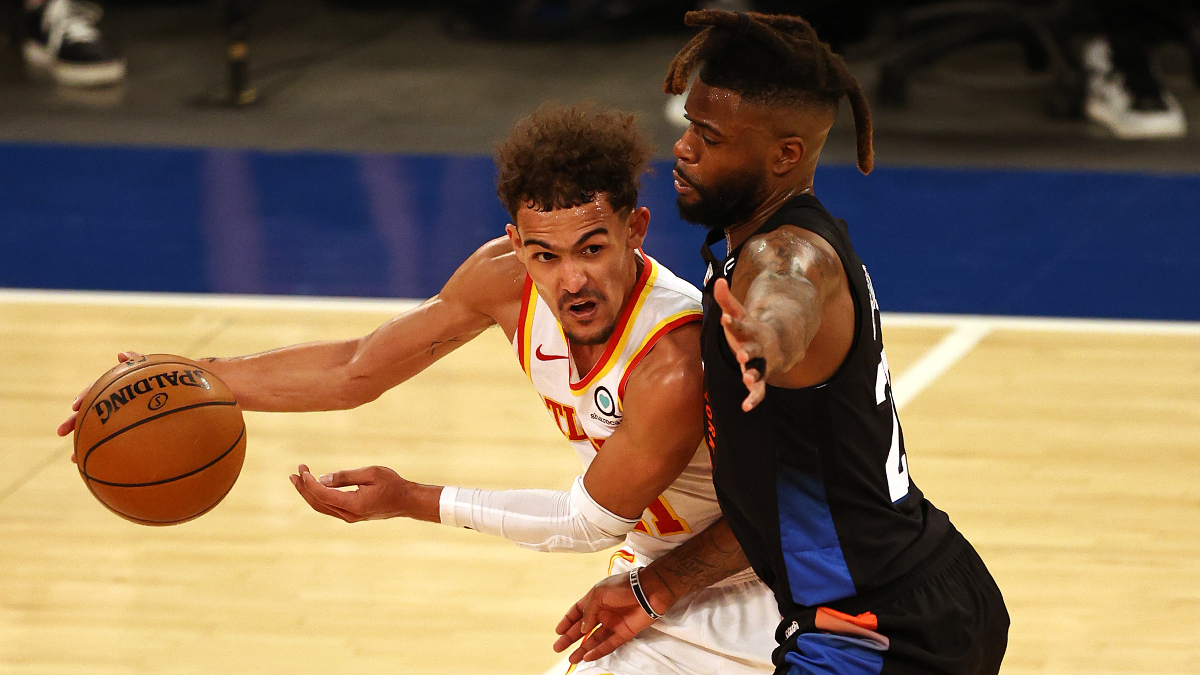 McMillan could've probably just played Young four or five more minutes, locked up a 2-0 series lead, and this bet would've been shot. Instead, the Hawks bench got run, their youth shined through on the road, and we're tied up at one.
And all the better for my bet. My favorite series bets going into the playoffs were Hawks in six and Blazers in six. In both cases, I like the lower seeded team significantly more than the home favorite and because the lower seed winning happens far most often in Game 6, that one last home game stuck between a pair of tough road closeout opportunities.
It's really tough to win a road closeout Game 5, and it's even harder to win on the road in Game 7, where the home team wins around 80% of the time. I just need the Hawks to win three of the next four, with three of them at home away from the MSG crowd, and send the clearly more talented team on to the second round.
Matt Moore: Mavericks +1.5 Wins (+142)
I took Mavs +2.5 at -177 as a bigger position, but this is the more fun one that I dabbled on. I didn't go heavy enough! I didn't go all the way and just bet them to win the series. I said on our podcast last week that all the signals point to the Mavericks. We've seen that play out in the first two games.
Now, I don't think this series is over, despite the 0-2 hole for the Clippers. The Mavericks did shoot unsustainably well even if the Clippers were the worst defense of all time.
The Clippers can come back in this series, if they can find some leadership, or a spine, or any heart whatsoever. I don't mean to dabble in tropes here, but this is honestly a big thing that's been missing the last two playoff runs.
The Mavericks have matchup advantages, which is why they already cashed my Mavs +2.5 series wins. But there are counters the Clippers can make. I'm hoping the Clippers rally so I'm not regretting not just going all the way with Clippers to win the series.
Raheem Palmer: Bucks -275 Series | Bucks -1.5 Games (-145):
We've all heard the saying, a series doesn't start until the home team loses. Nonsense.
Not only has this Bucks-Heat series started, I think it was pretty clear after Game 1 that the Bucks are the superior team after winning despite shooting just 5-of-31 from behind the arc and holding the Heat to just 32% from 2-point range. The Bucks followed that up with an all time great shooting performance: 22-of-53 (41.5%) from behind the arc.
Although the Bucks likely won't continue to shoot as well as they did in Game 2, they've already proven that they can win games even when their shots aren't falling particularly because of their defense, which held the Heat to an Offensive Rating of just 102.1 in Game 2.
Jimmy Butler has been a shell of his usual self and Bam Adebayo has struggled as well. The Heat duo is shooting a combined 17-of-61 from the field through the first two games of this series.
The three headed monster of Giannis Antetokounmpo, PJ Tucker and Jrue Holiday has essentially put Butler in a straitjacket and for a team that has struggled to score this season, there aren't many answers.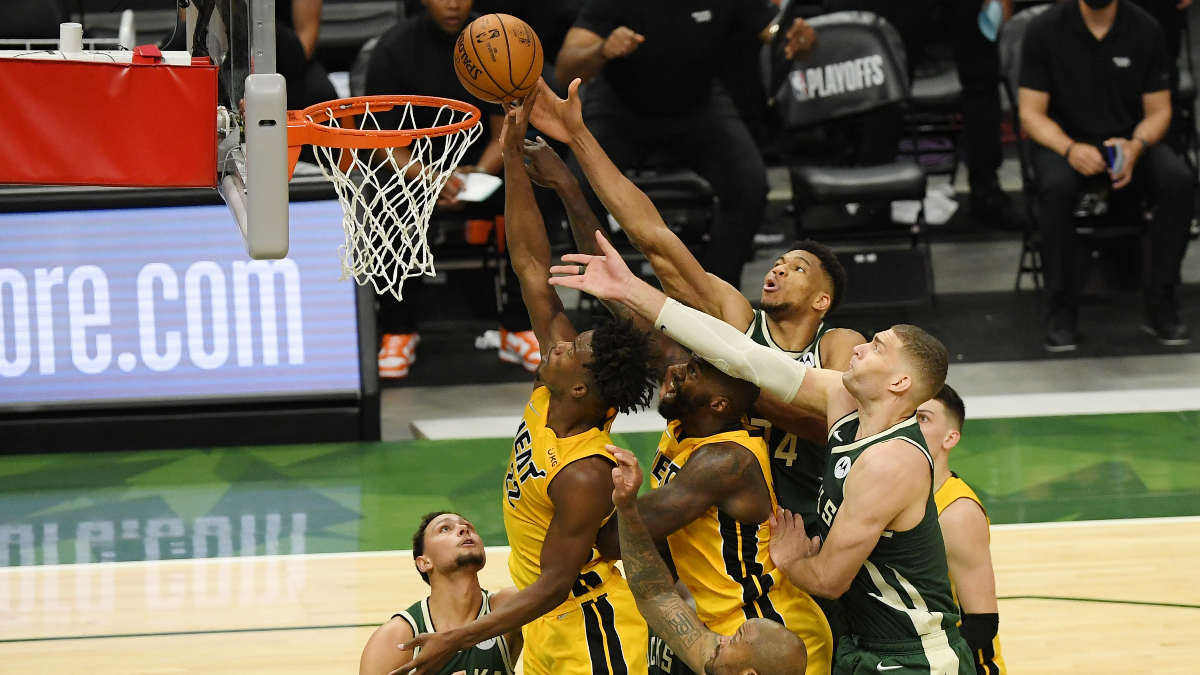 I hate to run a victory lap, but I picked the Heat to go to the NBA Finals last season by defeating the Boston Celtics and I recognized that the Heat were not the same team this season due to the shooting regression from everyone and the loss of Jae Crowder.
Handicapping motivation is typically silly because when it comes to the NBA Playoffs — everyone is motivated. However, this is a special case. The Bucks were the best team in the Eastern Conference in back-to-back season and fizzled out both times. They've dealt with bitter disappointment, they've felt the pain, the anger, the sadness.
I predicted the Bucks to win the series at -275 and also liked them to cover the Series spread of -1.5 games at -140. After two games, I've seen nothing that would change my mind.
Kenny Ducey: Lakers Series Price (EV after Game 1)
It's not just the injury to Chris Paul that's got me confident in the Lakers here, it's the general physicality that we saw in Game 2 from this team. The Lakers out-rebounded Phoenix 39-31, reassuring me that it has the tools to win this series.
Game 1 appears to have been nothing more than a hangover from facing a weak Warriors frontcourt, and Anthony Davis and Andre Drummond appear to be up for this fight against the talented DeAndre Ayton.
I can't believe I'm saying this, but Drummond actually gave L.A. some fantastic minutes in Game 2 and could be the key here to slowing down Ayton. Without Paul making a huge impact on offense, that would leave things up to Devin Booker to be the sole provider of points, which is not a spot that the Suns want to be in. I don't think Cam Payne is going to drop 19 points in every game of the series.
The biggest thing here is the ceiling for the Lakers, which is still super high. Davis scored 18 of his 34 points from the free throw line and was awful from the field, relatively speaking, unsure of when to shoot the ball and shooting it poorly.
LeBron James looked to be less than 100% and opted for many low percentage shots (which, of course, he still hit) as opposed to the aggressive takes we're used to seeing. This team still has a ton of upward mobility, and already has one win heading home to L.A. This could be wrapped up in five.
---
Series Bet You Made That You Are Least Confident In
Anderson: Nets-Celtics Over 5.5 Games +180 | Seven Games +600
I didn't go too crazy on either of these bets, and thank goodness, because this money is already swimming out to Boston Harbor along with the Celtics.
Coming into the playoffs, I loved this matchup for the Nets, not because it would be easy but because it would be tough. I expected a gritty Celtics team that's used to playing in deep playoff runs to hang in there and really make the Nets work for it, even win a couple games.
With Brooklyn's three superstars basically still handing out name placards and meeting one another, I thought this might be like the 2008 Celtics or another really good team that had to find itself early in the playoffs and prove its mettle.
Welp, overthought that one. The Nets were my title pick and it's pretty clear why at this point as they blow the doors off the Celtics. Game 2 was over about halfway through the first quarter, and it's really hard to see the Celtics getting this back to a Boston Game 6, let alone win it there.
This was mostly a stay-away series for me, but we made a best bet on The Action Network Podcast for every series, and this one was mine. It was a bust.
Palmer: Clippers Series Price -144 (After Game 1)
You ever think you're getting the best of it only to realize that you've been a sucker the whole time? That's how I feel betting the Clippers at -145 to come back and defeat the Mavericks after Game 1.
Although I bet the Mavericks' moneyline in Game 1, largely due to an inflated price, I couldn't help but think that the Mavericks shooting was unsustainable. The Mavericks shot 17-of-36 (47.2%) on 3-pointers in Game 1, the Clippers shot just 11-of-40 (27.5%), both of which I expected to regress to the mean.
It turns out that the Clippers' shooting did regress to the mean in Game 2 as they shot 13-of-33 (39.4%) from behind the arc and got 41 points on 14-of-21 shooting from Kawhi Leonard.
Offensively, the Clippers are fine, it's the defense that has completely abandoned them as the head coach appears to have no game plan for stopping Luka Doncic and this Mavericks offense. The Mavericks' shooting didn't regress, it got better. They were 18-of-34 (52.9%) from behind the arc in Game 2.
Doncic has been the best player in this series, absolutely abusing anyone who's switched on him from Ivica Zubac to Patrick Beverley. Marcus Morris, Paul George and Leonard haven't been immune to catching the smoke either as he's given everyone problems.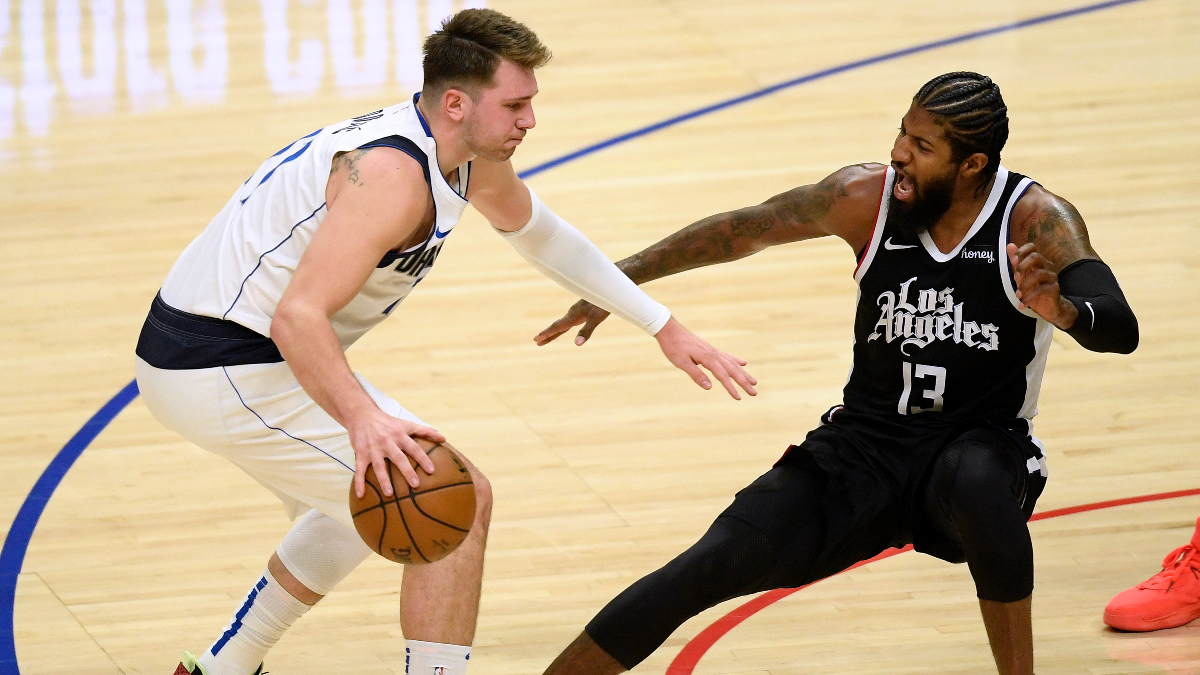 There haven't been any easy solutions as he's picked this team apart with his passing just as much as he has with his scoring. Mavericks role players are getting wide open shots and Tim Hardaway Jr. has been the biggest beneficiary, averaging 24.5 points on a whopping 63% from the field and 64.7% from behind the arc.
With the Clippers down 0-2 after dropping both home games, they'll have to go on the road for two games in Dallas and win four out of the next five games to win this series.
For a team that hasn't shown any ability to stop the Mavericks offense, that seems farfetched to say the least, particularly from a team that blew a 3-1 lead in the bubble to the Denver Nuggets despite holding double-digit leads in each of the final three games.
I have to admit, given the stature of Leonard and George as NBA players, I'm at a loss for words. George said there's "no level of concern" after their Game 2 loss; I'm beginning to wonder if he's lost touch with reality.
If you asked me my confidence level for this adjusted series price bet ticket, I would have to quote Jules from Pulp Fiction, "Dead as Fried Chicken".
Ducey: Celtics +3.5 Games (-167)
My affinity for great defense, and my distrust of Brooklyn's relatively new lineup cost me here. I figured there would be a feeling-out period here of two games, where the Celtics maybe stole one, and one went to overtime or was a close affair. That two-game feeling out period turned into about two quarters.
The Celtics threw everything they had at the Nets in the first half of Game 1, diving after loose balls, hustling all over the floor, and after competing for 24 minutes were absolutely cooked.
It appears that the regular season does not matter — at least for the Nets. Kevin Durant, James Harden and Kyrie Irving played in just eight games together, but appear to be a well-oiled machine.
On top of all that, this team has posted a 103.1 Defensive Rating through two games. Now, this could change against a team with some actual offensive firepower, but nothing appears to be amiss on that end of the floor, and the Nets have even done a decent job on the glass, where I also expected them to struggle against Robert Williams and Tristan Thompson.
With Jayson Tatum now dealing with an eye injury, and the team already without Jaylen Brown, I think it's about time to call it here. The Celtics will more than likely get swept. There is nowhere to go but down from here. They gave it everything they had and simply weren't on the same level as the Nets.
Moore: Hawks-Knick Over 5.5 Games
I've got to go in the opposite direction of Joe here. I felt great about this one and I should feel good about it after the split in New York. But I can't really stress enough how much I think the Hawks are better.
They have a lot more ways to find solutions and adjustments in this series and while Nate McMillan doesn't inspire a lot of confidence on his end given his playoff history, Tom Thibodeau inspires less. My concern is the Hawks taking both in Atlanta to go up 3-1 and the Knicks let go of the rope while Trae Young pulls another magic act in MSG for the Gentleman's Sweep.
I bet this series to go over 5.5 games as a hedge, and then took flyers on both Hawks and Knicks in seven games (at longer prices than seven total games). I'm concerned the Hawks may not let it get that far.
I'll be betting Hawks in Game 3 based on the spot, and Hawks in Game 4 as a hedge against my hedge against the seven-game bets.
---
One Series You Would Bet to Go Seven Games
Moore: Suns-Lakers +200 (PointsBet)
Hawks-Knicks seems really obvious, but I'm concerned for the reasons stated above. Meanwhile, no one really knows Chris Paul's actual status.
If it's a stinger, his health should improve rapidly between now and Game 4. If it's something structural that will require surgery, then the Suns are boned. I'm choosing to believe he can manage it, and if so, this series should still go long. The Suns match up better with the Lakers than anyone wants to admit.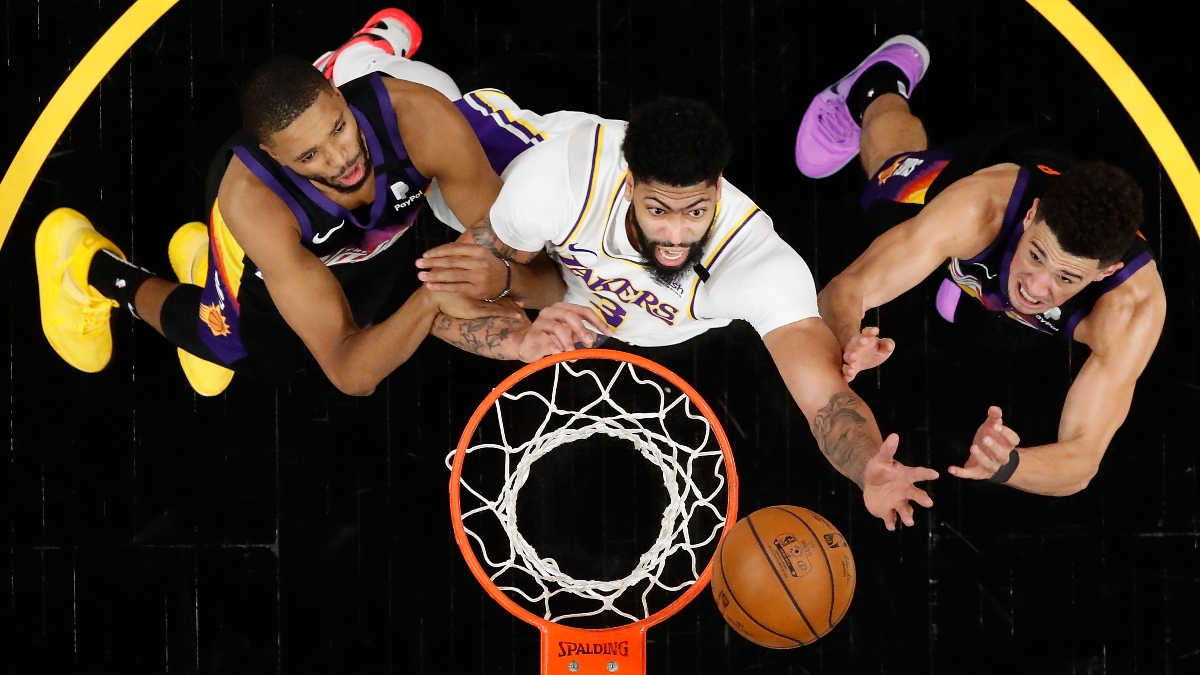 For all the narrative of "THE LAKERS BULLIED THE SUNS IN GAME 2," it took 21 (TWENTY-ONE!) free throws for Anthony Davis to really put his imprint on the game. He'll get calls, that's for sure, but the outlier cases will allow for the Suns to hang.
Plus, Phoenix has a lot more adjustments to make than the Lakers do, and the Lakers' offense continues to look very pedestrian. LeBron James is not going to let them lose this series, but I think there's a good chance this series becomes longer than most people are counting on.
The Suns are no pushover, despite how much I like LA in Game 3.
Palmer: Hawks-Knicks +150 (BetMGM)
I'm sticking with my original prediction that I made in our series bets roundtable. These are two young teams with coaches in Nate McMillan and Tom Thibodeau that haven't been particularly successful in the postseason. McMillan has won just one out of nine series as a head coach while Thibodeau's teams simply don't have another gear in the postseason.
The Hawks are the better team and should win this series as they have a young star in Trae Young and are loaded with offensive talent in Bogdan Bogdanovic, John Collins, Kevin Huerter, Lou Williams and Danilo Gallinari.
As we saw in Game 2, that doesn't necessarily mean they can maintain it throughout the course of a game as they blew a double-digit second half lead, scoring just 35 second half points.
If the Hawks made their open shots they'd be going home 2-0 but instead we're tied 1-1 as the series heads to Atlanta. Although the Hawks are the better team, I just don't have faith in them winning both home games.
The theme throughout this series has been the Hawks starters dominating the Knicks starters while the Knicks bench keeps them in the game. Both Game 1 and Game 2 came down to the wire and it feels like that's going to continue throughout the course of the series. This will be a long series.
Anderson: Nuggets-Blazers +160 (BetMGM)
Honestly, I'm not sure any of these first round series are going to make it to a Game 7, but if I had to pick one of them to get there, I'd go with Denver and Portland.
It doesn't feel like we've learned much so far this series. In Game 1, we saw that it's really hard to win in the modern NBA without real guards, and we saw the huge amount of firepower Portland has to its advantage over Denver, with all the Nuggets injuries.
But in Game 2, we were reminded that the Blazers' defense is so bad that Denver still has a shot to stay in this, especially with the MVP scoring the way he has so far. We aren't seeing much defense from either team in this series, and though the coaches will keep trying, I'm not sure there are many adjustments to be made.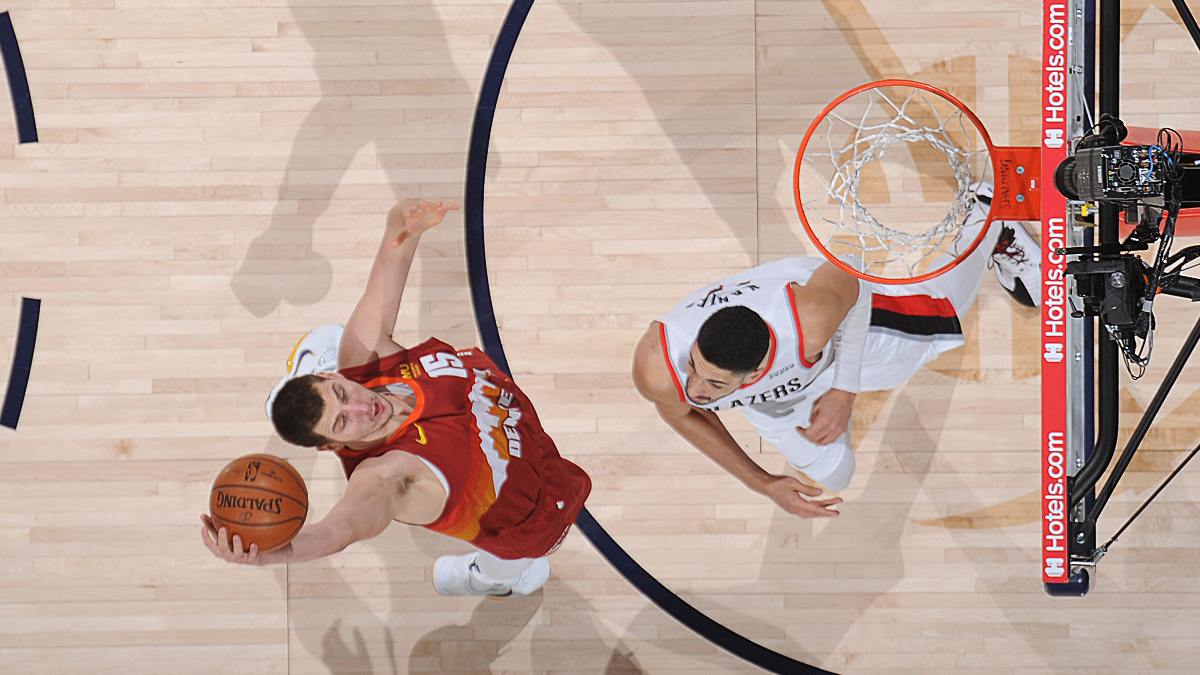 One adjustment may come by way of the injury report — it looks like Will Barton could be back soon, and he might be enough to swing a game. It feels like either team can win on the opposing home court if the shots are falling, and they sure are getting good looks.
I still like Blazers in six games best, and I'm not sure Denver has the weapons to go to into the Moda Center and close this out in Game 6 if it gets to that, but maybe the Nuggets can grab a couple wins before that.
If Denver can steal a game back in Portland over these next two tries, they'll have a chance to go up 3-2 heading to Portland for Game 6 and I'll feel great about a seven-game series at that point.
---
One Series Dog You Still Think Has Value
Moore: Clippers +225 (FanDuel)
Full disclosure: I'm not going to bet this. But I can talk myself into this one easier than I can Grizzlies +450, my other choice.
I have been critical of the Clippers for two years. I think they lack the necessary heart and leadership to win a title, both narrative ideas, and their actual basketball on-court issues extend to both sides of the ball. They don't have a point guard to orchestrate or a viable center to defend. (Ivica Zubac is being badly exposed in this series.)
However, the Clippers are better than the Mavericks. The Mavericks' shooting in both games in LA was positively absurd. That happens when you have defensive breakdowns and a team has confidence; the Clippers overplayed on trying to stop Luka Doncic rather than living with Doncic and cutting off the other Mavs.
That's likely a strategy they shift to in Dallas. If the Clippers weren't down 0-2 would you expect them to win at least one in Dallas, before the start of the series? I would. And if they come back home, down 3-1, I don't think they're done either. The Clippers need two strong games out of the next three to get this to 3-2.
I don't even think the best value is now, I'd wait until the Mavericks get to three and then I'm going to bet the Clippers at an insane price (but not for a lot, because I'm not insane). I'm just telling you, the Clippers have more solves left in this series than Dallas does. The question is if those will matter.
Ducey: Knicks +122 (FanDuel)
I won't deny that things didn't look great for the majority of Game 2, and I also won't disagree with what some of my colleagues said above regarding Atlanta's talent.
That's all well and good, but I do think that defense will win out in the end in this series. We saw down the stretch on Wednesday just how suffocating this attack can be from New York, holding the Hawks to just a single point after they'd leveled the game at 91.
Some have opted to credit bad luck on the part of the Hawks, leading to their downfall in that game, but I don't think it's quite that simple. For all you can say about the Hawks missing open 3s, the Knicks have actually been the team with a worse performance in that regard through two games, shooting 33.3% on 3s deemed wide open compared to 41.7% for the Hawks, according to NBA Advanced Stats.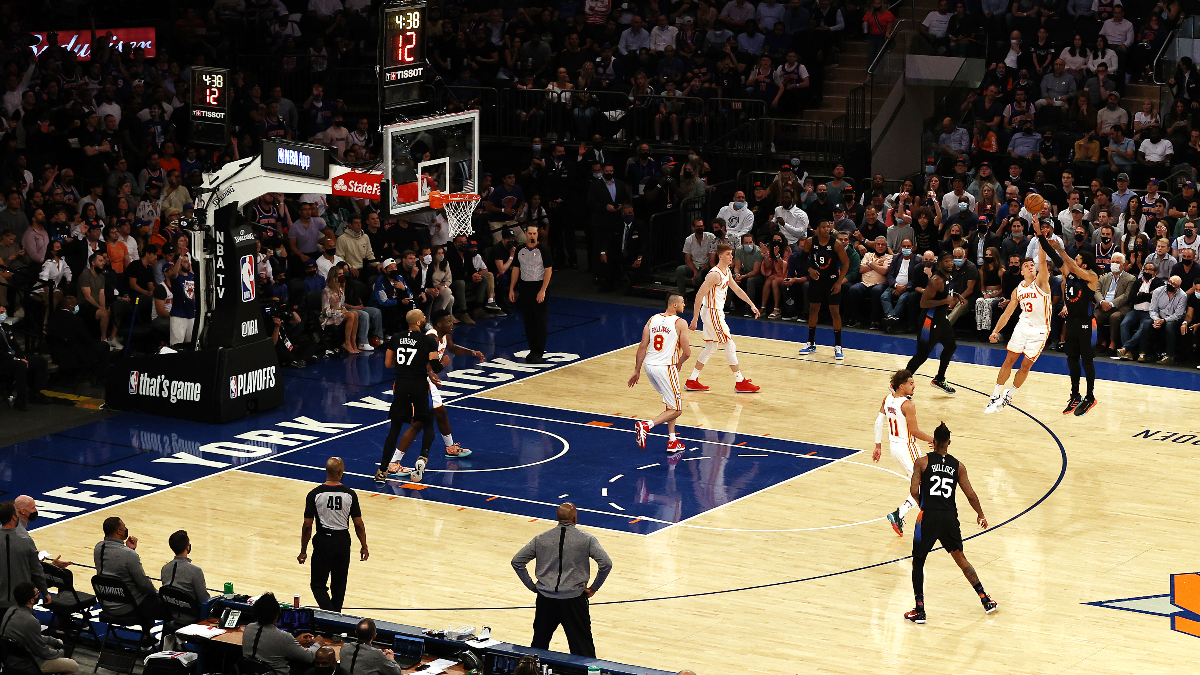 Furthermore, if we want to strictly talk about shooting here, the Knicks shot incredibly poorly from deep for the majority of the game before finally enjoying some positive regression when it mattered most.
We're beginning to see a return to the averages we saw all season long; the Knicks were top-five in 3-point percentage on both ends of the floor, and the second half more closely resembled that story.
Aside from shooting, as a general Clint Capela believer I've been shocked to see him this ineffective. The Knicks have the second-highest rebounding rate so far in the postseason at 56.5%, coupling that with two strong defensive performances.
I expect the Knicks to continue to improve in the shooting department, and that should get them over the line in chorus with the strong play we've seen in every other aspect of the game. This team hasn't been the best on the road, but it should steal one in Atlanta making this a series that's very much within reach.
Anderson: Nuggets in 7 +400 (BetMGM)
Right now, I'd pick every series favorite to go on and win its series. I think the Clippers are a live dog and still the better team than the Mavs, who can't make every 3-pointer forever, but it's a huge hole going down 0-2 at home. I'll give LA a chance to win the series still, but probably around a 20 to 25% chance, and there's definitely not enough value to play them at +200 down 0-2.
Instead, I'll roll the dice on Denver, which is both a bet on the MVP and the never-say-die DNA of this team as well as a bet against the abysmal Blazers defense. Portland's defense is so bad that Denver is going to have a chance in any game as long as Nikola Jokic is out there, and Will Barton's potential return will significantly boost Denver's rotation both by adding Barton's minutes and by removing guys like Austin Rivers and Markus Howard from an equation they should not be part of.
Still, I don't love the value on Denver enough to bet them outright to win the series at +150, as I definitely think the Blazers are the better team and the deserving favorite. However, I don't see any real way the Nuggets win three in a row, so that means best case scenario Denver is up 3-2 heading to Portland for Game 6, and that would be a monumentally difficult road closeout win for a shorthanded team in a really tough atmosphere.
That puts us in Denver for Game 7, where the Nuggets always have a significant home elevation advantage and all the more at the end of a series, and we know Nikola Jokic shows up for Game 7s. We also know how dominant home teams are in Game 7s historically.
At that point, I'd feel great about my +400 and would also have a great chance to hedge on Portland if I get cold feet, since the road Blazers would likely be a road dog. If I'm going to take a series dog at this point, I'll play them to win in seven so I get real value on my bet.
How would you rate this article?
This site contains commercial content. We may be compensated for the links provided on this page. The content on this page is for informational purposes only. Action Network makes no representation or warranty as to the accuracy of the information given or the outcome of any game or event.