NBA Props Betting Forecast: Michael Porter Jr. Is Scorching, Jabari Smith Hitting Rookie Wall This Week
Credit:
Michael Gonzales/NBAE via Getty Images. Pictured: Michael Porter Jr. #1 of the Denver Nuggets.
Welcome back to another week of the Player Prop Forecast!
The idea here is to give you the tools to identify these spots and be ready to jump on these props whenever they open. Although this is not a Fantasy Basketball piece, many of these takeaways should help you identify risers and fallers in your respective leagues.
This week we're looking at two teams with expectations that fall on the lower end of the spectrum and one team that is humming around its MVP candidate.
Let's dive into my targets for the week ahead.

Which Pistons Guard Steps Up in Cade Cunningham's Absence?
Schedule: Mon. vs. Raptors | Thurs. at Clippers | Fri. at Lakers | Sun. at Kings
The Detroit Pistons got the rough news that star point guard Cade Cunningham will miss Monday night at home against the Raptors and then at least the first three games of their upcoming road trip, which would take him out through Tuesday, Nov. 22 against the Nuggets.
Cade is easily the best player on the Pistons and he holds a +13.5 point differential when he is on the floor for Detroit. He commands the highest Usage Rate on the team (31.5%), with the next highest being Jaden Ivey at 23.3% and then Killian Hayes at 21.7%, per Cleaning the Glass.
It should then come as no surprise that in the two games he has missed already, the players that have stepped up the most are Bojan Bogdanovic, Jaden Ivey, and Killian Hayes. While all of these players would see a boom in their fantasy value while Cunningham is out, I'm most interested in Ivey and Hayes for their props.
In their most recent game, Hayes and Ivey both had their prop lines set at a point they could exceed. Hayes was set at 9.5 points, 3.5 rebounds, and 5.5 assists while Ivey was set at 15.5 points, 4.5 rebounds, and 4.5 assists. In their two games without Cunningham this season, Hayes is averaging 13 points, six rebounds, and seven assists, while Ivey is averaging 18 points, 3.5 rebounds, and 3.5 assists.
While Ivey is the trendy rookie, Hayes is Dwane Casey's muse.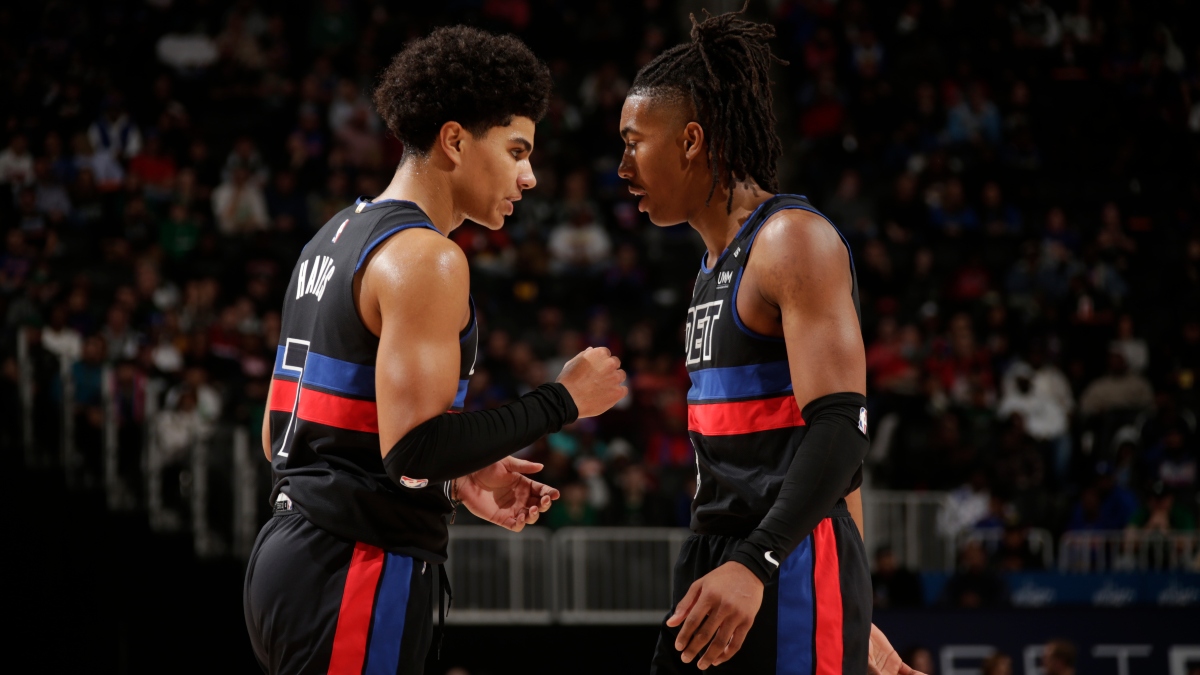 Hayes is still somehow seeing roughly 20 minutes per game without Cunningham despite never posting a positive point differential throughout his three-year career. Yet Pistons head coach Dwane Casey continues to trot him out there, so we will continue to bet on Hayes rather than Ivey.
While Ivey has the pedigree, Hayes understands his role and that is to facilitate the offense. In these two games without Cade, Hayes has recorded back-to-back seven-assist games and is averaging 14.5 potential assists across those games.
In Hayes' last 10 games without Cade he has averaged 8.2 points, 5.4 assists, and 2.9 boards in 22.5 minutes. Casey has played Hayes 34 and 35 minutes in two of those games this season, and I'd expect Hayes to see 30 minutes per game moving forward.
Ivey's lines are just a touch too high, and I'm more inclined to play unders. For tonight's game against the Raptors he has opened at 18.5 points, 4.5 assists, and 5.5 rebounds.
His usage the last two games is 29.6% compared to 22.3% in the 11 games prior with Cade — while this is favorable for his counting stats, he has been relatively inefficient this season — which is to be expected of a rookie.
The Raptors play slow, and have a ton of length which should give Ivey some difficulty with his drives. His PRA is set at 28.5, and I have a lean on the under in this matchup.
---
Houston, We Have a Problem
Schedule: Mon. vs. Clippers | Wed. at Mavericks | Fri. vs. Pacers | Sat. vs Thunder
The Houston Rockets have a problem his name is Jabari Smith. He was at the center of the No. 1 pick controversy with Paolo Banchero and it sure seems like the Magic made the right selection at No. 1 overall.
Smith has been objectively bad. He's averaging 10.3 points, 6.8 rebounds, and just 1.1 blocks in 29.7 minutes per game. While those numbers are fine, the percentages matter. He has a 39.2%. Effective Field Goal Percentage, and is chucking bricks right now shooting 31.5% from the floor and 28.6% from beyond the arc. He also has a -17.4 point differential, by far the worst of any Rockets rotational player.
Books are slowly adjusting for this poor play. In the Rockets' last game against the Pelicans his prop lines were listed at 11.5 points, 5.5 rebounds, and 1.5 stocks. In 12 games, he has exceeded those lines in five, seven, and five games respectively.
His saving grace has been his minutes — he has not played fewer than 22 minutes in any game this season, and has exceeded 30 in seven games. He is purely a volume play, but his complete inability to create his own shot or make any that are served up to him is making it more and more difficult to rationalize playing him big minutes when there is another young rookie waiting in the wings.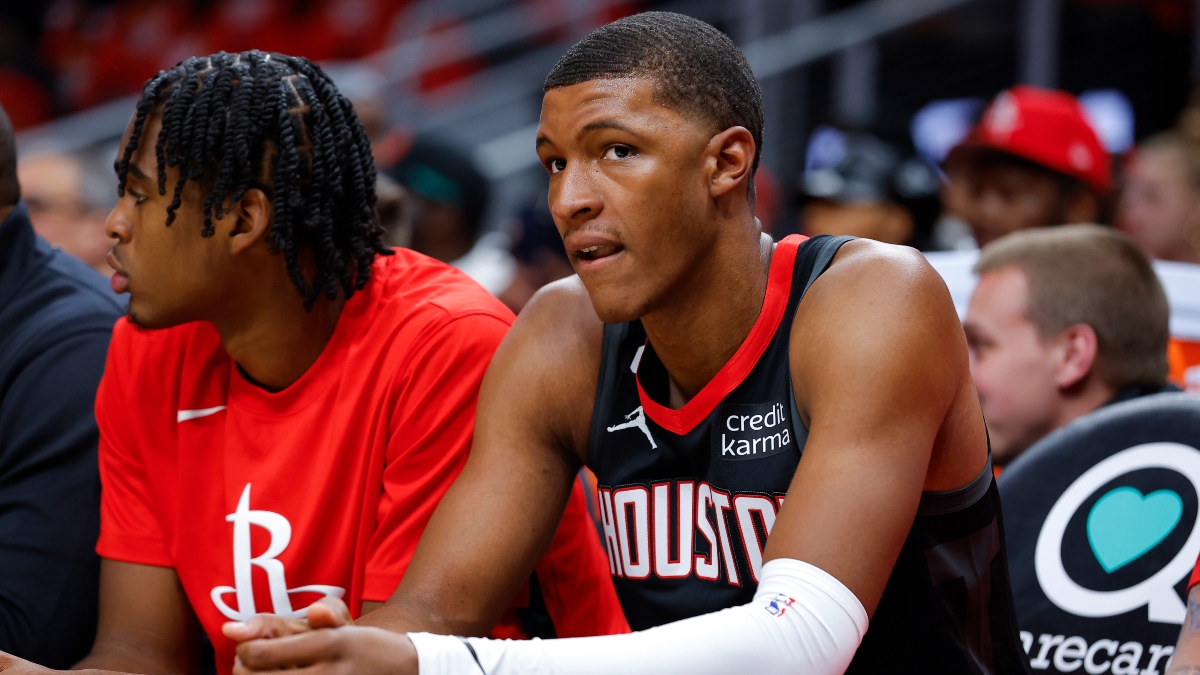 Tari Eason was drafted with the 17th pick in the 2022 NBA draft and he is outplaying Smith so far this season. Eason has a +16.5 point differential, second-best on the team. He is averaging 8.3 points, 4.9 rebounds, and 1.2 assists with 1.5 steals and 0.5 blocks per game with a 48.4% eFG% in just 18.4 minutes per game.
We saw a bit more of Eason when Alperen Sengun missed some time, but he is playing too well to be relegated to playing fewer than 20 minutes per game on a nightly basis. It's important to remember than Eason is still a first round pick, and while Smith has the high expectations, there's no reason for the Rockets to not see what they have in Eason.
In the immediate, the Rockets have some softer matchups this week against the Clippers and Pacers but Smith unders, and Eason overs (if they are offered) are targets I'm anticipating.
---

Finding Nuggets in Denver
Schedule: Wed. vs. Knicks | Fri. at Mavericks | Sun. at Mavericks
The Nuggets have a three-game week with one game against the Knicks on Wednesday and then a baseball-style set with games on Friday and Sunday both in Dallas against the Mavericks.
While Jokic has continued to be his incredible self, the rest of the roster has been outstanding as well. Kentavious Caldwell-Pope and Michael Porter Jr. have been an absolute snipers this season. They are shooting 54.5% and 48.3% from 3-point range, the best and the seventh-best marks in the NBA, respectively. Both have had their 3-point props set at over 2.5 3s. Caldwell-Pope has exceeded this in seven of his 12 games while MPJ has in 10 games.
The difference is MPJ is taking nearly three more 3s than KCP per game (7.4 attempts to 4.6). Until this prop gets overly juiced at the 2.5 overs are a must — and if it does move to a 3.5 line, he has exceeded that number in six games this season. Considering the Knicks allow 3-point attempts at the third-highest frequency in the league, this is a target for MPJ.
Additionally, Jamaal Murray is rounding into form. He has played 30 minutes or more in four consecutive games and is averaging 18.8 points, 5.5 assists, and 4.8 rebounds over those four games. As his minutes increase, there should be fewer minutes for the bench, however, Bruce Brown has cemented himself as a key part of the rotation.
This is even more evident with Bones Hyland entering the league's health and safety protocols, though he may be back by Wednesday's game against the Knicks. If Bones cannot go, Brown sees his minutes increase to over 30 per game whole averaging 13.3 points, 7 rebounds, and 6.3 assists.
How would you rate this article?
This site contains commercial content. We may be compensated for the links provided on this page. The content on this page is for informational purposes only. Action Network makes no representation or warranty as to the accuracy of the information given or the outcome of any game or event.