The Case For & Against the Golden State Warriors Winning the NBA Championship
Credit:
Ezra Shaw/Getty Images. Pictured: Stephen Curry #30 of the Golden State Warriors reacts with Draymond Green #23.
June 13, 2019.
That's the last time the Golden State Warriors played a true playoff game, more than 1,000 days ago. Klay Thompson tore his ACL that day and didn't play again for 941 days, and Kevin Durant watched from the sidelines with a newly torn Achilles.
Those Warriors went from five consecutive summers in the NBA Finals to 1,037 days without a single playoff game. They got close last April but lost both play-in games. But now, finally, Golden State is back. Klay Thompson is back, Draymond Green is back, and Stephen Curry is expected back.
These aren't the We Believe Warriors, but you know these Warriors believe in themselves. They started the season 18-2 by storming through the league before injuries derailed them, but they've been here before, know exactly what they are, and believe they can win a championship.
Should we as bettors believe in the Warriors too? Let's check out the case for and against the Golden State Warriors as title contenders.
Make sure to check out the case for the other top teams around the NBA as we continue to add them:
Note: All stats below through Friday, April 8.
Steph + Draymond = Greatness

All signs point to Stephen Curry coming back healthy for the start of the playoffs, so that's what we'll assume for this column.
If Steph isn't back, you can stop reading right now, throw this whole thing out, cash out your Warriors futures, and go on with your life. But if Steph is back, that changes everything. Because everything we know from almost a decade of proof is that Steph + Draymond = Greatness.
The Warriors went 28-6 this season with both Steph and Draymond healthy together on the court. That's a 68-14 pace over a full season — not quite 73-9, but not too shabby either.
The Warriors started 18-2 and were absolutely dominating teams. Golden State had a 113.0 Offensive Rating and an historically great 99.4 Defensive Rating during that stretch with an outrageous +13.6 Net Rating, which is more than double all but a couple teams. They led the league in assists and 3-pointers per game, and Curry and Green went from long shots to outright favorites for MVP and DPOY.
But that was all five months ago, you might be thinking. And you're right — but also wrong. Any number of studies by Tom Haberstroh and others have shown that momentum entering the playoffs is essentially a myth. In fact, the studies actually show that the first 10 or 20 games of the season, not the final stretch, are most strongly correlated with playoff success. The Warriors showed us what they were those first 20 games — and that matters.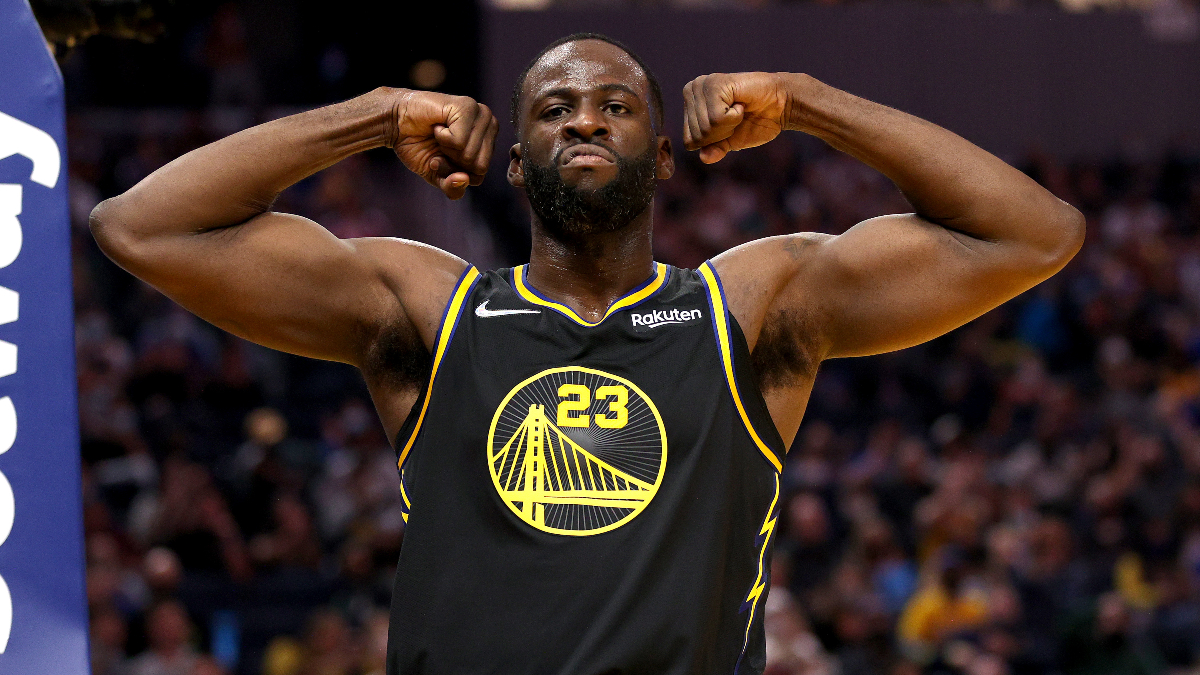 The season-long Warriors numbers obviously don't tell the whole story since Draymond Green missed almost half the season, and Steph Curry missed 18 games himself. The numbers that matter are the ones with Steph and Dray.
For the season, the Warriors have a +5.4 Net Rating. That ranks fifth in the NBA and is good but not great. Golden State has the league's No. 1 defense but ranks below average in Offensive Rating at 112.3, only 18th in the NBA.
But those numbers include 1,639 minutes without Curry on the court, a full 42.6% of the season. With no Steph, the Warriors have a -2.5 Net Rating, per Pivot Analysis. But with Curry, that number skyrockets to +11.4 with a 118.4 Offensive Rating that would lead the league. Add Draymond to Steph and that number jumps to +15.0 Net Rating.
With Curry and Green, the Warriors have demolished the opposition all season. With those two playing, per Pivot Analysis, the Warriors take 37% of their shots at the rim and make 67% of them, while allowing opponents to take under 30% of their shots there and make under 59%. They also take 46% of their shots from behind the arc and make 38% of their 3s versus under 40% of opponents' shots at just a 31% 3-point percentage.
These are staggering advantages for Golden State at the two most valuable spots on the court. Meanwhile, opponents are taking over 30% of their shots from the mid-range while the Warriors take barely half that many.
Golden State isn't just winning the math game with Curry and Green on the court. They're exploding the equation altogether.
And when the going gets tough, the Warriors get even tougher. Golden State played 95 clutch minutes this season with Curry on the court. The Warriors have a +21.8 Net Rating in those minutes with a 118.6 Offensive Rating and a 96.9 Defensive Rating, both of which would lead the league by a wide margin. About half of those clutch Curry minutes have been played with Green; the Warriors have a +45.7 Net Rating in the clutch with both out there.
And remember, all of these numbers include not only that red-hot 18-2 start but also that two-month long ice-cold shooting drought for Curry, plus more than a few games with both Warriors stars playing through injuries.
Before Green got hurt in December, he was the runaway Defensive Player of the Year for the league's best defense, a defense so historically dominant that he missed nearly half the season, and it still leads the league in Defensive Rating. And before Draymond went out, Steph Curry was still the massive MVP favorite. He was an elite offense unto himself.
The case for the Warriors is very simple: if Steph Curry and Draymond Green are healthy and playing together, they are borderline unbeatable and have been for almost a decade.
The Ws Waited for Klay — and Got Something Even Better

All of those numbers focused on just Steph and Draymond, but of course the Warriors waited 941 days for the return of their third Hall of Famer, Klay Thompson. We knew all along that the Warriors wouldn't truly be the Warriors until they got that second Splash Brother back.
Well, Klay is back, and he looks pretty darn good.
If you throw out Thompson's first 10 games back in which he played limited minutes and shook off obvious rust, the numbers basically tell us Klay is just the same old Klay as always. Over his last 21 games, he's averaging 21.7 points, 4.2 rebounds, and 2.8 assists on 43/40/88 shooting. Looks pretty good to me!
Those numbers are virtually identical to Thompson's numbers over his last few healthy seasons. The scoring is slightly more inefficient due to a small dip in 2-point percentage, and the Assist and Usage Rates are slightly up, but it's mostly the same old Klay.
But a funny thing happened while the Warriors waited all season for the return of their second Splash Brother: they may have stumbled upon a third.
Do you have any idea how awesome Jordan Poole has been down the stretch? Sure, Poole had a little blip when he was moved briefly to the bench for Klay's return, but since March 3, he has been untouchable.
Just how good has Poole been over these last 18 games? Compare these three players:
Poole's last 18 games: 25.9/4.2/5.4 on 50/45/91 shooting, 4.4 3s per game
Klay's best 18-game stretch ever: 24.3/3.2/2.7 on 52/48/86, 3.6 3s per game
Devin Booker this season: 26.8/5.0/4.8 on 47/38/87, 2.7 3s per game
Hoo boy. Is it possible Jordan Poole has been better offensively these last 18 games than Klay Thompson has been… ever? Is Poole matching blow-for-blow with First Team All-NBA and chic MVP candidate Devin Booker?! The numbers speak for themselves.
Poole's improvement has been staggering. It's not just his shooting but the shots he's taking, how he's getting them, and the green light he has. It's his passing, his pick-and-roll navigation, his understanding of the game and fit in this offense. Poole is part of this team's core now. Since the break, on a team of Hall of Famers, Jordan Poole actually leads the Warriors in Box Plus-Minus.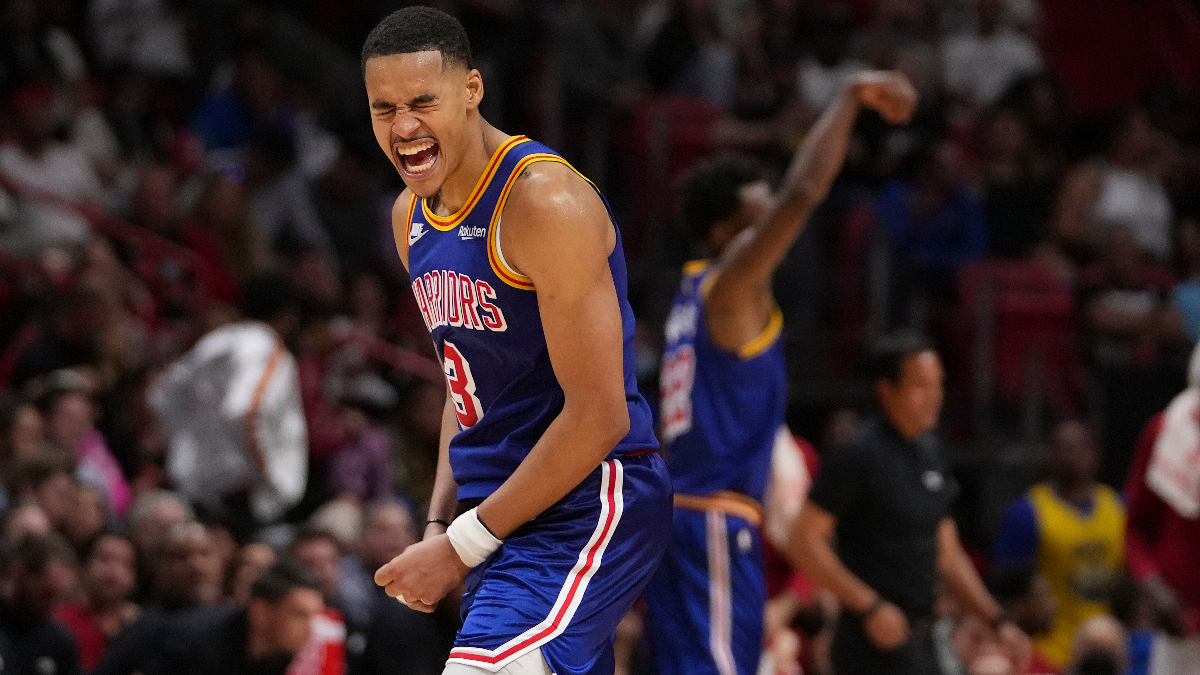 Here's what's truly wild.
The Warriors started 18-2 even without Klay Thompson and without anything close to this version of Jordan Poole. Poole shot under 45% those first 20 games and made only 33% of his 3s. He had a -1.1 BPM, barely above replacement level, with a 105 Offensive Rating that was impressively bad for a guy starting on a red-hot 18-2 team. This is a different Jordan Poole altogether. It's an outright Poole party.
The 18-2 Warriors added Klay Thompson back, seemingly as good as ever, and are now getting a breakout performance from Jordan Poole, who looks just as good as Klay ever looked. That 18-2 team added two Splash Brothers.
And, by the way, Finals MVP Andre Iguodala quietly returned over the last couple weeks too.
Golden State Is Still Great at Home and in the Third Quarter

Those old championship Warriors had two massive advantages that made them nearly invincible at times — at home and in the third quarter — and those advantages are still there this season.
Golden State finished the regular season at 31-10 at home. That's the best home record in the entire NBA other than Phoenix.
Per Pivot Analysis, the Warriors had a +10.2 Net Rating at home for the season with a 116.7 Offensive Rating and a 106.5 Defensive Rating, both of which would lead the league. And remember, that includes games without Curry or Green. With Steph playing, the home Warriors have a +15.6 Net Rating. With both Steph and Draymond, they're an unspeakable +22.3 Net.
And it's not just those two.
Like almost any team, Golden State's role players are better at home than on the road. In the Warriors' case, the difference is staggering:
Jordan Poole: +12.4 Net Rating at home, +1.0 away
Andrew Wiggins: +12.6 home, -1.9 away
Kevon Looney: +10.4 home, -1.2 away
Otto Porter: +11.3 home, +2.7 away
Gary Payton II: +12.4 home, +3.1 away
The Warriors may not be playing at Oracle anymore, but they're still untouchable at home.
They also still dominate the third quarter. For the season, Golden State's third quarter Net Rating is a sparkling +12.6. Home third quarters are +18.3 Net Rating, and home third quarters with Curry are +20.5 Net.
The numbers this season tell us Golden State's DNA has not changed. This is still the same team that runs opponents off the court in the third quarter, the same one that can be an avalanche in front of its home fans.
That's championship DNA. These are still the same Warriors.
The Case Against the Warriors
So that's the case for the Warriors, but what's the case against them?
First and foremost, the health is a huge question mark. Curry hasn't played since mid-March. Green missed two months in the middle of the season and hasn't quite looked his usual self since returning. Thompson is still ramping up after almost three years away. Iguodala is near retirement and has played under 600 minutes all season.
Is it really a good thing that these are still the same old Warriors we've known for almost a decade — or is that just a reminder that these Warriors are old?
It's certainly possible that these injuries have been a blessing in disguise. After five grueling Finals runs and the toll they took on these guys' bodies, maybe the missed games this year have simply kept the team fresh for the two-month grind ahead. Or maybe we should be pretty concerned with a lingering back injury to Draymond Green and another foot injury to Steph Curry.
Can the Warriors really roll snake eyes and get a clean bill of health from those two for two months? Lose either one for even a week, and it's probably over.
The on-court case against the Warriors still starts with turnovers. Golden State has the league's second highest Turnover Rate. As good as that defense is, it's not very useful after live-ball steals and transitions going the other way.
It's also not as good when Golden State isn't scoring. This offense rates poorly at three of the Four Factors: Turnovers, Offensive Rebounding, and Free Throw Rate. Remember, the offense ranks only 18th for the season. This is a defense-first team now. The main thing the offense does best is out-shoot its opponents and, well, have Steph Curry.
There are questions about the supporting cast too.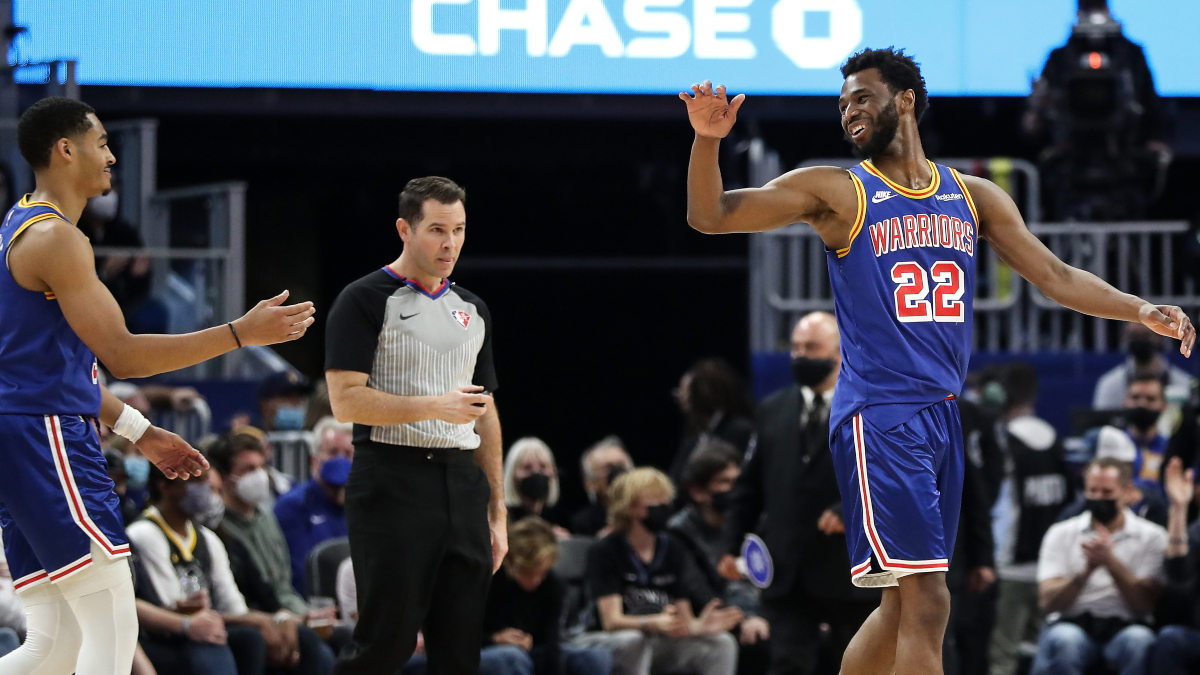 First-time All-Star Andrew Wiggins has been terrible since the start of February. In 25 games, he's averaging 15.2 PPG on ugly 43/36/58 shooting with a terrible 51% True Shooting and a horrid 102 Offensive Rating. His Free Throw Rate has been cut in half, and his -1.6 BPM is basically replacement level.
It's telling that we got 1500 words into a column about the Warriors without mentioning their third All Star, and you didn't even notice. First-time All-Star max-contract Andrew Wiggins might not even be in the closing five right now.
He's not the only one who's slowed down. Gary Payton II went from trendy All-Defense pick to out of the rotation at times. Otto Porter was awesome early but slowed down as the season progressed. Rookies Jonathan Kuminga and Moses Moody have shown flashes but aren't reliable.
Did the Warriors slow down because all these other guys finally hit a wall? Or did all these other guys finally hit a wall because the Warriors slowed down as Curry and Green struggled through injuries?
The playoff road ahead will be difficult. There will be no walkover series. Golden State may have to go on the road for three series en route to a title run. This team is small and doesn't have a great matchup for the league's best big men like Nikola Jokic, Joel Embiid, or Giannis Antetokounmpo — and may have to beat two of those guys.
So How Do We Bet the Warriors?

The Warriors rank top-three in the NBA in attempted and made 3s. They're top-five in assists and top-three in 2-point percentage. They lead the league in Defensive Rebounding, and they're top-three in Effective Field Goal percentage on both offense and defense.
We already know the Warriors are really good. Even the season-long numbers tell us that, despite all the missed games and bumps along the way.
The question is whether the Warriors can be great. Can Draymond and this defense ramp back up to historically elite levels? They've looked great again over the last week or two. Can Steph Curry get healthy and play at an MVP level for two months? Can Jordan Poole stay this hot, and can the other role players and youngsters step up?
A bet on the Warriors is a bet on this team having the highest ceiling in the NBA. And as great as the Phoenix Suns have been, the Warriors at their best have been even better — and that was before adding Klay Thompson and this version of Jordan Poole, before developing and unlocking these rookies, and before Andrew Wiggins's All-Star leap.
A bet on the Warriors is something of an already-but-not-yet gamble. It's a bet on the Warriors as we already know them, compounded with a bet on the level of potential greatness these extra layers have added that we haven't even seen yet.
The case for the Warriors is quite simple in the end: Steph and Draymond are better together than the opponent's best two guys, and the rest of the roster has given us reason to believe.
The Warriors will surround Curry and Green with any number of capable wings, including Thompson, Poole, Iguodala, Porter, and Moody. They've got Looney at center and Kuminga as a bench spark, plus Payton as a defensive stopper. This team has a ton of shooters and wing options, and it'll play a swarming and switchable defense that could be a nightmare for opponents like Memphis, Miami, Boston, or even Phoenix.
The best version of these Warriors just might be better than the best version of any other team in 2022.
Bet the Warriors at home. Bet them in the third quarter. Bet Golden State to fight all the way in any game, any series, with the heart of a champion as long as Steph and Draymond are out there.
But will Golden State win 16 more times en route to another championship? That might be a bet on health more than anything else, so play Warriors futures at your own risk.
How would you rate this article?
This site contains commercial content. We may be compensated for the links provided on this page. The content on this page is for informational purposes only. Action Network makes no representation or warranty as to the accuracy of the information given or the outcome of any game or event.