The Case For & Against the Milwaukee Bucks Winning the NBA Title
Credit:
Via Jed Jacobsohn/Getty Images. Pictured: Giannis Antetokounmpo and Khris Middleton.
The Milwaukee Bucks are defending NBA world champions, and Giannis Antetokounmpo is the reigning NBA Finals MVP.
You already know that, but sometimes it's good to zoom out from the day-to-day drudgery of the NBA season and remember. And sometimes, like Tuesday night against Philadelphia, the champs remind us exactly who they are, taking care of business on a big stage against one of the league's top contenders.
The Bucks are defending champs but have never really been treated as such by sportsbooks. Instead the Nets have been East favorites all season — I made the case for and against Brooklyn here — and the Bucks feel like they've been going through much of the regular season in third or fourth gear.
But with the postseason only two weeks away and Antetokounmpo making a push for the scoring title and maybe even a third MVP, games like Tuesday remind us that maybe the defending champs should still have been the favorites all along.
Let's take a look at the case for and against the Milwaukee Bucks.
All stats below up to Tuesday, March 29.
The Bucks Are Getting Healthy at the Right Time

Milwaukee didn't change much of its championship roster enter the season. The Bucks brought back six of their top seven guys in minutes from last year's playoff run and added a healthy Donte DiVincenzo back into the mix.
But the team had been shorthanded at center all season. The one key player who isn't back from last season's team is P.J. Tucker, and Brook Lopez missed most of this season with a back injury. Milwaukee addressed its depth by trading DiVincenzo for Serge Ibaka at the deadline, but that left a hole on the wing that looked gaping wide when Pat Connaughton went down injured a day later.
For a minute, it looked like the Bucks might be short two expected playoff starters down the stretch and maybe into the playoffs. But Connaughton is finally back now and so is Lopez as the Bucks get healthy and ramp things up for what they hope is another deep postseason run.
Connaughton has quietly been fantastic for the Bucks. He's averaging double digits off the bench and led Milwaukee in bench minutes by a wide margin in the playoffs. This year he's shooting a career-best 40% on 2.3 3s per game and finally finding a useful role on offense with a 125 Offensive Rating on the season.
Connaughton is a stout, switchable defender and an important glue guy on this team, especially as an alternative to Grayson Allen who may be better suited for a bench scoring role.
Lopez is the Bucks' key rim protector, a unicorn who makes this team's system work when he's at his best. There aren't many players who can protect the rim like Lopez on defense while also stretching out the offense like he does with his shooting. It will be huge if Lopez can give the Bucks good healthy minutes.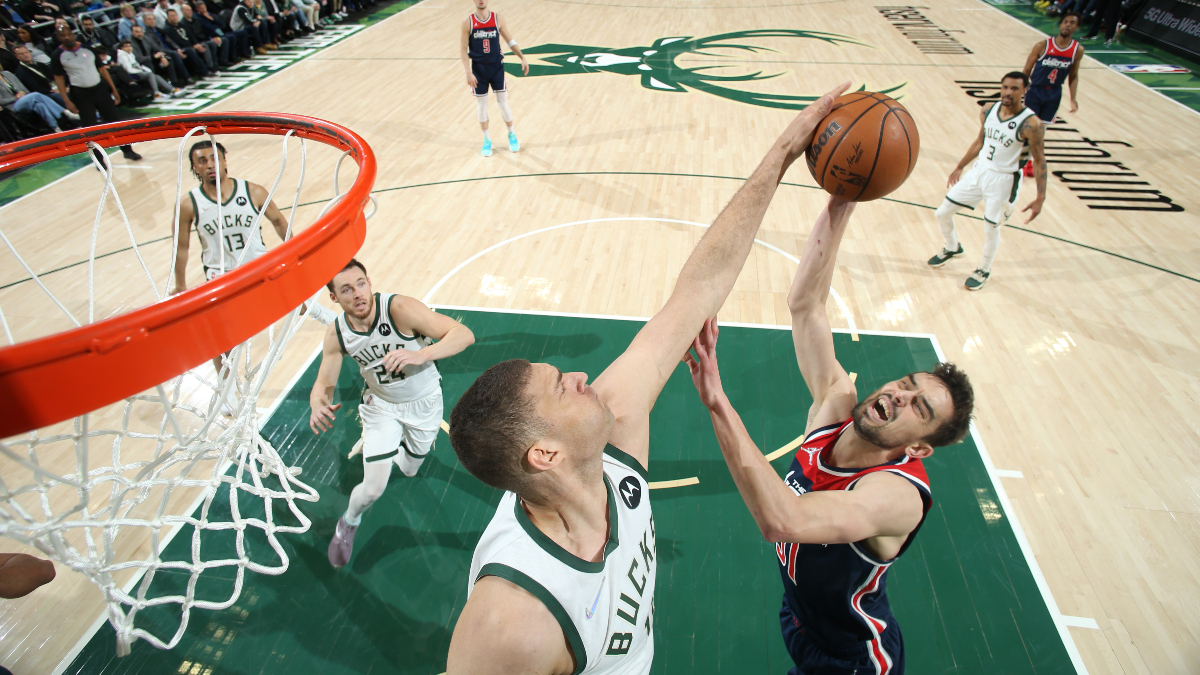 The jury's out on whether Milwaukee will get that version of Lopez. Though he's back, the results haven't been great. The Bucks have a -9.3 Net Rating with Lopez on the court over 153 minutes. His defensive rebounding is way down, his blocks are down, and he's not scoring efficiently, with the lowest Free Throw Rate of his career. Some of that is injury ramp up, and some is likely just the aging curve.
Some of it is also obscured numbers. Per Pivot Analysis, Lopez has played 61 of his minutes with Antetokounmpo, and the Bucks have a +12.5 Net Rating in those minutes with a respectable 111.0 Defensive Rating.
The minutes without Giannis have been horrendous, but some of those minutes came in garbage time or games with resting Bucks. There won't be many non-Giannis minutes in the playoffs. We saw Lopez mostly hold his own against Joel Embiid, and that may be his most important role in the playoffs.
The return of Connaughton and Lopez does one other really important thing. It pushes Grayson Allen and Bobby Portis into more comfortable bench roles, possibly even minimized or out of the rotation in certain matchups.
Moving those two to bench roles also re-calibrates what had been a pretty shaky bench at times. It means fewer minutes for the ancient Wes Matthews, Serge Ibaka, and George Hill. It's a trickle-down effect.
The Bucks are getting healthy at the right time and peaking at the right time with the playoffs on the horizon.
Giannis Is Still Giannis, and the Big Three Are Ready
There are moments and games where the Bucks look like the team that won the championship last summer, but they've been hidden amidst a morass of injuries, rest, and regular season skullduggery.
The Bucks offense ranks fourth in Offensive Rating on the season. That's not bad — actually as good as the team has been at any point during these last few years. But the defense has not held up this year. Milwaukee ranks only 14th in Defensive Rating, right at league average. That's a drop-off from the top-10 rank the Bucks held each of the past three years under Mike Budenholzer and a far cry from the No. 1 defense from 2019 and 2020.
All of that has left the Bucks seventh in both Net Rating and in Basketball Reference's Simple Rating System, two all-in-one metrics that paint Milwaukee as a good but not great team, and that's about how they've felt.
But numbers sometimes lie.
Giannis Antetokounmpo, amidst a fourth straight top-three MVP season, has missed 13 games. Jrue Holiday and Khris Middleton have each missed 14 games too. A team built around a super-duper star and two perfect complementary stars has lost 51 games from that trio.
The Bucks have played 359 minutes this season with none of their big three. Not surprisingly, they're absolutely awful in those minutes. Milwaukee has lost those minutes by 131 points, racking up a grotesque -18.9 Net Rating.
But guess how many meaningful minutes this roster will play without all three of those stars in the playoffs? Zero, of course. Take away those 359 ultimately meaningless minutes, and the Bucks suddenly have a +6.2 Net Rating on the season, which would rank third in the NBA.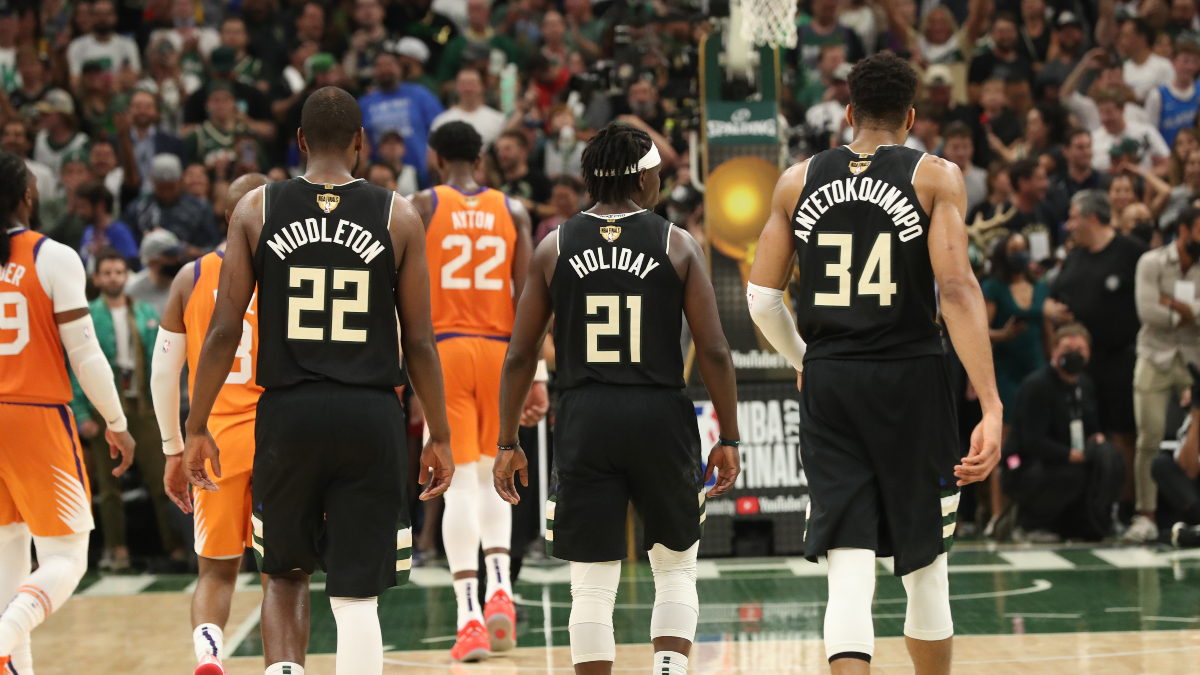 Conversely, Milwaukee's three stars have played 688 minutes together this season. The Bucks have a +12.5 Net Rating with those three on the court together this year, including a sparkling 125.7 Offensive Rating. With Antetokounmpo and even one of the other two, Milwaukee has a positive double-digit Net Rating. Their MVP really is that good.
And look at the clutch time, when the game is on the line, and the Bucks crank up the heat. Milwaukee has played 63 minutes of clutch time this season with Antetokounmpo, Holiday, and Middleton. It's an admittedly small sample size, but the Bucks' numbers in those minutes are staggering: a 180 Offensive Rating with an outrageous +47.4 Net Rating.
At the end of the day, this is a championship trio that is healthy and still as great together as always, and they should only be better now that they're surrounded by better defenders and role players.
And don't forget, we finally saw Budenholzer crank up the minutes last year in the playoffs, so Milwaukee should get 3-to-5 more minutes from each of their three stars too.
The Bucks still have the league's best, most battle-tested trio, and the numbers this year tell us they're as good as ever.
The Case Against the Bucks

So should the defending champs simply be favorites again? Not necessarily.
The Heat are far better than the team Milwaukee dispatched a year ago, and the Celtics have been the best team in the NBA over the past two months. The Sixers have James Harden now, and the Nets remain dangerous and came one shoe size away from knocking Milwaukee out last year with mostly just Kevin Durant.
The Finals could mean a matchup with the Suns, who look better than ever and just led these Bucks 2-0 last June. It could mean the healthy Warriors, a team that wasn't part of the playoff picture last season. The road won't be easy.
The big men remain a serious question. Lopez needs to prove he's ready for a big role and that the back injury is behind him. It's scary that both Milwaukee big men, Lopez and Ibaka, are older and dealing with back injuries ahead of a grueling two-month run. Portis has trailed off as the season has gone on, and he was unplayable at times in last year's run.
Tucker's presence allowed Milwaukee to go small, unleashing Antetokounmpo and Tucker as the bigs and often leaving opponents with no answer. There's no Tucker this year. Jevon Carter ain't that guy, and Ibaka is long past playing that sort of role.
What two guys play with the big three if Giannis is at center? It would have to be two of Pat Connaughton, Grayson Allen, Wes Matthews, George Hill, or Jordan Nwora. The options aren't great, and that's a huge lost weapon if Milwaukee can't get to that lineup.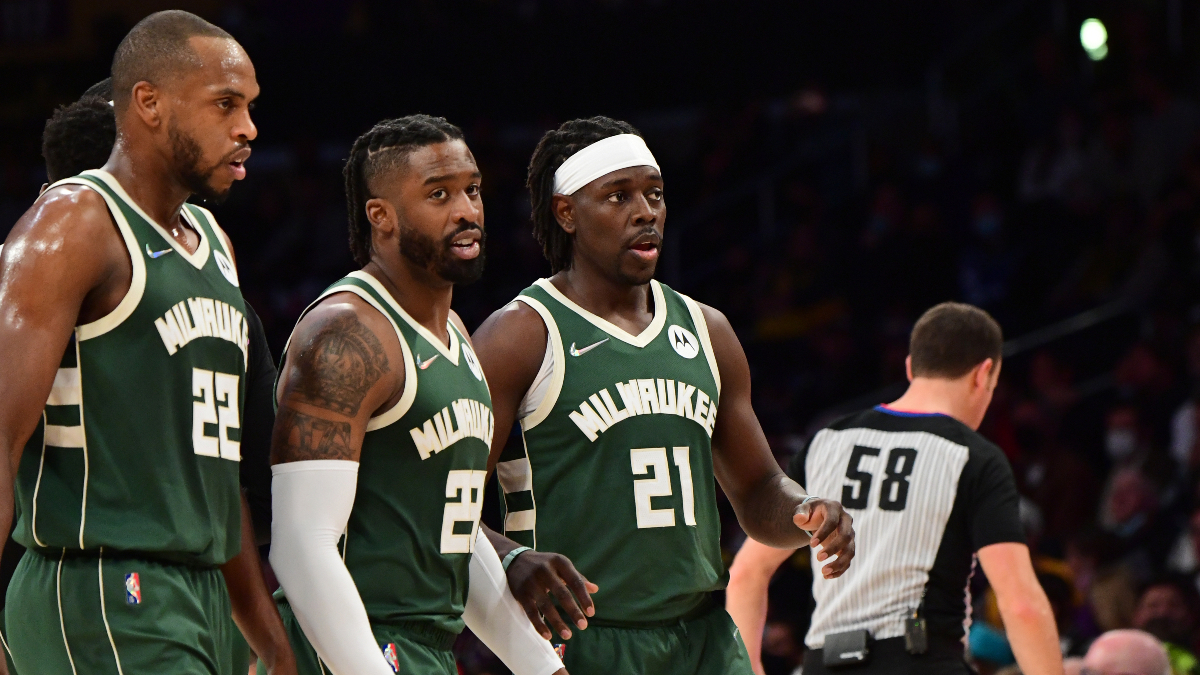 The Bucks have played 186 minutes this season with Antetokounmpo, Holiday, and none of their big men. They have a +20.3 Net Rating in those minutes with a 108.7 Defensive Rating. Can that lineup work in the playoffs even without Tucker?
It's not like last year was a coronation. The shorthanded Nets pushed the Bucks all the way. Milwaukee lucked into the Hawks in the Eastern Conference Finals and was tied 2-2 after four games. The Bucks lost the first two games against the Suns in the Finals and didn't look like they had any answers until Antetokounmpo went supernova.
Did this team find its championship mettle during last year's run? Or was it a flawed team that did just enough in a year with a slew of injuries and no singularly dominant team?
This year's team is even thinner than last year's, but the Bucks will go as far as their three stars — and let's be honest, their one MVP candidate — will take them. Will that be all the way to another championship? We'll see.
One way or another, this Milwaukee trio remains unbeaten in a playoff series with everything on the line. Do that four more times, and we'll have our answer.
How would you rate this article?
This site contains commercial content. We may be compensated for the links provided on this page. The content on this page is for informational purposes only. Action Network makes no representation or warranty as to the accuracy of the information given or the outcome of any game or event.