Big Ten Odds, Second State of Conference Betting Report: Buy & Sell, Teams Trending Up & Down
Credit:
Photo by Adam Ruff/Icon Sportswire via Getty Images. Pictured: Braden Smith & Matt Painter (Purdue)
Purdue continues to separate itself from the rest of the Big Ten pack, but everyone else is nipping at the Boilermakers' heels.
As always, the conference is a complete mess.
In the inaugural State of the Big Ten Betting Report, I took all 14 teams and placed them into three made-up tiers: In The Running, Figuring it Out and Bad at Basketball.
Because we're dealing with Big Ten basketball, everything needs to change. We need to re-file the conference into totally different tiers to try and make some sense of this nonsensical league.
So, I devised an entirely new plan. This edition of the Big Ten betting report will include the following:
My Favorite Sell-High Team
My Favorite Buy-Low Team

Trending Up Tier

Trending Down Tier
Remember, this league is wide open — 10 teams could win the conference.
Nothing is as you expect in the Big Ten, and the next edition of this report will likely look rapidly different than this one.
If I had one general piece of betting advice for the Big Ten, I'd sell the teams trending up and buy the teams trending down.
It's counterintuitive, but ultimately, that's how the Big Ten works.
Nonetheless, let's get into it. To start, here are the current betting odds to win the Big Ten regular-season title at Caesars Sportsbook: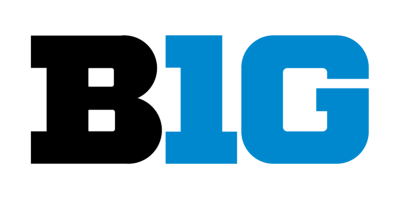 Big Ten Regular Season Title Odds
---
My Favorite Sell-High Team: Purdue Boilermakers
Yeah, yeah, so typical of me that I'm selling high on the -350 favorite. Sue me.
That said, there are legitimate problems with Purdue that the whole nation is overlooking.
Just take a look at the Michigan State game.
Zach Edey is a force of nature and the likely Wooden Award winner. He's a mismatch nightmare that no single opponent has stopped yet.
That said, his 32/17 stat line against Michigan State was slightly misleading. Edey shot just 13-for-26 from the field in that game, which was his second-worst shooting performance this year.
The numbers won't reflect it, but Sparty was right on top of the Purdue offense.
I can't say it better than Seth Davis did:
I don't know if Michigan State can pull this off but the Spartans are putting on a clinic on how to defend Purdue. Edey is having his usual monster game but Spartans are bothering him just enough to limit the other Boilermakers. Make the Edeyettes make plays.

— Seth Davis (@SethDavisHoops) January 16, 2023
Edey scored 32 points, but Purdue scored 64 in total and posted its third-worst points per 100 possession mark of the season.
The Boilermakers are 17-1 and KenPom's top offense, but they are not inevitable.
Meanwhile, Michigan State had Tyson Walker put Edey in a high pick-and-roll for almost the entire second half. If you put Edey in space, it's pretty easy to cook him.
In case you missed it, Walker posted a season-high 30 points.
Meanwhile, Purdue is a lackadaisical perimeter and ball-screen defense that cannot stop the dribble. A.J. Hoggard could touch paint whenever he wanted, finishing with eight dimes.
Part of that is a very young backcourt that can get in trouble when jump shots aren't dropping.
I'm done saying Purdue is bad. A 17-1 record while surviving every test is a good enough resume. But the Boilermakers are monstrously overvalued because they are susceptible to a relatively simple formula.
Rutgers figured out the formula, and Michigan State did too. Plenty more teams will figure out how to beat Purdue, especially in March, where Painter is known for his letdown games.
---

My Favorite Buy-Low Team: Ohio State Buckeyes
This has been quite the ugly stretch from the Buckeyes, who have lost four straight, including games to lowly Minnesota and Maryland.
However, this losing streak coincides directly with Zed Key's injury, which occurred four minutes into the Purdue game (Ohio State still almost won that game, proving Purdue isn't infallible).
He looked shaky against Minnesota and Rutgers (Ohio State also almost won that game, losing in overtime), but he'll be 100% soon.
Once Key's health is restored, Ohio State will make a classic unexpected Big Ten mini-run. I'm willing to bank on that.
The Buckeyes are an elite Chris Holtmann-led offense with a killer slow-tempo motion offense run by killer shotmakers. Ohio State can burn any defense and is KenPom's fourth-rated offense for a reason.
I love Brice Sensabaugh, the phenom who's dropped 20 points per game over his last five. He's a three-level scorer with a smooth 3-point pull-up game, making him a bucket-getter you can trust in the final three minutes of a game.
Image Credit: CBB Analytics
And watch out for stocky 6-foot-2, 215-pound guard Bruce Thornton. Nobody accumulates big assist numbers in Holtmann's scheme, but Thornton runs the pick-and-roll excellently (.931 PPP, 80th percentile) while terrorizing defenses with a surprisingly smooth pull-up jumper.
Bruce Thornton is the unsung freshman on Ohio State, but he rules. Low-volume but he's shooting 47.2% from deep, over 50% from two, a 1.7 Ast/TO ratio, and a solid 1.4% STL%. Just an all-around solid guard pic.twitter.com/Ko8Jg1Sywu

— Bryce Hendricks (@BryceHendrick14) December 29, 2022
Guess what: those two are only freshmen. They're only going to improve as the season progresses, especially when paired with veteran presences like sharpshooter Sean McNeil and experienced scorer Justice Sueing.
The defense will never be good in Columbus under Holtmann, but that hasn't mattered in the past.
So instead, I expect the young-and-lethal Buckeyes to offensively throttle the Big Ten in the coming days and weeks, granted Key is fully healthy.
Ohio State is worth a bet at 20-to-1 to win the Big Ten, and you can find the Buckeyes as high as 90-to-1 in the national title markets. The two numbers are too good to pass up, given how high the ceiling can get.
---
Trending Up Tier
Iowa (+750)
Rutgers (+1000)
Illinois (+1200)
Michigan (+2000)
Northwestern (+4000)
Illinois Fighting Illini
I've said it before, and I'll say it again: Illinois has turned a corner.
Skyy Clark is gone, and that opened up the whole offense. Brad Underwood can now run more seamless action between Terrence Shannon Jr. and Coleman Hawkins. And given those are your two best offensive players, that's what the Illini should've been doing the whole time.
Illinois is 4-0 SU and 4-0 ATS with Clark off the team, having posted four of its six best single-game offensive efficiency marks in the process.
The new five-man lineup of Sencire Harris-Shannon-Dain Dainja-Matt Mayer-Hawkins has a +51.9 Net Rating, while Clark's five-man lineup posted a +1.9.
I'm not making a dig a Clark, as he's a top-tier point guard. However, this Illini team wasn't a good fit. Shannon needed full control of the offense. He's the new ball-screen maestro of the team, and he works the sets at about double the efficiency Clark did.
When your ball-handler can do this out of the pick-and-roll, good luck:
In my preseason Big Ten preview, I wrote that Illinois was the best pick to win the conference because the three-headed monster of Shannon, Hawkins and Mayer provided the highest ceiling in the league.
Underwood has finally unleashed the monster from his cage, and I'd be scared if I were the rest of the league.
Illinois is scoring better than it has all season right now. And let's not forget how versatile this team is, as all its best players are two-way superstars.
Astoundingly, ShotQuality has Illinois as the nation's third-best half-court defense.
I'd look at Illinois in national title futures going forward.
Additionally, I'd bet on Illinois heavily until the market adjusts, especially against the stumbling Hoosiers on Thursdays.
Other Notes & Observations:
What's that number for Iowa? The Hawkeyes were dead in the water two weeks ago, and now they are the projected Big Ten runner-up? The offense is humming again with Kris Murray at 100% and they've had four quality wins, but I'm not ready to buy back in yet.
Rutgers is the best team in the Big Ten, full stop. Cam Spencer is stepping into a much-needed No. 1 scoring role, and Cliff Omoruyi is too athletic to ignore. Plus, the defense is impenetrable.
I still can't get a read on Michigan. I'm not sure if Juwan Howard has figured out his perimeter rotations yet. But Hunter Dickinson is a star and a 4-2 league start is nothing to ignore.
This week's highlight section was almost on Northwestern. The Wildcats are as good as they've ever been, with an uber-compact defensive front that has stifled every opponent — they're third in 2-point shooting allowed and 15th in KenPom's defensive ratings. Inexplicably, Northwestern is projected to win its next four games, so expect some more noise from Evanston.
---
Trending Down Tier
Michigan State (+1200)
Maryland (+3500)
Wisconsin (+3000)
Indiana (+3500)
Penn State (+4500)

Maryland Terps
"It was the best of times, it was the worst of times."
Kevin Willard's Terps stormed out to an 8-0 start and began conference play with a home win over Illinois (which we now know was slightly misleading).
Those same Terps are 3-6 since, with two wins over Saint Peter's and UMBC.
What happened?
The question surrounding Maryland entering the season — aside from Willard — was how the backcourt would adapt to Big Ten play.
For a while, it seemed that Jahmir Young and Don Carey would make the jump seamlessly.
The Young-Carey backcourt dream quickly washed away into the Atlantic.
Maryland is a heavy wing-based offense behind Hakim Hart and Donta Scott, but much of the Terps' offense comes from drive-and-kick action off its guards.
Young was heralded at Charlotte for his blow-by speed and ability to weave through and finish in traffic, making him the perfect Willard guard.
But Big Ten guards are not Conference USA guards. Young is now staring down Caleb McConnell rather than Travis Evee, and that's been a strange adjustment for the Upper Marlboro, MD, native.
Young hasn't beaten these elite perimeter defenders at the point of attack, and he's struggled even further against tough ball-pressure defenses. In four straight games against elite defenses, Young finished with an ORtg of:
89 against Tennessee
27 against UCLA
55 against Michigan
84 against Rutgers
When Young can't penetrate, this whole offense stops. In those four games, Maryland finished with a PPP mark of:
.736 against Tennessee
.773 against UCLA
.548 against Michigan
.725 against Rutgers
All four games were losses. And it produced this depressing Game Score graphic from Bart Torvik:
Young bounced back in a big way against Ohio State and Iowa, but those are arguably the two worst perimeter defenses in the conference. He'll have to face the elite defenders again very soon.
I don't know how Maryland adjusts, so I could easily see its red line continuing to plummet into infinity.
But with how the Big Ten works, I wouldn't be surprised to see the Terps beat Michigan at home on Thursday and then stun Purdue on Sunday (we know how low I am on Purdue).
Other Notes & Observations:
Michigan State should've beaten Purdue, and Sparty would've found themselves in the coveted "Trending Up" tier. That said, they've lost back-to-back games and have Rutgers on deck.
Tyler Wahl returned on Tuesday, which should pull Wisconsin out of this slump. The Badgers are a dark horse Big Ten contender with him, and they went 0-3 without him.
When do Race Thompson and Xavier Johnson come back? Because Indiana isn't even worth mentioning without them. These shorthanded Hoosiers can't stop a nosebleed.
I still like Penn State's chances in the league, and the Nittany Lions haven't collapsed yet. That said, ShotQuality has graded their last four games as analytical losses despite the 2-2 actual finish, landing them in the "Trending Down" tier.
---
Your Bi-Weekly Big Ten Bottom-Feeder Recap
Nebraska and Minnesota met up in the Big Ten Toilet Bowl last Saturday, and boy, was it a thriller. 
Behind Derrick Walker's 22 points and 12 rebounds, the Cornhuskers pulled out an 81-79 overtime victory. Nebraska almost blew it in regulation, but won in overtime thanks to Walker and Sam Griesel's late-game heroics. Griesel hit four clutch free throws late in the overtime period. 
The win marked the second conference win of the season for Nebraska (Iowa was the first) and the first conference overtime road win since it beat Colorado in a Big 12 game in February 2001. 
Nebraska subsequently scored a combined 105 points in losses to Illinois and Purdue. The Cornhuskers are desperately hanging onto a top-100 KenPom rating, thanks to a top-50 defensive efficiency mark. 
Meanwhile, the most shocking upset of the season was Minnesota over Ohio State last Thursday, as Dawson Garcia cooked the Buckeyes for 28 points on 9-for-15 shooting.
It was a masterclass by Garcia, who continues to prove he's one of the better scorers in the Big Ten.
But, as mentioned, Ohio State was trending down with Key injured.
I'm unsure what the win means for the future, although Minnesota has covered three of its last four games. 
Alas, as I repeat to myself weekly: I project no value on Nebraska or Minnesota moving forward, and neither team has any bearing in the Big Ten other than as potential upset or spoiler candidates.
How would you rate this article?
This site contains commercial content. We may be compensated for the links provided on this page. The content on this page is for informational purposes only. Action Network makes no representation or warranty as to the accuracy of the information given or the outcome of any game or event.