College Basketball Pick & Roll: Calabrese & McGrath's 6 Best Saturday Bets & Player Props, Including Oregon vs. Cal, Oklahoma vs. Oklahoma State, More (Feb. 27)
Credit:
Ed Zurga/Getty Images. Pictured: Ochai Agbaji.
Saturday is here, which means Mike Calabrese and Tanner McGrath are here to build their college hoops cards.
Calabrese went 3-0 this week, and he and McGrath are both looking to keep their hot streak going this time around.
Check out their full breakdowns for each pick below.
In this edition last week, our own Mike Calabrese went 3-0 for +8 units, hitting a remarkable 6-to-1 mid-major parlay. 
He should probably receive the Presidential Medal of Honor for his heroics. However, the team at The Action Network is never satisfied. So, Calabrese and Tanner McGrath are back this week with six more best bets to help you build a perfect Saturday card. 
As we approach selection Sunday and the NCAA Tournament, the duo is seeing the board clearer than ever before. Therefore, there's a lot of potential money in this article, and it's very much worth the read.
---
McGrath's Top 2 Saturday Picks
Oklahoma State at Oklahoma -4.5 | 3 p.m. ET
---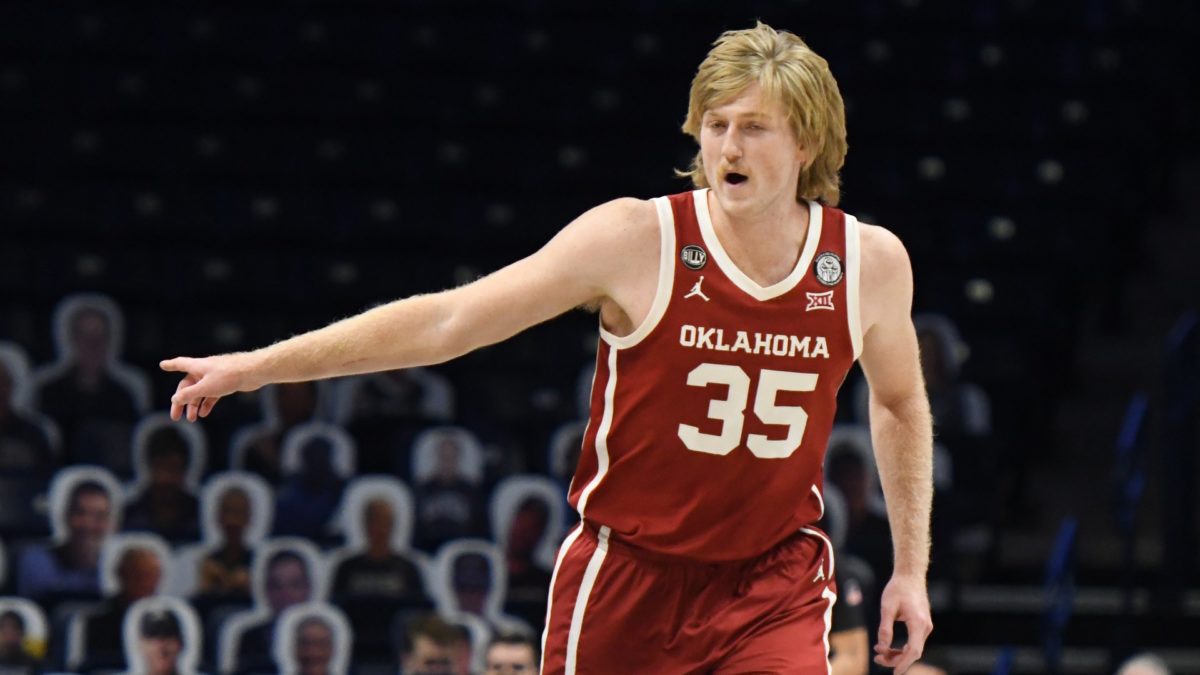 ---
Oklahoma State has had a pretty decent season and is on a solid run.
The Cowboys have won three straight games, including a home overtime win over Texas Tech on the back of future No. 1 overall draft pick Cade Cunningham.
Over his last seven games, Cunningham is averaging 20.1 points, 5.7 rebounds, 3.4 assists and 1.9 steals. He's shooting 42.3% from the field and a whopping 50% from 3. His most impressive game in that stretch was against Iowa State in which he scored 20 points, ripped five rebounds, recorded seven assists and had three steals.
Additionally, Oklahoma State's defense has been phenomenal this season. In fact, it actually is first in the Big 12 in defensive effective field goal percentage.
However, I heavily lean Oklahoma in this game.
Specifically, because of Oklahoma's dominance over its in-state rival. The Sooners are 14-5 against the spread in their last 19 games playing Oklahoma State, and Oklahoma is 11-1 ATS in its last 12 games playing Oklahoma State at home.
Moreover, Oklahoma's defense has been very effective at home this season. While the Sooners are allowing 67.4 points per game this season, they're only allowing 62.5 points per game at home.
The home defense is a big reason why the Cowboys are 8-3 ATS at home this season.
I also think this is a "hungry dog runs faster" scenario.
Oklahoma State just pulled off a huge home win against Texas Tech. But now it has to play on the road against an Oklahoma team needing a win following a road loss to pitiful Kansas State.
I'm banking on Oklahoma to bounce back big on Saturday while continuing its dominance against Oklahoma State. I would play Oklahoma up to -5.
---
Photo by Mitchell Layton/Getty Images.
---
Oregon at California +9.5 | 4 p.m. ET
---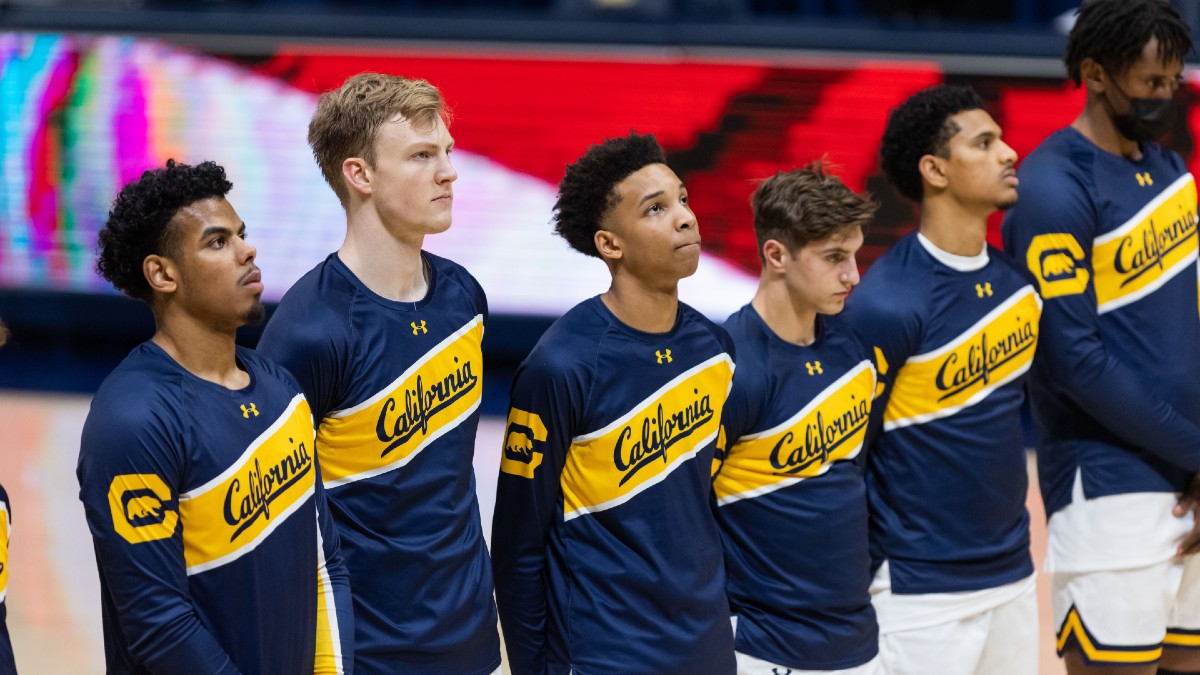 ---
Oregon is a much better team than California. 
California is 8-18 overall this season, 3-16 in conference play and in dead last place in the Pac-12. It's 11th in the conference in offensive efficiency and 11th in the conference in defensive efficiency, per KenPom. 
However, 9.5 points is too many points. 
California is 8-5 ATS at home this season, while Oregon is just 3-4 ATS on the road. Additionally, California is 15-6-1 ATS in its last 22 games playing Oregon and 6-3-1 ATS in its last 10 games playing Oregon.
 Overall, California has been a tough out this season. Meanwhile, in its last three games, Oregon failed to cover against Stanford, USC and Utah.
Betting big favorites in this conference hasn't been profitable this season. In the Pac-12 this season, when the spread is -7 or higher, the favorites are just 21-27 ATS for a ROI of -15.3%. 
All-in-all, the Golden Bears have been tough, Oregon has been mediocre on the road and big favorites in the conference haven't performed well. 
I'd play California as a home dog at +8.5 or better.
---
Photo by Bob Kupbens/Icon Sportswire via Getty Images
---
Calabrese's Top 2 Saturday Picks
Belmont -4 at Morehead State | 4 p.m. ET
---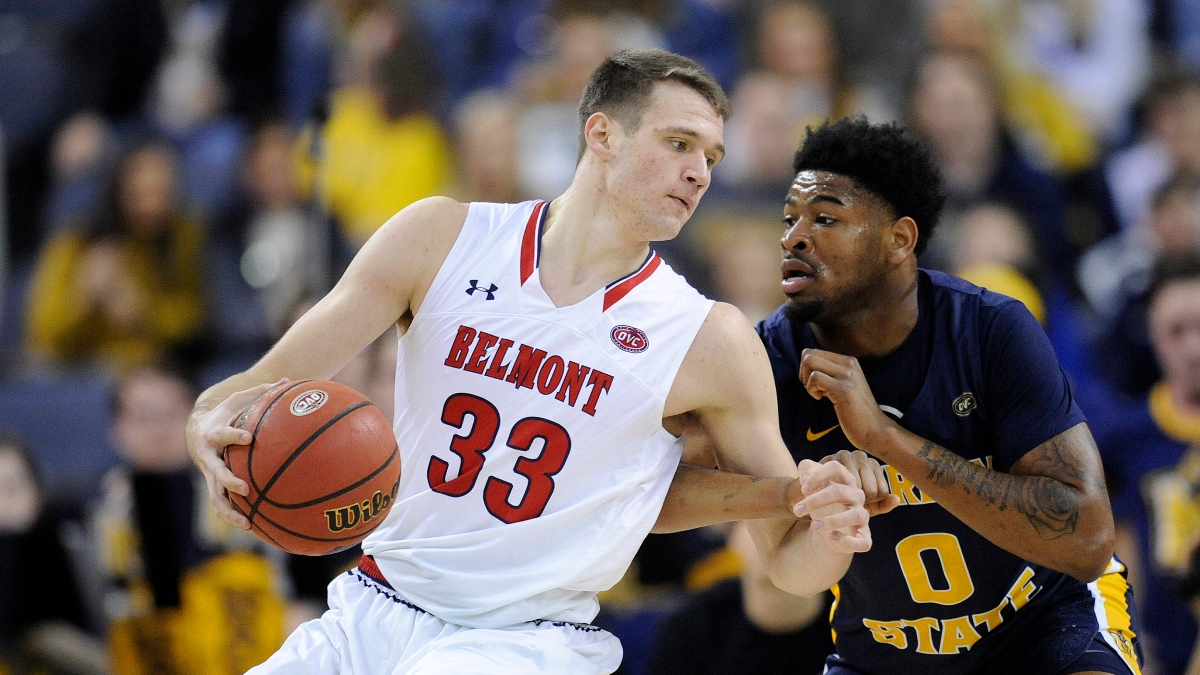 ---
Last week, the Bruins helped complete my "Mid-Major Home Cooking" parlay, and while I love what Belmont has going in Nashville, I was secretly hoping for a midweek loss to refocus it ahead of this game at Morehead. 
A 14-point loss at Eastern Kentucky is just what the doctor ordered to light a fire under the nation's sixth-most efficient offense. No one shares the ball better, aside from Gonzaga, which explains why six players are currently averaging nine or more points per game. There isn't a simple way to shut down this offense. 
At the core of this play is the contrast in styles, which makes this a bad matchup for Morehead. 
The Eagles would prefer to play this game in the high 60s/low 70s, but they were unable to score with Belmont in their first meeting, a 15-point loss on the road. 
Fewer possessions just put a higher premium on efficiency and while Morehead can exploit inefficient Ohio Valley opponents with that strategy, the efficiency differential in this one (BU 6th | Morehead 203rd) will simply be too much to overcome. 
My rankings call for this game to be closer to 8/8.5, so I'm happy to grab it just outside of a one-possession game.
---
Photo by Michael Allio/Icon Sportswire via Getty Images.
---
Jackson State -22 at Mississippi Valley State | 8:30 p.m. ET
---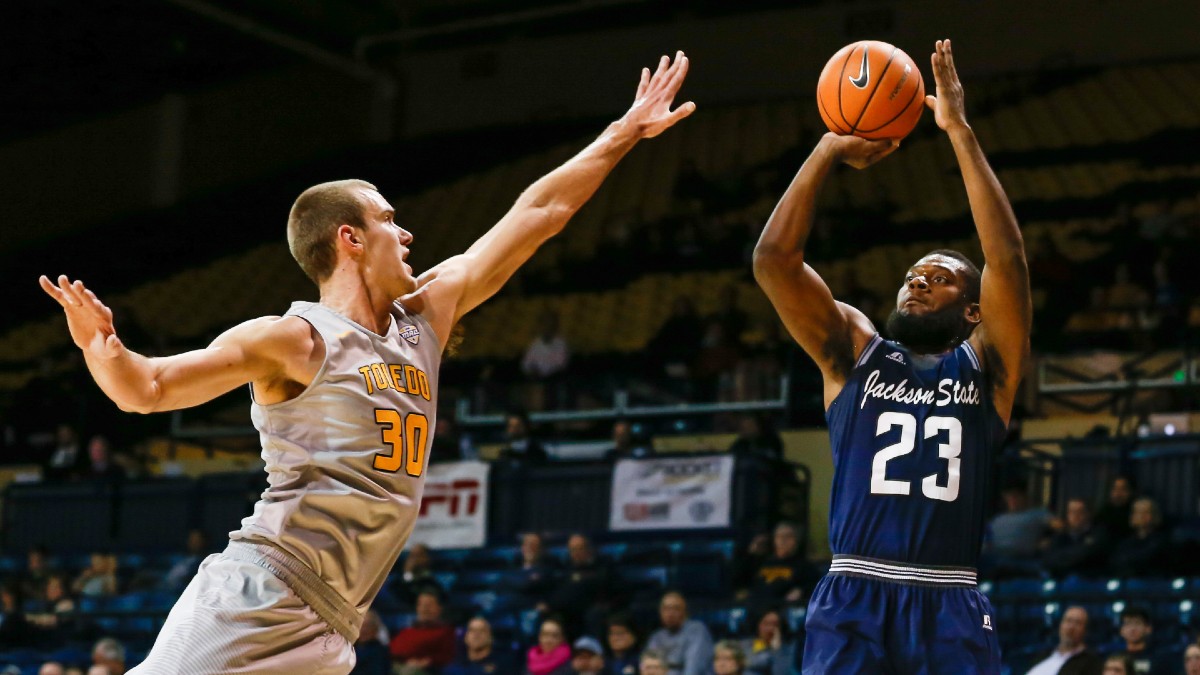 ---
This game opened at 20 and was quickly bet up to 22 overnight, and it's not hard to understand why. Mississippi Valley State is 1-19 straight up, 6-14 against the spread and has lost those games against the closing number by an average of 6.4 points per game (4th-worst in CBB). 
The Delta Devils can't shoot from inside (347th) or outside the arc (255th) or from the foul line (346th). Here's a good one: MVSU only made 1.5 more shots from the field than their total number of turnovers per game. Still unconvinced? They've lost six SWAC games by 35 points or more this season. Six!
The last time these two teams met, the Tigers won by 50 points, and their bench nearly outscored MVSU's starters (41-40). The crazy part is they didn't even have an otherworldly shooting night, hitting just 50% of their shots from the field. 
So, it's not a stretch to say that they have a chance to put on a better offensive performance against the nation's absolutely worst defense. 
Whether the Tigers' shots are falling or not, MVSU will give up second-chance buckets left and right. They are dead last in college basketball with a -14.1 second-chance differential per game. 
After a near loss at Grambling, this will be a nice "neck-crack" game for Jackson State as it eyes a potential regular-season SWAC title.
---
Photo by Scott W. Grau/Icon Sportswire via Getty Images.
---
McGrath's Top Player Prop Bet
Trent Frazier (Illinois) Over 15 points vs. Wisconsin | 2 p.m. ET
---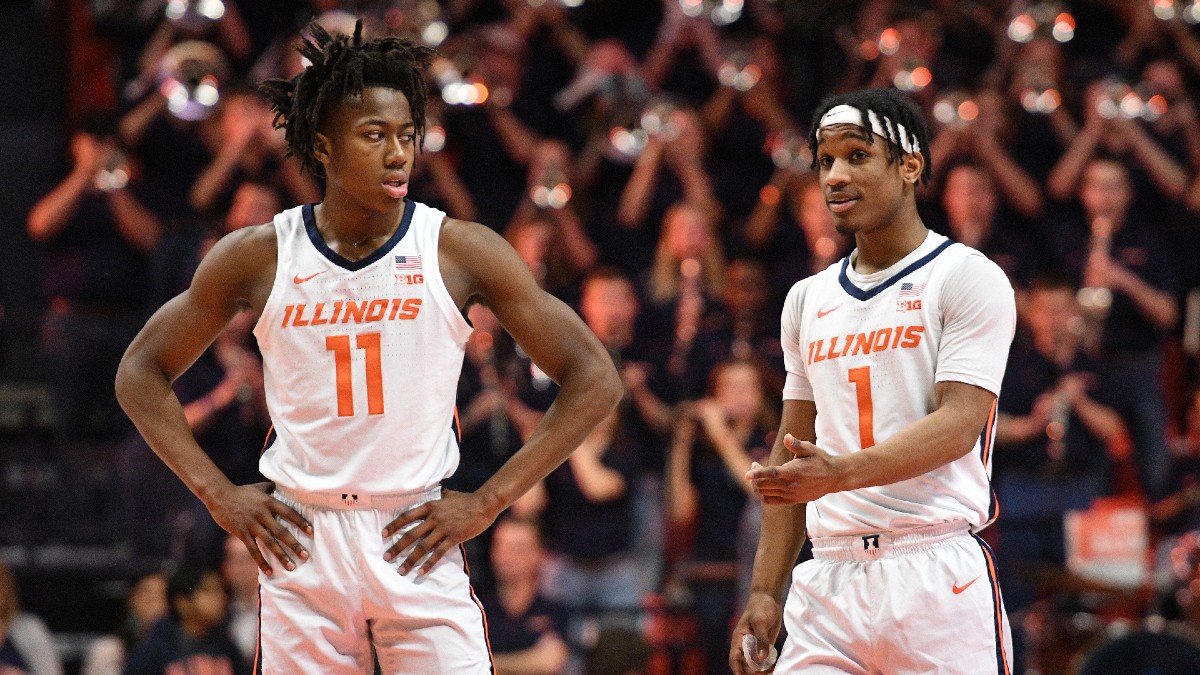 ---
With Ayo Dosunmu out for this game, someone will have to carry the offensive load for Brad Underwood's Fighting Illini — especially considering how dependent the team is on its top two stars. 
Dosunmu and Kofi Cockburn have been averaging a combined 38.7 points this season on a combined 26.2 shots per game.
I believe senior guard Trent Frazier will shoulder that load against the Badgers today. 
Frazier has really stepped up his play in recent weeks. Over the seven-game span since Jan. 19, Frazier has been scoring 14.1 points per game on 43.7% shooting from the field and 38.7% shooting from 3. He's been averaging 35.9 minutes per game and has some big performances in that span.
For example, Frazier scored 22 points on 7-for-13 shooting against Michigan State and 24 points on 8-for-13 shooting against Iowa. When Illinois has needed a third scorer, Frazier has come up big.
Frazier should step into a bigger scoring role and play as the second star alongside Cockburn today. As the starting point guard, I believe Frazier will still handle the ball considerably and see a big uptick in shot attempts.
I also believe he'll perform considerably well against a Wisconsin team that has lost five of its last nine games and two of its last three games.
I love this over at 15 and would play it up to 16.5
---
Photo by Michael Allio/Icon Sportswire via Getty Images.
---
Calabrese's Top Exotic Bet
Moneyline Parlay: Boise State & Kansas (+800)
---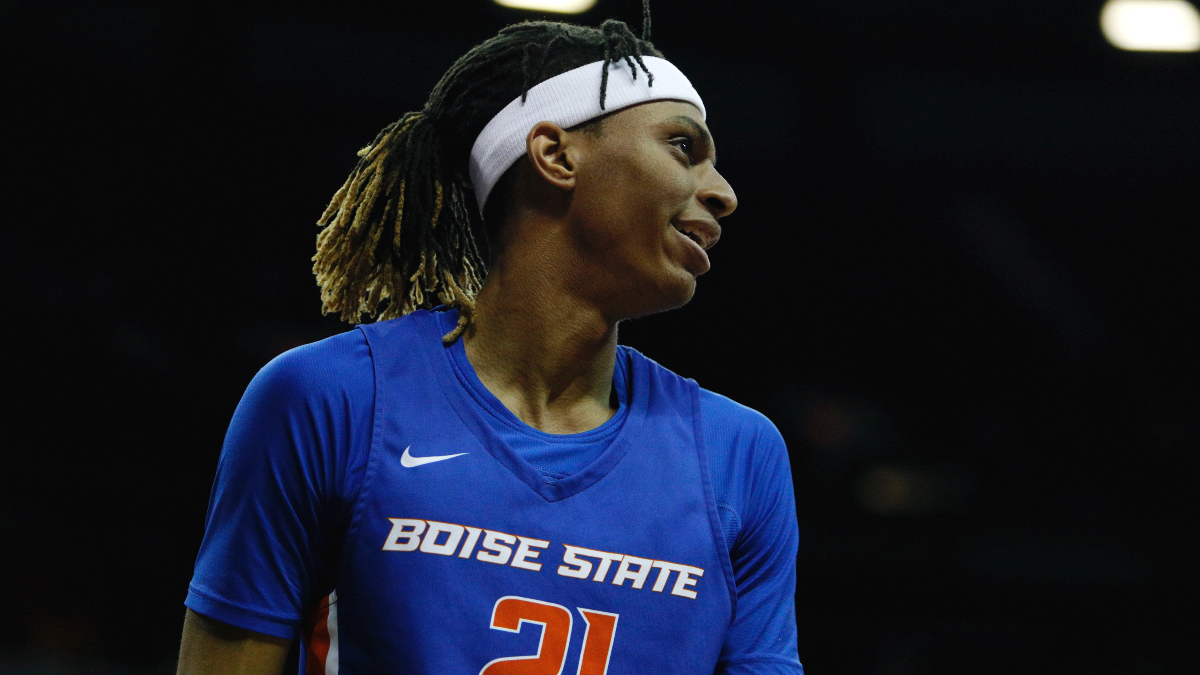 ---
I'm sticking with some moneyline magic to round out my picks for Saturday. 
And let me start by reminding the audience that in the history of college basketball, there has never been an NCAA Tournament that featured two undefeated teams. And looking at Gonzaga's slate, I'm fairly convinced it's going to cruise into the Big Dance unscathed. 
Baylor, meanwhile, has four challenging games to round out its regular season before it hits Big 12 Tournament play. This is on the heels of a near-meltdown against the previously hapless Iowa State Cyclones, who led Baylor with under five to play in Waco. 
That was a game about rust, while Baylor's road trip to Lawrence will be about timing, or to put a finer point on it, catching the Jayhawks at the wrong time. 
The Jayhawks have won five of their last six, and that could easily have been six in a row had they closed out Texas in Austin. 
A 14-point first-half lead was wasted in their overtime loss, but it's clear they're playing high-end basketball once again. The turnaround has been fueled by the KU defense, which is allowing just 58 points per game (in regulation) during its recent run. 
It wasn't run off the court when it last played Baylor, falling by eight to a Scott Drew team that connected on 47% of its 3s. I see that number coming back to earth at Phog Allen as Kansas sparks an upset as an underdog, something that has become a calling card under Bill Self since he took over in 2003 (33-36 SU as underdog | 47.8% | 1st nationally).
For the second leg of this parlay, I'll keep it brief. 
Boise State played timid and scared against San Diego State on Thursday night in the first half. The second half was a different story and may be the emotional springboard this team needs to make a deep run in March. 
The Broncos erased a 16-point second-half deficit and forced overtime before coming up short. I believe that moral victory will lead to a real one on Saturday behind another monster performance from the virtually unguardable Derrick Alston Jr.
---
Photo by Joe Buglewicz/Getty Images.
---
How would you rate this article?