Duke-Virginia Betting Guide: Blue Devils Have Some Advantages in Rematch
Credit:
USA TODAY Sports. Pictured: Kyle Gay and Zion Williamson
Duke-Virginia Betting Odds
Odds: Virginia -2
Total: 135.5
Time: 6 p.m. ET
TV: ESPN
---
>> All odds as of 8 a.m. ET. Download The Action Network App to get real-time odds and win probabilities on your bets.
---
Round 2. Here we go.
The nation's No. 2 and No. 3 teams meet on Saturday when Duke travels to Charlottesville to take on Virginia. The Blue Devils won the first meeting three weeks ago, but failed to cover thanks to a meaningless last-second shot by the Cavaliers (that maybe shouldn't have counted).
Both teams have been perfect since. But can Virginia even the score?
Market Moves for Duke-Virginia
The market is at -2 for this game after a little bit of bouncing around between -1.5 to -2.5 overnight.
Duke closed -4 at home against UVA in their last meeting, so books have the Blue Devils rated slightly higher. — Steve Petrella
Trends to Know
Under coach Tony Bennett, Virginia has dominated great teams against the spread. The Hoos are 51-29 (63.8%) ATS when facing teams with a winning percentage of 75% or better, profiting bettors 19.1 units. In that spot, Bennett is the second-most profitable coach behind only John Calipari. — Evan Abrams
When Virginia Has the Ball: Positive Regression Coming?
In the first matchup at Duke, the Cavaliers suffered through their worst 3-point shooting night of the season — an abysmal 17.6% (3 of 19). While Duke's defense ranks eighth nationally (28.8%) against the 3-pointer, many of those shot were wide-open. The Hoos should be much more efficient at home.
The biggest offensive advantage for the Cavaliers is at the free-throw line, where they shoot 76.1% as a team. In the first matchup, Virginia only shot 64.7% (11 of 17). They also allowed Duke to attempt 31 free throws. It is reasonable to assume this discrepancy evens out in Charlottesville.
The offensive keys for UVA will be to improve efficiency from beyond the arc and the free throw line, which should come naturally. — Mike Randle
When Duke Has the Ball
The Blue Devils attacked the lane at will on Jan. 19, notching a 64.9% field goal clip inside the arc. That was without point guard Tre Jones, too, who's returned since missing two games with a shoulder injury.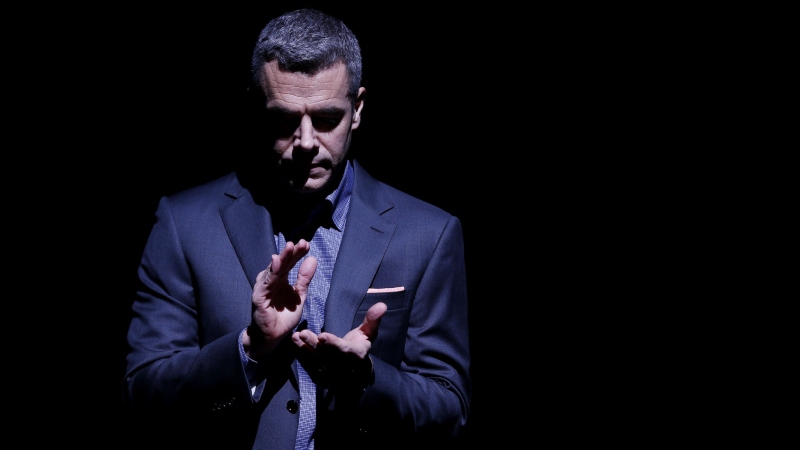 Even if Virginia's Ty Jerome (back) suits up, Cavaliers' opponents have manufactured the 37th-highest scoring percentage (53.9%) from inside the arc. They've improved amid their ACC slate, but their pack-line defense has still been susceptible to foul trouble, allowing the seventh-highest free-throw rate (31.7%) in conference play.
Tony Bennett will likely throw more double teams at Zion Williamson, as he saw a 38% possession rate while producing the highest free-throw rate on the team in their last meeting. — Eli Hershkovich
Locky: Don't Assume Anything
The last meeting may have been in Cameron Indoor, but all non-home court factors were in Virginia's favor at that time. Tre Jones didn't play. Duke was coming off an overtime loss to Syracuse where they didn't play particularly well. Virginia was fully healthy and as confident as possible after dismantling Virginia Tech.
Yet Virginia still couldn't get it done, and now a lot of the things that may have been in its favor are no more. The idea that this is just some "classic revenge spot" and a split is inevitable should be met with, at a minimum, healthy skepticism.
Ty Jerome may or may not play, which is obviously important. Even if he plays, you would expect him to be limited. Virginia basically played a 7-man rotation against Duke the first time, and if one key cog in the pack-line is eliminated, the entire team suffers. Virginia's had a lot of trouble with turnovers recently, and is facing the an insanely athletic team that gets a ton of steals and blocks. Duke had five steals in the first meeting. None of this is good for Virginia.
Lastly, Duke's concepts offensively were simple in the first meeting: use its individual matchup advantages to play isolation basketball for as much of the 40 minutes as possible. Get R.J. Barrett and Zion Williamson in advantage situations with the floor spread where they only have to drive and beat one man.
This was insanely successful, and adjustments will be required, although I'm not sure double-teaming with Jones now healthy as an additional distributor is going to go particularly great.
Basically, the "spot" was all Virginia in the first meeting, and they still came up short. Now, with things square and Duke as a small dog, I like the Blue Devils' advantages. With the game taking place with the two teams in these states, I think there is value in betting Duke. — Ken Barkley
Stuckey: Why I'm Betting the Under
I like the under here. Virginia should control the tempo at home, which will really limit Duke's offense — a transition-thriving offense that simply isn't built to beat a pack line in the half court. Duke is shooting 30.8% from 3 on the year, which ranks outside the top 300. And the Blue Devils haven't been trending up, as they've shot an even worse 29.0% during conference play (13th in the ACC).
We all know Virginia has one of the best defenses in the country. Well, Duke's doesn't get talked about enough. Both of these defenses rank:
Top 6 nationally in effective FG% (1 and 2 in ACC play)
Top 7 in 3-point defense
Top 20 nationally in 2-point defense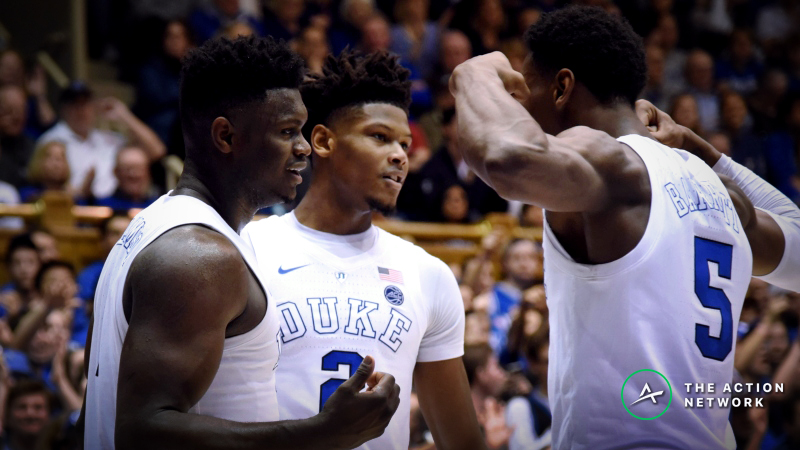 And it's the Duke defense that actually ranks No. 1 in Division I in both steal percentage and block percentage.
Yes, Virginia shoots the 3-ball extremely well (top 15 nationally for the season at 39.4% and No. 1 in ACC play at 40%), but not only can Duke's outstanding perimeter defense contain that shooting, UVA hasn't lit it up from the outside the past few games. Plus, Duke will have Tre Jones back for this game — maybe the best perimeter defender in the nation.
And UVA may have a hampered Ty Jerome, who is so important for the Cavaliers. He's not only the assist leader, but he takes the big shots down the stretch, and is one of three players for Bennett that averages 30-plus minutes per game.
I think both defenses shine and UVA controls the tempo at home. Give me the under, split between the first half and full game under 135.5. — Stuckey