Rovell: March Madness Bad Beats — and the Players Who Caused Them
Credit:
Pictured: Josh Hagins, Quinn Cook, and Jawun Evans
Darren Rovell spoke to three players involved in some of the worst March Madness beats in recent memory: Oklahoma State's Jawun Evans (vs. Michigan, 2017); Duke's Quinn Cook (vs. Utah, 2015); and Arkansas-Little Rock's Josh Hagins (vs. Purdue, 2016). These are their memories from when they turned the gambling world upside down.
Oklahoma State's Juwan Evans
2017 First Round
Opponent: Michigan
As far as recent bad beats go, it doesn't get much worse than the 2017 opening round matchup between the No. 7-seeded Michigan and No. 10-seeded Oklahoma State.
Bettors' stomachs were in knots throughout the first half. The 2.5-point favored Wolverines, then ranked 23rd in the nation, only led the Cowboys 41-40 at halftime after a back-and-forth battle.
But Michigan pulled away in the second half. In fact, from five minutes in until right before the final buzzer, Michigan was covering.
With 25 seconds to go in the game, Michigan was up seven.
Oklahoma State sophomore guard Jawun Evans got the ball to his teammate Jeffrey Carroll, who hit a three.
Michigan led 88-84 with 20 seconds to go.
After missing the front-end of a 1-and-1, the sequence went: Oklahoma State made layup, two made Michigan free throws, Evans made layup.
It was a two-point game again.
Those who bet on the Cowboys weren't holding their breath, as Oklahoma State had to foul again.
Michigan's D.J. Wilson hit both.
Four seconds to go.
Bettors with money on Michigan, which led by four points, were ready to cash in.
The ball was passed to Evans, who quickly crosses half court and throws up a heave from deep that will have no impact on the winner and loser of the game.
As the ball was still on the way up, the horn sounded.
"I definitely remember the shot," Evans told the Action Network. "I was just shooting just to shoot."
To the chagrin of those who bet on Michigan, Evans shot swished through.
Oklahoma State had lost, but by 1, ruining the spread. Individual sportsbooks had six-figure swings.
Did Evans know that his shot would mean so much in the gambling world?
Not at the moment.
That was until he went to social media.
"About 30 minutes after the game, I was getting tweets like, 'You messed up my spread,' and stuff like that," Evans said.
Evans scored 896 points in his two-year career at Oklahoma State. But his final three were the most memorable thanks to gamblers.
He declared for the NBA Draft, was picked 39th by the Philadelphia 76ers and now plays for Phoenix Suns' G League team.
---
Duke's Quinn Cook
2015 Sweet 16
Opponent: Utah
There's only one thing that drives gamblers more nuts than a player's buzzer-beating heave on a losing team that ruins the spread: When the officials greatly contribute to turning their winning bet into a losing bet.
In 2015, the ultimate March Madness ref moment drove gamblers in Vegas and people on Twitter to absolutely insanity.
It was the Sweet 16 game between Duke and Utah. The Utes were getting 5 or 5.5 points, depending where and when bettors got it.
The number appeared to be a good one.
Duke led at the half by five, and although the Blue Devils got to double digits, bettors were sweating the final five clock minutes, which would last a ridiculous 31 minutes and 53 seconds of real time.
With a minute to go, Duke went up nine. But Utah senior guard Brandon Taylor, fighting to play another college game, scored seven points in the final 60 seconds.
But it was, of course, a five-point game as Utah missed a three and Duke's Quinn Cook grabbed the rebound.
With five seconds to go, Utah tried to force a jump ball. And it looked like Cook might have even been fouled, but the refs let it go.
Three. Two. One second. As Cook dribbled it out, a Utah player slapped at Cook. The horn sounded. The game was over.
The Utes covered.
Or did they?
Refs went to the monitors and ruled that Cook was fouled with 0.7 seconds left.
"It was a really weird play," Cook told The Action Network. "I rebounded the ball and Utah was on their way to the locker room and they called us back."
It was the cruelest of endings for those who took the Utes.
To the line went Cook, who was on pace for one of the best 100 single-season free-throw percentages of all time.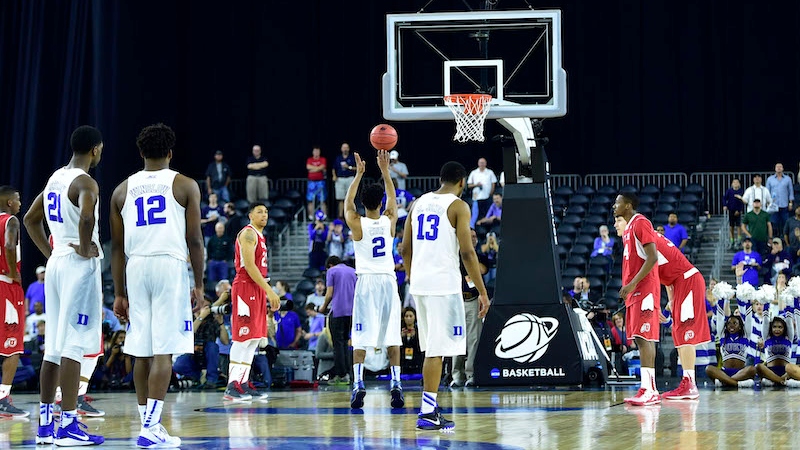 In his 98 times to the line over the 2014-15 season, he had made 89 (.908) of them.
To add a little drama, Cook missed the first.
"I remember that I was really mad that I missed that free throw," Cook said. "I was top five in the country in free throws. I didn't want to miss again."
He didn't.
With the make of his second, Duke had won 63-57. And the Blue Devils had covered the 5.5-point spread.
Since the public was on Duke, it was a brutal loss for Vegas sportsbooks. MGM properties, lost $1 million across the board, including the parlays.
"I had no idea about a spread," Cook said. "All I know is I made a lot of people happy. I saw it on Twitter after the game, how crazy people were going."
---
Arkansas-Little Rock's Josh Hagins
2016 First Round
Opponent: Purdue
Josh Hagins had a memorable 22nd birthday.
It was March 17, 2016, and his Arkansas-Little Rock team was taking on Purdue.
Purdue came into the first-round matchup of the NCAA Tournament with a 26-8 record, having just narrowly lost the Big Ten Tournament title game to Michigan State.
Arkansas-Little Rock was 29-4 and winner of the Sun Belt Conference, making only its second tournament appearance since 1990. Despite the Trojans' gaudy record, Purdue entered the 5-vs.-12 tilt as an 8-point favorite.
And, for most of the game, it looked like anyone backing Purdue would have no problem cashing.
With 5:01 to play, the Boilermakers were up 63-49.
But the Trojans soon went on a run.
A Hagins 3-pointer.
A Hagins assist on a layup.
A Hagins jumper.
Another layup assist.
Hagins again, from 3.
"I consider myself to be a guy that can heat up pretty fast," Hagins recalled to The Action Network. "So I have a couple go in, in a row, I can catch a rhythm pretty quickly."
It was a 12-0 run that destroyed the hopes of anyone who had Purdue to cover. Or did it?
Purdue found itself up 70-67 with 10 seconds to go.
"At that point in the year, we are a veteran team with a lot of experience of coming from behind," Hagins said. "We were good about handling adversity. So we just continued to fight."
The ball was in Hagins' hands. He dribbled around to find himself at the top of the key beyond the three point line and did a step back heave.
It went in.
Overtime gave those siding with Purdue a slim hope.
That lead didn't widen for Purdue, but Hagins hit a layup with 18 seconds to go that would eventually bring the game into double overtime.
Hagins scored six of Little Rock's 10 points in double overtime.
All told, in the final five minutes of regulation and the two overtimes, Hagins outscored Purdue 21-20.
The Trojans won by two.
"We just wanted to survive and advance like everyone else did," Hagins said. "The only thing that we kept hearing after the game was how we busted everybody's bracket. So for that we gave them a slight shrug and kept moving."
Hagins finished with a stat line that actually hasn't been seen in the NCAA Tournament since steals became an official stat in 1986: He became the first player to have at least 30 points, five assists, five rebounds and five steals.
"It was for sure the best game I've ever played in college," Hagins said.
Hagins said, even with gambling legalization, he doesn't think many players will know the spreads in this year's tournament.
"College basketball is basketball in its purest form," Hagins said. "It's strictly about kids who are fighting with their team to win. That's what makes it so fun to watch. So if kids become more aware of it, it will take away from the game."
How would you rate this article?