The $1,000 March Sadness Bracket Challenge: Elite 8 Results
March Madness did not go on as planned this year, but that didn't stop us from throwing our own Bracket Challenge.
Our selection committee of one (Stuckey) set the bracket on Sunday and you all signed up in droves for what we're calling The $1,000 March Sadness Challenge.
At this point, you should've received an email that assigned one of the 64 teams to you. (If you didn't, reach out to feedback@actionnetwork.com.)
After simulating the Round of 64, Round of 32 and Sweet 16 earlier this week, we're on to the Elite 8!
Reminder: The team that covers the spread is the team that advances in the March Sadness bracket.
If your team makes it all the way to the end, that's when you'll be entered into a random drawing with all the other entrants who also have your same team. The winner of that random drawing, gets the $1,000 cash.
Below we'll detail the game-by-game results for the Elite 8, but we won't judge you if you want to skip the words and go straight to the printable bracket, which also contains spreads for the Final 4 matchups.
---
EAST REGION
16. Robert Morris vs. 6. West Virginia
Spread: WVU -19.5
Score: 70-46 (WVU wins, WVU covers)
Pour one out for Bobby Mo. West Virginia completely suffocates Robert Morris en route to a comprehensive blowout win.
---
WEST REGION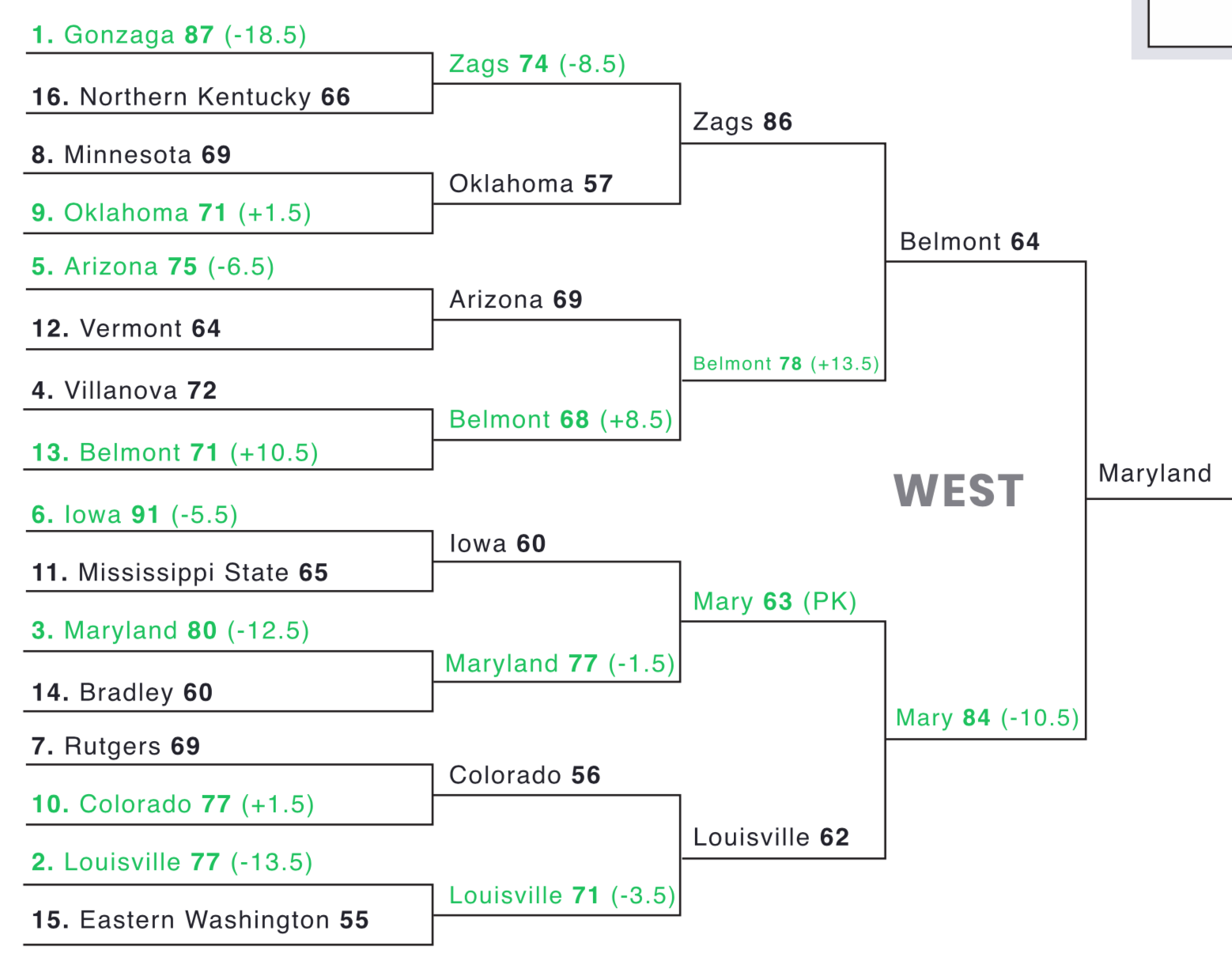 13. Belmont vs. 3. Maryland
Spread: Maryland -10.5
Score: 84-64 (Maryland wins, Maryland covers)
Another game, another blowout. Maryland just had way too much class for the Bruins.
---
MIDWEST REGION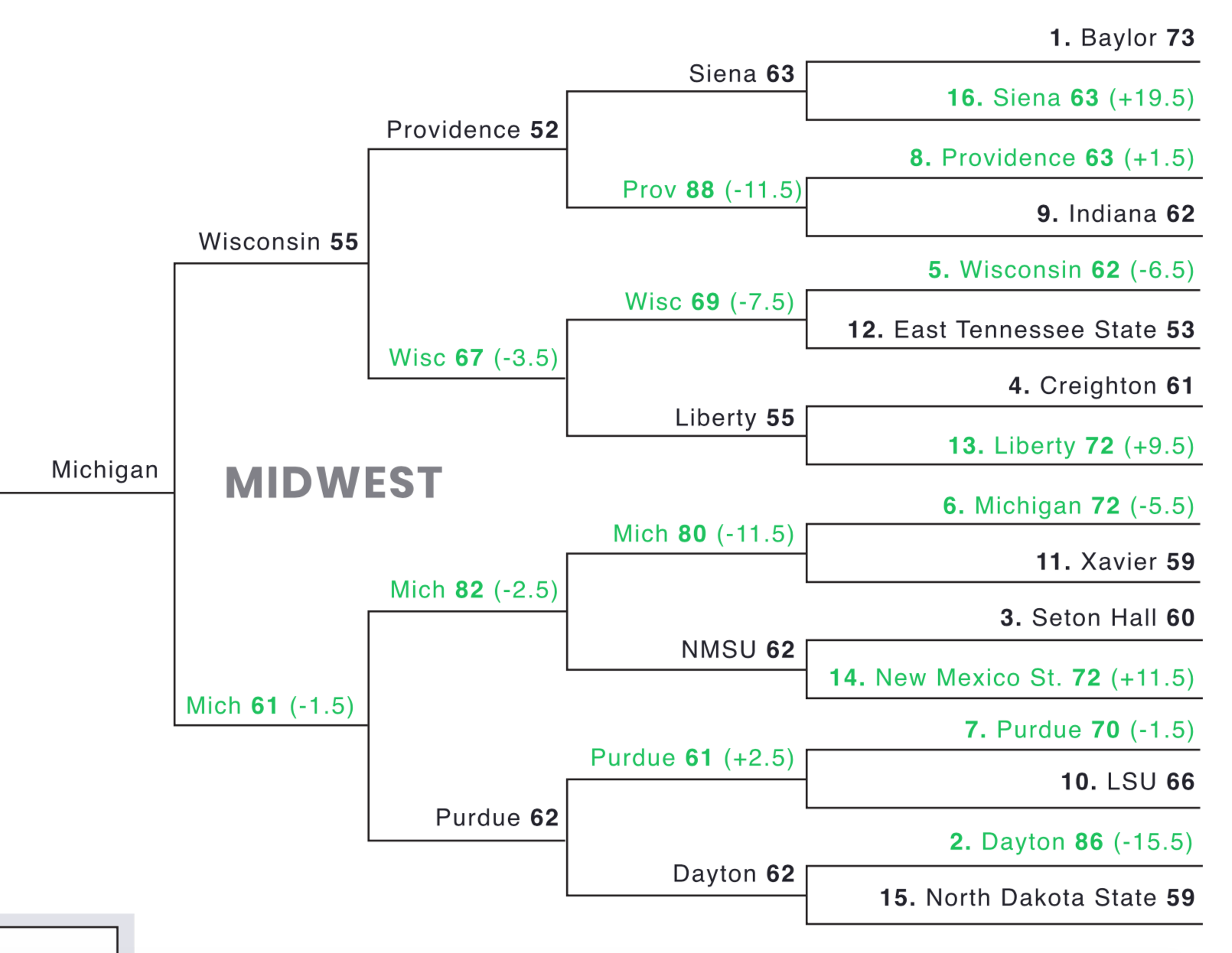 5. Wisconsin vs. 6. Michigan
Spread: Michigan -1.5
Score: 61-55 (Michigan wins, Michigan covers)
This all-Big Ten battle was the closest game of the bunch, but Zavier Simpson took over late with two dazzling hook shots to seal the win for the Wolverines.
---
SOUTH REGION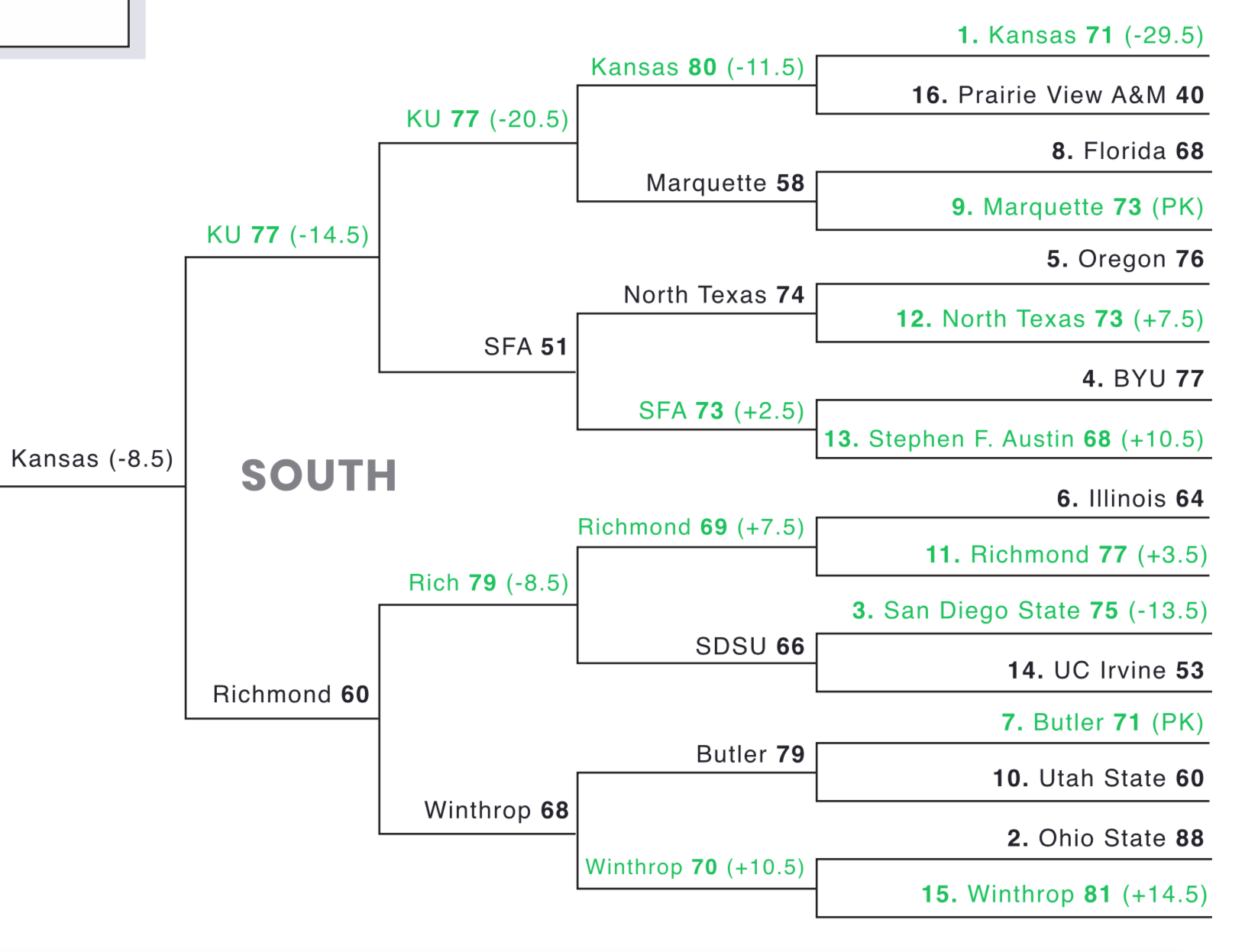 1. Kansas vs. 11. Richmond
Spread: Kansas -14.5
Score: 77-60 (Kansas wins, Kansas covers)
The top overall seed Jayhawks continue their domination with a cover over Richmond, which saw its improbable run come to an end. Kansas led by 30 at one point. It got dicey in the final minutes, but Bill Self's crew ultimately held on for the cover.
---
It was all chalk in the Elite 8 as favorites went 4-0 setting up two intriguing Final 4 battles:
West Virginia (PK) vs Maryland
Kansas (-8.5) vs Michigan
How would you rate this article?