The $1,000 March Sadness Bracket Challenge: Sweet 16 Results
March Madness did not go on as planned this year, but that didn't stop us from throwing our own Bracket Challenge.
Our selection committee of one (Stuckey) set the bracket on Sunday and you all signed up in droves for what we're calling The $1,000 March Sadness Challenge.
At this point, you should've received an email that assigned one of the 64 teams to you. (If you didn't, reach out to feedback@actionnetwork.com.)
After simulating the Round of 64 and Round of 32 earlier this week, we're on to the Sweet 16!
Reminder: The team that covers the spread is the team that advances in the March Sadness bracket.
If your team makes it all the way to the end, that's when you'll be entered into a random drawing with all the other entrants who also have your same team. The winner of that random drawing, gets the $1,000 cash.
Below we'll detail the game-by-game results for the Round of 32, but we won't judge you if you want to skip the words and go straight to the printable bracket, which also contains spreads for the Elite 8 matchups.
---
EAST REGION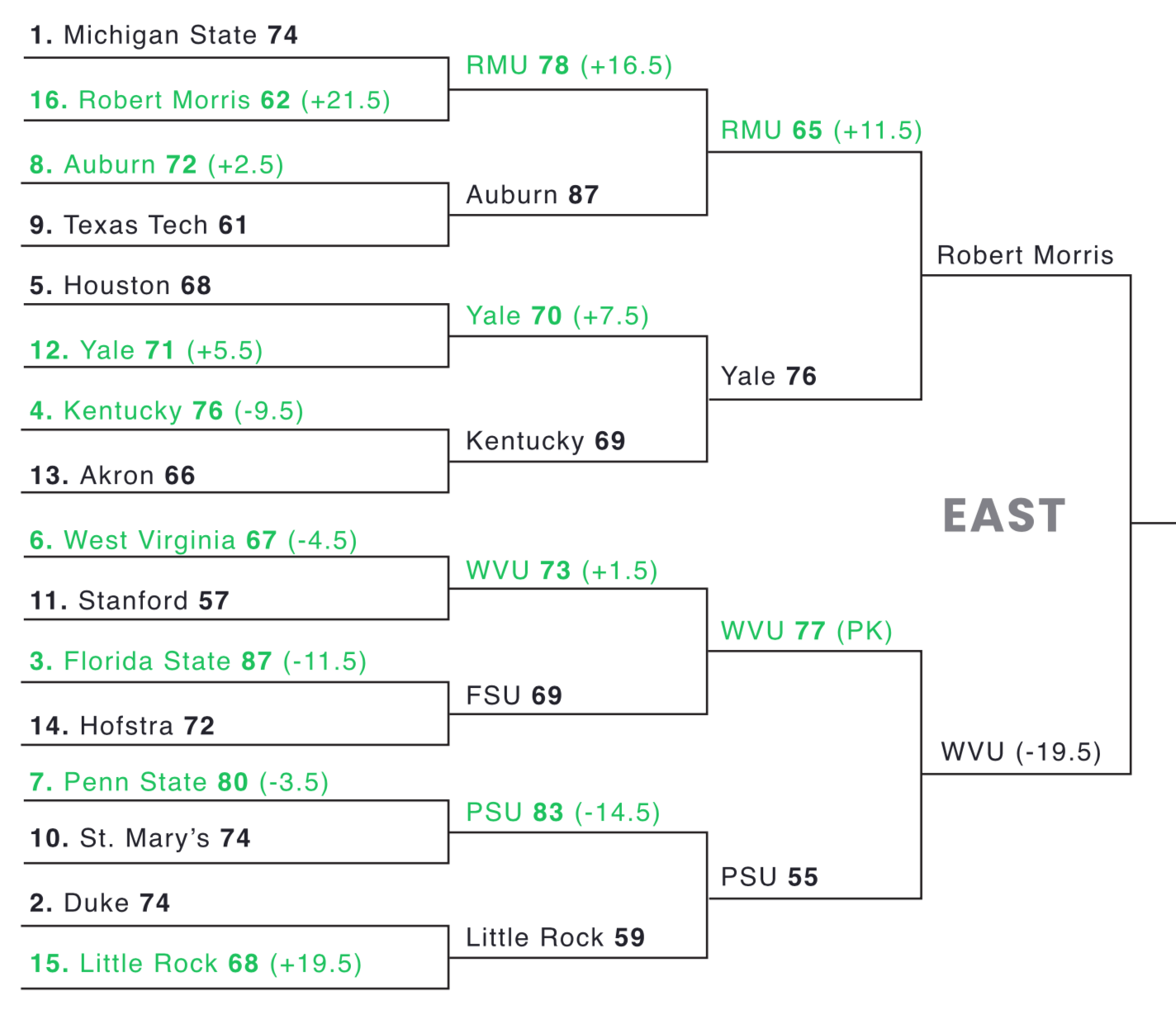 16. Robert Morris vs. 12. Yale
Spread: Yale -11.5
Score: 76-65 (Yale wins, Robert Morris covers)
Bobby Mo does it again. This time by the hook as the 16-seed continues its improbable run to the Elite 8.
6. West Virginia vs. 7. Penn State
Spread: West Virginia PK
Score: 77-55 (WVU wins, WVU covers)
WVU continues to make shots to complement its elite defense and rebounding. The Mountaineers are scary when their offense gets going, which it certainly did in an absolute blowout of Penn State.
---
WEST REGION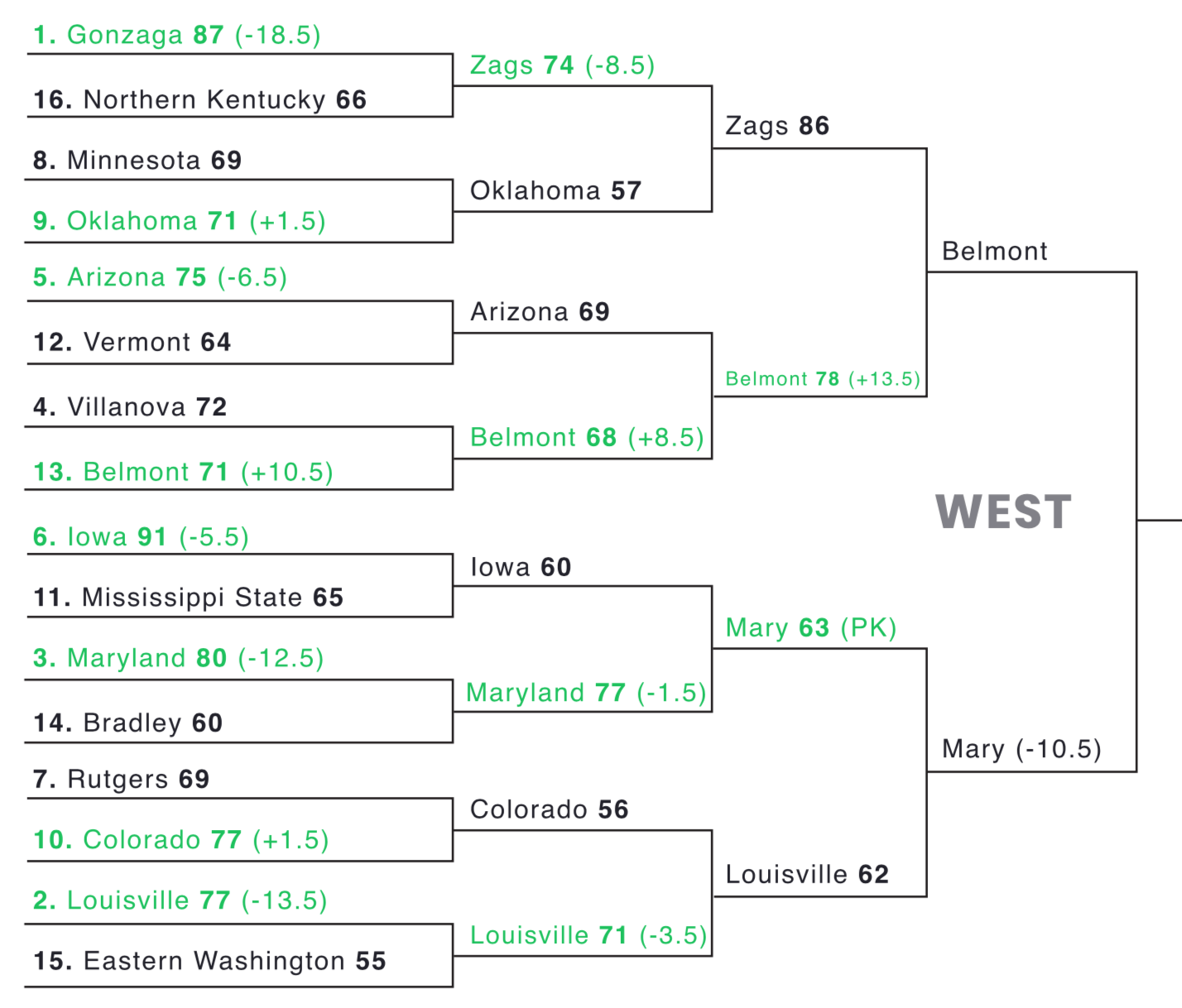 1. Gonzaga vs. 13. Belmont
Spread: Gonzaga -13.5
Score: 86-78 (Gonzaga wins, Belmont covers)
The Zags offense couldn't be stopped once again, but their defense just couldn't get enough stops against Belmont for the cover. The Bruins advance.
3. Maryland vs. 2. Louisville
Spread: Maryland PK
Score: 63-62 (Maryland wins, Maryland covers)
Maybe the game of the tournament so far, Maryland-Louisville lived up to the hype. And thanks to an Anthony Cowan fade-away 3 at the bell, the Terps moved on in a 1-point win in game that was lined as a pick'em.
---
MIDWEST REGION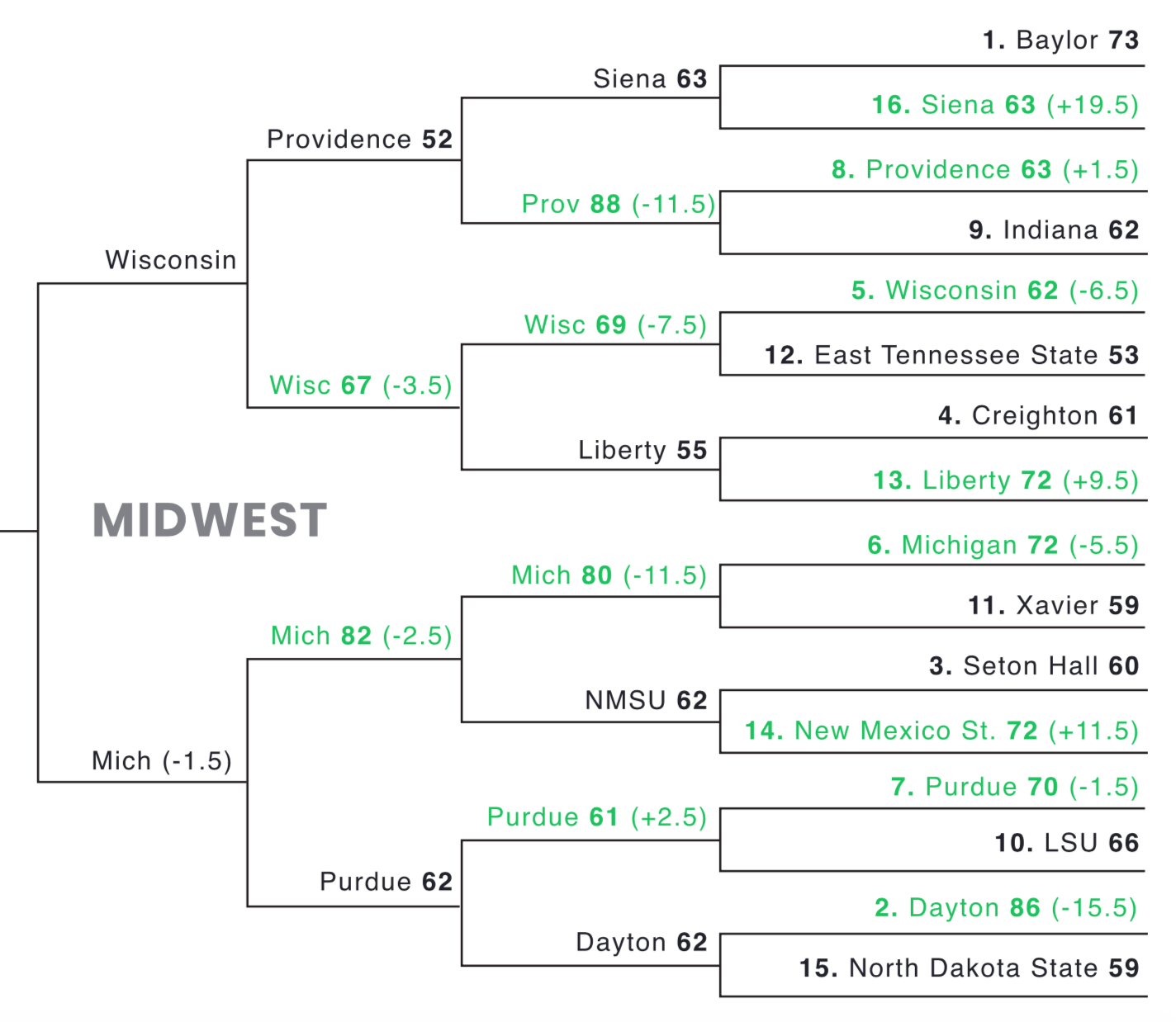 8. Providence vs. 5. Wisconsin
Spread: Wisconsin -3.5
Score: 67-52 (Wisconsin wins, Wisconsin covers)
The Badgers continued to roll, as they've looked as impressive as anybody so far this tournament, especially on the defensive end.
6. Michigan vs. 7. Purdue
Spread: Michigan -2.5
Score: 82-62 (Michigan wins, Michigan covers)
In an all Big Ten Sweet 16 matchup, it was the Wolverines that got the better of Purdue, and they did so with ease in a game that was never close.
---
SOUTH REGION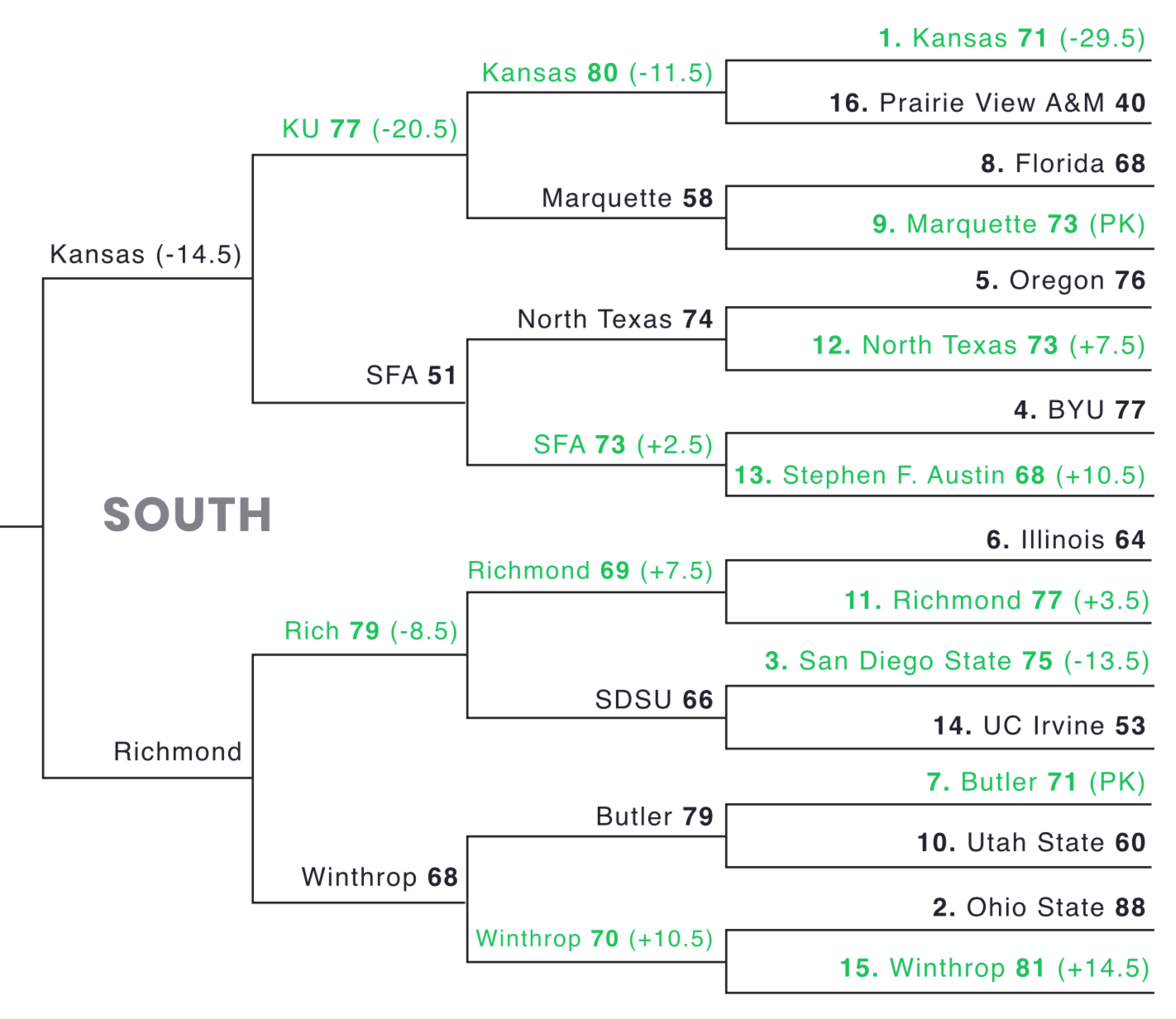 1. Kansas vs. 13. Stephen F. Austin
Spread: Kansas -20.5
Score: 77-51 (Kansas wins, Kansas covers)
Kansas rolls again. Be very afraid of the top overall seed.
11. Richmond vs. 15. Winthrop
Spread: Richmond -8.5
Score: 79-68 (Richmond wins, Richmond covers)
Winthrop had a shot for the cover with a late 3 that rimmed out, so Richmond moves on again. From beating the defending champs in the play-in game all the way to the Elite 8. Arachnophobia lives on in the bracket.
---
So, there you have it, your Elite 8 matchups are set:
Robert Morris vs. West Virginia
Belmont vs. Maryland
Wisconsin vs. Michigan
Kansas vs. Richmond
Three Big Ten teams remain, along with the top overall seed Kansas Jayhawks. We also still have a 16-seed sanding and a few other Cinderella stories. Good luck!
How would you rate this article?