The $1,000 March Sadness Bracket Challenge: Final 4 Results
March Madness did not go on as planned this year, but that didn't stop us from throwing our own Bracket Challenge.
Our selection committee of one (Stuckey) set the bracket on Sunday and you all signed up in droves for what we're calling The $1,000 March Sadness Challenge.
At this point, you should've received an email that assigned one of the 64 teams to you. (If you didn't, reach out to feedback@actionnetwork.com.)
After simulating the Round of 64, Round of 32, Sweet 16 and Elite 8 earlier this week, we're on to the Final 4!
Reminder: The team that covers the spread is the team that advances in the March Sadness bracket.
If your team makes it all the way to the end, that's when you'll be entered into a random drawing with all the other entrants who also have your same team. The winner of that random drawing, gets the $1,000 cash.
Below we'll detail the game-by-game results for the Final 4, but we won't judge you if you want to skip the words and go straight to the printable bracket, which also contains the spread for Monday's championship game matchup.
---
FINAL FOUR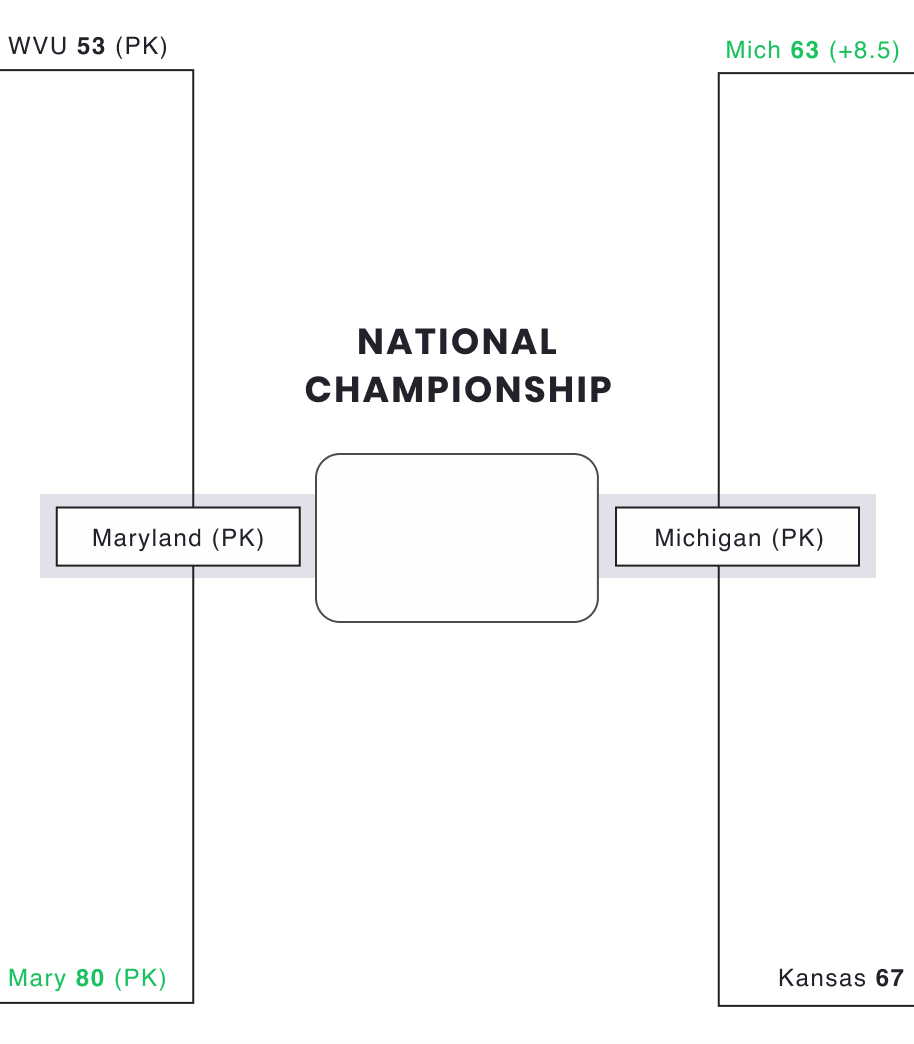 6. West Virginia vs. 3. Maryland
Spread: Pick'em
Score: 80-53 (Maryland wins, Maryland covers)
This was an absolute romp as Maryland took apart West Virginia from start to finish. The Terps did whatever they wanted on both ends of the floor and the Mountaineer shots stopped falling.
6. Michigan vs. 1. Kansas
Spread: Kansas -8.5
Score: 67-63 (Kansas wins, Michigan covers)
All chalk in the Elite 8 but not so in the Final 4. The top overall seed and tourney favorite Kansas couldn't get the cover against Michigan. Yes, the Jayhawks won outright but that doesn't matter in this tourney. You play to cover the game and a f-point victory wasn't enough to cover the 8.5 point spread. What doomed Kansas was Udoka Azubuike getting into early foul trouble, which enabled Michigan to hang around all game.
Championship Game Lookahead
So, that sets up an all Big Ten final between Maryland and Michigan for all of the marbles. Just winning the game will get the job done as the line is a true pick'em. Good luck if you have one of the final two teams standing.
How would you rate this article?