Mo' Money, Mo' Problems: 14 Schools Prepare for Latest Wave of Conference Realignment as July 1 Nears
Credit:
Isaiah Vazquez/NCAA Photos via Getty Images. Pictured: The NCAA logo.
ORLANDO, Florida — On Saturday, the latest conference realignment in college athletics will occur: 14 of the 133 FBS schools will officially change conferences. UCF, Houston, BYU and Cincinnati are off to the Big 12; Charlotte, FAU, North Texas, Rice, UAB and UTSA move to the American; and Jacksonville State, Liberty, New Mexico State and Sam Houston join Conference USA.
This recent round of musical chairs reminds me of what a wise man once said*:
"Since the dawn of time, this is how it's always worked.

Man created fire. Fire was good. And in the first-ever conference realignment, the Caveman Conference raided the Woolly Mammoth Conference — much bigger footprint, I'm told — and, of course, Adam and Eve later entered the transfer portal.

Actually, conference realignment hasn't been going on since BC — Before Corso — but it certainly seems that way."
*To be honest, it wasn't that wise of a man. It's what I wrote in April 2022.
But it still holds today. On Saturday, more than 10% of all FBS programs will officially move to a new conference.
Add in next season's changes in the SEC and Big Ten and last year's Sun Belt moves, and nearly one-fifth of all FBS schools will have changed conferences in a three-year stretch between 2022-24.
And there could be even more movement depending on what happens out West.
UCF is among the latest four schools to make the move up to a Power 5 league. UCF coach Gus Malzahn has faced challenges before in his 32-year coaching career. He went from coaching in the high school ranks for 15 years to becoming Arkansas' offensive coordinator in 2006. He won a national title as Auburn's offensive coordinator in 2011 and led the Tigers to the BCS title game as a head coach in 2014.
And now for something completely different — moving up from the American to the Big 12. Malzahn admitted there is some uncertainty about changing conferences.
"We feel as good as you can having a competitive roster to go into this league," Malzahn said. "I think we have quality depth up front, which is always important if you're going to take a step up.
"I think the biggest difference will be the grind. Most of our staff have been there and done that (at the Power 5 level), so I hope that helps. I inherited a program that when they played certain games, they played against the best and won. So, it's just gonna be the grind and having a good plan for that."
UCF opens its first season in the Big 12 playing Kent State on Thursday, Aug. 31 (7 p.m. ET, FS1). It's somewhat ironic UCF will face a former foe from the Mid-American Conference, where UCF was a member for three seasons from 2002-04.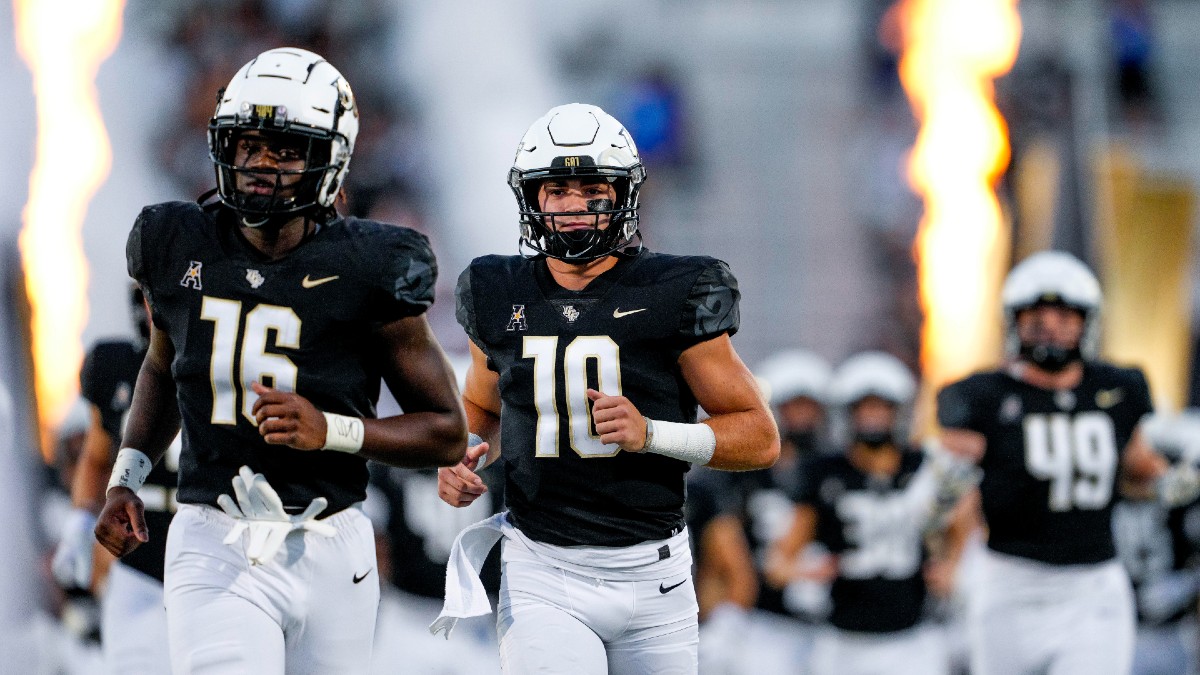 While moving to a new league has meant more money for the schools, it's also meant less success.
In the past 12 years, there have been 12 schools that have changed Power 5 conferences or moved up to a Power 5 league. Pitt, Syracuse and Louisville joined the ACC; Nebraska, Maryland and Rutgers went to the Big Ten; TCU and West Virginia jumped to the Big 12; Colorado and Utah were added to the Pac-12 and Missouri and Texas A&M began play in the SEC.
Combined, those 12 schools have played 127 seasons in their new leagues, and the results have not been pretty.
Only three times since joining has a new school won its conference championship game. Utah did so in the Pac-12 in 2021 and 2022, while Pitt accomplished the feat in 2021. TCU was the Big 12 co-champion in 2014 when the league didn't have a title game.
Last year, TCU become the only new Power 5 addition in the past 12 years to reach the College Football Playoff.
But wait, there's more. Of the combined 127 seasons in their new Power 5 leagues, only 38 times has a school finished with a winning record in conference play. Utah has had the most success (eight winning records in league play in 12 seasons in the Pac-12), while Rutgers and Maryland haven't had a winning record once in conference play in any of their nine seasons since joining the Big Ten.
While the Power 5 additions and their big-money media rights deals draw the most attention, the biggest beneficiaries of this round of conference realignment might be a couple of Conference USA newcomers: New Mexico State and Liberty.
As independents, the Aggies and Flames could only earn a bowl berth if another conference didn't fill all its bowls or if there weren't enough six-win bowl-eligible teams. Now, both schools are eligible for one of Conference USA's six bowl tie-ins. BYU, leaving the independent ranks for the Big 12, had a guaranteed bowl destination each season, but now will enjoy the flexibility of being part of the Big 12 lineup.
"It was very hard to make it to a bowl as an independent," New Mexico State coach Jerry Kill said. "Having that many bowl tie-ins with Conference USA is a huge opportunity. It sure beats being an independent and not knowing what the hell will happen."
Not knowing "what the hell will happen" also describes all the schools joining new leagues this fall. New Mexico State's debut season in Conference USA begins at home against independent UMass on Aug. 26 ( 7 p.m. ET, ESPN).
"The biggest challenge is not knowing the league," said Kill, who has been a head coach in the MAC, Big 12 and Big Ten, along with the FCS level. "For us not being in a conference for such a long time, there are probably more good things about being in a conference."
Kill said a big concern is increased travel — New Mexico State will have conference road games at Liberty (1,800 miles) and Western Kentucky (1,400 miles). He sums up what every coach is thinking about joining a new league this fall.
"What every other team has in our league, I really don't know," Kill said. "But we're gonna find out."
---
More from Action Network's Brett McMurphy
How would you rate this article?
This site contains commercial content. We may be compensated for the links provided on this page. The content on this page is for informational purposes only. Action Network makes no representation or warranty as to the accuracy of the information given or the outcome of any game or event.