2022 ACC Odds, Futures & Preview: 14 Bets to Make for Clemson, Miami, NC State & More
Credit:
Michael Berg/Icon Sportswire via Getty Images. Pictured: The NC State Wolfpack.
For the first time since the birth of the College Football Playoff, the ACC had no representative in the national semifinals last season.
Clemson missed the playoff for the first time since the 2014 season, when Florida State represented the conference in the Rose Bowl.
Not receiving a participation ribbon to the playoff after the 2021 season signals that times are changing in a conference that first crowned a champion in 1953.
Questions loom over the strength of Clemson as a national contender, while the conference looks to target programs to compete with recent SEC and Big Ten additions.
There's a change in the conference from a coaching perspective, as half of the teams have a new defensive coordinator and ten new names fill the offensive coordinator role.
The strength of the conference resides in the Atlantic Division, as Pitt recently broke a seven-year streak of the Coastal sending a different team to the conference championship.
With plenty of new names in new places, this preview will look at all variables needed to handicap futures and win totals. Generating returning numbers based on TARP, transfer portal experience and returning production is the first step, along with evaluating the Five Factors, when looking for inefficiencies in the ACC betting market.
---
Click any logo to navigate directly to that team's section.
---
Projected Win Total: 4.8 · Projected Conference Wins: 2.0
Dino Babers enters his seventh year at Syracuse, making a bowl just once in a Camping World victory over a depleted West Virginia roster.
Babers had generated plenty of credit in his position after beating Clemson in 2017 before rattling off 10 wins in 2018. Those credits are surely expired after generating just five wins in ACC play over the past three seasons.
Both sides of the ball return 78%, per TARP, but no player is bigger than running back Sean Tucker.
Tucker spent the majority of his offseason running for the Syracuse track team. Babers was modest at ACC Media Days in saying that the Heisman long shot is better than last season. Tucker will be assisted by an offensive line that returns 82% of the snaps taken in 2021, losing only a starter at the left guard position.
The Orange finished 34th in Rushing Success Rate last season, but it was a lack of points on drives past the 40-yard line where Syracuse came up short.
Babers elected to hire former Virginia offensive coordinator Robert Anae into the same role. Anae has been blessed with excellent quarterback play from Bryce Perkins and Brennan Armstrong, implementing a heavy amount of 21 and 02 personnel with tendencies to pass more than rush.
Garrett Shrader posted twice as many touchdowns as interceptions last season, but his adjusted completion percentage dips 20% when the pocket becomes crowded.
The Syracuse defense struggled to keep teams off the board last season, ending with a rank outside the top 100 in Finishing Drives. Passing Downs is where the Orange found most of their success, ranking second in Sack Rate and seventh in limiting explosiveness.
A heavy corps of linebackers and secondary returns to the 3-3-5 scheme, but plenty of inexperience comes on the line with three underclassmen.
Ultimately, Syracuse will find success against teams that want to attack through the air and cannot defend Tucker in the run game. Opponents such as Louisville, Clemson and Pitt have the trench and running back stable to dominate the Orange.
Syracuse is projected at 4.8 wins, per Action Network, with a market number at 5 and heavily juiced to the under.
Syracuse's coin-flip games come against Purdue, Virginia, Wake Forest and Boston College. None of those teams produce a front seven capable of stopping Tucker and the seasoned offensive line.
Anae will improve on a bottom-15 Finishing Drives rank, as his Virginia offense finished top-20 in points per opportunity last year.
UConn and Wagner present wins for Syracuse, leaving numerous one-possession projected point spreads that will get Syracuse to five wins to push on an over ticket.
Look for the season finale against Boston College to help Syracuse reach bowl eligibility and cash a future on the over.
Pick: Syracuse Team Total Over 5 (+110)
---
» Return to the table of contents «
---
Projected Win Total: 4.9 · Projected Conference Wins: 2.2
Head coach Jeff Hafley enters his third season at Boston College after a successful stint as the defensive coordinator at Ohio State.
There are signs the defense is responding after finishing 17th in Finishing Drives last season.
Injuries plagued the Eagles in 2021, as quarterback Phil Jurkovec missed several games with a broken wrist. Once the junior quarterback returned, reports surfaced that the injury allowed Jurkovec just 50% of feeling in his injured hand.
With weapons such as Zay Flowers at receiver and Pat Garwo at running back, the focus shifts to the offensive line.
New offensive coordinator John McNulty steps in with a resume that began as a grad assistant at Michigan in 1991. In his final year as coordinator at Rutgers in 2019, McNulty ran exclusively 11 personnel with a 57% rush rate over 430 snaps on the season. That particular offensive line saw a high number of run disruptions — a red flag for this Boston College team returning just 42% of offensive line snaps.
Hafley returns the entire defense — with the exception of a nose tackle, edge and cornerback — to his nickel scheme. More than 70% of the defense's pass pressure and rushing stops return, led by Kam Arnold and Josh DeBerry.
The Eagles have the second-easiest schedule of defenses in all of the ACC, with Syracuse, Duke, Maine and Rutgers coming to Chestnut Hill.
Action Network's win total projection for Boston College comes in at 4.9 wins in Hafley's third campaign.
The handicap may reside in the number of games against stellar defensive fronts, with Boston College having inexperience on the offensive line.
Florida State and Clemson serve as the only stiff tests from a front-seven perspective in the first half of the season. NC State and Notre Dame boast shut-down defensive units in the second half of the schedule.
Maine and UConn are the only projected blowouts on the schedule, with Rutgers and Syracuse projected within a three-point spread.
Assuming Boston College swept those four games, the Eagles are expected to be more than a touchdown underdog in seven games on the schedule.
Pick: Boston College Team Total Under 6.5 (-130)
---
» Return to the table of contents «
---
Projected Win Total: 7.3 · Projected Conference Wins: 4.6
Just one year ago, college football fans, bettors and media saw head coach Scott Satterfield pen a letter to the fan base about his desire to stay with Louisville. The Cardinals then finished the season 6-6 before a First Responder Bowl loss to Air Force.
The offense saw gains by posting a rank in the top 55 in Havoc Allowed, Success Rate and Finishing Drives.
Now, quarterback Malik Cunningham returns behind an offensive line that returns 84% of snaps from last season.
Cunningham racked up 47 missed tackles on 714 designed yards, finishing the season with 19 rushing touchdowns to just four fumbles. Then a junior, Cunningham posted a stellar 18:6 touchdown-to-interception ratio with only a tiny drop in adjusted completion percentage with pressure.
There's a brand new receiving core, but this offense runs on 72% of snaps out of 12 personnel.
Bryan Brown will continue his role as defensive coordinator after leaving Appalachian State with Satterfield. The results were trending down last season with a rank outside the top 100 in Finishing Drives, Line Yards and pass rush. The defense must limit explosive plays but loses three of its top five tacklers from a year ago.
Louisville lost three games within six points last season, as a second-order win total dictates some good fortune this season.
The projection for the Cardinals comes in at 7.3 wins, above the posted number of 6.5.
Opponents with weak front sevens that can't tackle in space will struggle against Cunningham.
Seven games on the schedule are projected to have spreads within a touchdown. Clemson, Kentucky and NC State each beat the Cardinals to close out the season last year. Pitt didn't play Louisville last year, but the Panthers will stifle the Cardinals' offensive line and quarterback.
Seven wins is achievable, but games against Central Florida in Week 2 and Wake Forest serve has potential hedge positions.
Pick: Louisville Team Total Over 6.5 (+105)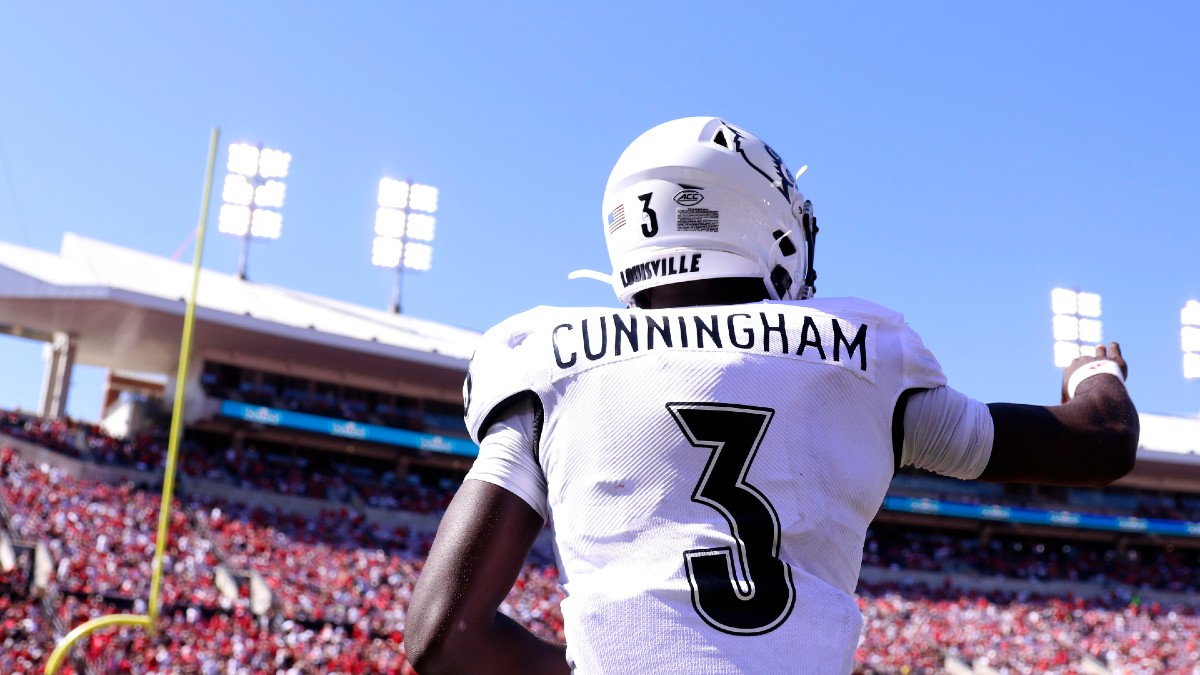 ---
» Return to the table of contents «
---
Projected Win Total: 7.7 · Projected Conference Wins: 4.5
The Mike Norvell reclamation project enters a third season after failing to make a bowl once again.
There has been no mention of Norvell being on the hot seat after the 2020 pandemic wiped out spring practices and wreaked havoc on the roster during a nine-game season that resulted in three wins.
If the initial season was a "gimme" in coaching standards, 2021 may have been the Year 0 Norvell was seeking. Florida State now returns 79% of the offense and a whopping 95% of the defense, per TARP.
The 4-2-5 defense was on the verge of joining the elite ACC class with NC State and Clemson last season. The Seminoles finished top-30 in Success Rate, Finishing Drives and Havoc on defense.
In the area of passes defensed and tackles, Florida State loses just three contributors while adding a few pieces via the transfer portal.
The departure of offensive coordinator Kenny Dillingham to Oregon was unexpected, but the offense is designed and managed on gameday by Norvell.
New coordinator Alex Atkins was promoted from within and last held this OC role with the 2019 Charlotte 49ers.
No change in scheme and tempo is expected from Florida State, as it opted to pass 60% of the time in 11 personnel and run 60% in double tight-end sets.
Everything about the offense must improve, starting with the offensive line. Florida State returns 78% of snaps on the offensive line, including four starters. Keep an eye on the right tackle position during camp, as Lamar transfer Bless Harris and redshirt freshman Rod Orr will look to solidify the starting five.
Quarterback Jordan Travis looked like a highlight reel in parts of last season, but he had nearly twice as many scramble yards than designed run yards because of breakdowns in blocking.
Travis still had his best season yet throwing the ball, nearly doubling his big-time throws versus turnover-worthy plays. Six of his top seven targets return, which should boost a Passing Downs Success Rate rank of 69th.
The Seminoles will be stout on defense once again, but the offense depends on a trench that has been working on improvement for several years.
The Seminoles start the season in a scrimmage against Duquesne before taking on LSU at a neutral site. The ACC schedule was unkind in crossover games with the Coastal, drawing an away game at Miami late in the season.
There are four games on the schedule in which Florida State will be double-digit favorites. The win total projection dictates a play on the Seminoles' over, but another futures play may have better value.
Action Network projects the Week 2 showdown with LSU to favor the Seminoles by three points. The Game of the Year line opened north of +7 for Florida State and has taken nothing but sharp money on the Seminoles.
There's still meat on the bone at +3 and is worthy of a Game of the Year play through a pick'em.
Pick: Week 1 Game of the Year (Sept. 4) vs. LSU · Florida State +3 (Play to PK)
---
» Return to the table of contents «
---
Projected Win Total: 8.1 · Projected Conference Wins: 3.9
The Demon Deacons entered the 2021 season with double-digit odds to win the conference — a number that had several oddsmakers sweating before a loss to Pitt in the ACC Championship.
Quarterback Sam Hartman returns to an 11-personnel offense that favors the pass in all down and distances. However, there's reason to believe this offense will not be as potent as the unit that won the Atlantic last season.
Wake Forest returns less than half of its rushing yards and just 60% of offensive line snaps. Star wide receiver Jaquarii Roberson and his 112 targets have departed, but the team leader in third-down targets and touchdowns returns in A.T. Perry.
There are plenty of questions on offense, starting with the lack of an established run game.
A number of receivers are expected to step up and fill out the second and third read for Hartman in the passing game. While Perry averaged 2.84 yards per route — a top-20 mark in the nation — he dropped eight passes in 2021.
The number of questions grow on the defensive side of the ball from an experience perspective, but a new coordinator may have the Deacs trending in the right direction.
Brad Lambert, the former Charlotte head coach and recent defensive coordinator at Marshall and Purdue, takes over as the co-defensive coordinator for the Demon Deacons.
Both the Thundering Herd and Boilermakers had remarkably improved numbers across the board. Specifically, Purdue turned Finishing Drives and Havoc ranks outside the top 75 into a rank of 35th.
Creating chaos is a staple for Lambert defenses, and Wake Forest should improve on ranks outside the top 100 in Line Yards and allowing the explosive rush.
This win total is priced for a team that won the Atlantic and challenged for the College Football Playoff. That team no longer exists.
The offense has more questions, and the defense undergoes a scheme change from a 4-2-5 to a mixture of 3-4 and 4-3 with Lambert.
Wake Forest is projected at 7.5 wins, a number that should have a strong start with VMI, Vanderbilt and Liberty before conference play. The true test comes with the secondaries of Clemson, Florida State and NC State during ACC play.
The pivotal game on the schedule is North Carolina, as every other game is projected to be more than a touchdown spread.
The under is the play with a projection a full game less than the posted odds. The hedge game to the ticket comes against North Carolina in November, as the season wraps with two underachieving teams in Duke and Syracuse.
Pick: Wake Forest Team Total Under 8.5 (-130)
---
» Return to the table of contents «
---
Projected Win Total: 9.6 · Projected Conference Wins: 5.7
There may be no other team in the nation with as much hype as NC State.
For all of the transitions within the ACC, the Wolfpack have the most stability by returning every member of the coaching staff. The same can be said with much of the roster, returning 90% of an aggressive, Havoc-minded defense and an offense with plenty of weapons.
Starting with the defense, coordinator Tony Gibson has fielded a 3-3-5 that goes multiple dime packages in known passing downs. Despite a low blitz rate of just 21%, the Wolfpack finished third in Success Rate and top-25 in Havoc.
Pressure from the defensive line and linebackers allowed NC State to keep opponents from moving the chains in 2021. The elite group of linebackers and secondary will return to face the fifth-easiest schedule of offenses among all ACC teams.
The offense will experience growing pains without Ikem Ekwonu at tackle, but the Wolfpack do return a half-dozen offensive linemen with more than 300 snaps from last season.
The depletion of running backs will be the biggest question mark heading into the season opener, as Jordan Houston must pick up the production from Ricky Person Jr. and Zonovan Knight, who combined for 44 third-down targets through the air last season.
Houston will look to return to his 2019 form after posting 26 missed tackles and 3.7 yards after contact.
Quarterback Devin Leary was nails in leading the offense last season, posting 10 touchdowns to just two interceptions on dropbacks with pressure. In total, Leary completed 31 big-time throws to just nine turnover-worthy plays.
Wide receiver Thayer Thomas logged the best yards-after-catch totals on the roster last season and will serve as the go-to target after the departure of Emeka Emezie.
The steam has set in on the NC State win total, moving to -150 on over 8.5. The conference odds have also lowered as the summer months move closer to opening kick.
This is the premier conference contender outside of Clemson. The Oct. 1 showdown between the Wolfpack and Tigers will decide the Atlantic Division, as Clemson projects to be a 6-point favorite in a revenge spot at home.
The scheduling could not be any more advantageous for head coach Dave Doeren after a September schedule that features East Carolina, Charleston Southern and UConn.
Look for NC State to handle Clemson's rushing duo of Will Shipley and Kobe Pace while hedging a conference future tickets.
Pick: NC State to Win ACC +800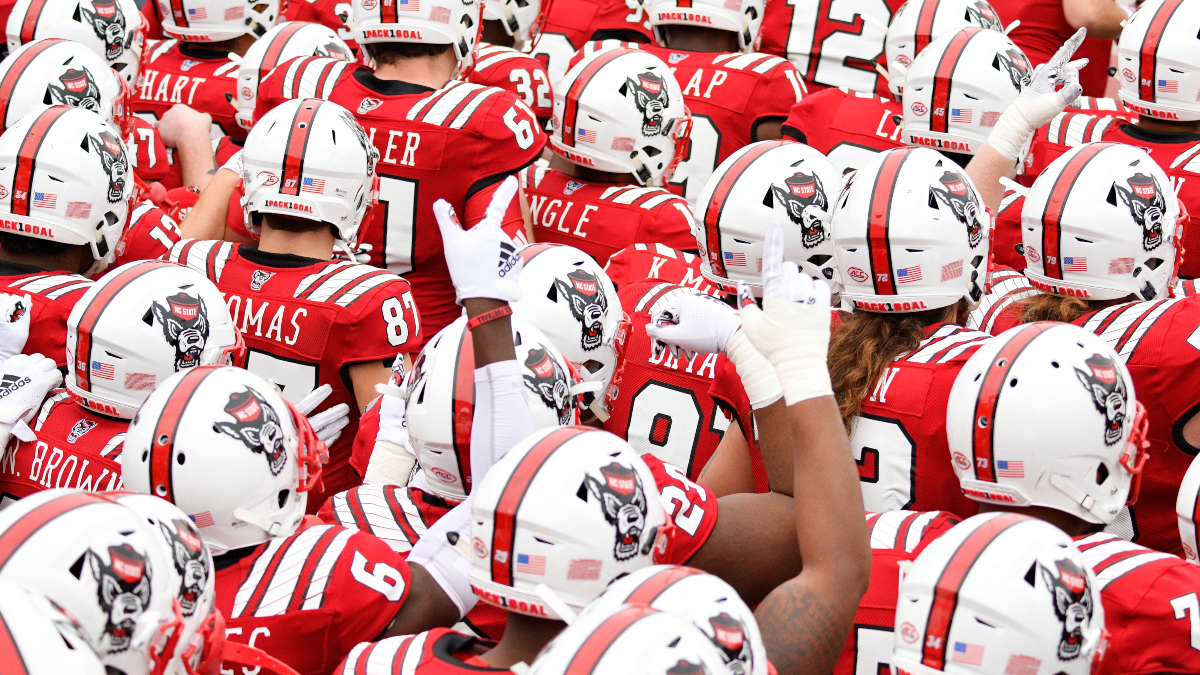 ---
» Return to the table of contents «
---
Projected Win Total: 10.1 · Projected Conference Wins: 6.5
Dabo Swinney elected to promote from within after the departures of longtime coordinators Brent Venables and Tony Elliott.
Brandon Streeter and Wes Goodwin are expected to continue the same playbooks that have been at Clemson for nearly a decade, but whether the coaches can produce at the same elite levels in the Five Factors remains to be seen.
After missing the ACC Championship for the first time since 2014, Swinney intends to keep the system that previously won national titles.
Goodwin takes over Venables' multiple defense, which is led by two of the best front seven players in the nation in Bryan Bresee and Myles Murphy.
Whether Clemson is in a 3-3-5 or 4-3, the defense has been long known for changing personnel down-to-down and knowing opponents' offensive signals before the snap.
Goodwin will be tasked with producing another top-five ranking in Success Rate and Finishing Drives. Clemson's defense has been compared to 2018, one of the best in recent college football history that sent Trevor Lawrence to the National Championship.
Streeter may have the tougher challenge on the offensive side of the ball.
Quarterback DJ Uiagalelei has been a shade of his 2020 start against Notre Dame in South Bend.
The junior finished last season with as many interceptions as touchdowns, making his biggest mistakes in a crowded pocket. Uiagalelei's adjusted completion percentage dropped from 72% to 44% when pocket pressure was present.
Weight has been a constant topic when it comes to the quarterback, as he ballooned up to 260 pounds. Uiagalelei has a goal to weigh 235 when the season starts, and he expects footwork and timing with the receivers to come naturally.
Freshman Cade Klubnik will be ready to step in if Clemson doesn't see enough efficiency from the quarterback position.
The strength of Clemson's offense is the run game, led by Kobe Pace and Will Shipley. Both running backs, along with Phil Mafah, ranked inside the top 200 running backs in missed tackles created, with Pace averaging 3.6 yards after contact.
The offensive line found a groove midseason and finished top-50 in Line Yards and 20th in Stuff Rate. Any kind of boost to explosive plays or consistency in the passing game would help the Tigers regain an identity from the Lawrence and Travis Etienne seasons.
Clemson is priced a shade lower than previous national title-contending teams. Conference odds have lowered to -120 with a win total juiced to over 10.5.
Action Network projections have the Tigers at 10 wins and a favorite of -7 or closer over Miami, Florida State and NC State.
Odds to win the conference would have a better payout in an open parlay in games against NC State and Florida State, which are both expected to challenge for the division.
The best bet comes on the win total, as plenty of landmines exist against defenses that can defend the run.
Disruption in the coaching staff may lead to inconsistencies in game-day execution. With four victories within one possession last season, there may be regression coming for the Tigers.
Pick: Clemson Team Total Under 10.5 (-130)
---
» Return to the table of contents «
---
Projected Win Total: 2.1 · Projected Conference Wins: 0.2
Mike Elko has been a part of college football since his playing days at Penn in 1995, but Duke will be his first ever head-coaching job.
Elko was known as one of the best defensive coordinators in the nation, bringing great success to Wake Forest, Notre Dame and Texas A&M with the 4-2-5 scheme.
Elko has plenty of work in front of him with 60% returning on defense and just 48% on offense, per TARP. More importantly for investors, Duke has a 4-14 mark against the spread in ACC play over the past two seasons.
Kevin Johns comes in as the offensive coordinator and is in an immediate quarterback decision with the departure of Gunnar Holmberg. Both Jordan Moore and Riley Leonard had limited snaps last season but will be depended on to run Johns' offense.
The expectation is Duke will pivot between 11 and 21 personnel with a 60% lean to passing the ball. The most experienced receiver in the fold comes in the form of Jalon Calhoun, who provided 2.3 yards per route run with an average of 6.3 yards per catch.
Veteran coordinator Robb Smith was brought in bolster a defense that finished near dead last in every category. The Blue Devils ranked bottom-five nationally in Success Rate, Finishing Drives and Havoc.
Middle linebacker Shaka Heyward provided 8.5 tackles for loss — as many as the rest of the returning roster combined.
Elko is lighting up the recruiting trail, but it will take some time for the first-year head coach to make an impact in the ACC.
With a season win total set at 3, the question is whether or not there are four winnable games on the schedule.
Duke will be small favorites over Temple, a team that's also in heavy rebuild mode. The Blue Devils are expected to be more than two-touchdown favorites over North Carolina A&T but fall as a minimum double-digit underdog in the 10 remaining games.
For Duke to reach to four wins, upsets must come against Kansas and Georgia Tech. While the scenario is not impossible, an under ticket with a moneyline wager on Georgia Tech is the best play.
Pick: Duke Team Total Under 3 (-120)
---
» Return to the table of contents «
---
Projected Win Total: 3.1 · Projected Conference Wins: 1.6
Welcome to the potential final season of Geoff Collins at Georgia Tech.
After a storied history running the triple option, Collins came to Atlanta looking to utilize a tight end and bring a more modern brand of football to the Yellow Jackets. Collins has yet to win more than three games or have a winning season from an against-the-spread perspective.
There's not much returning on either side of the ball after placing outside the top 100 in multiple categories in 2021.
Offensive coordinator Chip Long joins Collins in the effort to improve a Success Rate and Finishing Drives rank of 105th.
Long has played the role of journeyman the past several years after parting from Brian Kelly's staff at Notre Dame. The coach served as an analyst at Tennessee in 2020 and as Tulane's offensive coordinator last season.
The Green Wave ran plenty of 11 and 12 personnel in shotgun formation for passing plays, along with the pistol for any attempts on the ground.
Running back Jahmyr Gibbs transferred to Alabama, creating a large gap in returning production outside of quarterback Jeff Sims. Buffalo transfer Dylan McDuffie will look to pick up the production of Gibbs.
The defense returns just 51%, per TARP, with ranks in the bottom 15 for Havoc and Success Rate. The unit was absolutely torched to end the season, giving up 174 points in the final four weeks. The good news is not much returns from that unit, as the Yellow Jackets bring back just three of the top 11 tacklers.
The biggest weakness will be the secondary, returning just 40% of experience in passes defensed. The unit expects to start the season with three new starters.
Collins will play the toughest schedule in the country, drawing Ole Miss and Central Florida out of conference. Cross-division play against the Atlantic has Clemson and Florida State rounding out the schedule.
The Yellow Jackets opened at 4.5 in the win total market and have been bet down a full game. The Action Network projection sits at three, with Georgia Tech being a clear favorite over Western Carolina and Duke.
Collins has pulled off upsets before, beating top-25 North Carolina last season and winning three separate games as underdogs in 2020.
The under is the play on the Yellow Jackets as Collins attempts to keep his team competitive once postseason aspirations have disappeared against the nation's toughest schedule.
Pick: Georgia Tech Team Total Under 3.5 (+105)
---
» Return to the table of contents «
---
Projected Win Total: 7.0 · Projected Conference Wins: 3.4
The Bronco Mendenhall era has come to an end after six years in the ACC, leaving behind four consecutive winning seasons against the spread.
The cupboard is not completely empty for new head coach Tony Elliott, former offensive coordinator at Clemson.
The Tigers ran a strict diet of 11 personnel, and there are expectations the Cavaliers will abandon Mendenhall's concepts that included 02, 20 and 12 personnel.
The biggest reason for optimism stems from the return of quarterback Brennan Armstrong.
The mesh RPO will be one of the biggest weapons for an offense that returns 70%, per TARP.
While the overall number on offense looks healthy, the offensive line returns just 32% of overall snaps from last season. None of the linemen on the roster were considered starters last year, with freshmen projected at center and right guard.
Early nonconference play against Richmond and Old Dominion will help to get the offensive line acclimated to protections in passing downs.
Armstrong saw a minimal drop in adjusted completion percentage with pressure, but he may be adding scrambling yards at a higher pace than previous seasons.
New defensive coordinator John Rudzinski moves over from Air Force, one of the best stop units at the Group of Five level in 2021. The Falcons ended last season top-10 in pass rush and tackling. Those would be superior numbers compared to a Cavaliers defense that finished outside the top 100 in Success Rate and Havoc.
Linebacker Nick Jackson returns as the leading tackler, but Rudzinski's three-man defensive front brings back only five of the top 11 top tacklers.
Both Anthony Johnson and Darrius Bratton return as seniors at the cornerback position, as the Cavaliers look to improve on a PFF coverage rank of 56th.
There's plenty of change for Elliott in his first season as a head coach in a familiar conference.
Armstrong is still one of the most versatile weapons at the quarterback position in all of college football, but an inexperienced offensive line with freshmen on the interior will create instability early for Virginia.
There's no value in the current win total market, listed at 7.5 with heavy juice to the under. Teams with a trench advantage on the defensive line will give the Cavaliers fits. That makes projected coin-flip games against Syracuse, Louisville and Georgia Tech an advantage in favor of Virginia.
Expect the defense to massively improve under Rudzinski. If the offensive line can gel before conference play, the Cavaliers will go over their win total.
Pick: Virginia Team Total Over 7.5 (+130)
---
» Return to the table of contents «
---
Projected Win Total: 7.0 · Projected Conference Wins: 4.8
The window for North Carolina to be part of the conversation on the national stage may be closed.
Quarterback Sam Howell departed for the NFL after a lackluster 2021 season that closed with a losing record after a loss to South Carolina in the Duke's Mayo Bowl.
The defense suffered a severe dropoff in productivity, finishing outside the top 90 in all Five Factor categories.
A change came at defensive coordinator, as head coach Mack Brown elected to bring in Charlton Warren from Indiana. Tommy Thigpen begins a stint as co-coordinator as an internal promotion after serving as linebackers coach since 2018.
Warren comes in after one season as defensive coordinator for the Hoosiers following multiple years in the SEC as a defensive backs coach. His defensive scheme led to a mix of man and zone coverage but ultimately spiraled down to one of the worst ranks for the Hoosiers in recent years.
Indiana finished 118th in Defensive Finishing Drives, allowing 4.4 points to any opponent that crossed the 40-yard line. The defense returns 82% of production, per TARP, returning at least 75% of stops, pressures and passes defensed. Brown was quick to bring in Gene Chizik, former head coach at Auburn and defensive coordinator for the Tar Heels. The North Carolina defense mixed 4-3 and 4-2-5 personnel with a modest 22% blitz rate when Chizik last called the defense in 2016. That defense fell outside the top 100 in allowing explosive plays before Chizik's departure.
The offense will still be called by coordinator Phil Longo, known for his tempo and explosive plays mentality from previous stops. North Carolina fell to 53rd in tempo last season.
Now, a quarterback battle will play out during camp between Drake Maye and Jacolby Criswell. No matter the quarterback, the Tar Heels will field one of the nation's most explosive all-purpose players in receiver Josh Downs.
The ability to get Downs the ball will be critical for the starting quarterback, as the sophomore posted 2.8 yards per route run and just eight drops last season.
The running game is expected to take a step back with an offensive line that returns just 70% of snaps and featured three new starters. Running back British Brooks is unproven but has posted 12 explosive runs in just 46 career rushing attempts.
North Carolina projects for 7.7 wins on the season and 4.8 wins in the ACC, which would place the Heels in the middle of the Coastal sandwich. Oddsmakers have set the win total at 7.5 with juice on the under.
Although North Carolina will be favored in nonconference play against Appalachian State and Georgia State, both Sun Belt teams are considered to have the best quarterback and running back combinations in their conference.
Until the defense is proven, the under or a Game of the Year play on Appalachian State is suggested.
Pick: UNC Team Total Under 7.5 (-135) · Appalachian State +3 (Sept. 3, Game of the Year)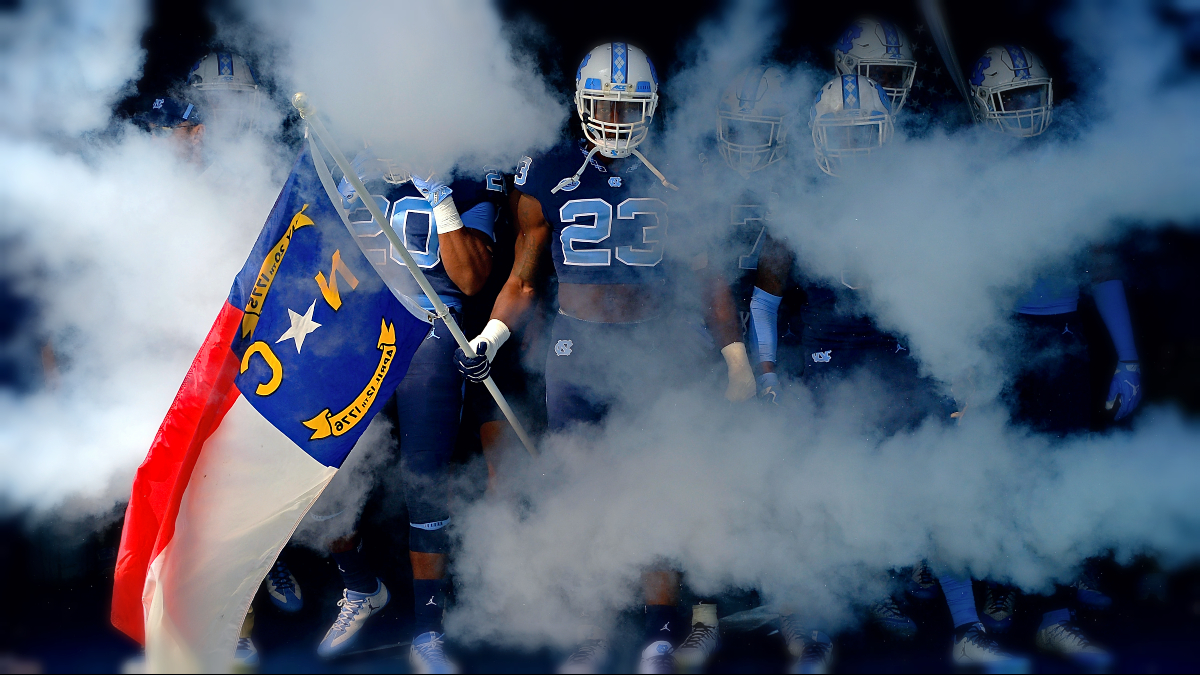 ---
» Return to the table of contents «
---
Projected Win Total: 8.7 · Projected Conference Wins: 4.9
No other team in all of FBS has a projection that's more divergent from oddsmakers than Virginia Tech.
The Hokies are full of questions after the firing of head coach Justin Fuentes and the hiring of former Penn State defensive coordinator Brent Pry.
The biggest offseason news came through the transfer portal, moving returning experience marks to 71% on offense and 80% on defense, per TARP.
A mass exodus of Fuentes players paved the way for Marshall quarterback Grant Wells, South Carolina quarterback Jason Brown and Temple wide receiver Jadan Blue.
New offensive coordinator Tyler Bowen previously worked with Pry as the co-coordinator at Penn State during the pandemic season of 2020.
The defense gave Virginia Tech an offseason boost in the power ratings, returning the top four tacklers. The Hokies do have a couple of new starters but return at least 77% of pressures, stops and passes defensed overall.
While this is a rebuilding year with a first-time head coach and offensive coordinator, Virginia Tech drew one of the easier schedules in the conference.
The Hokies have the second-easiest schedule of defenses this season, per SP+. Pry will start his head coaching career against Old Dominion, Wofford and Liberty in nonconference play.
The conference slate dodges the heavy Atlantic teams, including Clemson, Florida State and Louisville. The Hokies' month of November will be a proving ground for Pry to get his squad motivated. They close with Georgia Tech, Duke and Virginia.
The Action Network projection of 8 wins comes from a combination of transfer portal additions, along with an influence of a soft strength of schedule.
Opponents with a stellar defensive front seven will give the new offense fits, but the ACC schedule starts with Boston College and North Carolina. There's every reason to believe three wins are within reach before a tough October. November will bring optimism with a soft schedule for Pry to reach a bowl in his first season.
Pick: Virginia Tech Team Total Over 6.5 (+125)
---
» Return to the table of contents «
---
Projected Win Total: 9.4 · Projected Conference Wins: 5.8
Mario Cristobal left a rising Oregon program with complete assurance that a never-ending budget would be provided in his return to Miami. The coach previously played and coached for the Hurricanes before taking with the head-coaching position at Florida International.
There was not a better choice from a recruiting or transfer portal perspective than Cristobal. Miami finished 128th in Offensive Line Yards last season, but with an ex-offensive lineman at the helm, there are massive expectations for improvement.
Quarterback Tyler Van Dyke is considered a Heisman dark horse after torching the second half of the Canes' schedule last season. After Van Dyke was named ACC Rookie of the Year, Cristobal went as far to say he has the best quarterback in the nation.
Van Dyke ended 2021 with twice as many big-time throws as turnover-worthy plays and a 25:6 ratio in touchdowns to interceptions. The former baseball player has the legs to scoot out of the pocket, tallying 178 scramble yards and eight explosive runs on the season.
Another big offseason acquisition comes in the form of Josh Gattis at offensive coordinator. No team had a better rushing attack than Michigan last season, as Gattis left a "speed in space" mentality at Alabama for a unit with one of the best trench and running back duos in the nation.
Running back Jaylan Knighton returns to the Canes after creating 32 missed tackles and a dozen explosive runs last season. Knighton lost just two fumbles on 145 rushing attempts.
The defense returns more experience than any other team in the ACC, but the Turnover Chain may collect dust in the new regime.
New coordinator Kevin Steele will run a 4-3 scheme for a defense that fell to 115th in Finishing Drives. The former long-time Auburn defensive coordinator was brought in to improve a tackling grade of 128th.
The Merriam-Webster dictionary used to feature the Canes' defense when it came to Havoc, but Miami recorded just five forced fumbles and 37 passes defensed in 2021.
Steele has his work cut out for him in getting an ultra-talented defensive unit to buy into scheme and hustle.
Miami is a program on the rise and will separate from the pack in the Coastal Division. With a couple of recruiting classes, Cristobal will soon have the pedigree to get Miami to its first-ever College Football Playoff.
As for 2021, assembling Gattis and Steele to turn around disastrous rankings and make a New Year's Six bowl is the goal.
A projection over 9 wins is above the oddsmakers' total of 8.5.
There are doubts Cristobal can pull the defense inside the top 100 and generate a physical style of offense without his recruits. Oregon won nine games in Cristobal's inaugural season, and there would be no shock for Miami to do the same in 2022.
Pick: Miami Team Total Over 8.5 (+100)
---
» Return to the table of contents «
---
Projected Win Total: 9.6 · Projected Conference Wins: 5.7
Count the Panthers as one of numerous ACC teams with changes in personnel and the coordinator role.
Frank Cignetti Jr. spent two seasons as Boston College's offensive coordinator but now moves over to a Pittsburgh team in the wake of quarterback Kenny Pickett's departure for the NFL.
USC transfer Kedon Slovis comes in to run a different style of offense than the Air Raid used at Southern Cal the past few seasons.
The junior recorded 54 touchdowns to 21 interceptions as a Trojan but deflated in 2021 with a nearly even distribution of big-time throws to turnover-worthy plays.
There's no doubt that handing the ball off will be the preferred route for Cignetti, considering the weapons behind Slovis.
Pitt returns three running backs with more than 100 rushing attempts from last season. Israel Abanikanda, Vincent Davis and Rodney Hammond will run behind an offensive line that returns every starter.
Cignetti looks to continue an offense that finished top-five nationally in Finishing Drives — a number that was assisted by the trio of running backs producing 16 rushing touchdowns.
The offensive line led the team to a top-25 ranking in Havoc Allowed, indicating that Slovis may receiver the best protection he's had in his college career.
The defense needs no introduction under head coach Pat Narduzzi. The Panthers return 73% of their experience, bringing back nearly all contributors from a passes defensed and pressure standpoint.
SirVocea Dennis and Habakkuk Baldonado combined for 13 sacks, 13 quarterback hits and eight tackles for loss in 2022. Narduzzi led another terrorizing defense that finished fifth in Line Yards, 15th in Havoc and 13th in Stuff Rate.
There's no expectation of a drop-off when it comes to Pitt's defense.
The only question marks from the 2021 squad are the losses of Pickett, wide receiver Jordan Addison and offensive coordinator Mark Whipple.
The Panthers finished as the best team in the nation in the Middle 8, a stat that looks at point differential in the four minutes before and after halftime. The offense also finished top-20 in seconds per play — a stark contrast from a Cignetti offense at Boston College that ranked 86th.
Any oddsmakers unaware of the change at offensive coordinator can expect a steady diet of weekly unders, considering the ability to run the ball and control the clock.
Still, this is the best defense in the conference and one that expects to be a favorite in 11 of its 12 games.
Unlike Miami, the Panthers don't have Clemson or Florida State from the Atlantic Division. Dodging NC State while drawing Syracuse in cross-division play gives Pitt the inside track to the Coastal crown.
The obvious hedge spot for a future is the season finale at Miami. But if tiebreakers fall the right way, there may be a reason to ride an ACC champion investment to the finish line.
Pick: Pitt to Win ACC +900
---
» Return to the table of contents «
---
How would you rate this article?
This site contains commercial content. We may be compensated for the links provided on this page. The content on this page is for informational purposes only. Action Network makes no representation or warranty as to the accuracy of the information given or the outcome of any game or event.