2022 MAC Manifesto: Stuckey's Betting Guide to MACtion Win Totals, Futures Odds & Predictions
Credit:
James Gilbert/Getty Images. Pictured: Rocky Lombardi.
I recently asked a newly-hired employee at Action how they first found out about our company. Their answer brought joy to my heart: "Your 2020 MAC Manifesto."
Now, they probably just made that up to get on my good side, but it still got me extremely excited to put together the MAC Manifesto for a third straight year.
After hitting Ball State 9-1 in 2020, I came oh so close last year to following that up with another future hit with Kent State 14-1. The Golden Flashes were even favored in the conference title game but ran into my nemesis last year, Northern Illinois. The Huskies became the first team to win a conference championship after a winless season.
Only in the MAC where the unexpected becomes the expected.
There can be stunning turnarounds in this league, where the talent disparity isn't substantial. You may also recall Central Michigan reaching the title game in 2019 after going 1-11 (0-8 in the MAC) in the previous year. The Chips entered that season with 50-1 odds to win the conference.
So, who will win it the MAC this year? Your guess is as good as mine in a league where no team has repeated as champions since NIU achieved that feat a decade ago in 2012.
I hope you find a MAC future to enjoy through the roller-coaster weekday games, which I can't wait for.
---
Click any logo to navigate directly to that team's section.
---
MAC East
Let's jump into the division that looks much more wide open on paper. Then again, you could say that about either division almost every season in the MAC.
Miami (Ohio) enters the 2022 campaign as the East favorite, but the RedHawks have a few potential fatal flaws.
Win Total: Over 6.5 (-160) · MAC Odds: +450
In 2021, the RedHawks enjoyed a third-straight winning season after taking down North Texas in the Frisco Bowl. They finished 7-6 despite a 1-4 record in one-possession games.
In fact, all three league losses came by two points or fewer, including a devastating 48-47 loss at Kent State in the regular-season finale. If Miami had converted a two-point conversion attempt at the end of the game, it would've headed to Detroit for the MAC Championship instead of the Golden Flashes.
Gabbert Gives RedHawks Best Odds in East
When talking about the 2022 RedHawks, it all starts with the best quarterback in the league, Brett Gabbert. He started all 14 games as a true freshman in 2019, guiding Miami to a MAC Championship, and will now return for his fourth year under center.
Gabbert led one of the most potent Group of Five passing attacks in the nation last year. He benefited from an offensive line that gave up only 13 sacks and ranked in the top 10 nationally in tackles for loss allowed.
Four of those offensive line starters return in addition to the top four from a true running back committee.
The pass-catchers also have plenteous experience with deep threat Jalen Walker and former Penn State transfer Mac Hippenhammer. However, the RedHawks will need to replace the production of top wideout Jack Sorenson, who led the team in receiving in four straight years.
Sorenson amassed over 1,400 receiving yards and caught 10 touchdowns in 2021. He was clearly Gabbert's favorite and most reliable target, especially on third downs.
Head coach Chuck Martin hopes Indiana transfer Miles Marshall can help replace the invaluable Sorenson, who recently got a shot with the Bengals.
The key to Miami's offense will be two-fold:
Replace the production of Sorenson
Keep Gabbert healthy
Gabbert's health now becomes paramount after AJ Mayer hit the transfer portal this past offseason. Mayer had filled in admirably as a starter in each of the past two seasons when Gabbert missed time due to injury. With him no longer around, the backups now have one career pass attempt.
Assuming Gabbert stays healthy, Miami won't have too much to worry about with an offense that returns four offensive line starters and close to 80% of last year's production.
Defense Not Miami's Strength
The same can't be said about the defense, which lost 10 of its top 13 tacklers and a number of key contributors, including:
First-team All-MAC LB Ivan Pace Jr (Transferred to Cincy. Top-10 nationally in tackles last year).
Second-team All-MAC DE Lonnie Phelps (Transferred to Kansas. Led the RedHawks in sacks).
Third-team All MAC DE Dominique Robinson (now with the Bears)
Starting safeties Mike Brown and Sterling Weatherford (both recently signed contracts with NFL teams)
The RedHawks also lost two cornerbacks in addition to defensive end Ben Kimpler, leaving major holes off the edge for a defense that ranked 25th nationally in sacks.
The defensive tackles in Miami's 4-2-5 base are a strong suit.
Plus, tackling machine senior Ryan McWood returns from injury to fill one of the two linebacker spots. Matthew Salopek, who garnered second-team All-MAC honors last year, also returns as the hybrid safety/linebacker. He wreaks havoc in the box.
Elsewhere, there are certainly concerns for a first-time defensive coordinator after Miami's two co-defensive coordinators skipped town for division rival Ohio.
The RedHawks hope a pair of contributors who saw time as freshmen last season can step up in the defensive backfield. They also hope the incoming transfers pan out, including two defensive backs with a plethora of previous starting experience in Michigan State transfer Michael Dowell and ECU transfer Nolan Johnson.
The latter will likely be counted on to step up as the new No. 1 cornerback.
Even if Johnson lives up to the expectations, this will still be a very inexperienced secondary filled with sophomores and transfers. I can't stress enough how much the RedHawks will miss their two senior safeties who now reside on NFL rosters.
Plus, the secondary may not benefit from as much pressure up front after the losses at linebacker and defensive end.
Once again, Miami hopes a pair of Power Five transfers can help soften the blow of those departures, but there's a good chance the RedHawks find themselves in a number of high-scoring affairs during league play.
Miami (Ohio) Schedule Analysis & Pick 
Miami will open the year at Kentucky (-20) in a likely loss before heading home for a probable win over FCS Robert Morris. The RedHawks will then finish up their nonconference slate with a game against Cincinnati (at Paul Brown Stadium) before a road trip to face Northwestern.
They have only five home games on the schedule, but two of their conference road games come at Akron and Bowling Green. The other two are against Buffalo and NIU. Not terrible.
While home-field advantage isn't as big in the MAC, Miami has won 14 straight in Oxford. Its last home defeat came in a one-point loss to Western Michigan way back in September 2018.
The RedHawks do host Ohio and Kent State in two revenge spots, which could end up deciding the division. They also avoid conference favorite Toledo in a fairly favorable league schedule overall.
Win Total: Over 5.5 (+105) · MAC Odds: +850
After finishing 7-7, Kent State hopes for a return trip to Detroit after a disappointing effort in the conference title game against Northern Illinois.
The offense must replace MAC Player of the Year Dustin Crum, who started the previous three seasons under center.
It will also need to replace two of its four productive receivers and both tackles on an offensive line that ranks in the bottom five nationally in returning production after fielding very experienced units in each of the past three seasons.
You can still expect an uptempo "Flash Fast" offense that will feature an electric rushing attack, led by a three-headed monster in the backfield.
New quarterback Collin Schlee, who did see a decent amount of game experience last year, is also a dual-threat similar to Crum, so expect just as many RPO looks.
Can he avoid the mistakes Crum did in an offensive scheme that requires quick decision-making? That remains to be seen. He will at least have one of the best receivers in the conference in Dante Cephas.
Not the Same Kent State in 2022
I expect some growing pains on an offense that returns only four starters.
Can the defense pick up the slack? That's doubtful if we look at the track record in recent seasons, especially in regard to stopping the run.
Sean Lewis hopes a third defensive coordinator in the past year will help solve some of the issues Kent State has had on that side of the ball. The Golden Flashes will transition to a 3-3-5 base scheme and have plenty of experience along the defensive line, although it's still a bit undersized.
They will also need to replace three of their top four linebackers, a starting safety and a first-team All-MAC cornerback.
However, there's plenty of experience left in the secondary, starting with cornerback Montre Miller and safety Dean Clark. I'm just not sure they can sustain their interception rate from a year ago, so improvement will have to occur elsewhere.
They may also benefit from the return of two potential starters from injury at linebacker, including Kesean Gamble, and defensive end Sekou Diaby. If healthy, both should soften the blow of some of the departures.
There are interesting transfer names to work with as well for new defensive coordinator Jeremiah Johnson, who crafted numerous dominant defenses at the FCS level while at Northern Iowa. He's going to have to work some magic to generate a significant increase in efficiency.
Kent State Schedule Analysis & Pick
Kent State has one of the most difficult nonconference schedules in the country. The Golden Flashes start out with road games against Washington and Oklahoma before a quick reprieve at home against Long Island. However, they then head right back on the road to take on the defending national champions in Athens.
That's almost certainly a 1-3 start. And while the tough out-of-conference road games should serve as valuable experience, they could also lead to injuries, which could prove costly in back-to-back road games against conference favorites Miami (Ohio) and Toledo early on in league play.
The schedule then eases up to close out the year.
In total, Kent State has five very winnable home games against Long Island, Ohio, Akron, Ball State and Eastern Michigan. Road dates against Buffalo and Bowling Green could also easily break the Flashes' way, so the floor is certainly high.
I show some value on the over but not enough to place a wager — especially with a new starting quarterback, defensive scheme transition and a daunting nonconference schedule that could lead to roster issues prior to MAC play.
---
Click any logo to navigate directly to that team's section.
---
Win Total: Over 4.5 (-135) · MAC Odds: +1600
Last month, I found a rogue 25-1 on Ohio to win the MAC that I had to hit. That number has since disappeared, but you can still find 18-1 in the market.
The Bobcats finished 3-9 (worst result in almost 20 years) in a disastrous season that was likely doomed before it started when longtime head coach Frank Solich retired unexpectedly in July. That certainly made things a bit chaotic so close to the start of the season.
I actually wouldn't be shocked to see any of the teams in the wide-open East make it to the conference championship game, where anything can happen as we've seen in recent years.
This division certainly became a little more wide open over the past few weeks with Toledo losing two starting offensive linemen to injury and NIU losing its leading receiver
Keep in mind Ohio entered last season with odds of 5-1 to win the MAC before everything went wrong. The Bobcats also went 2-4 in one-possession games and finished 110th in turnover margin.
Bobcats Worth a Longshot Bet
The on-field product should improve, especially on a defense that returns nine starters. The Bobs also upgraded at coordinator by bringing in Spence Nowinsky from division rival Miami (OH). I expect an uptick in Havoc and takeaways for a group that recorded only six interceptions.
This is a prime buy-low spot in the wild and wacky MAC. The returning experience in the trenches on both sides of the ball should also provide a boost.
Ohio dealt with plenty of injuries on the offensive line last year but returns seven with starting experience. It also returns eight of the top nine defensive linemen, led by Kai Caesar inside. Promising Purdue transfer Dontay Hunter also joins the party.
If Ohio can generate more pressure, it will help a secondary that has a lot of room for growth. The unit returns four players who started at least nine games, as the group dealt with a number of injuries in 2021. There's definitely reason to assume we see an uptick in production from the defensive backfield.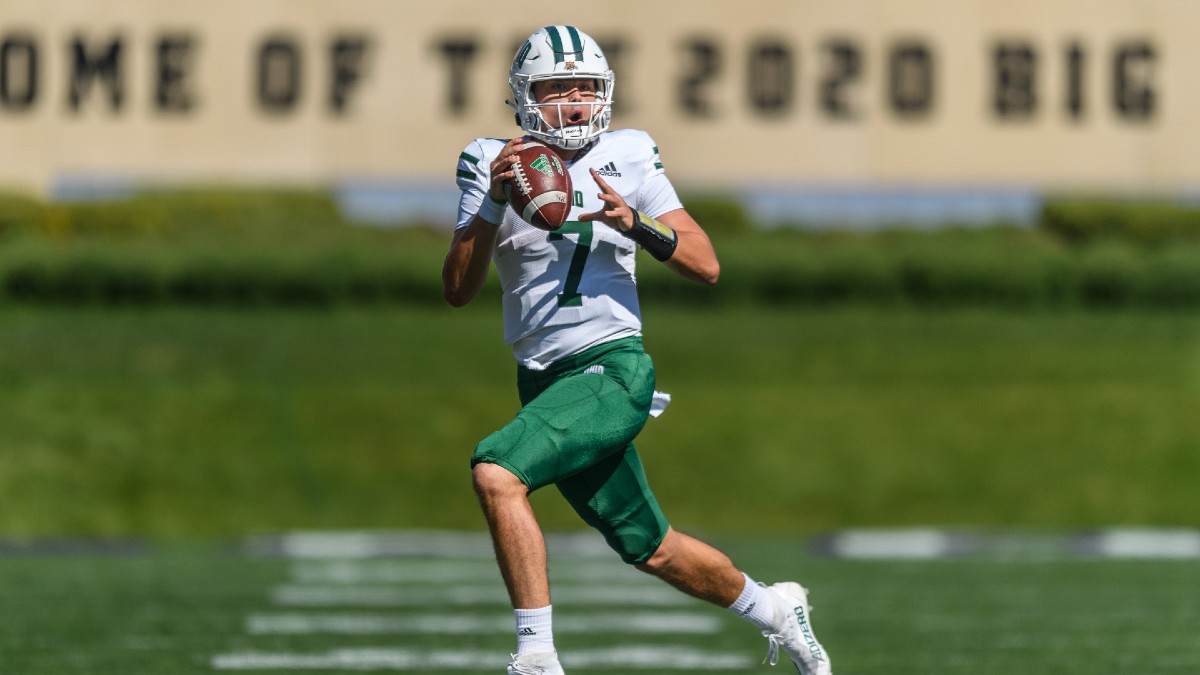 The defense had to deal with massive turnover last season but now has much more stability up front. Linebacker should also be a strength with Bryce Houston and Cannon Blauser, plus the return of Keye Thompson from injury.
I also think the division, as a whole, got much worse with Kent State dropping in my power ratings. Miami (OH) is the clear favorite in my book, but things could get very hairy for the RedHawks if quarterback Brett Gabbert suffers another injury.
After losing Isiah Cox to the portal, the Bobcats will need to find some receivers (Rice transfer August Pitre helps) to step up. They will also likely need to catch a few breaks but can at least lean on a third-year returning starter at quarterback in Kurtis Rourke.
I just couldn't pass up this price in a division with Bowling Green, Akron, Miami (OH), Buffalo and Kent State. I'd take a shot down to 15-1, and you can still find an 18-1 out there.
Ohio Schedule Analysis & Pick
After opening the season with a home coin-flip against Florida Atlantic, Ohio heads out on the road for two probable losses against Penn State and Iowa State.
The Bobcats then receive a break at home vs. Fordham before opening up conference play on the road against Kent State. That's a good spot to get the Golden Flashes, who have one of the hardest nonconference schedules in the country.
The rest of their league schedule features four winnable home games against Akron, Buffalo, Bowling Green and Northern Illinois.
In addition to the league opener at Kent State, Ohio travels to Western Michigan, Ball State and Miami (Ohio). The former two are breaking in new quarterbacks, while the latter is extremely reliant on the health of QB Gabbert.
Ohio will likely have to steal that game at Miami (Ohio) for a shot at the division, but I think it's worth a flier at some of the current prices out there.
Win Total: Over 5.5 (+100) · MAC Odds: +2000
It was a rough first year for Maurice Linguist in his first stint as a head coach. In fairness, he didn't get the job until May 2021, and the previous regime didn't leave him with a rosy situation.
Buffalo finished 4-8 with only one victory over a bowl team. That came against Old Dominion, which struggled early in the season. Even that victory only came by a single point after the Monarchs missed a game-tying extra point in a game it statistically dominated.
Buffalo's other victories came against FCS Wagner, Akron and Ohio (also by a point on a game-winning field goal as time expired in a game it trailed by 16 in the fourth quarter).
Buffalo technically went 2-3 in one-possession games, but that paints a very misleading picture. The Bulls were severely outplayed in all three one-possession losses and scored a late touchdown down double digits in two to make the final score appear more respectable. In truth, they were much closer to finishing 2-10 than 6-6.
The hope is an improvement in Year 2 under the new regime with more scheme familiarity.
Buffalo in For Another Rough Season?
However, it could be another bumpy ride after a tumultuous offseason. There are four new assistants, and starting quarterback Kyle Vantrease — who started the past 19 games for Buffalo — transferred to Georgia Southern.
Rutgers transfer Cole Snyder has won a three-man competition for the starting quarterback job, and he'll take over an offense that returns only three starters.
Leading rusher Dylan McDuffie transferred to Georgia Tech, and only one starter returns on the offensive line after starting right tackle Deondre Doiron transferred to Kansas in May.
Doiron became the latest of many over the past two seasons to make the move down to Lawrence to reunite with former coach Lance Leipold. Freshman OL Nolan Gorczyca also made the move this past offseason.
Expect Variance From Transfer-Laden Bulls
However, it's not all doom and gloom from a transfer perspective. The Bulls actually had the highest-rated transfer class in the MAC by a wide margin.
Buffalo will rely heavily on transfers along the offensive line, at receiver and in the secondary.
It added a number of intriguing Power Five receivers to potentially pair with 2021 leading receiver Quian Williams. Two seniors with game experience in Boobie Curry (Arizona) and Justin Marshall (Louisville) could add a spark to the passing attack, assuming the Bulls figure out the quarterback and offensive line situations.
Defensively, Buffalo returns six starters and has a pretty stable situation with the front six of its 4-2-5 base defense. That group features two All-MAC performers in linebacker James Patterson and defensive tackle Daymond Williams.
Like clockwork, Buffalo once again excelled at putting pressure on opposing quarterbacks last season. However, its run defense was extremely porous (4.9 yards per carry), and opposing quarterbacks averaged 8.8 yards per pass, which was a bottom-10 mark nationally.
Buffalo hopes a number of P5 transfers in the secondary will help fill in the gaps left by the departures of four key contributors.
The most promising names are cornerback Elijah Blades (Florida/Texas A&M) and safety Jahmin Muse (Boston College). Caleb Offord (Notre Dame) and others are also in the mix to round out a secondary that is really only settled at one safety spot with Marcus Fuqua.
When all of the dust settles, Buffalo could start up to 12 transfers. That certainly makes the Bulls more difficult to forecast. However, it also creates more variance, which one could use as a reason to take a flier on a future if you think all of the incoming talent can mesh together.
Buffalo Schedule Analysis & Pick
On a positive note, Buffalo has one of the easiest schedules in the country.
Its hardest nonconference game comes at Maryland, while the other three non-league opponents include UMass, Holy Cross and a rebuilding Coastal Carolina team.
On the flip side, the Bulls do have only five total home games. Those include likely wins over Holy Cross and Akron but also Kent State and both division favorites (Toledo, Miami OH).
---
Click any logo to navigate directly to that team's section.
---
Win Total: Over 4.5 (+125) · MAC Odds: +3500
One season after entering camp with close to 80% freshmen, Bowling Green will now enjoy one of the nation's highest returning production rates with nine starters returning on each side of the ball.
Bowling Green finished last season with a 4-8 record primarily due to a colossal improvement on defense.
New defensive coordinator Eric Lewis deserves high praise for orchestrating the turnaround — or for just highlighting the incompetence of previous defensive coordinator Brian VanGorder — but I'm trying to be positive. The performance that opened everyone's eyes was a mammoth upset over Minnesota in which the Gophers scored only 10 points.
It might not sound like much, but Bowling Green had a successful season with four wins and two other losses in the final minutes. It hadn't won four games since 2016, so there's at least some optimism around a program still filled with youth — and now experience.
Are Bowling Green's Odds Fair?
Now, the offense had no redeeming qualities. Matt McDonald has plenty of experience and looked better than he did in 2020 prior to offseason shoulder surgery, but he was still one of the least efficient quarterbacks in the country.
The offensive line situation certainly didn't help his case. BGSU started four freshmen up front, including one converted defensive lineman and another true-freshman walk-on. That unit should presumably improve on experience alone after getting thrown into the fire.
The Falcons also added a few transfers who should provide immediate help.
Most notably, they brought in senior center Jakari Robinson, who was at Memphis last year after notching 24 starts at Cincy. An experienced anchor could pay healthy dividends for a unit that returns its top four backs, top two receivers and first-team All-MAC tight end Christian Sims.
The defensive front of the 3-4 base thrived at generating pressure last year. That helped a secondary that actually finished in the top 10 nationally in passing yards allowed per game.
The front seven basically returns fully intact led by first-team All-MAC linebacker Darren Anders, who had a monstrous statistical season in 2021. Wake Forest transfer linebacker DJ Taylor could also provide aid at the second level for a unit that still needs to improve against the run.
The secondary has one safety spot locked up with Jordan Anderson. It also features a shutdown cornerback in Davon Ferguson. Despite missing the final 4.5 games to injury, Ferguson received first-team All-MAC honors. He also finished the season as the only player in FBS with at least 60 tackles, two sacks and four passes defended.
Others will need to step up at the other two secondary spots, but Bowling Green did bring in some intriguing transfers who could step in right away.
I think the love for Bowling Green has gone a bit far. I still think this offense is far from competent. And while I fancy some of the defensive pieces, I wouldn't be shocked to see a bit of regression on that side of the ball.
Keep in mind BGSU also could take a step back in special teams after losing an All-American kicker, solid long snapper and special teams coach.
Bowling Green Schedule Analysis & Pick
Bowling Green will likely start 1-3 with nonconference games against Eastern Kentucky, Marshall, UCLA and Mississippi State.
It will then kick off MACtion with a road game against Akron, which has beaten the Falcons in two straight years. The likely best-case scenario is Bowling Green starts out 2-0 in league play with wins over Akron and Buffalo before hosting division favorite Miami (Ohio).
The Falcons face a tricky six-game finish to the schedule with CMU on the road after that Miami game. Then, after a bye week, they face Western Michigan and Kent State — both of which will be coming off byes and will potentially be more settled on offense after breaking in new quarterbacks.
Lastly, Bowling Green closes out the regular season with back-to-back road games against Toledo and Ohio.
The Falcons certainly didn't win the schedule lottery. They arguably have the toughest conference slate of any team in the East.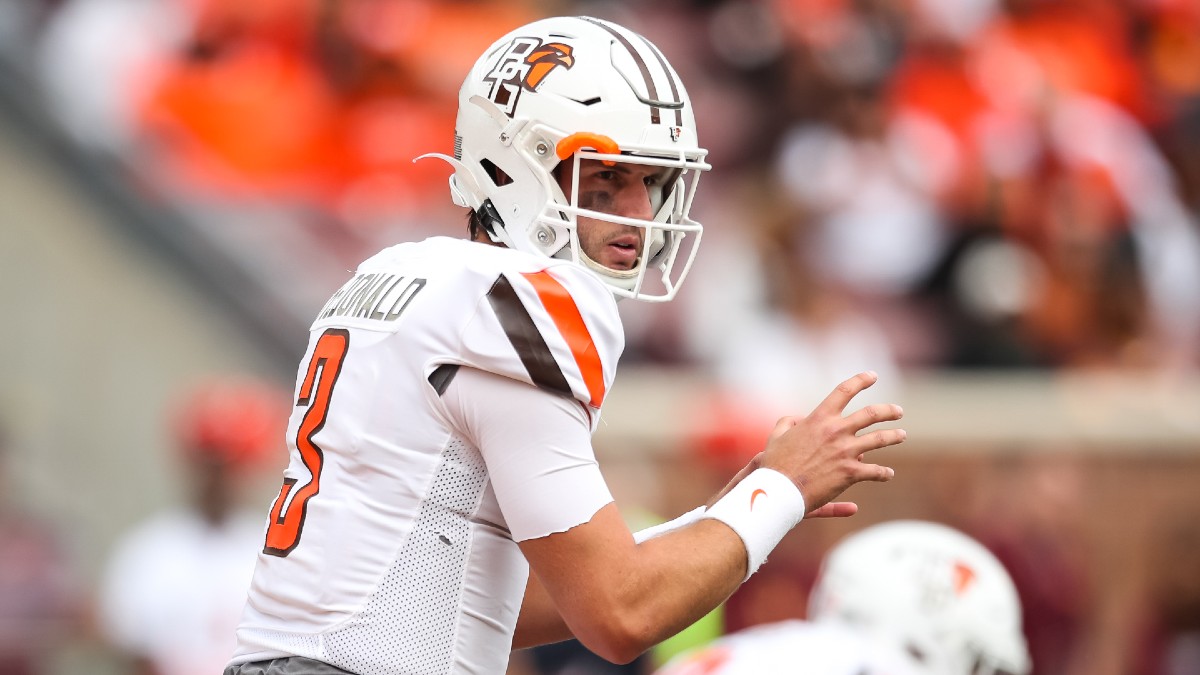 Win Total: Over 2.5 (+100) · MAC Odds: +10000
There's actually hope for Akron football, which has been one of the worst FBS teams over the past three seasons, amassing three total wins.
The Zips have gone a paltry 3-32 since midway through the 2018 season, only defeating two programs over that stretch: Bowling Green twice and FCS Bryant.
Can Moorhead Turn Zips Around?
So, why should Akron fans finally feel some sense of optimism? Well, this is an extremely experienced Akron roster with 16 returning starters. More importantly, the administration brought in new head coach Joe Moorhead, who should install a real offense at Summa Field.
Moorhead also brought in a profusion of talent from the transfer portal to supplement the returning experience, including a number from the Power Five level who could start right away.
By my count, Akron could potentially start double-digit transfers. That certainly creates more variance, but Akron is unquestionably more talented with a higher ceiling if Moorhead can find the right mix.
Akron did lose key offensive contributors to the portal as well, including last year's starting quarterback Zach Gibson and its top three receivers. However, in a consistent theme throughout this roster, Moorhead brought in three P5 receivers from the portal, plus a running back.
DJ Irons, who started three games last season and saw action in eight, has potential at quarterback in Moorhead's system. That said, he will only develop as much as the offensive line allows.
That's been a consistent area of weakness in recent years. Akron arguably had the worst offensive line in 2021, allowing 12 more sacks than any other team in the country.
On the positive side, all five starters return from last year, and they Zips added additional help via the portal. Additionally, all five were freshmen in 2021 and had to deal with a few position changes, which didn't help the continuity.
How much improvement can we realistically expect as a result of a new staff and experience? It's hard to say, but it can't get any worse, and they do have adequate size on paper.
There are similar questions on the other side of the ball with a defensive front that simply couldn't generate any pressure. Any improvement in that department should lead to a drastic improvement from both the linebackers and secondary, which have some promising pieces.
Keep in mind the defense may also transition to a four-man front under a new coordinator.
Sixth-year linebacker Bubba Arslanian returns from injury to provide a boost in the second level, while former Michigan State transfer Jeslord Boateng may slide inside.
Last year, Akron finished 2-10 and was a bit more competitive than the two previous seasons. The Zips went 0-2 in one-possession games while ranking 98th in turnover margin and 126th in red-zone offense.
The Moorhead hire might not translate into many more wins this year, but I'm confident he will turn this program around.
Akron Schedule Analysis & Pick
Last year, Akron finished 2-10 but was a bit more competitive compared to the two previous seasons.
The Zips also went 0-2 in one-possession games while ranking 98th in turnover margin and 126th in red-zone offense. Can they equal their win total from the previous three seasons in order to clear their win total this year?
Well, they do at least get St. Francis at home to start the year before a brutal three-game nonconference road trip. If they can recover in time, they will come home for their conference opener against a Bowling Green team they've defeated in each of the past two seasons.
If they do indeed beat Bowling Green and St. Francis, they will have seven chances against MAC competition to pick up that third win. That includes home games against Central Michigan, Eastern Michigan and Miami (Ohio), plus road dates with Ohio and Kent State and a two-game road trip to close the regular season against Buffalo and Northern Illinois.
I don't have a strong take on the win total, but there certainly is more upside this season. I wouldn't fault anybody for ever taking a longshot in the MAC, especially from the East.
So, if you found a 100-1 and wanted to get a little crazy by throwing a dart, I won't stop you.
---
Click any logo to navigate directly to that team's section.
---
MAC West
Let's kick things off in the West, where Toledo is the favorite in the much tougher division of the two. All six teams played in a bowl game last year, compared to only two from the East.
Win Total: Over 8.5 (-115) · MAC Odds: +340
Just like last year, this is the most talented team in the MAC. However, the Rockets finished with only seven total wins after everything went wrong in 2021, making them a very likely positive regression candidate headed into this season.
They finished 0-5 in one-possession games with all three MAC defeats coming by a field goal or less, as did a loss at Notre Dame. Additionally, it managed to somehow suffer four losses as more than a touchdown favorite.
The Rockets went 10-for-24 (41.7%) on fourth-down attempts, which ranked outside the top 100 nationally. In comparison, MAC champion Northern Illinois went an absurd 25-for-30 (83.3%) to lead the nation.
Toledo also led FBS in penalty yards per game.
Those two stats alone absolutely killed them in their close losses. Kicker Thomas Cluckey also had a disappointing year. Nothing really went Toledo's way.
If it can turn those close losses into wins, this is easily a 10-win club.
Roster Turnover & Injuries Raise Big Questions on Offense
The offense fared much better with Dequan Finn under center. He will now have the reins at quarterback with Carter Bradley now out of the mix. He should lead another dynamite rushing attack that led the country in EPA per rush last season.
The Rockets do need to replace leading rusher Bryant Koback (now with the Vikings) and five of their top six receivers. Matt Landers' late decision to transfer to Arkansas particularly hurt this group, but head coach Jason Candle still has plenty of talent at his disposal after bringing in the league's top recruiting class in five consecutive years.
There are also a few potential Power 5 transfers who could immediately contribute.
I originally expected big things for an offensive line that possessed an abundance of experience and would hopefully enjoy better injury luck. However, it was recently reported that guard/center Tyler Long will miss the season with an injury, while sixth-year senior starting left tackle Mitchell Berg is also out indefinitely with an injury. Those are potentially big blows.
Rockets Defense Features Loaded Front Seven
There are far fewer questions on the other side of the ball.
Toledo did lose two defensive backs to the NFL, but one dealt with an injury for the majority of last season. The Rockets run a lot of nickel, which means plenty of snaps for super slot Nate Bauer. That's a good thing.
There's officially a new starting cornerback and safety, but the projected replacements have plenty of game experience. This should once again be a very formidable secondary.
The front seven is particularly loaded for a team that ranked in the top 25 nationally in both sacks and tackles for loss. That surely doesn't hurt the defensive backfield.
The defensive line features Penn State transfer Judge Culpepper in the interior, along with two menaces coming off the edge in Desjuan Johnson and Jamal Hines.
There's also promising depth here in front of a rock-solid linebacker corps led by Dyontae Johnson. Keep an eye on Ohio State transfer Dallas Gant as a potential impact transfer addition at outside linebacker.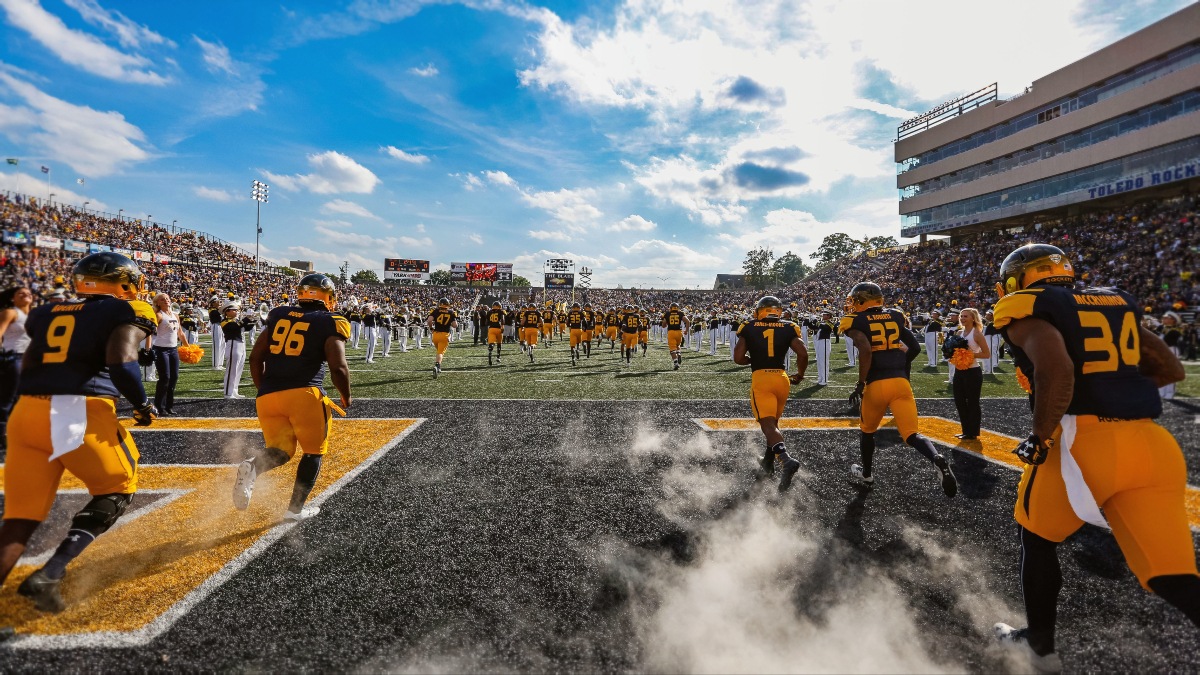 Toledo Schedule Analysis & Pick
Toledo has two cupcakes to start at home in Long Island and UMass. The following two nonconference bouts come on the road at Ohio State and San Diego State. Let's call them both losses to be conservative — even though I project the Rockets as small favorites at SDSU.
That brings us to the conference slate, where I have the Rockets favored in all eight games. That includes six games as a double-digit favorite and another by right around a touchdown. Take care of those, and they get to nine wins even without road victories at SDSU or in a revenge spot at NIU.
While a number of last year's top MAC teams should take a step back, that's not the case with Toledo. I think this is a nine- or 10-win team, especially if last year's misfortune does a 180 in 2022.
I personally played over 8 wins but wouldn't go any higher with the recent offensive line injuries and mass turnover at the skill positions on offense.
Win Total: Over 6.5 (-110) · MAC Odds: +600
NIU had a magical season en route to a shocking MAC title.
Thomas Hammock's young club certainly made tremendous strides from the previous winless campaign in 2020, but it also benefited immensely from great fortune.
The Huskies were undoubtedly one of the luckiest teams in the nation, finishing 7-3 in one-possession games, including an amazing four by two points or less and another in overtime.
Also, as I previously mentioned, NIU led the nation in fourth-down conversion rate, converting an astonishing 25 out of 30 opportunities while holding opponents to 41% (12-29). Just a few more missed conversions would've likely led to the close wins flipping to close losses.
Huskies Win Total Hinges on Experience & Efficiency
However, if you want to take a rosier view ahead of the 2022 season, NIU had the second-youngest team in all of FBS last year. It also finished outside of the top 100 in turnover margin.
So, does the added experience make up for some potential looming negative regression? Similarly, can the third-down offense improve enough to negate any regression on fourth downs?
Those answers will likely determine whether or not NIU goes over its win total and gets a shot at defending its title.
Offensively, NIU returns former Michigan State transfer Rocky Lombardi at quarterback.
He will operate in front of the best offensive line in the conference. Four returning starters — who each received preseason accolades in some fashion — will return for a group that allowed the second-fewest sacks in FBS while plowing lanes for a rushing attack that finished in the top five nationally.
The unit is headlined by Action Network Group of Five preseason All-American offensive tackle Nolan Potter.
NIU will have to replace a very solid center with a redshirt freshman, which is worth monitoring, but this is still the strength of the team.
The Huskies will once again feature a dynamite rushing attack even with the losses of leading rusher Jay Ducker and unheralded fullback Clint Ratkovich, who found pay dirt 15 times in 2021.
Harrison Waylee will likely lead the way in the backfield after a season-ending injury just five games into last season. He led the team in rushing in 2020 and has the juice to fill the void left by Ducker's transfer to Memphis.
The primary question on offense is who will step up at receiver after Trayvon Rudolph's season-ending knee injury in fall camp. His explosiveness will be sorely missed in the passing game and on special teams as a dynamic return man.
Can FIU transfer Shemar Thornton stay healthy and help fill that gap? It won't be an easy task.
Defensively, NIU was downright dreadful last season, ranking in the bottom 20 nationally against the pass and run. Its secondary intercepted only one pass in the regular season, and the defensive line got pushed around far too frequently.
The unit was extremely young with 15 of the top 20 tacklers all listed as freshmen. The hope is a much more experienced group (nine returning starters) will lead to better production.
It also can't hurt to add the experience of linebacker Kyle Pugh, who missed last year with an injury. Pugh amazingly is entering his eighth year in the program!
Northern Illinois Schedule Analysis & Pick
Northern Illinois will benefit from hosting primary division contenders Toledo and Central Michigan in addition to East favorite Miami (Ohio).
Consequently, it has a very manageable league road schedule with away dates against Ohio, Eastern Michigan, Western Michigan and Ball State — although that doesn't always translate to positive results in the wacky MAC.
The Huskies should have two free wins at home against Eastern Illinois and Akron as well. They should also be home favorites over Vanderbilt out of conference, while they're lined as underdogs at Tulsa and Kentucky with the former certainly serving as a reasonable potential win.
I assumed I would be betting the under after last season, but I can't quite get there with my numbers.
---
Click any logo to navigate directly to that team's section.
---
Win Total: Over 6.5 (+145) · MAC Odds: +900
I think it's going to be a long year for the Broncos.
The offense, under the tutelage of new coordinator Jeff Thorne, should suffer a significant decline after losing star quarterback Kaleb Eleby — one of the most efficient passers in all of college football last year.
Redshirt freshman Jack Salopek will try to fill those big shoes without stud wide receiver Skyy Moore, who's now with the Kansas City Chiefs.
Outside of Corey Crooms, the wide receiver room is completely unproven after losing five of the top six pass-catchers.
Plus, the offensive line, which ranked in the top-10 nationally in a number of advanced metrics, lost three starters to graduation, including both tackles and stud center Mike Caliendo, now also with the Chiefs.
Keep in mind that prized tackle recruit Brandon Honorable is no longer with the team due to academic reasons.
Thin Broncos Roster Will Experience Growing Pains
The offense will be extremely raw outside of the very formidable running back duo of Sean Tyler and La'Darius Jefferson. You could see two redshirt freshmen starting wide receivers in addition to an FCS transfer and converted tight end at offensive tackle.
That's a lot of turnover to deal with for an offense undergoing a transition to a more complex scheme. Expect plenty of growing pains as opposing defenses load the box much more frequently while keying on Crooms on the outside.
The defense also has major question marks outside of two extremely solid linebackers and Dorian Jackson at one cornerback spot.
The line excelled at stopping the run and generating pressure last year, as evidenced by top-10 national rankings in both Sack and Stuff Rate.
Regression Monster Looming for WMU?
However, I anticipate a noticeable drop-off after the losses of second-team All MAC defensive tackle Ralph Holley (16.5 TFL) and MAC Defensive Player of the Year Ali Fayad, who had 13 of the team's 43 sacks in 2021 while leading the conference in TFLs.
Purdue transfer Bryce Austin could have helped in the interior, but he's no longer listed on the roster.
The secondary did add some intriguing transfers and will hope a few others smoothly return from injury. But it's a unit that gave up way too many explosive plays — even with a defensive line that excelled at getting in the backfield.
The defense last year also received a significant boost from an offense that ranked in the top five nationally in time of possession. Don't expect a repeat performance in that department.
Other signs also point to WMU being a negative regression candidate. It went 3-1 in one-possession games, had six non-offensive touchdowns and finished as the nation's second-best third-down defense.
Oh, and the special teams should be absolutely wretched once again.
Western Michigan Schedule Analysis & Pick 
The nonconference slate is no cakewalk — outside of a free home victory over New Hampshire — with road games at Michigan State and San Jose State (off of a bye).
Western Michigan will also host a Pitt team out for blood after last year's home upset that may have ultimately kept the Panthers out of the College Football Playoff.
WMU's toughest league games do come at the end of the season, which could prove beneficial for a rebuilding offense. However, I have the Broncos projected as double-digit underdogs in three MAC games while only favored in a pair (with two other coin-flips, which both come on the road).
One of their only so-called "gimme wins" comes at home against an Ohio team that I think will be better than expected. It also doesn't help to face three opponents off of a bye week.
Even if the Broncos start 4-3, which would be best-case scenario, in my opinion, they'd have to win three of their final five games to clear 6.5 wins. Well, I have them projected as a double-digit dog in four with the other coming on the road at Bowling Green.
It's still the unpredictable MAC, but I think a lot of things will have to break right for WMU to become bowl eligible. I'd be pretty shocked if it won seven or more games.
Win Total: Over 7 (-110) · MAC Odds: +450
Central Michigan looks to build off a successful nine-win campaign that it capped off with a bowl victory over Washington State.
It did get a bit fortunate in one-possession games at 4-1, but that one loss (by one point) at the hands of NIU ultimately kept the Chips out of the conference championship game.
The offense returns two foundational pieces in quarterback Daniel Richardson (24 TD, 6 INT in 2021) and running back Lew Nichols III, who led the nation in rushing by over 200 yards.
However, the offense does have questions, primarily at offensive tackle and receiver. CMU lost both bookend tackles to the NFL with each getting selected in the first three rounds of the draft. Underclassmen will now have to step up in their place.
The Chips also lost two of their top three receivers in JaCorey Sullivan and Kalil Pimpleton (now with the Lions). That duo combined for 18 touchdowns and over 1,700 yards from scrimmage.
The offense will also undergo some schematic changes with new offensive coordinator Paul Petrino, who arrives from FCS Idaho.
Miniscule Returning Production for Chippewas Defense
The 4-2-5 base defense has even more questions with only three returning starters. CMU lost two excellent pass rushers, which was the strength of the defense last year.
The back seven also must replace a plethora of lost production across the board, including Dishon McNary (now with the Bears) and two other starters who transferred out.
Depth is especially thin at cornerback, so Central Michigan can't afford any injuries on the outside. If either Rolliann Sturkey or Donte Kent get hurt, CMU may be forced to throw either a freshman or converted running back into the fire. Sturkey and Kent are the only two defensive backs on the roster who started more than one game last year.
The situation at safety isn't much better. All-MAC safety Devonni Reed darted for South Carolina, while two other primary contributors graduated. That's not ideal for a unit that utilizes a high rate of three-safety looks. Depth is also a major concern here with a converted receiver in the mix for playing time.
The questions surrounding the secondary are even scarier when you consider CMU lost its two top edge rushers and two excellent linebackers. As a result, the very raw defensive backs might need to cover for much longer periods than required in 2021.
Lastly, CMU will miss Pimpleton's prowess as a punt returner, but it still should have one of the better special teams units in the league. That alone could flip a few games in its direction.
Central Michigan Schedule Analysis & Pick
The Chips do draw Akron and Bowling Green from the East. And outside of two likely losses on the road at Oklahoma State and Penn State, the rest of the schedule is fairly manageable.
Unfortunately, they must travel to both Northern Illinois and Toledo — their primary division contenders.
I project the Chips as favorites in eight games, including all six at home by at least a touchdown. While I show slight value in the over, it's not enough to bet — especially with major questions at offensive tackle and throughout the defense.
---
Click any logo to navigate directly to that team's section.
---
Win Total: Over 6 (-110) · MAC Odds: +1300
Fresh off a 7-6 campaign, hope continues to sprout in Ypsilanti under head coach Chris Creighton. Let's start by looking at the offense.
Eastern Michigan hasn't had much of a rushing attack to speak of in recent seasons.
However, that could change this year with decent enough depth and talent to go along with an offensive line that returns four starters, including two potential All-MAC performers in Sidy Sow and tackle Brian Dooley.
The Eagles also arguably boast the top wide receiver corps in the league, led by Dylan Drummond and Hassan Beydoun. The latter broke the program's single-season receptions record last season. EMU returns its top four receivers, although it must replace two productive tight ends, including Thomas Odukoya, who's now with the Tennessee Titans.
We'll see if one of the four inexperienced options can emerge as a threat for an offense that emphasizes the tight end position.
Quarterback Position May Define Eagles' Season
So, what's the biggest question with the offense? Well, quarterback — a semi-important position for an offense that makes its hay through the air.
Last year's top two quarterbacks (Preston Hutchinson and Ben Bryant) both transferred. In response, head coach Chris Creighton hit the portal himself and brought in former Missouri and Troy signal-caller Taylor Powell. If healthy, Powell at least possesses the arm talent to succeed in MAC play with this talented receiver group.
The 4-2-5 defense will likely struggle once again, especially against the run with its undersized front. Pro prospect Jose Ramirez is a handful off the edge, and BC transfer Joe Sparacio will help at linebacker.
However, EMU's season success will come down to its offense — particularly how the quarterback position pans out.
This is a well-coached team that won't beat itself with penalties or turnovers, but I am worried about the special teams, which excelled across the board in 2021.
EMU has played in an inordinate amount of close games under Creighton, which makes field-goal kicking even more critical. Well, the Eagles lost an excellent kicker in Chad Ryland, who transferred to Maryland. That likely leaves the job to a freshman with no experience.
A new special teams coordinator will also have the same situation at punter.
Eastern Michigan Schedule Analysis & Pick
EMU has one of the easiest schedules in the MAC with two home nonconference games against Eastern Kentucky and UMass. It also has back-to-back road contests against Louisiana and Arizona State, so it's safe to assume a 2-2 non-league record.
In conference play, it does host the top three teams from the West in Toledo, NIU and Central Michigan. All three of those contests come in the second half of the season, which will allow new quarterback Powell to settle in before the most important games of the year.
It also has a reasonable road conference slate that includes Akron, Kent State, Ball State and Western Michigan.
I think this win total is set perfectly, but there's certainly upside if Powell works out at quarterback, especially since the Eagles host the top three teams in their division. Therefore, I don't hate a small flier on a conference future down to 15-1.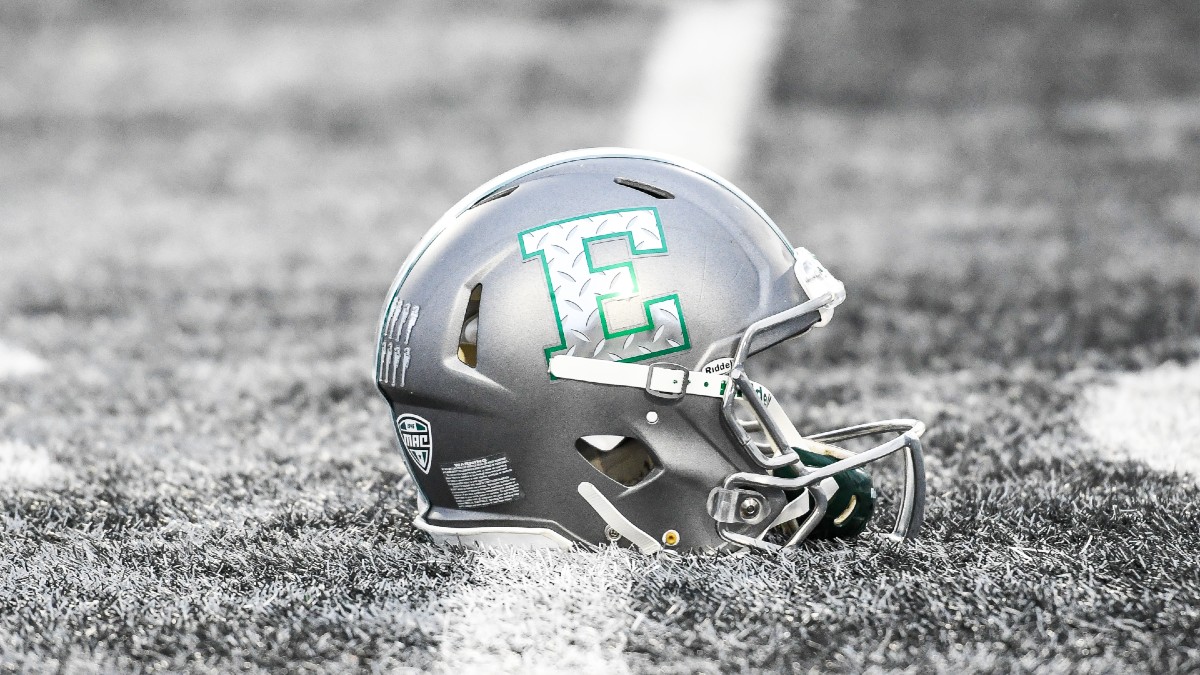 Win Total: Over 4.5 (-135) · MAC Odds: +2800
For another example of just how quickly things change season to season in the MAC, just take a look at the 2021 Ball State squad. After winning the conference in 2020, the Cardinals returned 20 starters with copious optimism surrounding the program.
However, that optimism eventually turned to confusion with everyone in Muncie left scratching their heads, wondering what went wrong. An embarrassing 51-20 bowl loss to Georgia State capped off a disappointing 6-7 season.
From a statistical standpoint, the Cardinals were one of the worst teams in the MAC.
Fourth-year starting quarterback Drew Plitt (recently waived by the Bengals) seemingly regressed out of nowhere. His touchdown-to-interceptions split didn't fall off, but his yards per attempt fell from 8.6 in 2020 to 6.2 in 2021. Meanwhile, his completion percentage also fell off a cliff, decreasing from 65.6% to 60.3%.
So … What Exactly Happened?
I'm starting to think 2020 was just a fluky year in an odd COVID-19 season. It didn't hurt to have an All-MAC schedule. After all, this is a program that has had seven straight losing seasons if that 2020 anomaly is removed.
Can the offense improve in 2022? That's doubtful with Plitt moving on, leaving the job to 5-foot-11 senior John Paddock, a former three-star pro-style quarterback who has been the perennial backup to Plitt since 2018.
Coming into the season, this is one of the shakiest QB situations in the league.
However, if Paddock is fit for the job, he will have plenty of returning talent to work with at wide receiver and running back. It's a very similar situation to the one at EMU, but Taylor Powell has much more game experience than Paddock.
Defensively, Ball State is still undersized up front, so expect continued struggles against the run. It does at least return all three starters of its 3-4 base.
With two All-MAC linebackers no longer in the mix, Ball State will be particularly raw at both outside linebacker spots. Things look a little better on the inside with Clayton Coll and 2020 MAC Defensive Player of the Year Brandon Martin returning from injury.
Additionally, it must replace three starters in the secondary, including All-MAC safety Bryce Cosby. A force in the box and emotional leader, Cosby led the team in tackles, tackles for loss and sacks in 2021.
The uber-experienced Amechi Uzodinma II does have one starting cornerback position locked down, but the rest is a mystery. Ball State will need to rely on a few inexperienced players to step up and hope transfer Jaquan Amos (previous stops at Villanova and Iowa State) can step up at safety.
Lastly, I'm a bit concerned about the special teams, which decide so many games in this league. By my measure, Ball State had a top-10 special teams unit in 2021. It was one of the team's lone bright spots.
However, it loses stud return man Justin Hall (now with the Raiders), first-team All-MAC Punter Nathan Snyder, both kickers and longtime special teams coordinator Patrick Dougherty.
As a result, Ball State may suffer a precipitous fall in the special teams rankings.
Ball State Schedule Analysis & Pick
Ball State does have a fairly easy schedule after starting off on the road against Tennessee, although it drew neither Akron nor Bowling Green from the East.
The Cardinals have two likely home nonconference victories over UConn and Murray State in addition to a third on the road against a transitioning Georgia Southern team.
In league play, they will host a rebuilding Western Michigan team in Week 2, which could set the tone for the rest of the season. They also host Northern Illinois, Eastern Michigan and Ohio. Their road league opponents are much tougher: Central Michigan, Kent State, Toledo and Miami (Ohio).
The Cardinals do have a brutal stretch to close the season, but they could clear their win total by simply taking care of business at home. It will likely all boil down to quarterback production.
Toledo Over 8 Wins (-115)
Western Michigan Under 6.5 Wins (-135)
Ohio to Win MAC (+2500)
Eastern Michigan to Win MAC (+1800)
I usually have only one MAC conference future but decided to roll the dice with a pair of longshots this season. Now, if we can just find a way to miraculously get both Ohio and Eastern Michigan into the conference title.
Hey, a guy can dream in August!
How would you rate this article?
This site contains commercial content. We may be compensated for the links provided on this page. The content on this page is for informational purposes only. Action Network makes no representation or warranty as to the accuracy of the information given or the outcome of any game or event.