2023 Big 12 Conference Preview, Odds, Picks: How to Bet Texas, Oklahoma, Kansas & More
Credit:
Getty Images. Pictured (left to right): Texas quarterback Quinn Ewers, Kansas quarterback Jalon Daniels and Oklahoma quarterback Dillon Gabriel.
We are in for a special season with the jumbo-sized Big 12 Conference.
Once upon a time, the Southwest Conference folded shortly after Arkansas was intercepted by the SEC. That left Texas, Texas Tech and a host of other schools as candidates to join the Big Eight. Now, the Big 12 will move from a 10-team league to a 14-team conference for a single season.
Before they move to the SEC, Texas and Oklahoma will share a conference with BYU, Cincinnati, UCF and Houston.
The conference is loaded with storylines, from a pending Bedlam pause to Texas' quest to return to national relevancy.
Not only is the conference shifting off the field, but the product also surprised once again in 2022. Oklahoma and Texas populated the Big 12 Championship game for 15 consecutive seasons but haven't made an appearance in Arlington the past two years.
This article will look at all ways to wager on the Big 12, including win totals and conference futures. First, here are my conference projections and win totals for all Big 12 teams in 2023:

Texas Longhorns
Former Texas quarterback Sam Ehlinger notified the 2019 Sugar Bowl crowd that the Longhorns were finally "back." One year later, head coach Tom Herman was dismissed after a 7-3 season.
The board of directors turned to Alabama offensive coordinator Steve Sarkisian to get Texas the desired recognition on the national stage. Two seasons later, Sarkisian has dominated the recruiting trail and will display one of the most talented rosters in FBS.
The loss of a running back like Bijan Robinson would normally set an offense back, but the stable of Jonathan Brooks, Keilan Robinson, Jaydon Blue and Cedric Baxter Jr. will serve as competent replacements.
The Longhorns are also blessed with depth at the quarterback position. Quinn Ewers returns after an inconsistent freshman season. If poor performances occur, such as the 2022 games against Oklahoma State or TCU, Sarkisian has the luxury of blue-chip options in Arch Manning and Maalik Murphy.
A wide receiver unit that adds Georgia wideout AD Mitchell to a Xavier Worthy-led room sets the Longhorns apart from the rest of the conference.
After a depressing 2021 defensive season, coordinator Pete Kwiatkowski welcomed former TCU head coach Gary Patterson to the staff. Texas posted top-25 rankings in Success Rate, Finishing Drives and Havoc on the defensive side of the ball.
Patterson has since departed, but the Texas defense returns more than 73% of passes defensed. Every unit on both sides of the ball is above the national average in experience, certainly putting muscle behind the statement that Texas is back.
Texas was an easy futures bet at odds north of +110 for the conference, but Longhorn fever is sure to be in full force before Week 1 kickoff. Considering the nature of the Big 12 round-robin format, Texas has -120 true odds to finish in first or second place, which guarantees a spot in Arlington.
The Longhorns will be underdogs at Alabama but are expected to be a minimum 4-point favorite in all Big 12 games. Sarkisian was adamant at Big 12 Media Days that his roster is mentally tough with the physicality to take on all opponents.
Take a Texas future through -120 to serve as a moneyline wager for the Big 12 Championship game.
Oklahoma Sooners
The biggest question is who will fill the second spot in the championship game. Oddsmakers suggest Oklahoma has the best chance, as Action Network projects the Sooners at 9.4 wins on the season.
The market also believes a bounce-back is in store for second-year coach Brent Venables. There were plenty of growing pains last year, specifically on defense. The Sooners generated one of the worst pass rush rates in the country and fell to 90th in Finishing Drives.
There are indicators that this will get turned around, as they finished with a Second Order Win Total of -2 and ranked near dead last in opponent penalties.
Only 50% of the pass breakups and tackles return to the defense in 2023, forcing Venables to look for help on the outside. Oklahoma finished eighth in transfer portal rankings, filling needs for starters in depleted wide receiver and linebacker units.
A softer schedule may assist the Sooners, as they're without matchups against Baylor, Kansas State and Texas Tech in conference play. Oklahoma projects as a favorite in every game besides Texas.
The hesitation in backing the Sooners is an offense that crumbled in scoring position and a defense that lacks depth.
Jeff Lebby was one of the most sought-after coordinators in FBS, leading Oklahoma with the second-fastest pace in the nation. Quarterback Dillon Gabriel had an outstanding touchdown-to-interception ratio but ended the season ranked 68th in points per opportunity. The Sooners dipped to 3.9 points on drives that extended past the 40-yard line, a number that must rise for Lebby and Gabriel.
Venables' best defenses at Clemson had middle linebackers who served as assistant coaches. Long gone are the days of James Skalski lining up defensive interior players while intercepting offensive audibles. Danny Stutsman may be that middle linebacker, but this defense needs another portal window and recruiting cycle to be in conference contention.
Look for any Oklahoma under 9.5 with juice better than -110.

Texas Tech Red Raiders
Positivity surrounded Joey McGuire in his introductory press conference during Big 12 Media Days in 2022.
Texas Tech went 4-0 in games that were decided by four points or less, generating a Second Order Win Total that indicated a 6-6 record was more likely than its 7-5 mark.
There's no lack of offensive playmakers under coordinator Zach Kittley, who specializes in Air Raid offenses. Kittley dipped into the transfer portal to pull Rusty Staats, one of the most highly regarded Group of Five centers. That protection is needed for recently named quarterback starter Tyler Shough.
Defensive coordinator Tim DeRuyter was excellent at preventing scores by opposing offenses, ranking ninth in red-zone defense.
The 3-3-5 scheme with quarters coverage will return 78% of passes defensed with a number of upperclassmen in the secondary. The front seven is expected to take a step back, but if the Red Raiders can be as efficient in the red zone as last year, the Big 12 title game isn't out of reach.
Action Network projects Texas Tech at 8.1 wins with a market number at 7.5, but the better bet may be on the conference win total. The Red Raiders are projected to win six conference games on a schedule that includes winnable road games at Kansas and West Virginia.
Texas Tech also faces three of the new teams being welcomed to the conference, giving McGuire plenty of opportunities to exceed the conference win total mark.
Take Texas Tech over 5.5 Big 12 wins at +140 juice, especially with a schedule that includes a half-dozen games projected as close as a field goal.

Baylor Bears
Baylor will enter the season with the best set of running backs in the conference. Sophomore Richard Reese is joined by Oklahoma State transfer Dominic Richardson behind an offensive line that returns 65% of snaps from 2022.
Offensive coordinator Jeff Grimes entered last season with questions at the skill positions but now faces the same questions on the left side of the offensive line. That aspect could continue to limit Blake Shapen in his development as a quarterback after he recorded twice as many turnover-worthy plays as big-time throws in crowded pockets last year.
The season will more than likely come down to a defense that returns less than half of its pass breakups and pressures from a season ago. Not only did Baylor fail to generate Havoc, but a dip in red-zone efficiency also pushed Baylor down to 96th in Defensive Finishing Drives.
Defensive-minded head coach Dave Aranda tapped Matt Powledge to take on coordinator duties, as Baylor will continue to utilize multiple personnel on a search for plays behind the line of scrimmage.
While no future can be suggested for Baylor, look for a Week 1 play on the over against Texas State. The Bobcats will be airing the ball out behind the arms of former Power Five quarterbacks, testing the biggest weakness of the Bears defense.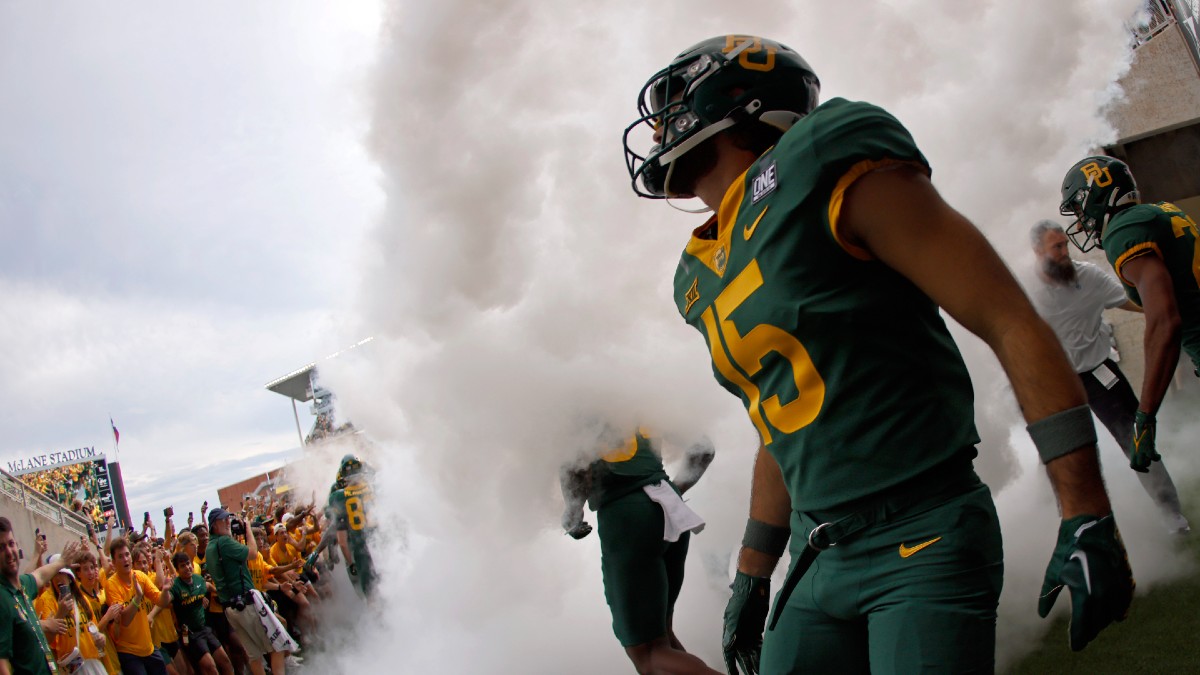 Iowa State Cyclones
The next eight teams are predicted to swim in a sea of mediocrity, as all are projected within one conference win of each other.
Iowa State will continue to run the 3-3-5 stack with defensive back TJ Tampa and linebacker Gerry Vaughn. The Cyclones finished top-25 in Defensive Finishing Drives, ending the season as the best unit against the explosive run. The defensive line will have new players at the edge position, looking to improve a Havoc rank of 62nd.
The handicap on Iowa State comes on the offensive side of the ball, as quarterback Hunter Dekkers was pressured on more than 25% of dropbacks. The offensive line is loaded with experience, returning 72% from a squad that finished 83rd in pass blocking.
Now that head coach Matt Campbell has experience at the tight end position, expect an increase in 12 and 13 personnel for Iowa State.
Play the conference win total of over 3.5 at plus-money, with November games against Kansas and BYU serving as the hedge.
BYU Cougars
Speaking of the Cougars, a conference that's often "defense optional" may be the perfect landing spot.
Head coach Kilani Sitake took over play-calling duties last season with BYU in a desperate search for a pulse when it came to stopping opponents. BYU finished in the bottom 10 of FBS ranks in Success Rate, Finishing Drives and Havoc.
Sitake hired Jay Hill, the defensive mastermind behind the stout Weber State defenses that recently participated in the FCS Playoffs. Hill will bring a simplified 4-3 scheme, but the usage of man coverage at Weber gives pause to taking an under on the total in any BYU game.
On the other side of the ball, Kedon Slovis will now play for his third school after stints at USC and Pitt. The transfer portal has supplied a new offensive line with depth, although expectations are very low for the first-year Big 12 member.
The conference schedulers did the Cougars no favors, giving them just four home games while drawing Texas, Oklahoma and Texas Tech.

Kansas State & Kansas
While Cincinnati and Houston are also new members that will struggle to get out of the gate, there may be a chance for Kansas State to make another run to the Big 12 title game.
The loss of Deuce Vaughn and Malik Knowles will be felt from a playmaking standpoint, but Florida State transfer Treshaun Ward is sure to be one of the more dangerous tailbacks in college football.
Quarterback Will Howard also returns behind a mauling offensive line led by guard Cooper Beebe.
The Wildcats have the third-best odds to win the conference at +500, but a Game of the Year number against Kansas may be the better option. Kansas State enters its Nov. 18 Battle of the Sunflower State game against the Jayhawks as a -6.5 favorite. The Wildcats have won 14 straight in the series and have posted an 11-3 mark against the spread during that span. The last time the Jayhawks were listed within a touchdown spread was 2019 when Kansas State easily won, 38-10.
Kansas offensive coordinator Andy Kotelnicki has been excellent putting quarterback Jalon Daniels in shotgun and pistol formations with plenty of motion and counters.
The issue for Kansas continues to be a defense that can't stop the rush, an advantage that can't be overlooked when it comes to the Kansas State offensive line.

Oklahoma State Cowboys
Mike Gundy has led Oklahoma State to 17 straight bowl games, and now the Pokes' win total curiously sits at 6.5. This number is taking steam to the over because OSU has been gifted the easiest schedule in the conference.
Journeyman Alan Bowman is in the mix to win starting quarterback duties, but health is a concern after he had a lung punctured in previous seasons.
That's a concern for an offensive line that returns just 51% of snaps after ranking 98th in pass blocking. Offensive coordinator Kasey Dunn has looked to simplify blocking schemes for a line that often pulls and doubles for duo or counter-rush attempts.
However, the defense is certainly a mystery in Stillwater heading into 2023. After it finished 119th in tackling, Gundy hired Division-II Gannon's Bryan Nardo to lead the defense. Oklahoma State will move from a 4-2-5 to a 3-3-5 personnel, putting additional emphasis on two inexperienced defensive edge starters.
Considering depth concerns, new blocking concepts and defensive schemes, all of the ingredients are there for Oklahoma State under 6.5 wins.
"I thought it would just be an informative interview. It ended up being 6.5 hours long, and afterwards (I was like) he's the guy."

Mike Gundy on the interview process in hiring new Defensive Coordinator Bryan Nardo. pic.twitter.com/vGhBASAvQB

— Cayden McFarland (@caydenmc) March 22, 2023

TCU Horned Frogs
The good news for TCU is its being a potential favorite in the first seven games on the schedule.
The reset button is in full force in the player and offensive coordinator departments, as quarterback Chandler Morris and play-caller Kendal Briles will look to repeat the success the Horned Frogs experienced a year ago.
TCU doesn't pull more than 50% of experience in any offensive category, but coordinator Joe Gillespie will have a deep secondary on defense.
The bad news for the Horned Frogs is not only a complete lack of experience but a schedule full of tough offenses. The average SP+ offensive rank on the TCU schedule is 32nd, and both Texas and Oklahoma own a rank in the mid-40s in the same category.
Gillespie took a defense that was bottom-10 in every category to the Big 12 Championship game. Now, the coordinator must now work on a rank of 101st in Finishing Drives and 125th against the explosive pass.
With a win total projected at 6.2, take TCU under 7.5, as every team in the Big 12 will have revenge on its mind after the 2022 season.

West Virginia Mountaineers
Have expectations ever been lower in Morgantown? Picked dead last in the Big 12 Preseason Media Poll, there's reason to believe West Virginia will have no pressure to climb the conference ladder.
Neal Brown may have saved his job by beating Oklahoma and Oklahoma State last November. The head coach took the stage at Big 12 media days and announced his disagreement with WVU's dead last projection.
Now, 132 career starts on the offensive line and a defense that returns plenty of Havoc is on tap for disruption.
Brown indicated the quarterback battle between Garrett Greene and Nicco Marchiol will go on through fall camp, but both are capable of racking up designed and scramble rushing yards.
CJ Donaldson returns at running back, ready to take all-conference honors in his sophomore season. Chad Scott, meanwhile, got promoted from running backs coach to offensive coordinator, so there's going to be an expected emphasis on running the ball.
Brown will be taking over play-calling duties on offense, stressing a desire to run up-tempo as much as each game allows.
West Virginia's Neal Brown told me he will return to calling plays this fall. Last season, OC Graham Harrell called plays for WVU, but Harrell went to Purdue. Brown called plays as WVU's head coach his 1st 3 years

— Brett McMurphy (@Brett_McMurphy) July 13, 2023
If defensive coordinator Jordan Lesley can improve the nickel package in coverage, then more November upsets are on deck.
West Virginia over 5.5 at +135 is certainly the look, but timing may be a critical factor before making an investment. Big 12 media days will kick off a negative narrative around the program, which is sure to further induce under money.
Look for West Virginia over 5 at even money or better before the Mountaineers begin their season against Penn State.
2023 Big 12 Betting Picks
Texas to Win Big 12 (-120 or Better)
Oklahoma Under 9.5 Wins (-110 or Better)
Texas Tech Over 5.5 Big 12 Wins (+140 or Better · DraftKings)
Iowa State Over 3.5 Big 12 Wins (+130 or Better · DraftKings)
Oklahoma State Under 6.5 Wins (+102 or Better · FanDuel)
TCU Under 7.5 Wins (+120 · Caesars)
West Virginia Over 5 Wins (+100 · Caesars)
How would you rate this article?
This site contains commercial content. We may be compensated for the links provided on this page. The content on this page is for informational purposes only. Action Network makes no representation or warranty as to the accuracy of the information given or the outcome of any game or event.